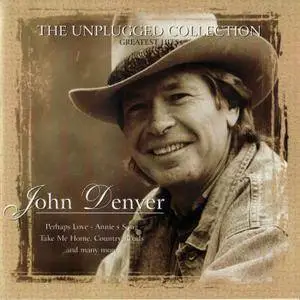 John Denver - The Unplugged Collection (1996)
EAC | FLAC | Tracks (Cue&Log) ~ 350 Mb | Mp3 (CBR320) ~ 137 Mb | Scans included
Singer/Songwriter, Country-Pop, Folk, Soft Rock | Label: CMC | # 8231372 | Time: 00:57:32
A very special collection of the late singer's very best performed in an acoustic setting, without the embellishments of recording overdubs. Here are the raw songs in all their beauty performed by one of the sweetest voices ever to grace the pop music charts. Includes his signature song "Take Me Home, Country Roads", "Leaving On A Jet Plane", "Thank God I'm A Country Boy", "Annie's Song", "Perhaps Love", "Rocky Mountain High" and many more.
This collection may be the last of John Denver's recordings to have been released. Although none of the songs are new, they are all marked by a maturity of voice and expression which sets them apart from prior versions. John once remarked that he was surprised by the fact that he could find new meaning in songs he had been performing for 20 or more years. Even though we've heard the songs many times, these performances are enlightened by a freshness and vitality and honest emotion that make them sound new. It's as if John is saying, "Here's where I've come to, after all these years. What do you think?"

The quality of the recorded sound is outstanding and deserves special mention. It's among the finest I have heard. It's almost like he is sitting on the other side of the room from you.



Review by John R. Oldham
Whether or not you like Unplugged (which is not related to the MTV show of the same name) is really dependent on how much John Denver you can handle. This is an album that shows him at the peak of his performance abilities, singing beautifully and clearly over gently strummed guitars and gorgeous arrangements. The only problem is the actual songs, as Denver was always a bit too light in the lyrical content and his arrangements were very predictable. This made for some very boring moments, and those boring moments carry over into the renditions found here. There are the obvious exceptions – "Leaving on a Jet Plane," "Rocky Mountain High," etc. – but this is really only for genuine fans, most other listeners will probably be turned off by the airy, floating feeling of the music that does not compliment Denver's strengths as a songwriter.



Review by Bradley Torreano, Allmusic.com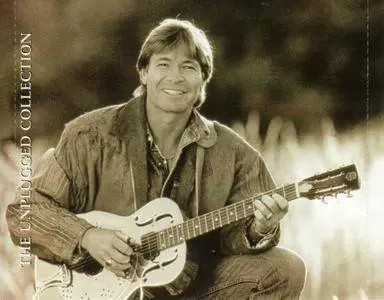 Tracklist:
01. Annie's Song (03:11)
02. Perhaps Love (02:43)
03. Dreamland Express (03:16)
04. Rocky Mountain High (04:11)
05. Seasons Of The Heart (03:57)
06. Whispering Jesse (03:23)
07. Take Me Home, Country Roads (03:16)
08. For You (04:43)
09. Windsong (04:03)
10. Leaving On A Jet Plane (03:42)
11. I'm Sorry (03:26)
12. Back Home Again (04:46)
13. Sunshine On My Shoulder (04:55)
14. Thank God I'm A Country Boy (03:05)
15. Christmas For Cowboys (02:13)
16. Love Again (02:35)
Exact Audio Copy V1.0 beta 3 from 29. August 2011

Отчёт EAC об извлечении, выполненном 21. августа 2016, 16:50

John Denver / The Unplugged Collection

Дисковод: ASUS DRW-1814BLT Adapter: 4 ID: 0

Режим чтения : Достоверность
Использование точного потока : Да
Отключение кэша аудио : Да
Использование указателей C2 : Нет

Коррекция смещения при чтении : 6
Способность читать области Lead-in и Lead-out : Нет
Заполнение пропущенных сэмплов тишиной : Да
Удаление блоков с тишиной в начале и конце : Нет
При вычислениях CRC использовались нулевые сэмплы : Да
Интерфейс : Встроенный Win32-интерфейс для Win NT/2000
Обработка зазоров : Добавлено к предыдущему треку

Выходной формат : Пользовательский кодировщик
Выбранный битрейт : 128 kBit/s
Качество : Высокий
Добавление ID3-тега : Нет
Утилита сжатия : C:\Program Files\Exact Audio Copy\Flac\flac.exe
Дополнительные параметры : -V -8 -T "Genre=%genre%" -T "Artist=%artist%" -T "Title=%title%" -T "Album=%albumtitle%" -T "Date=%year%" -T "Tracknumber=%tracknr%" -T "Comment=EAC1.0b2 FLAC -8" %source%


TOC извлечённого CD

Трек | Старт | Длительность | Начальный сектор | Конечный сектор
––––––––––––––––––––––––––––––––––-
1 | 0:00.00 | 3:11.22 | 0 | 14346
2 | 3:11.22 | 2:43.03 | 14347 | 26574
3 | 5:54.25 | 3:16.37 | 26575 | 41311
4 | 9:10.62 | 4:11.35 | 41312 | 60171
5 | 13:22.22 | 3:57.55 | 60172 | 78001
6 | 17:20.02 | 3:23.03 | 78002 | 93229
7 | 20:43.05 | 3:16.20 | 93230 | 107949
8 | 23:59.25 | 4:43.70 | 107950 | 129244
9 | 28:43.20 | 4:03.55 | 129245 | 147524
10 | 32:47.00 | 3:42.37 | 147525 | 164211
11 | 36:29.37 | 3:26.53 | 164212 | 179714
12 | 39:56.15 | 4:46.19 | 179715 | 201183
13 | 44:42.34 | 4:55.23 | 201184 | 223331
14 | 49:37.57 | 3:05.35 | 223332 | 237241
15 | 52:43.17 | 2:13.58 | 237242 | 247274
16 | 54:57.00 | 2:35.65 | 247275 | 258964


Трек 1

Имя файла R:\Раздача 66\John Denver - 1996 - The Unplugged Collection\01 Annie's Song .wav

Длина предзазора 0:00:02.00

Пиковый уровень 89.0 %
Скорость извлечения 4.8 X
Качество трека 100.0 %
CRC теста 08774910
CRC копии 08774910
Точное извлечение (достоверность 23) [F1542BB7] (AR v2)
Копирование… OK

Трек 2

Имя файла R:\Раздача 66\John Denver - 1996 - The Unplugged Collection\02 Perhaps Love .wav

Длина предзазора 0:00:04.22

Пиковый уровень 98.0 %
Скорость извлечения 5.0 X
Качество трека 100.0 %
CRC теста 221AF806
CRC копии 221AF806
Точное извлечение (достоверность 24) [6DBDFB53] (AR v2)
Копирование… OK

Трек 3

Имя файла R:\Раздача 66\John Denver - 1996 - The Unplugged Collection\03 Dreamland Express .wav

Длина предзазора 0:00:03.55

Пиковый уровень 98.0 %
Скорость извлечения 5.6 X
Качество трека 100.0 %
CRC теста DFFDEAAE
CRC копии DFFDEAAE
Точное извлечение (достоверность 23) [625F9024] (AR v2)
Копирование… OK

Трек 4

Имя файла R:\Раздача 66\John Denver - 1996 - The Unplugged Collection\04 Rocky Mountain High .wav

Длина предзазора 0:00:04.47

Пиковый уровень 95.5 %
Скорость извлечения 6.3 X
Качество трека 100.0 %
CRC теста FA2AAB01
CRC копии FA2AAB01
Точное извлечение (достоверность 23) [514F9F26] (AR v2)
Копирование… OK

Трек 5

Имя файла R:\Раздача 66\John Denver - 1996 - The Unplugged Collection\05 Seasons Of The Heart .wav

Длина предзазора 0:00:04.35

Пиковый уровень 94.4 %
Скорость извлечения 5.0 X
Качество трека 99.9 %
CRC теста C7783A05
CRC копии C7783A05
Точное извлечение (достоверность 23) [0B240ACB] (AR v2)
Копирование… OK

Трек 6

Имя файла R:\Раздача 66\John Denver - 1996 - The Unplugged Collection\06 Whispering Jesse .wav

Длина предзазора 0:00:04.15

Пиковый уровень 97.9 %
Скорость извлечения 6.9 X
Качество трека 100.0 %
CRC теста ABC604C0
CRC копии ABC604C0
Точное извлечение (достоверность 23) [251394E4] (AR v2)
Копирование… OK

Трек 7

Имя файла R:\Раздача 66\John Denver - 1996 - The Unplugged Collection\07 Take Me Home, Country Roads .wav

Длина предзазора 0:00:01.38

Пиковый уровень 89.0 %
Скорость извлечения 7.1 X
Качество трека 100.0 %
CRC теста 07FDC709
CRC копии 07FDC709
Точное извлечение (достоверность 23) [74F109F6] (AR v2)
Копирование… OK

Трек 8

Имя файла R:\Раздача 66\John Denver - 1996 - The Unplugged Collection\08 For You .wav

Длина предзазора 0:00:03.58

Пиковый уровень 98.0 %
Скорость извлечения 7.9 X
Качество трека 100.0 %
CRC теста CE119F89
CRC копии CE119F89
Точное извлечение (достоверность 23) [83F6A6D9] (AR v2)
Копирование… OK

Трек 9

Имя файла R:\Раздача 66\John Denver - 1996 - The Unplugged Collection\09 Windsong .wav

Длина предзазора 0:00:04.73

Пиковый уровень 98.0 %
Скорость извлечения 8.1 X
Качество трека 100.0 %
CRC теста 7165B91C
CRC копии 7165B91C
Точное извлечение (достоверность 23) [7331762A] (AR v2)
Копирование… OK

Трек 10

Имя файла R:\Раздача 66\John Denver - 1996 - The Unplugged Collection\10 Leaving On A Jet Plane .wav

Длина предзазора 0:00:03.15

Пиковый уровень 98.0 %
Скорость извлечения 8.3 X
Качество трека 100.0 %
CRC теста 1D0537B0
CRC копии 1D0537B0
Точное извлечение (достоверность 22) [54E51E28] (AR v2)
Копирование… OK

Трек 11

Имя файла R:\Раздача 66\John Denver - 1996 - The Unplugged Collection\11 I'm Sorry .wav

Длина предзазора 0:00:04.35

Пиковый уровень 96.6 %
Скорость извлечения 8.4 X
Качество трека 100.0 %
CRC теста CC0D2244
CRC копии CC0D2244
Точное извлечение (достоверность 23) [CEFA43C4] (AR v2)
Копирование… OK

Трек 12

Имя файла R:\Раздача 66\John Denver - 1996 - The Unplugged Collection\12 Back Home Again .wav

Длина предзазора 0:00:05.03

Пиковый уровень 98.0 %
Скорость извлечения 9.1 X
Качество трека 100.0 %
CRC теста 7EEA81A5
CRC копии 7EEA81A5
Точное извлечение (достоверность 23) [960F7641] (AR v2)
Копирование… OK

Трек 13

Имя файла R:\Раздача 66\John Denver - 1996 - The Unplugged Collection\13 Sunshine On My Shoulder .wav

Длина предзазора 0:00:04.37

Пиковый уровень 98.0 %
Скорость извлечения 9.5 X
Качество трека 100.0 %
CRC теста 8329A45A
CRC копии 8329A45A
Точное извлечение (достоверность 22) [F4B96AA0] (AR v2)
Копирование… OK

Трек 14

Имя файла R:\Раздача 66\John Denver - 1996 - The Unplugged Collection\14 Thank God I'm A Country Boy .wav

Длина предзазора 0:00:06.10

Пиковый уровень 86.2 %
Скорость извлечения 9.1 X
Качество трека 100.0 %
CRC теста 909520CA
CRC копии 909520CA
Точное извлечение (достоверность 21) [5DC2D6FF] (AR v2)
Копирование… OK

Трек 15

Имя файла R:\Раздача 66\John Denver - 1996 - The Unplugged Collection\15 Christmas For Cowboys .wav

Длина предзазора 0:00:03.52

Пиковый уровень 97.9 %
Скорость извлечения 6.1 X
Качество трека 99.9 %
CRC теста 825045DD
CRC копии 825045DD
Точное извлечение (достоверность 22) [19AF1516] (AR v2)
Копирование… OK

Трек 16

Имя файла R:\Раздача 66\John Denver - 1996 - The Unplugged Collection\16 Love Again .wav

Длина предзазора 0:00:04.03

Пиковый уровень 98.0 %
Скорость извлечения 9.0 X
Качество трека 100.0 %
CRC теста EB425648
CRC копии EB425648
Точное извлечение (достоверность 22) [89485B76] (AR v2)
Копирование… OK


Все треки извлечены точно

Ошибок не произошло

Конец отчёта

==== Контрольная сумма отчёта 0F7C1578A3EA9396B778AA4636F57532C02B99B944F61EDD0C02BACDF8071DB3 ====
foobar2000 1.2 / Dynamic Range Meter 1.1.1
log date: 2016-09-04 21:08:31

––––––––––––––––––––––––––––––––––––––––
Analyzed: John Denver / The Unplugged Collection
––––––––––––––––––––––––––––––––––––––––

DR Peak RMS Duration Track
––––––––––––––––––––––––––––––––––––––––
DR7 -1.01 dB -10.80 dB 3:11 01-Annie's Song
DR12 -0.18 dB -15.34 dB 2:43 02-Perhaps Love
DR8 -0.18 dB -10.30 dB 3:16 03-Dreamland Express
DR8 -0.40 dB -11.48 dB 4:11 04-Rocky Mountain High
DR11 -0.50 dB -15.10 dB 3:58 05-Seasons Of The Heart
DR12 -0.18 dB -16.28 dB 3:23 06-Whispering Jesse
DR9 -1.01 dB -11.80 dB 3:16 07-Take Me Home, Country Roads
DR9 -0.18 dB -13.41 dB 4:44 08-For You
DR8 -0.18 dB -10.91 dB 4:04 09-Windsong
DR10 -0.18 dB -13.17 dB 3:42 10-Leaving On A Jet Plane
DR10 -0.30 dB -13.30 dB 3:27 11-I'm Sorry
DR12 -0.18 dB -14.70 dB 4:46 12-Back Home Again
DR11 -0.18 dB -14.05 dB 4:55 13-Sunshine On My Shoulder
DR9 -1.29 dB -12.67 dB 3:05 14-Thank God I'm A Country Boy
DR14 -0.18 dB -18.37 dB 2:14 15-Christmas For Cowboys
DR11 -0.18 dB -13.01 dB 2:36 16-Love Again
––––––––––––––––––––––––––––––––––––––––

Number of tracks: 16
Official DR value: DR10

Samplerate: 44100 Hz
Channels: 2
Bits per sample: 16
Bitrate: 886 kbps
Codec: FLAC
================================================================================