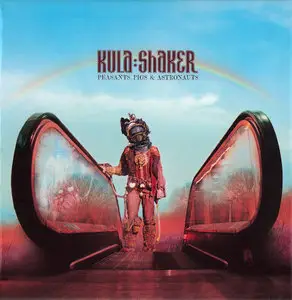 Kula Shaker - Peasants Pigs & Astronauts (1999) 2CD 10th Anniversary Limited Edition 2010
EAC | FLAC | Image (Cue&Log) ~ 705 Mb | Mp3 (CBR320) ~ 274 Mb | Scans ~ 33 Mb
Label: Sony/Strangefolk | # SFKS002CD | Time: 01:59:28
Psychedelic Rock, BritPop, Raga Rock, British Trad Rock
Peasants, Pigs & Astronauts is the second album by the British indie and psychedelic rock band Kula Shaker. The album was released on 8 March 1999 and reached #9 in the UK Albums Chart, during a chart stay of 10 weeks. It was less successful in the U.S., however, where it failed to break into the Billboard 200 album chart. Peasants, Pigs & Astronauts was re-released in a 10th Anniversary, 2 CD edition on 20 January 2010. The 10th Anniversary edition included an expanded running order for the original album, with the outtake song "Strangefolk" included, as the band originally intended. It also featured previously unreleased demos, alternate versions of songs, and new artwork.
Fame was not kind to Kula Shaker, largely because Crispian Mills could not keep his mouth shut. Speaking like the child of privilege he is, Mills alienated a fair segment of the British pop audience and music press with presumptuous, misguided comments about mysticism and spirituality, as well as a general arrogance. A mere eight months after the release of their debut, K, Kula Shaker was dreadfully overexposed and the group's hippy-dippy neo-psychedelicism and rock classicism were falling out of favor, leaving them with little choice but to retreat to work on their second record. It wasn't quite as easy as that. After rejecting their original producer, John Leckie, and George Drakoulias, they brought Bob Ezrin aboard and began a lengthy recording process. By the time their second record, Peasants, Pigs & Astronauts, was released in the spring of 1999, it had been two-and-a-half years since K appeared in stores – enough time to regulate the group to footnote status for many observers. You wouldn't know that from the grand, theatrical sound of Peasants, however. The record comes on as a blockbuster, deluging the listener with layers of psychedelic effects, swirling guitars, appropriated chants, Indian instruments, Deep Purple jams, Beatles references, and mystical babble. On a purely sonic level, it's easy to admire what Kula Shaker achieve. They have no shame in recreating the summer of love in a '90s studio and, with Ezrin's help, they've created some enticing, sugary Technicolor treats. The problem is, the high fades away pretty quickly, leaving very little of substance behind. As a songwriter, Mills, for all his portentous posturing, doesn't have a whole lot to say and he doesn't really know how to say it. Only a handful of songs – "Shower Your Love," "108 Battles" – are memorable outside of their sonic trappings, which leaves Peasants, Pigs & Astronauts in pretty much the same position as K. It's the kind of record that sounds pretty impressive as it plays, but makes almost no lasting impression.



Review by Stephen Thomas Erlewine, Allmusic.com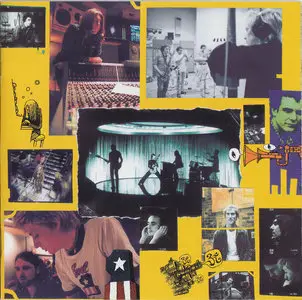 Tracklist:
CD1 - Peasants Pigs & Astronauts:

01. Great Hosannah (6:08)
02. Mystical Machine Gun (5:41)
03. S.O.S (2:55)
04. Radhe Radhe (2:49)
05. I'm Still Here (1:31)
06. Shower Your Love (3:40)
07. 108 Battles (Of The Mind) (3:16)
08. Sound Of Drums (4:28)
09. Timeworm (4:02)
10. Last Farewell (2:47)
11. Golden Avatar (4:30)
12. Namami Nanda - Nandana (5:12)
13. Strangefolk (5:58)
14. Stotra (2:23)

CD2 - Astronauts Anthology:

01. Sound of Love (Bearsville studios session, which became Sound of Drums) (6:11)
02. Avalonia (2:17)
03. Golden Avatar (band demo) (4:32)
04. Strangefolk (band demo) (5:05)

Roger Morton Interview with Crispian and Alonza
recorded on 13th November 2009 in London
about the making of Peasants Pigs and Astronauts

05. Roger Morton Interview (2:54)
06. Roger Morton Interview (10:23)
07. Roger Morton Interview (8:06)
08. Roger Morton Interview (6:13)
09. Roger Morton Interview (4:03)
10. Roger Morton Interview (4:33)
11. Roger Morton Interview (2:44)
12. Roger Morton Interview (3:52)
13. Roger Morton Interview (3:16)
Exact Audio Copy V0.99 prebeta 5 from 4. May 2009

Отчёт EAC об извлечении, выполненном 30. октября 2011, 23:26

Kula Shaker / Peasants Pigs & Astronauts [2010 Deluxe Edition]

Дисковод: PIONEER DVD-RW DVR-216D Adapter: 2 ID: 0

Режим чтения : Достоверность
Использование точного потока : Да
Отключение кэша аудио : Да
Использование указателей C2 : Нет

Коррекция смещения при чтении : 96
Способность читать области Lead-in и Lead-out : Нет
Заполнение пропущенных сэмплов тишиной : Да
Удаление блоков с тишиной в начале и конце : Нет
При вычислениях CRC использовались нулевые сэмплы : Да
Интерфейс : Встроенный Win32-интерфейс для Win NT/2000

Выходной формат : Внутренние WAV-операции
Формат сэмплов : 44.100 Гц; 16 бит; стерео


TOC извлечённого CD

Трек | Старт | Длительность | Начальный сектор | Конечный сектор
––––––––––––––––––––––––––––––––––-
1 | 0:00.00 | 6:07.47 | 0 | 27571
2 | 6:07.47 | 5:41.20 | 27572 | 53166
3 | 11:48.67 | 2:54.45 | 53167 | 66261
4 | 14:43.37 | 2:49.23 | 66262 | 78959
5 | 17:32.60 | 1:31.22 | 78960 | 85806
6 | 19:04.07 | 3:39.70 | 85807 | 102301
7 | 22:44.02 | 3:15.65 | 102302 | 116991
8 | 25:59.67 | 4:27.55 | 116992 | 137071
9 | 30:27.47 | 4:02.08 | 137072 | 155229
10 | 34:29.55 | 2:46.50 | 155230 | 167729
11 | 37:16.30 | 4:29.67 | 167730 | 187971
12 | 41:46.22 | 5:12.29 | 187972 | 211400
13 | 46:58.51 | 5:58.17 | 211401 | 238267
14 | 52:56.68 | 2:22.53 | 238268 | 248970


Характеристики диапазона извлечения и сообщения об ошибках

Выбранный диапазон

Имя файла H:\__Раздачи\Kula Shaker - Peasants Pigs & Astronauts [2010 Deluxe Edition]\CD1 - Peasants Pigs & Astronauts [2010 Deluxe Edition]\Kula Shaker - Peasants Pigs & Astronauts [2010 Deluxe Edition].wav

Пиковый уровень 100.0 %
Качество диапазона 100.0 %
CRC копии 353400B6
Копирование… OK

Ошибок не произошло


AccurateRip: сводка

Трек 1 нет в базе данных
Трек 2 нет в базе данных
Трек 3 нет в базе данных
Трек 4 нет в базе данных
Трек 5 нет в базе данных
Трек 6 нет в базе данных
Трек 7 нет в базе данных
Трек 8 нет в базе данных
Трек 9 нет в базе данных
Трек 10 нет в базе данных
Трек 11 нет в базе данных
Трек 12 нет в базе данных
Трек 13 нет в базе данных
Трек 14 нет в базе данных

Ни одного трека нет в базе AccurateRip

Конец отчёта
[CUETools log; Date: 21.10.2020 17:31:17; Version: 2.1.7]
[CTDB TOCID: U969PbcanPb9l.BA0TwlcUiRfYk-] found.
Track | CTDB Status
1 | (3/3) Accurately ripped
2 | (3/3) Accurately ripped
3 | (3/3) Accurately ripped
4 | (3/3) Accurately ripped
5 | (3/3) Accurately ripped
6 | (3/3) Accurately ripped
7 | (3/3) Accurately ripped
8 | (3/3) Accurately ripped
9 | (3/3) Accurately ripped
10 | (3/3) Accurately ripped
11 | (3/3) Accurately ripped
12 | (3/3) Accurately ripped
13 | (3/3) Accurately ripped
14 | (3/3) Accurately ripped
[AccurateRip ID: 001ca6ca-012d4efe-bf0cf70e] found.
Track [ CRC | V2 ] Status
01 [e72edb4d|0e82acf1] (0+1/2) Accurately ripped
02 [08319225|47e7e2a1] (0+1/2) Accurately ripped
03 [d07d043b|d2241e64] (0+1/2) Accurately ripped
04 [962a4ef6|83f2e7fc] (0+1/2) Accurately ripped
05 [d8e649e4|2c405121] (0+1/2) Accurately ripped
06 [30bc41dc|f2344c5c] (0+1/2) Accurately ripped
07 [586d762b|b3211720] (0+1/2) Accurately ripped
08 [3558ff59|65dccd5c] (0+1/2) Accurately ripped
09 [cc61b3c7|9f1feacb] (0+1/2) Accurately ripped
10 [31561cd0|e6550cd6] (0+1/2) Accurately ripped
11 [7037e0be|3473e81e] (0+1/2) Accurately ripped
12 [1a41bce0|88b9d0b3] (0+1/2) Accurately ripped
13 [54d2589b|8a4cbdd2] (0+1/2) Accurately ripped
14 [634a76c5|4f6beea4] (0+1/2) Accurately ripped

Track Peak [ CRC32 ] [W/O NULL] [ LOG ]
– 100,0 [353400B6] [3A0B0E32] CRC32
01 100,0 [F611895E] [AEEC0913]
02 100,0 [4B845458] [CE34D736]
03 100,0 [6393553A] [FB9C6884]
04 100,0 [DE5608FF] [FB299FB5]
05 57,0 [3FC08781] [BB8824CC]
06 100,0 [7DEF34C8] [F70B3BE1]
07 100,0 [FA10C004] [7C3EBD1D]
08 100,0 [6A1D2E63] [A8EF4B51]
09 100,0 [BCE685AC] [80BCA193]
10 100,0 [12F440F6] [8DA7EDC0]
11 100,0 [DEFCF99D] [E6EFA821]
12 100,0 [1EEBFEC1] [31464D6B]
13 100,0 [AB69B1DE] [8AB2E6A7]
14 86,3 [0974D767] [E2CCE559]
foobar2000 1.5 / Dynamic Range Meter 1.1.1
log date: 2020-10-21 17:29:42

––––––––––––––––––––––––––––––––––––––––
Analyzed: Kula Shaker / Peasants Pigs & Astronauts [2010 Deluxe Edition] CD1
––––––––––––––––––––––––––––––––––––––––

DR Peak RMS Duration Track
––––––––––––––––––––––––––––––––––––––––
DR9 0.00 dB -11.03 dB 6:08 01-Great Hosannah
DR9 0.00 dB -12.33 dB 5:41 02-Mystical Machine Gun
DR10 0.00 dB -10.82 dB 2:55 03-S.O.S
DR10 0.00 dB -13.50 dB 2:49 04-Radhe Radhe
DR12 -4.88 dB -20.60 dB 1:31 05-I'm Still Here
DR9 0.00 dB -10.20 dB 3:40 06-Shower Your Love
DR9 0.00 dB -10.36 dB 3:16 07-108 Battles (Of The Mind)
DR9 0.00 dB -11.19 dB 4:28 08-Sound Of Drums
DR10 0.00 dB -14.22 dB 4:02 09-Timeworm
DR9 0.00 dB -12.84 dB 2:47 10-Last Farewell
DR8 0.00 dB -10.28 dB 4:30 11-Golden Avatar
DR10 0.00 dB -15.25 dB 5:12 12-Namami Nanda - Nandana
DR9 0.00 dB -11.69 dB 5:58 13-Strangefolk
DR11 -1.28 dB -19.85 dB 2:23 14-Stotra
––––––––––––––––––––––––––––––––––––––––

Number of tracks: 14
Official DR value: DR10

Samplerate: 44100 Hz
Channels: 2
Bits per sample: 16
Bitrate: 895 kbps
Codec: FLAC
================================================================================
Exact Audio Copy V0.99 prebeta 5 from 4. May 2009

Отчёт EAC об извлечении, выполненном 30. октября 2011, 23:56

Kula Shaker / Peasants Pigs & Astronauts [2010 Deluxe Edition] Astronauts Anthology cd2

Дисковод: PIONEER DVD-RW DVR-216D Adapter: 2 ID: 0

Режим чтения : Достоверность
Использование точного потока : Да
Отключение кэша аудио : Да
Использование указателей C2 : Нет

Коррекция смещения при чтении : 96
Способность читать области Lead-in и Lead-out : Нет
Заполнение пропущенных сэмплов тишиной : Да
Удаление блоков с тишиной в начале и конце : Нет
При вычислениях CRC использовались нулевые сэмплы : Да
Интерфейс : Встроенный Win32-интерфейс для Win NT/2000

Выходной формат : Внутренние WAV-операции
Формат сэмплов : 44.100 Гц; 16 бит; стерео


TOC извлечённого CD

Трек | Старт | Длительность | Начальный сектор | Конечный сектор
––––––––––––––––––––––––––––––––––-
1 | 0:00.00 | 6:10.57 | 0 | 27806
2 | 6:10.57 | 2:17.23 | 27807 | 38104
3 | 8:28.05 | 4:31.73 | 38105 | 58502
4 | 13:00.03 | 5:05.17 | 58503 | 81394
5 | 18:05.20 | 2:53.39 | 81395 | 94408
6 | 20:58.59 | 10:22.39 | 94409 | 141097
7 | 31:21.23 | 8:05.43 | 141098 | 177515
8 | 39:26.66 | 6:12.56 | 177516 | 205471
9 | 45:39.47 | 4:03.10 | 205472 | 223706
10 | 49:42.57 | 4:32.74 | 223707 | 244180
11 | 54:15.56 | 2:43.58 | 244181 | 256463
12 | 56:59.39 | 3:52.11 | 256464 | 273874
13 | 60:51.50 | 3:16.26 | 273875 | 288600


Характеристики диапазона извлечения и сообщения об ошибках

Выбранный диапазон

Имя файла H:\__Раздачи\Kula Shaker - Peasants Pigs & Astronauts [2010 Deluxe Edition]\CD2 - Astronauts Anthology\Kula Shaker - Peasants Pigs & Astronauts [2010 Deluxe Edition] Astronauts Anthology cd2.wav

Пиковый уровень 100.0 %
Качество диапазона 100.0 %
CRC копии 79EB1A3F
Копирование… OK

Ошибок не произошло


AccurateRip: сводка

Трек 1 нет в базе данных
Трек 2 нет в базе данных
Трек 3 нет в базе данных
Трек 4 нет в базе данных
Трек 5 нет в базе данных
Трек 6 нет в базе данных
Трек 7 нет в базе данных
Трек 8 нет в базе данных
Трек 9 нет в базе данных
Трек 10 нет в базе данных
Трек 11 нет в базе данных
Трек 12 нет в базе данных
Трек 13 нет в базе данных

Ни одного трека нет в базе AccurateRip

Конец отчёта
[CUETools log; Date: 21.10.2020 17:31:39; Version: 2.1.7]
[CTDB TOCID: o48JWDFNQpTQed5skifX1QGVymY-] found.
Track | CTDB Status
1 | (3/3) Accurately ripped
2 | (3/3) Accurately ripped
3 | (3/3) Accurately ripped
4 | (3/3) Accurately ripped
5 | (3/3) Accurately ripped
6 | (3/3) Accurately ripped
7 | (3/3) Accurately ripped
8 | (3/3) Accurately ripped
9 | (3/3) Accurately ripped
10 | (3/3) Accurately ripped
11 | (3/3) Accurately ripped
12 | (3/3) Accurately ripped
13 | (3/3) Accurately ripped
[AccurateRip ID: 0020369d-0144088b-b60f080d] found.
Track [ CRC | V2 ] Status
01 [313087b9|11d0ff70] (0+1/2) Accurately ripped
02 [f2e4fe77|88c265c5] (0+1/2) Accurately ripped
03 [449f7d36|849568ae] (0+1/2) Accurately ripped
04 [33bc5f9c|6cca91e2] (0+1/2) Accurately ripped
05 [ff73ca71|af611cca] (0+1/2) Accurately ripped
06 [1c87e156|65e44dbf] (0+1/2) Accurately ripped
07 [cd0718fa|60da183d] (0+1/2) Accurately ripped
08 [430e9287|25a7a619] (0+1/2) Accurately ripped
09 [917071b3|c6001c98] (0+1/2) Accurately ripped
10 [b4779674|cf598c8e] (0+1/2) Accurately ripped
11 [15a9485f|9a72cf7f] (0+1/2) Accurately ripped
12 [80b9071f|ecdd07d1] (0+1/2) Accurately ripped
13 [58137e48|c230434e] (0+1/2) Accurately ripped

Track Peak [ CRC32 ] [W/O NULL] [ LOG ]
– 100,0 [79EB1A3F] [E0D4F645] CRC32
01 100,0 [E2C2DC72] [8BDA0E36]
02 78,1 [B2238A3D] [C1512D1A]
03 100,0 [9EEB84C1] [0AFA5BDB]
04 100,0 [98DE9A9D] [842B3856]
05 100,0 [34F43A9A] [C40C2BD9]
06 100,0 [0313C5C9] [482B916C]
07 100,0 [C8EB9F9A] [EA0456E6]
08 100,0 [8DD1064B] [F9E29B04]
09 100,0 [38922EB9] [D479E06A]
10 100,0 [D55BC808] [19A3C301]
11 100,0 [72C4CC86] [9AF46F6A]
12 100,0 [3224FC1C] [D756775E]
13 100,0 [42B7CC0A] [664EFD63]
foobar2000 1.5 / Dynamic Range Meter 1.1.1
log date: 2020-10-21 17:30:49

––––––––––––––––––––––––––––––––––––––––
Analyzed: Kula Shaker / Peasants Pigs & Astronauts [2010 Deluxe Edition] CD2 - Astronauts Anthology2
––––––––––––––––––––––––––––––––––––––––

DR Peak RMS Duration Track
––––––––––––––––––––––––––––––––––––––––
DR8 0.00 dB -10.02 dB 6:11 01-Sound of Love (Bearsville studios session, which became Sound of Drums)
DR10 -2.14 dB -14.70 dB 2:17 02-Avalonia
DR9 0.00 dB -10.29 dB 4:32 03-Golden Avatar (band demo)
DR9 0.00 dB -10.49 dB 5:05 04-Strangefolk (band demo)
DR8 0.00 dB -10.91 dB 2:54 05-Roger Morton Interview
DR6 0.00 dB -9.93 dB 10:23 06-Roger Morton Interview
DR7 0.00 dB -9.25 dB 8:06 07-Roger Morton Interview
DR7 0.00 dB -9.64 dB 6:13 08-Roger Morton Interview
DR7 0.00 dB -10.01 dB 4:03 09-Roger Morton Interview
DR7 0.00 dB -8.95 dB 4:33 10-Roger Morton Interview
DR6 0.00 dB -9.47 dB 2:44 11-Roger Morton Interview
DR6 0.00 dB -9.90 dB 3:52 12-Roger Morton Interview
DR6 0.00 dB -9.44 dB 3:16 13-Roger Morton Interview
––––––––––––––––––––––––––––––––––––––––

Number of tracks: 13
Official DR value: DR7

Samplerate: 44100 Hz
Channels: 2
Bits per sample: 16
Bitrate: 765 kbps
Codec: FLAC
================================================================================