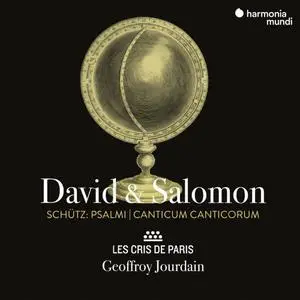 Les Cris de Paris, Geoffroy Jourdain - Schütz: David & Salomon. Psalmi, Canticum Canticorum (2022)
FLAC (tracks), Lossless | 1:13:36 | 348 Mb
Genre: Classical / Label: harmonia mundi
Geoffroy Jourdain and Les Cris de Paris introduce us to a facet of Heinrich Schütz that is often overlooked: his works directly inspired by Italy, and more especially by Venice, where he worked closely with Giovanni Gabrieli. In this programme of music, sometimes deeply spiritual, sometimes with a strong secular influence, ranging from duets to large choral ensembles, we meet a rich and radiant composer with myriad colours in his palette. An enchanting disc!
Track List:
1. Psalmen Davids sampt etlichen Moteten und Concerten, Op. 2: Alleluja! Lobet den Herren, SWV. 38 (8:41)
2. Psalmen Davids sampt etlichen Moteten und Concerten, Op. 2: Die mit Tränen säen, SWV. 42 (5:06)
3. Ich beschwöre euch, ihr Töchter zu Jerusalem (Dialogus), SWV. 339 (8:14)
4. Symphoniae sacrae I, Op. 6: Anima mea liquefacta est, prima parte, SWV. 263 (4:29)
5. Symphoniae sacrae I, Op. 6: Adjuro vos, filiae Jerusalem, seconda parte, SWV. 264 (4:18)
6. Ludi musici: Paduana Dolorosa a 4, SSWV. 42 (4:59)
7. Psalmen Davids sampt etlichen Moteten und Concerten, Op. 2: An den Wassern zu Babel SWV. 37 (5:28)
8. Psalmen Davids sampt etlichen Moteten und Concerten, Op. 2: Warum toben die Heiden, SWV. 23 (4:30)
9. Cantiones sacrae, Op. 4: Ego dormio et cor meum vigilat, prima parte, SWV. 63-64 (4:05)
10. Cantiones sacrae, Op. 4: Vulnerasti cor meum, filia charissima, seconda parte, SWV. 64 (3:56)
11. Symphoniae sacrae I, Op. 6: O quam tu pulchra es, amica mea, prima parte, SWV. 265 (4:48)
12. Symphoniae sacrae I, Op. 6: Veni de Libano, veni, amica mea, seconda parte, SWV. 266 (4:25)
13. Psalmen Davids sampt etlichen Moteten und Concerten, Op. 2: Herr, unser Herrscher, SWV. 27 (4:29)
14. Psalmen Davids sampt etlichen Moteten und Concerten, Op. 2: Danket dem Herren, denn er ist freundlich, SWV. 45 (6:14)
ANALYZER: auCDtect: CD records authenticity detector, version 0.8.2
Copyright © 2004 Oleg Berngardt. All rights reserved.
Copyright © 2004 Alexander Djourik. All rights reserved.


FILE: 01. Les Cris de Paris - Geoffroy Jourdain - Alleluja! Lobet den Herren, SWV. 38.flac
Size: 46693751 Hash: 7178387C109D2D2550782707DEAB2D35 Accuracy: -m40
Conclusion: CDDA 100%
Signature: F21CE352BA74DA06DC086BC07FC6E9FDCB532B38
FILE: 02. Les Cris de Paris - Geoffroy Jourdain - Die mit Tränen säen, SWV. 42.flac
Size: 23897015 Hash: EDE5A4D86EE7018731A670CE2D16E0E5 Accuracy: -m40
Conclusion: CDDA 100%
Signature: 1CC2A01720B23B2DABFCFF638538AFF47E773DE5
FILE: 03. Les Cris de Paris - Geoffroy Jourdain - Ich beschwöre euch, ihr Töchter zu Jerusalem (Dialogus), SWV. 339.flac
Size: 40426492 Hash: 4FEAD04FC8E1218A798CB5508597AE5B Accuracy: -m40
Conclusion: CDDA 100%
Signature: 5B443E9CC573BA6CF951D323BCBFD180B6F9A951
FILE: 04. Les Cris de Paris - Geoffroy Jourdain - Anima mea liquefacta est, prima parte, SWV. 263.flac
Size: 21299797 Hash: 80F12A18F951498F9E1DD7E2F8EEB032 Accuracy: -m40
Conclusion: CDDA 100%
Signature: 7AC58873D9DB9A3391869380A3AD9DE394E1A92E
FILE: 05. Les Cris de Paris - Geoffroy Jourdain - Adjuro vos, filiae Jerusalem, seconda parte, SWV. 264.flac
Size: 17629025 Hash: 5321C167697EEE10D63088BA455C8EF1 Accuracy: -m40
Conclusion: CDDA 100%
Signature: BC0EFD20AF3DCB0047FE690608290648AC7CB656
FILE: 06. Les Cris de Paris - Geoffroy Jourdain - Ludi musici꞉ Paduana Dolorosa a 4, SSWV. 42.flac
Size: 23039246 Hash: 1427099EBA6CC1FDF41D72E9174F4D32 Accuracy: -m40
Conclusion: CDDA 100%
Signature: 6FECF5BAC26D8C535E8656014FEE8883D4D7A489
FILE: 07. Les Cris de Paris - Geoffroy Jourdain - An den Wassern zu Babel SWV. 37.flac
Size: 28345742 Hash: D0BC4892125652C06D4720974171BB64 Accuracy: -m40
Conclusion: CDDA 100%
Signature: 4997CB3840B94B1066D416FF539F9879D7FF13AC
FILE: 08. Les Cris de Paris - Geoffroy Jourdain - Warum toben die Heiden, SWV. 23.flac
Size: 24366376 Hash: B1027827334E7417DDE1C583ED761C33 Accuracy: -m40
Conclusion: CDDA 100%
Signature: FDB8DBF98E4664A003290DF2C918309165DF552F
FILE: 09. Les Cris de Paris - Geoffroy Jourdain - Ego dormio et cor meum vigilat, prima parte, SWV. 63-64.flac
Size: 19479857 Hash: FFFC1CCECFFF94EA9471DE2F04601A11 Accuracy: -m40
Conclusion: CDDA 99%
Signature: 9CF2B5849CA16B39B568B78A5437C3303BBDEF0C
FILE: 10. Les Cris de Paris - Geoffroy Jourdain - Vulnerasti cor meum, filia charissima, seconda parte, SWV. 64.flac
Size: 17278717 Hash: 750CBBF8839B2A48596995988CB142CA Accuracy: -m40
Conclusion: CDDA 100%
Signature: 0D23FF4E804A7A4733BF4AC8CD4D442E6E0409B2
FILE: 11. Les Cris de Paris - Geoffroy Jourdain - O quam tu pulchra es, amica mea, prima parte, SWV. 265.flac
Size: 22883313 Hash: CD17F27EEDC34742E35D2DB3937C6D89 Accuracy: -m40
Conclusion: CDDA 100%
Signature: 2EB3BED175F3135816382E655C72D4B6EE57BD97
FILE: 12. Les Cris de Paris - Geoffroy Jourdain - Veni de Libano, veni, amica mea, seconda parte, SWV. 266.flac
Size: 21772754 Hash: FCD822E80BD5C2737196F74E7AE7CDA8 Accuracy: -m40
Conclusion: CDDA 100%
Signature: AA7F9A1462AEB639D9B2097EE07683AC9A5DFDA5
FILE: 13. Les Cris de Paris - Geoffroy Jourdain - Herr, unser Herrscher, SWV. 27.flac
Size: 23348809 Hash: F0DE340A99490BE45AFBD88BFB66DB7B Accuracy: -m40
Conclusion: CDDA 100%
Signature: F9D2669027034298A27ACE23475BEB3A8BF43E3A
FILE: 14. Les Cris de Paris - Geoffroy Jourdain - Danket dem Herren, denn er ist freundlich, SWV. 45.flac
Size: 35236962 Hash: 5BE9CE338AE2B1656D2F068E818335F0 Accuracy: -m40
Conclusion: CDDA 100%
Signature: FA69DA8FCB572FD93C0F692C07CDA08778112C1A