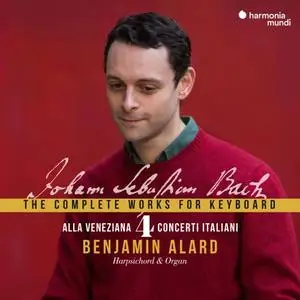 Benjamin Alard - J.S. Bach: The Complete Works for Keyboard, Vol. 4 "Alla Veneziana" (2021)
FLAC tracks +booklet | 03:16:55 | 1,07 Gb
Genre: Classical / Label: harmonia mundi
With this volume 4 in a complete recording of Bach's keyboard works whose ingenuity has been underlined by every reviewer, Benjamin Alard continues to explore the Weimar period, known as that of his 'early mastery'. After "à la française", we turn to Italy, where the Vivaldian concerto reigned in Venice. The young Bach created here a wonderful space of freedom between the transcriber and the improviser. For 'if transcription is a matter of freedom, it is also a matter of powerful imagination: each piece on this recording transports us into a Venetian universe that fascinated Bach as much as it inspired him', as Benjamin Alard demonstrates on three exceptional instruments.