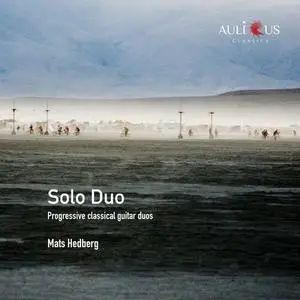 Mats Hedberg - Solo Duo - Progressive Classical Guitar Duos (2022)
FLAC (tracks), Lossless | 43:55 | 214 Mb
Genre: Classical / Label: Aulicus Classics
Solo Duo was born in a cold winter, in Sweden, on an island in the Baltic Sea: the island of Gotland. The album consists of 2 suites plus 2 tracks, all composed during an artist residency that guitarist composer Mats Hedberg spent at the International Composition Center in Visby, the island's capital. An album for two guitars, both played by Hedberg, it chronicles the powerful atmosphere the artist breathed during long walks on the island's beaches, lashed by wind and swells.The composer, strongly inspired by nature, combines in this work melodies and harmonies purely Nordic, with a very personal research on the rhythmic level. The songs are almost all written in odd rhythms. Very unusual sequences, which in their combination, despite their rhythmic complexity, are completely harmonic and totally at the service of the inner melody. The first Suite is dedicated to Freja, famous Scandinavian goddess of war. Wife of Odin, she was, in the Scandinavian Olympus, the personification of beauty and love. Hedberg writes, in 10 movements, a hymn to her independence and sensuality. The second Suite instead, divided into 10 single tracks, tells about the island of Gotland, its various aspects, the impressions that the artist has had in his long wanderings along its coasts, in the visits to its villages and the meeting with its inhabitants. Two other single tracks complete this particular project: "Ade" (The River of Hell) and "Hyss" (Spite) and are rhythmic jokes. An album inspired by the power of Nordic nature, with something magical and indescribable that makes Solo Duo a special project: a musical essence that is decisive but also sweet, playful and refined, blending storytelling and spontaneity.
Track List:
01. Freja Svit
02. Hyss
03. Hades
04. Skon Dans
05. Visby
06. Baltic Waves
07. Athena
08. Droppar
09. Nyckfull
10. Bris
11. Nordvind
12. Harmonisk Labyrint
13. Vemod
ANALYZER: auCDtect: CD records authenticity detector, version 0.8.2
Copyright © 2004 Oleg Berngardt. All rights reserved.
Copyright © 2004 Alexander Djourik. All rights reserved.


FILE: 01 - Freja Svit.flac
Size: 66344125 Hash: 9EC7D01A99F557BF27811886A3440EB1 Accuracy: -m40
Conclusion: CDDA 99%
Signature: 3414264324D58774C53A352A69A0FCCC0C043873
FILE: 02 - Hyss.flac
Size: 12241712 Hash: C033DB763DAFA6A5CE0C2E92C50807F5 Accuracy: -m40
Conclusion: CDDA 99%
Signature: 5B068E65CD0BF94C8D178AAD484B59CAB63F683A
FILE: 03 - Hades.flac
Size: 25230730 Hash: BD13CB734BF9D7C52D1E878F736160B1 Accuracy: -m40
Conclusion: CDDA 100%
Signature: 8B603110EF1F7A89883298953043A3FB7273DA2E
FILE: 04 - Skon Dans.flac
Size: 14175755 Hash: 62A2D5450426C21236B950B2114DF752 Accuracy: -m40
Conclusion: CDDA 100%
Signature: 24D06450296744DBEEEF6FD3975200F67554B855
FILE: 05 - Visby.flac
Size: 3623705 Hash: D11BD3A4812E3F86D6FFD233813CB90D Accuracy: -m40
Conclusion: CDDA 100%
Signature: CD6243C1E090D8DD6D0824670F5219BD84D29C60
FILE: 06 - Baltic Waves.flac
Size: 12493078 Hash: 3276B057BB553FE757EB655EEE722112 Accuracy: -m40
Conclusion: CDDA 100%
Signature: C74926FC938AEC3578F8EB1507EC39C5AD0C9C4C
FILE: 07 - Athena.flac
Size: 11438177 Hash: 7D933371E129DFBEDA5829858AC59038 Accuracy: -m40
Conclusion: CDDA 100%
Signature: 1DC88C78A36CE52D3A872F58E08F565EBF5B18BF
FILE: 08 - Droppar.flac
Size: 5092393 Hash: E29D590D8673ADC13DD7AEBB1EC83028 Accuracy: -m40
Conclusion: CDDA 99%
Signature: 774682DEBB3381080D265C45A01FA46893952A55
FILE: 09 - Nyckfull.flac
Size: 12066227 Hash: 23F43DCD78060AF1F6313A0D99C93260 Accuracy: -m40
Conclusion: CDDA 99%
Signature: EE1D0963277655A91D34034DE010118AA58E41EE
FILE: 10 - Bris.flac
Size: 15164440 Hash: 06719A99ED6BAFAEAA17C4E075EE30D3 Accuracy: -m40
Conclusion: CDDA 99%
Signature: E11E70FF7783F0D71011D63F0EFEB32D1993AE29
FILE: 11 - Nordvind.flac
Size: 10087628 Hash: 33536DC1F6729FE1A5556836AA1A2624 Accuracy: -m40
Conclusion: CDDA 100%
Signature: 036E5C267959070625165E001BA2F9D267827E31
FILE: 12 - Harmonisk Labyrint.flac
Size: 14019902 Hash: A133D7C657C71E59458F9979D9D4FBDF Accuracy: -m40
Conclusion: CDDA 99%
Signature: 767FE184298BAEA2CBEDF04F92B87B95168B56CA
FILE: 13 - Vemod.flac
Size: 22865967 Hash: 2DF19776BB08A5443788983B06C75C2C Accuracy: -m40
Conclusion: CDDA 100%
Signature: B6C7022372AE00D9089D2C89A3EA246789D8A820