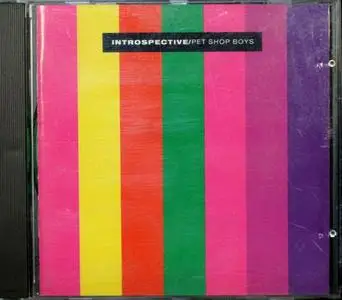 Pet Shop Boys - Introspective (1988)
Pop, Electronic, Synth-pop, House | XLD Rip | FLAC, Img+CUE+LOG+Scans (JPEG) | 48:08 | 329,92 Mb
Label: Parlophone (Europe) | Cat.# CDP 7 90868 2 | Released: 1988-10-10

"Introspective" is the 3rd studio album by English synth-pop duo Pet Shop Boys. It was released on 10 October 1988 by Parlophone. It is the duo's second-best-selling album (their biggest-selling being "Very" (1993)), with over 4.5 million copies bought worldwide. It is so named because "all the songs, although it's a dance album, are introspective". Perhaps the biggest change in Pet Shop Boys' sound evident on this album is an increasing attention to orchestration using real orchestras, particularly on the Trevor Horn-produced "Left to My Own Devices", which took months to produce.
~Wikipedia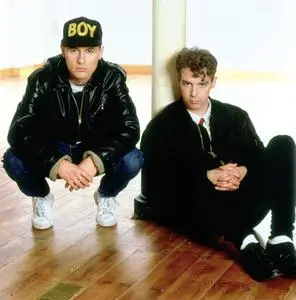 Featuring a mere six tracks, most of them well over six minutes in length, Introspective was a move back to the clubs for the Pet Shop Boys. Over the course of the album, they incorporated various dance techniques that were currently in vogue, including Latin rhythms and house textures. The title isn't entirely an arch joke, however. Like Actually, Introspective was an exploration of distant, disaffected yuppies, which naturally resulted in a good deal of self-analyzation. Melodically, the essential song structures were as strong and multi-layered as the previous album, yet that was hard to hear beneath the varying rhythmic textures that composed the bulk of each track. Nevertheless, the mixes are more compelling than the remixes on Disco, and the songs include several of their best numbers, including "Left to My Own Devices" and "Domino Dancing," as well as the reconstruction of "Always on My Mind" and a cover of Blaze's club classic, "It's Alright."
~Review by Stephen Thomas Erlewine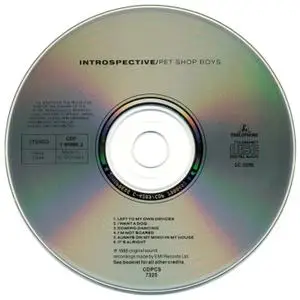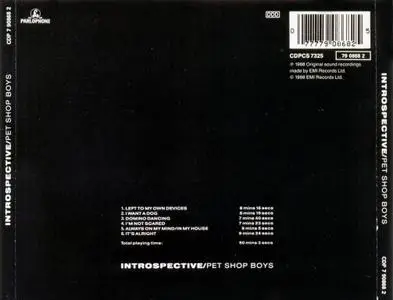 Release of this album:
1988, October, 10 [LP Parlophone, Cat.# PCS 7325, 79 0868 1, UK]
Release of this CD:
1988 [CD Parlophone (Europe), Cat.# CDP 7 90868 2 / UPC: 077779086825]
℗ 1988 Original Sound Recordings made by EMI Records Ltd. © 1988 EMI Records Ltd.
Made in W-Germany (Sonopress)
Notes:
"Introspective" is a Digital recording, digitally mixed and mastered.
1st cat# CDP 7 90868 2 - from spine, CD and artwork.
2nd cat# 79 0868 2 - from back.
3rd cat# CDPCS 7325 - from CD and back.
Credits:
Design [Cover Designed By] – Mark Farrow, Pet Shop Boys
Management – Rob Holden, Tom Watkins
Photography By – Eric Watson
Written-By – Chris Lowe And Neil Tennant (tracks: 1 to 4)
Tracklist:
01. Left To My Own Devices (08:17)
02. I Want A Dog (06:16)
03. Domino Dancing (07:41)
04. I'm Not Scared (07:26)
05. Always On My Mind / In My House (09:05)
06. It's Alright (09:24)
X Lossless Decoder version 20111214 (138.1)

XLD extraction logfile from 2011-12-20 13:55:26 +0100

Pet Shop Boys / Introspective

Used drive : MATSHITA DVD-R UJ-898 (revision HC10)

Ripper mode : XLD Secure Ripper
Disable audio cache : OK for the drive with a cache less than 1375KiB
Make use of C2 pointers : NO
Read offset correction : 102
Max retry count : 100
Gap status : Analyzed, Appended

TOC of the extracted CD
Track | Start | Length | Start sector | End sector
––––––––––––––––––––––––––––-
1 | 00:00:32 | 08:17:00 | 32 | 37306
2 | 08:17:32 | 06:15:50 | 37307 | 65481
3 | 14:33:07 | 07:40:60 | 65482 | 100041
4 | 22:13:67 | 07:25:68 | 100042 | 133484
5 | 29:39:60 | 09:04:65 | 133485 | 174349
6 | 38:44:50 | 09:23:70 | 174350 | 216644

List of alternate offset correction values
# | Absolute | Relative | Confidence
–––––––––––––––––––––
1 | 2173 | 2071 | 71
2 | 2174 | 2072 | 67
3 | 2412 | 2310 | 56
4 | 2413 | 2311 | 56

AccurateRip Summary
Track 01 : OK (AR2, confidence 25)
Track 02 : OK (AR2, confidence 24)
Track 03 : OK (AR2, confidence 25)
Track 04 : OK (AR2, confidence 25)
Track 05 : OK (AR2, confidence 25)
Track 06 : OK (AR2, confidence 25)
->All tracks accurately ripped.

All Tracks
Filename : /Pet Shop Boys Introspective.flac
CRC32 hash (test run) : 0C17C94A
CRC32 hash : 0C17C94A
CRC32 hash (skip zero) : 707A9427
Statistics
Read error : 0
Jitter error (maybe fixed) : 0
Retry sector count : 0
Damaged sector count : 0

Track 01
Pre-gap length : 00:02:32

CRC32 hash (test run) : C2D62C44
CRC32 hash : C2D62C44
CRC32 hash (skip zero) : 46342800
AccurateRip signature : DFDCE570
->Accurately ripped! (AR2, confidence 25)
Statistics
Read error : 0
Jitter error (maybe fixed) : 0
Retry sector count : 0
Damaged sector count : 0

Track 02
Pre-gap length : 00:00:02

CRC32 hash (test run) : DEC30D88
CRC32 hash : DEC30D88
CRC32 hash (skip zero) : 0FF09FD0
AccurateRip signature : 6B3921B9
->Accurately ripped! (AR2, confidence 24)
Statistics
Read error : 0
Jitter error (maybe fixed) : 0
Retry sector count : 0
Damaged sector count : 0

Track 03
Pre-gap length : 00:00:02

CRC32 hash (test run) : 00A131C7
CRC32 hash : 00A131C7
CRC32 hash (skip zero) : 9F7B2AC1
AccurateRip signature : A7CED5FB
->Accurately ripped! (AR2, confidence 25)
Statistics
Read error : 0
Jitter error (maybe fixed) : 0
Retry sector count : 0
Damaged sector count : 0

Track 04
Pre-gap length : 00:00:02

CRC32 hash (test run) : C22F06AA
CRC32 hash : C22F06AA
CRC32 hash (skip zero) : DE9DC42B
AccurateRip signature : 67D43E24
->Accurately ripped! (AR2, confidence 25)
Statistics
Read error : 0
Jitter error (maybe fixed) : 0
Retry sector count : 0
Damaged sector count : 0

Track 05
Pre-gap length : 00:02:13

CRC32 hash (test run) : 6599FC92
CRC32 hash : 6599FC92
CRC32 hash (skip zero) : BC2D966D
AccurateRip signature : FB13FA51
->Accurately ripped! (AR2, confidence 25)
Statistics
Read error : 0
Jitter error (maybe fixed) : 0
Retry sector count : 0
Damaged sector count : 0

Track 06
Pre-gap length : 00:00:68

CRC32 hash (test run) : 3743397C
CRC32 hash : 3743397C
CRC32 hash (skip zero) : 10EE52FA
AccurateRip signature : B36E44AC
->Accurately ripped! (AR2, confidence 25)
Statistics
Read error : 0
Jitter error (maybe fixed) : 0
Retry sector count : 0
Damaged sector count : 0

No errors occurred

End of status report
––––––––––––––––––––––––––––––––––––––––
Analyzed: Pet Shop Boys / Introspective
––––––––––––––––––––––––––––––––––––––––

DR Peak RMS Duration Track
––––––––––––––––––––––––––––––––––––––––
DR14 -1.91 dB -18.39 dB 8:17 01-Left To My Own Devices
DR13 -2.31 dB -16.87 dB 6:16 02-I Want A Dog
DR13 -1.35 dB -16.41 dB 7:41 03-Domino Dancing
DR14 -0.84 dB -16.55 dB 7:26 04-I'm Not Scared
DR14 -0.93 dB -16.55 dB 9:05 05-Always On My Mind_In My House
DR13 -0.32 dB -17.14 dB 9:24 06-It's Alright
––––––––––––––––––––––––––––––––––––––––

Number of tracks: 6
Official DR value: DR13

Samplerate: 44100 Hz
Channels: 2
Bits per sample: 16
Bitrate: 908 kbps
Codec: FLAC
================================================================================
Thanks to Rocky Raccoon
See also:
Pet Shop Boys - Alternative [2CD] (1995) [Japan]