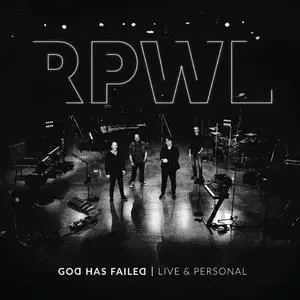 RPWL - God Has Failed - Live & Personal (2021)
FLAC tracks / MP3 320 kbps | 1:25:52 | 530 / 196 Mb
Genre: Progressive Rock / Label: Gentle Art Of Music
RPWL – oh yes, Pink Floyd… Now that the elephant in the room is out of the way, we can devote ourselves to the present album, because over the years it has been tried again and again to compare the Freisinger New Art-Rock formation with the legends from Cambridge. They started in the early 90s as a Pink Floyd tribute act and are archival connoisseurs of even the most obscure Syd Barrett songs, and every now and then a PF song can be found in their setlists. Such a comparison is flattering, of course, but 10 studio albums and seven live albums in 20 years, under the name RPWL alone, should be enough for a certain emancipation from the eternal analogies.
November 2020 was supposed to bring a large-scale, multi-week anniversary tour to mark the 20th year since the release of their debut album "God Has Failed," but of course things turned out differently. So what do you do when you have a perfectly rehearsed band, but the opportunity to perform is pulled out from under your feet? Right, you film a live studio session of the entire album. Basically, it can be cautiously said that RPWL live out the concept of their 2012 album "Beyond Man and Time". In a way, all artists are currently sitting in Plato's cave, only kind of seeing a reflection of the real world, whatever that may and will look like. "God Has Failed" represents the band's early days before they began to give themselves overarching concepts for their releases every now and then, starting in 2005.
Track List:
01. RPWL - Hole in the Sky, Pt. 1: Fly (Live)
02. RPWL - Hole in the Sky, Pt 2: Crawl to You (Live)
03. RPWL - Who Do You Think We Are (Live)
04. RPWL - Wait Five Years (Live)
05. RPWL - What I Need, Pt. 1: Leaving (Live)
06. RPWL - What I Need, Pt 2: What I Need (Live)
07. RPWL - In Your Dreams (Live)
08. RPWL - It's Alright (Live)
09. RPWL - Crazy Lane (Live)
10. RPWL - Fool (Live)
11. RPWL - Hole in the Sky, Pt 3: The Promise (Live)
12. RPWL - Spring Freedom (Live)
13. RPWL - Farewell (Live)
14. RPWL - God Has Failed (Live)
15. RPWL - Cymbaline (Live)
16. RPWL - Fat Old Sun (Live)
ANALYZER: auCDtect: CD records authenticity detector, version 0.8.2
Copyright © 2004 Oleg Berngardt. All rights reserved.
Copyright © 2004 Alexander Djourik. All rights reserved.


FILE: 01 - Hole in the Sky, Pt. 1_ Fly (Live).flac
Size: 33564063 Hash: 0EDBCAC4412FD92A5B76DA1AB78CD8BD Accuracy: -m40
Conclusion: CDDA 100%
Signature: 00FBA672952B74596C6C8E11CEE0EEB92E89987C
FILE: 02 - Hole in the Sky, Pt 2_ Crawl to You (Live).flac
Size: 15434761 Hash: 86C9C2DD4CA6059E32AB730ADF994242 Accuracy: -m40
Conclusion: CDDA 100%
Signature: DDD2374204EA30283A99F04CE851E7F48222D2CD
FILE: 03 - Who Do You Think We Are (Live).flac
Size: 29604001 Hash: E9A5AC081260B7E7B5CD11146C8AC996 Accuracy: -m40
Conclusion: CDDA 100%
Signature: 85136EF722DA6158D81114A84AE08979EA3AE88B
FILE: 04 - Wait Five Years (Live).flac
Size: 17659046 Hash: 862160330AE5E65ED857C81032B50B79 Accuracy: -m40
Conclusion: MPEG 93%
Signature: CEEA74057C0A291860AAE3AD217881D456CCAC2E
FILE: 05 - What I Need, Pt. 1_ Leaving (Live).flac
Size: 6966725 Hash: 660F5F68C970366BECD5F2723E60B176 Accuracy: -m40
Conclusion: MPEG 100%
Signature: 641EB30395241C357B326BCC4E55AA17196BE271
FILE: 06 - What I Need, Pt 2_ What I Need (Live).flac
Size: 35247941 Hash: 5E46C99F21C06C26D80CA060EF1BB424 Accuracy: -m40
Conclusion: CDDA 100%
Signature: 5FB949B3CF94A9D017D76E99502D7D0A55AEE0EF
FILE: 07 - In Your Dreams (Live).flac
Size: 58727727 Hash: 2EF71A3B6F9585F34F9A8E8D572093D3 Accuracy: -m40
Conclusion: CDDA 100%
Signature: BDFCC79E5087FCE5830F28AB0093CD0830AE4ABC
FILE: 08 - It's Alright (Live).flac
Size: 47580687 Hash: 14AF7908FD6B6968E586236B3E77E429 Accuracy: -m40
Conclusion: CDDA 100%
Signature: ACD1F17019C413B9946C60514DF25444795D403F
FILE: 09 - Crazy Lane (Live).flac
Size: 23091084 Hash: 2C8D0A93B25274CC52A3F761240C711F Accuracy: -m40
Conclusion: CDDA 100%
Signature: 59D89DF98402D594AB4323FAFDB203BB06869EC7
FILE: 10 - Fool (Live).flac
Size: 40431202 Hash: E2EE0E55A5574E43EE1CB70711B4F7CF Accuracy: -m40
Conclusion: CDDA 100%
Signature: 3B639F1CC7FB221248B53034B7DB502DD69A4E37
FILE: 11 - Hole in the Sky, Pt 3_ The Promise (Live).flac
Size: 20526714 Hash: E19890A7031609320529494D85DEA532 Accuracy: -m40
Conclusion: CDDA 100%
Signature: 1B3FFF36FBA20AB5A434D81FD52067FFB9211A1D
FILE: 12 - Spring Freedom (Live).flac
Size: 37940613 Hash: FDB1323DD4BBAD3AD4137651BA009DB3 Accuracy: -m40
Conclusion: CDDA 100%
Signature: 81D0A9F4AE95381D79C08AE6EC3D80C30282D10F
FILE: 13 - Farewell (Live).flac
Size: 37436636 Hash: B0613886CB10D8BFAE967C814F516437 Accuracy: -m40
Conclusion: CDDA 99%
Signature: B318750A24D0CB85F74B4D0DC5ACC1AD103C760A
FILE: 14 - God Has Failed (Live).flac
Size: 20396987 Hash: 529584E82B043D3D6EBCE6509538AF03 Accuracy: -m40
Conclusion: CDDA 100%
Signature: 13DB8FCD1FEBA33B0AF9BF019207E55038B7C9AF
FILE: 15 - Cymbaline (Live).flac
Size: 74906107 Hash: B9626CFD70DD20A03DDD5F8851038A23 Accuracy: -m40
Conclusion: CDDA 100%
Signature: 78436563D4A8BBFA9299F292D2886CD6921A9CE1
FILE: 16 - Fat Old Sun (Live).flac
Size: 56694011 Hash: 5EDF489CF6AD69E2A853CF7A82428F96 Accuracy: -m40
Conclusion: CDDA 100%
Signature: 9F18FAA25286525ABCBBD4207D79CABCB64EB8D3