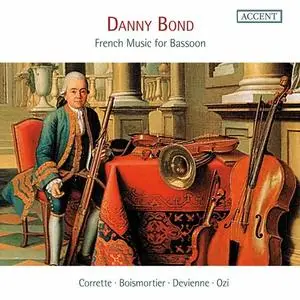 Robert Kohnen, Richte Van Der Meer, Danny Bond - French Music for Bassoon (2021)
FLAC tracks / MP3 320 kbps | 2:48:48 | 818 / 387 Mb
Genre: Classical / Label: Accent
The bassoon was only able to establish itself as a solo instrument towards the end of the 17th century. The first virtuosos came from France, where the bassoon was used as a bass instrument in military orchestras and the outstanding bassoonists were also able to establish themselves in concert. The American bassoonist Danny Bond, who is active in many of Europe's leading early music ensembles, dedicated three albums, released on the Accent label between 1983 and 2000, to the French repertoire for solo bassoon. The first album highlights the French Baroque with works by Michel Corrette and Joseph Bodin de Boismortier, the other two albums present works by François Devienne and Etienne Ozi, who stand on the threshold from the Baroque to the Classical period.
Track List:
CD1
01. Bassoon Sonata in G Major, Op. 20 No. 5: I. Preludio. Presto
02. Bassoon Sonata in G Major, Op. 20 No. 5: II. Sarabande
03. Bassoon Sonata in G Major, Op. 20 No. 5: III. Presto
04. Bassoon Sonata in F Major, Op. 20 No. 1: I. Fuga. Allegro
05. Bassoon Sonata in F Major, Op. 20 No. 1: II. Aria. Affetuoso
06. Bassoon Sonata in F Major, Op. 20 No. 1: III. Allegro
07. Bassoon Sonata in C Major, Op. 20 No. 3: I. Allemande. Allegro
08. Bassoon Sonata in C Major, Op. 20 No. 3: II. Sarabanda
09. Bassoon Sonata in C Major, Op. 20 No. 3: III. Fuga da capella. Allegro
10. Bassoon Sonata in G Major, Op. 26 No. 3, PB 374: I. Allegro ma non troppo
11. Bassoon Sonata in G Major, Op. 26 No. 3, PB 374: II. Corrente
12. Bassoon Sonata in G Major, Op. 26 No. 3, PB 374: III. Adagio
13. Bassoon Sonata in G Major, Op. 26 No. 3, PB 374: IV. Minuets I & II
14. Sonata for Bassoon & Cello in D Minor, Op. 40 No. 1, PB 450: I. Allegro ma non troppo
15. Sonata for Bassoon & Cello in D Minor, Op. 40 No. 1, PB 450: II. Vivace
16. Sonata for Bassoon & Cello in D Minor, Op. 40 No. 1, PB 450: III. Adagio
17. Sonata for Bassoon & Cello in D Minor, Op. 40 No. 1, PB 450: IV. Allegro
18. Bassoon Sonata in D Major, Op. 26 No. 1, PB 372: I. Moderato
19. Bassoon Sonata in D Major, Op. 26 No. 1, PB 372: II. Gavotte
20. Bassoon Sonata in D Major, Op. 26 No. 1, PB 372: III. Adagio
21. Bassoon Sonata in D Major, Op. 26 No. 1, PB 372: IV. Allegro
22. Bassoon Sonata in A Minor, Op. 26 No. 2, PB 373: I. Vivace
23. Bassoon Sonata in A Minor, Op. 26 No. 2, PB 373: II. Allemande. Allegro ma non troppo
24. Bassoon Sonata in A Minor, Op. 26 No. 2, PB 373: III. Adagio
25. Bassoon Sonata in A Minor, Op. 26 No. 2, PB 373: IV. Giga
CD2
01. Bassoon Sonata in C Major, Op. 24 No. 1: I. Allegro
02. Bassoon Sonata in C Major, Op. 24 No. 1: II. Adagio
03. Bassoon Sonata in C Major, Op. 24 No. 1: III. Menuet avec des variations
04. Bassoon Sonata in G Major, Op. 24 No. 2: I. Allegro maestoso
05. Bassoon Sonata in G Major, Op. 24 No. 2: II. Adagio
06. Bassoon Sonata in G Major, Op. 24 No. 2: III. Rondeau moderato
07. Bassoon Sonata in F Major, Op. 24 No. 3: I. Allegro moderato
08. Bassoon Sonata in F Major, Op. 24 No. 3: II. Largo
09. Bassoon Sonata in F Major, Op. 24 No. 3: III. Rondeau
10. Bassoon Sonata in B Major, Op. 24 No. 4: I. Allegro moderato
11. Bassoon Sonata in B Major, Op. 24 No. 4: II. Adagio
12. Bassoon Sonata in B Major, Op. 24 No. 4: III. Tempo di minuetto
13. Bassoon Sonata in G Minor, Op. 24 No. 5: I. Allegro con expressione
14. Bassoon Sonata in G Minor, Op. 24 No. 5: II. Adagio
15. Bassoon Sonata in G Minor, Op. 24 No. 5: III. Rondeau
16. Bassoon Sonata in C Major, Op. 24 No. 6: I. Allegro moderato
17. Bassoon Sonata in C Major, Op. 24 No. 6: II. Adagio
18. Bassoon Sonata in C Major, Op. 24 No. 6: III. Rondeau poco moderato
CD3
01. Nouvelle méthode de basson, Sonata No. 1: I. Allegro moderato
02. Nouvelle méthode de basson, Sonata No. 1: II. Adagio
03. Nouvelle méthode de basson, Sonata No. 1: III. Rondeau. Allegro assai
04. Nouvelle méthode de basson, Sonata No. 2: I. Allegro
05. Nouvelle méthode de basson, Sonata No. 2: II. Adagio
06. Nouvelle méthode de basson, Sonata No. 2: III. Rondeau. Allegretto non troppo
07. Nouvelle méthode de basson, Sonata No. 3: I. Allegro
08. Nouvelle méthode de basson, Sonata No. 3: II. Siciliano
09. Nouvelle méthode de basson, Sonata No. 3: III. Polonaise. Allegretto
10. Nouvelle méthode de basson, Sonata No. 4: I. Allegro molto
11. Nouvelle méthode de basson, Sonata No. 4: II. Adagio non troppo
12. Nouvelle méthode de basson, Sonata No. 4: III. Rondeau. Allegretto moderato
13. Nouvelle méthode de basson, Sonata No. 5: I. Allegro maestoso
14. Nouvelle méthode de basson, Sonata No. 5: II. Adagio
15. Nouvelle méthode de basson, Sonata No. 5: III. Rondeau. Allegretto
16. Nouvelle méthode de basson, Sonata No. 6: I. Allegro moderato
17. Nouvelle méthode de basson, Sonata No. 6: II. Adagio
18. Nouvelle méthode de basson, Sonata No. 6: III. Presto moderato
ANALYZER: auCDtect: CD records authenticity detector, version 0.8.2
Copyright © 2004 Oleg Berngardt. All rights reserved.
Copyright © 2004 Alexander Djourik. All rights reserved.


FILE: 01 - Bassoon Sonata in C Major, Op. 24 No. 1_ I. Allegro.flac
Size: 19145989 Hash: 1016EC6DEA81BCCBE63579D2DF64A2C8 Accuracy: -m40
Conclusion: CDDA 99%
Signature: 7A41A4C2590ECAE30140844C2EB2065C406CFE65
FILE: 02 - Bassoon Sonata in C Major, Op. 24 No. 1_ II. Adagio.flac
Size: 12789645 Hash: DF0225B2E5B5BAE2DA03227FB495A8FC Accuracy: -m40
Conclusion: CDDA 100%
Signature: A10DF4D3C2FC8A67EF462C06958D5245E1008219
FILE: 03 - Bassoon Sonata in C Major, Op. 24 No. 1_ III. Menuet avec des variations.flac
Size: 22273055 Hash: 063CA291B4A7EAABACCF9B9E2387243B Accuracy: -m40
Conclusion: CDDA 100%
Signature: AFF7FB37353CBE735EBDC49F8EDE49E56F8763FC
FILE: 04 - Bassoon Sonata in G Major, Op. 24 No. 2_ I. Allegro maestoso.flac
Size: 18568524 Hash: 49609F7B96BB3EC547067854C8479B26 Accuracy: -m40
Conclusion: CDDA 100%
Signature: A594F8C081C1D79DEC9E854578D1529F16E67DEA
FILE: 05 - Bassoon Sonata in G Major, Op. 24 No. 2_ II. Adagio.flac
Size: 12348151 Hash: 532ED1EACC65C3CE75092EA962B12F44 Accuracy: -m40
Conclusion: CDDA 99%
Signature: 56FF7352E1F958FE49D45E48DA6648A972794B57
FILE: 06 - Bassoon Sonata in G Major, Op. 24 No. 2_ III. Rondeau moderato.flac
Size: 13605581 Hash: 637FF5716598B9F9399E54590B3F892A Accuracy: -m40
Conclusion: CDDA 100%
Signature: E5F1F0B0E667CB9FEA680173D5DA0E4C3157705C
FILE: 07 - Bassoon Sonata in F Major, Op. 24 No. 3_ I. Allegro moderato.flac
Size: 17471166 Hash: 75BD6D6B692C308E7EB3712B9991A8AD Accuracy: -m40
Conclusion: CDDA 99%
Signature: 212E72C1C097BFA797524BFD72AE62F2032B095D
FILE: 08 - Bassoon Sonata in F Major, Op. 24 No. 3_ II. Largo.flac
Size: 10191782 Hash: C345E323602B62814CC00CE3DBD98410 Accuracy: -m40
Conclusion: CDDA 100%
Signature: E2CD9FF05349A5404149DC123178529C4BD44AAF
FILE: 09 - Bassoon Sonata in F Major, Op. 24 No. 3_ III. Rondeau.flac
Size: 15213458 Hash: 71BC7A5F7B19BBB70DB7C4826DEED10C Accuracy: -m40
Conclusion: CDDA 100%
Signature: E5B11CEA11F77B3DF9D6F1D393B2F427EBCDDA59
FILE: 10 - Bassoon Sonata in B Major, Op. 24 No. 4_ I. Allegro moderato.flac
Size: 21956403 Hash: 215A7B803DBF80C47A1BFE215CE36C90 Accuracy: -m40
Conclusion: CDDA 100%
Signature: CF4B060AB1CE8CEBB2C248D01C6DEED0C2C41772
FILE: 11 - Bassoon Sonata in B Major, Op. 24 No. 4_ II. Adagio.flac
Size: 13497902 Hash: 6C1B0E12952A978E536DC2FFC4409557 Accuracy: -m40
Conclusion: CDDA 100%
Signature: FEF8B11688F52BBB06481BBAF6CE59337AD4A08C
FILE: 12 - Bassoon Sonata in B Major, Op. 24 No. 4_ III. Tempo di minuetto.flac
Size: 11986050 Hash: DF3029C783D74E03D1CAC954B7B451D8 Accuracy: -m40
Conclusion: CDDA 99%
Signature: 0FE848C1F9433B55E856CA8753CF4DFB183EC93E
FILE: 13 - Bassoon Sonata in G Minor, Op. 24 No. 5_ I. Allegro con expressione.flac
Size: 17800629 Hash: 2BEE18CC464F7AED3BDEC3083CC11B78 Accuracy: -m40
Conclusion: CDDA 100%
Signature: 1400E73B2C0D3FCEAF99A6A58B80C6B49DB0B618
FILE: 14 - Bassoon Sonata in G Minor, Op. 24 No. 5_ II. Adagio.flac
Size: 9375514 Hash: D1AF38E1AFF65C92727E2A1BA669D445 Accuracy: -m40
Conclusion: CDDA 100%
Signature: 9010D976FFCAC9AD5C42D2D36D77A1DDD98EC01C
FILE: 15 - Bassoon Sonata in G Minor, Op. 24 No. 5_ III. Rondeau.flac
Size: 12202315 Hash: B77AD45A20F500FC1A82D2EB15BA171C Accuracy: -m40
Conclusion: CDDA 100%
Signature: FDEBB1126EAF7775EB43D8497904017CD0486182
FILE: 16 - Bassoon Sonata in C Major, Op. 24 No. 6_ I. Allegro moderato.flac
Size: 15299841 Hash: 62B78F9A5B96DEDB6246214A7CAB1D95 Accuracy: -m40
Conclusion: CDDA 100%
Signature: 09DED27B1400029A2551CA36EEFD3E1F940159B6
FILE: 17 - Bassoon Sonata in C Major, Op. 24 No. 6_ II. Adagio.flac
Size: 14173889 Hash: 2231D0811BBB97E999F038D804ABB0BA Accuracy: -m40
Conclusion: CDDA 99%
Signature: E3493A916E39A3DFF05D149FE3633E3965BF55EE
FILE: 18 - Bassoon Sonata in C Major, Op. 24 No. 6_ III. Rondeau poco moderato.flac
Size: 15058386 Hash: D624B2341685A033D15E1BF73756411A Accuracy: -m40
Conclusion: CDDA 99%
Signature: 2366E925CF7A8EB4F66D7411997E7241F42C12A8
FILE: 01 - Nouvelle méthode de basson, Sonata No. 1_ I. Allegro moderato.flac
Size: 27627141 Hash: 3ED0A39DCFA46DD0B05F4C9B7779D946 Accuracy: -m40
Conclusion: CDDA 100%
Signature: 873CE9DAF88DC0FF7F34E9A9A09C2EA497F3B199
FILE: 02 - Nouvelle méthode de basson, Sonata No. 1_ II. Adagio.flac
Size: 20774498 Hash: DB699D46A599DEF7A6300BBE35A12408 Accuracy: -m40
Conclusion: CDDA 99%
Signature: 9B1A196158721DDB25B984D5223E3F428AB3F268
FILE: 03 - Nouvelle méthode de basson, Sonata No. 1_ III. Rondeau. Allegro assai.flac
Size: 17161533 Hash: F6616F0DE191D2CF420BAE321AC01181 Accuracy: -m40
Conclusion: CDDA 100%
Signature: 7132F81D01FF3B81C9E367E7FB182D724C9ABAA6
FILE: 04 - Nouvelle méthode de basson, Sonata No. 2_ I. Allegro.flac
Size: 19984414 Hash: 203CD64497954FF89DA855F2EBFEEEC7 Accuracy: -m40
Conclusion: CDDA 100%
Signature: A03B68BF0218561F2B8A7A230E25FC902D62B66A
FILE: 05 - Nouvelle méthode de basson, Sonata No. 2_ II. Adagio.flac
Size: 18433187 Hash: 3CC8B2CD8A66005CE7939B4E2C5BE01A Accuracy: -m40
Conclusion: CDDA 100%
Signature: 4E910CBD64252EA3F7213598B3D2B4724DF50829
FILE: 06 - Nouvelle méthode de basson, Sonata No. 2_ III. Rondeau. Allegretto non troppo.flac
Size: 19159472 Hash: 06301C821EBFFF2CD2BEF144852EF0D0 Accuracy: -m40
Conclusion: CDDA 100%
Signature: F543931C02DF2318078A966DF21431FD6C0D218E
FILE: 07 - Nouvelle méthode de basson, Sonata No. 3_ I. Allegro.flac
Size: 17024844 Hash: 6E856A4A1ABDC225944A0FB5700F8DC9 Accuracy: -m40
Conclusion: CDDA 100%
Signature: 8374A1B927F4AEA7C3FC74C55A81CFDB93A9C891
FILE: 08 - Nouvelle méthode de basson, Sonata No. 3_ II. Siciliano.flac
Size: 18861556 Hash: 1882829146670297461EA3190E853EB4 Accuracy: -m40
Conclusion: CDDA 100%
Signature: 34D1B77DC795CE33944D7CDAA4BDBBF4D2E7459F
FILE: 09 - Nouvelle méthode de basson, Sonata No. 3_ III. Polonaise. Allegretto.flac
Size: 17723207 Hash: 682B1732790004309E3F3BE11E6EC0D0 Accuracy: -m40
Conclusion: CDDA 100%
Signature: 2A7CB7CDC786A320BE1CE3FB8715069763F1CE5E
FILE: 10 - Nouvelle méthode de basson, Sonata No. 4_ I. Allegro molto.flac
Size: 18242945 Hash: BFA67395D4D94E8EF0D114A41C930332 Accuracy: -m40
Conclusion: CDDA 100%
Signature: DAE22B12E963A27CE6049EDDAB1205AE7D8E1C1B
FILE: 11 - Nouvelle méthode de basson, Sonata No. 4_ II. Adagio non troppo.flac
Size: 16675163 Hash: 794E81C5371516DAD52D0AAE871CAA83 Accuracy: -m40
Conclusion: CDDA 99%
Signature: C357EDBCC845867D872C24AB16F88198C0CDF2DC
FILE: 12 - Nouvelle méthode de basson, Sonata No. 4_ III. Rondeau. Allegretto moderato.flac
Size: 16940422 Hash: 9F4711853DA8540E82EAD8642A7D48F5 Accuracy: -m40
Conclusion: CDDA 99%
Signature: 7918F04EE44E89ADB551AC422D6B85F35E9C0AE8
FILE: 13 - Nouvelle méthode de basson, Sonata No. 5_ I. Allegro maestoso.flac
Size: 19747571 Hash: 66DF9032DC2547C263CC950A3867C07F Accuracy: -m40
Conclusion: CDDA 100%
Signature: 66616395CF46C5F288681B97EFB228815086F5C1
FILE: 14 - Nouvelle méthode de basson, Sonata No. 5_ II. Adagio.flac
Size: 15641234 Hash: 62788194B241E212F2D9945AC0C322F6 Accuracy: -m40
Conclusion: CDDA 100%
Signature: FB040FA364BA897C9680FF76341CE646A2B9E78E
FILE: 15 - Nouvelle méthode de basson, Sonata No. 5_ III. Rondeau. Allegretto.flac
Size: 20301837 Hash: EC3FB91478C70AD74AD20374F3736244 Accuracy: -m40
Conclusion: CDDA 100%
Signature: 9A5987977E81CAF28FD59220BEB005A41E7405E1
FILE: 16 - Nouvelle méthode de basson, Sonata No. 6_ I. Allegro moderato.flac
Size: 21042205 Hash: 6221BD4D1AF0F60D78F781B353CC3586 Accuracy: -m40
Conclusion: CDDA 100%
Signature: B926DAFFA68CCF55F4D454FBB208F14C83263B4A
FILE: 17 - Nouvelle méthode de basson, Sonata No. 6_ II. Adagio.flac
Size: 17739336 Hash: AF675E1E711365E9C368101EE16C85B5 Accuracy: -m40
Conclusion: CDDA 100%
Signature: 5C0159C9EF25F8E8FDE7A4DB153C5B4269672DD7
FILE: 18 - Nouvelle méthode de basson, Sonata No. 6_ III. Presto moderato.flac
Size: 17361341 Hash: 511A932274FAC783C4F89C810ECA655D Accuracy: -m40
Conclusion: CDDA 100%
Signature: E5965C8F9809B971D397A39EA122428939FE21A8
FILE: 01 - Bassoon Sonata in G Major, Op. 20 No. 5_ I. Preludio. Presto.flac
Size: 13068637 Hash: DB0726B556EAD0EB1F84A114B2C6956A Accuracy: -m40
Conclusion: CDDA 100%
Signature: 322245B755D40ABD21EE18E8EC32F5DEEDCE18EF
FILE: 02 - Bassoon Sonata in G Major, Op. 20 No. 5_ II. Sarabande.flac
Size: 12139589 Hash: 679E67CECDB4CBA5C6F252B840F86A2E Accuracy: -m40
Conclusion: CDDA 100%
Signature: 963728E1C5A39BB1E350613AB75F120784D45CB7
FILE: 03 - Bassoon Sonata in G Major, Op. 20 No. 5_ III. Presto.flac
Size: 8543712 Hash: 35873ED12ED996D60E93E76D7FAC74E5 Accuracy: -m40
Conclusion: CDDA 100%
Signature: 909FA8A6E9EFB9FA57FB3F3A50E28AA157F82151
FILE: 04 - Bassoon Sonata in F Major, Op. 20 No. 1_ I. Fuga. Allegro.flac
Size: 12272592 Hash: 2E042F64EFA4E13426AE97B5D23D744D Accuracy: -m40
Conclusion: CDDA 100%
Signature: C53CFF6F6F0094F6DA85CF1BD4A6A09F7A40576C
FILE: 05 - Bassoon Sonata in F Major, Op. 20 No. 1_ II. Aria. Affetuoso.flac
Size: 13031843 Hash: 97BEFB28D74EF61328713FD99F89DE06 Accuracy: -m40
Conclusion: CDDA 100%
Signature: 481FED5ADF0827323E1869E85FA70E09CE3FFDC3
FILE: 06 - Bassoon Sonata in F Major, Op. 20 No. 1_ III. Allegro.flac
Size: 8353026 Hash: FD2D4E69E7DB3A997E1D2B0632693510 Accuracy: -m40
Conclusion: CDDA 100%
Signature: 46E0FD37EDE2932598B6C23D153CF14527163AF7
FILE: 07 - Bassoon Sonata in C Major, Op. 20 No. 3_ I. Allemande. Allegro.flac
Size: 14976839 Hash: DF5B67287FD8A7BC15E3E674635FB07D Accuracy: -m40
Conclusion: CDDA 100%
Signature: B9538C9CFB8C2465220B84F90223C508A530D40A
FILE: 08 - Bassoon Sonata in C Major, Op. 20 No. 3_ II. Sarabanda.flac
Size: 7913335 Hash: 79BDAACBBA4465100544DC4352F90F30 Accuracy: -m40
Conclusion: CDDA 100%
Signature: F4AA5D3CEE2BEF5D94FCE90464D255F1DEDCDE66
FILE: 09 - Bassoon Sonata in C Major, Op. 20 No. 3_ III. Fuga da capella. Allegro.flac
Size: 12510595 Hash: DBD98EC6C70315308E99ADC996EEBB35 Accuracy: -m40
Conclusion: CDDA 100%
Signature: 0840AE00060CD3B5196DBF3D5D2D1EB78FA2F5B8
FILE: 10 - Bassoon Sonata in G Major, Op. 26 No. 3, PB 374_ I. Allegro ma non troppo.flac
Size: 15303742 Hash: CBFC590ED1E88CCAAE6A67EA73EB9B6B Accuracy: -m40
Conclusion: CDDA 100%
Signature: 3365E9AB6E579E9683C86F35BA7FF936EEC8BD5F
FILE: 11 - Bassoon Sonata in G Major, Op. 26 No. 3, PB 374_ II. Corrente.flac
Size: 11120773 Hash: 34F787B6D1CDF3EE030501C883B042AA Accuracy: -m40
Conclusion: CDDA 100%
Signature: F2407B0B92E6CEAFB8302D3852D5950B34E5A4D4
FILE: 12 - Bassoon Sonata in G Major, Op. 26 No. 3, PB 374_ III. Adagio.flac
Size: 3600998 Hash: 18179A5ED7494871EDF293D233B8CA31 Accuracy: -m40
Conclusion: CDDA 100%
Signature: A7F477271AD1AA6CDD78DCB88A91DC47F8DFA690
FILE: 13 - Bassoon Sonata in G Major, Op. 26 No. 3, PB 374_ IV. Minuets I & II.flac
Size: 9852230 Hash: AFDE2C9689CC8278B18E63B038804BA3 Accuracy: -m40
Conclusion: CDDA 100%
Signature: 5432B842A42AC7DBDA0D79F13984670C5E99E294
FILE: 14 - Sonata for Bassoon & Cello in D Minor, Op. 40 No. 1, PB 450_ I. Allegro ma non troppo.flac
Size: 6040998 Hash: 08094FA86DF5CAEE2D67345A87C57E1D Accuracy: -m40
Conclusion: CDDA 100%
Signature: 5B692E9B6F696C4E0965837DE7C4B96DFB549214
FILE: 15 - Sonata for Bassoon & Cello in D Minor, Op. 40 No. 1, PB 450_ II. Vivace.flac
Size: 4889400 Hash: 34F443C0161FD1B290B4E8244BF4FFA5 Accuracy: -m40
Conclusion: CDDA 100%
Signature: 9F347E91731D7A729DE75349BF7FB33C9E58C271
FILE: 16 - Sonata for Bassoon & Cello in D Minor, Op. 40 No. 1, PB 450_ III. Adagio.flac
Size: 5457703 Hash: ADDED6117D5C66DACC8D6CF6CC09DDFC Accuracy: -m40
Conclusion: CDDA 100%
Signature: 6D19E2876DEAB19A4768228388CD8000D6FB48A6
FILE: 17 - Sonata for Bassoon & Cello in D Minor, Op. 40 No. 1, PB 450_ IV. Allegro.flac
Size: 7178452 Hash: 99925C3A4413F5681AE92DB3F67FC8F5 Accuracy: -m40
Conclusion: CDDA 100%
Signature: 913118DDDF0E512EE6C2D0B25EB1CE0C9BBCBCA0
FILE: 18 - Bassoon Sonata in D Major, Op. 26 No. 1, PB 372_ I. Moderato.flac
Size: 10623849 Hash: A2A4594888ACF8A81AC1165F66C1BF9B Accuracy: -m40
Conclusion: CDDA 100%
Signature: D72ECA2C1E516F80129C78C2E9470DEEDE7A3FDE
FILE: 19 - Bassoon Sonata in D Major, Op. 26 No. 1, PB 372_ II. Gavotte.flac
Size: 5803699 Hash: 4E35231BE72D418F5D9D9F783D7AB52B Accuracy: -m40
Conclusion: CDDA 99%
Signature: 57453CFCF94B988EFFBB9B19A4D899EB5B8387DA
FILE: 20 - Bassoon Sonata in D Major, Op. 26 No. 1, PB 372_ III. Adagio.flac
Size: 8154211 Hash: 85EC3793501303936949DB54908258F3 Accuracy: -m40
Conclusion: CDDA 94%
Signature: D8AFBBA119CC7ABC6935995F3D6F2F5B3EEBD677
FILE: 21 - Bassoon Sonata in D Major, Op. 26 No. 1, PB 372_ IV. Allegro.flac
Size: 13787974 Hash: 86EEA6A18D3122D5E0556CBB2BE58EE2 Accuracy: -m40
Conclusion: CDDA 99%
Signature: CE5C8A2F3C0A28FA6D16BA3A739DA7F2F7A796D4
FILE: 22 - Bassoon Sonata in A Minor, Op. 26 No. 2, PB 373_ I. Vivace.flac
Size: 11026489 Hash: 34E9E4BC9797C988B730294B7421897C Accuracy: -m40
Conclusion: CDDA 100%
Signature: 3C68F096EB71C08BD481A09A169990EB3E4569D3
FILE: 23 - Bassoon Sonata in A Minor, Op. 26 No. 2, PB 373_ II. Allemande. Allegro ma non troppo.flac
Size: 13843453 Hash: 44199AF02D315961E8E0FBEA34C892F1 Accuracy: -m40
Conclusion: CDDA 100%
Signature: 491A06CE1DF4ADC87A88C7D355F92D3662CA0F00
FILE: 24 - Bassoon Sonata in A Minor, Op. 26 No. 2, PB 373_ III. Adagio.flac
Size: 5993796 Hash: 31275F88664F9685D71DF5DD44A82C01 Accuracy: -m40
Conclusion: CDDA 99%
Signature: A0C772E2312F6B49D82B6C25A583442C9987531F
FILE: 25 - Bassoon Sonata in A Minor, Op. 26 No. 2, PB 373_ IV. Giga.flac
Size: 10851777 Hash: 88BC6D68493FFE3B5DEAB2DFB615F3D4 Accuracy: -m40
Conclusion: CDDA 100%
Signature: 4876CE6E2AD9BA28106030366FA286E52EB28AB1