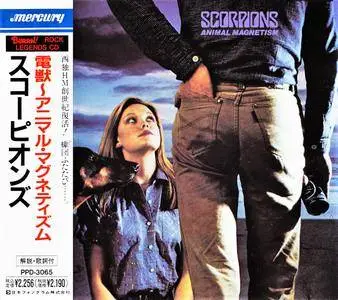 Scorpions - Animal Magnetism (1980) [Japan 1st Press, 1989]
EAC Rip | FLAC: Image+Cue+Log | MP3 CBR 320 kbps | Scans
253 Mb | 91 Mb | 36 Mb | Time: 39:29
Mercury/Nippon Phonogram Co., Ltd. | PPD-3065
Hard Rock, Heavy Metal
Animal Magnetism is the seventh studio album by German rock band Scorpions, released in 1980. The RIAA certified the record as Gold on 8 March 1984, and Platinum on 28 October 1991. So, Scorpions were cool in the '70s and then popular in the '80s, not that you need anyone to tell you that, but it'll make things much quicker for you when deciding which albums to listen to. Animal Magnetism finds itself wedged fairly uncomfortably between the two talents of the band - those of writing fun, exciting hard rock songs and writing badass proto-metal songs. There's a little bit here for everybody and even the cover strikes a better note than that of Virgin Killer or Lovedrive without losing that dangerous sexual edge the Germans were aiming for.

Track Listing
01. Make It Real (03:50)
02. Don't Make No Promises (Your Body Can't Keep) (02:58)
03. Hold Me Tight (04:00)
04. Twentieth Century Man (03:05)
05. Lady Starlight (06:16)
06. Falling In Love (04:12)
07. Only A Man (03:37)
08. The Zoo (05:31)
09. Animal Magnetism (05:59)
Produced by
Dieter Dierks
The Band
• Klaus Meine - lead vocals
• Matthias Jabs - lead guitar, talk box, backing vocals
• Rudolf Schenker - rhythm guitar, backing vocals
• Francis Buchholz - bass, backing vocals
• Herman Rarebell - drums, backing vocals
*****
• Allan Macmillan - strings and horns arrangements
• Adele Arman, Victoria Richard - violins
• Paul Arman - viola
• Richard Arman - cello
• Charles Elliot - bass
• Melvin Berman - oboe
• George Stimpson, Brad Wamaar - French horns
Exact Audio Copy V1.0 beta 3 from 29. August 2011

Отчёт EAC об извлечении, выполненном 11. октября 2014, 13:23

Scorpions / Animal Magnetism

Дисковод: PIONEER DVD-RW DVR-220L Adapter: 0 ID: 0

Режим чтения : Достоверность
Использование точного потока : Да
Отключение кэша аудио : Да
Использование указателей C2 : Нет

Коррекция смещения при чтении : 6
Способность читать области Lead-in и Lead-out : Нет
Заполнение пропущенных сэмплов тишиной : Да
Удаление блоков с тишиной в начале и конце : Нет
При вычислениях CRC использовались нулевые сэмплы : Да
Интерфейс : Встроенный Win32-интерфейс для Win NT/2000

Выходной формат : Внутренние WAV-операции
Формат сэмплов : 44.100 Гц; 16 бит; стерео


TOC извлечённого CD

Трек | Старт | Длительность | Начальный сектор | Конечный сектор
––––––––––––––––––––––––––––––––––-
1 | 0:00.37 | 3:49.70 | 37 | 17281
2 | 3:50.32 | 2:58.10 | 17282 | 30641
3 | 6:48.42 | 3:59.58 | 30642 | 48624
4 | 10:48.25 | 3:05.05 | 48625 | 62504
5 | 13:53.30 | 6:16.17 | 62505 | 90721
6 | 20:09.47 | 4:12.20 | 90722 | 109641
7 | 24:21.67 | 3:36.73 | 109642 | 125914
8 | 27:58.65 | 5:31.00 | 125915 | 150739
9 | 33:29.65 | 5:58.37 | 150740 | 177626


Характеристики диапазона извлечения и сообщения об ошибках

Выбранный диапазон

Имя файла D:\! Tracker\Music\Scorpions\Scorpions Collection by mewzik\1980 - Animal Magnetism\1980 - Animal Magnetism.wav

Пиковый уровень 97.7 %
Скорость извлечения 7.3 X
Качество диапазона 100.0 %
CRC теста 6419B846
CRC копии 6419B846
Копирование… OK

Ошибок не произошло


AccurateRip: сводка

Трек 1 : извлечено точно (доверие 2) [8DDFFFB1] (AR v1)
Трек 2 : извлечено точно (доверие 2) [46C62379] (AR v1)
Трек 3 : извлечено точно (доверие 2) [DF684D0D] (AR v1)
Трек 4 : извлечено точно (доверие 2) [01D98C8E] (AR v1)
Трек 5 : извлечено точно (доверие 2) [EF2102BE] (AR v1)
Трек 6 : извлечено точно (доверие 2) [48E8FB55] (AR v1)
Трек 7 : извлечено точно (доверие 2) [3EA7B3A0] (AR v1)
Трек 8 : извлечено точно (доверие 2) [9E486C45] (AR v1)
Трек 9 : извлечено точно (доверие 2) [D86AEF53] (AR v1)

Все треки извлечены точно

Конец отчёта
Many thanks to the original uploader: mewzik
Password: pass