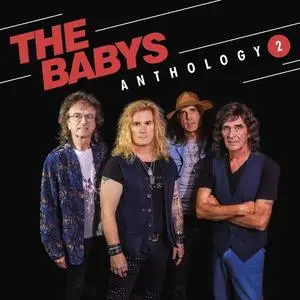 The Babys - Anthology 2 (2CD, 2020)
FLAC tracks | 1:50:45 | 793 Mb
Genre: Rock, Pop / Label: Sunset Blvd. Records
Born in 1976, THE BABYS exploded onto the UK rock scene proving to be a competitive force in the Bad Company tradition, and pioneering the sound that become known as the 80s Power Rock Ballad. Billboard chart-climbers like Every Time I Think of You, Midnight Rendezvous and Isn't It Time helped to launch them into worldwide recognition while also helping to carve out their permanent place in music history. THE BABYS classic songs have withstood the test of time - with their hits still being played continuously around the globe, and influencing bands of 'the day' and emerging artists respectively. Reunited by co-founders TONY BROCK and WALLY STOCKER, new members include ROCK VAULT vocalist JOHN BISAHA and BOYSTOWN guitarist JOEY SYKES, THE BABYS set about to re-record and re-image their classic hits and cut 15 new classic songs that comprise this 2 disc set.
Track List:
Disc 1
1. If You've Got the Time (02:41)
2. Give Me Your Love (04:13)
3. Wrong or Right (03:39)
4. Isn't It Time (05:00)
5. Love Don't Prove I'm Right (03:03)
6. Every Time I Think of You (04:28)
7. Head First (03:49)
8. Back on My Feet Again (04:06)
9. Midnight Rendezvous (03:54)
10. True Love, True Confession (04:09)
11. Anytime (03:20)
12. Darker Side of Town (02:42)
13. Postcard (02:47)
14. Turn and Walk Away (03:20)
15. When Life Goes Right (03:36)
16. Not Ready to Say Goodbye (03:50)
17. Postlude in G (01:42)
Disc 2
1. Grass Is Greener (03:50)
2. Every Side of You (03:25)
3. I See You There (04:19)
4. Sunrise & Goodbyes (03:46)
5. I'll Have Some of That (04:56)
6. All I Wanna Do (05:01)
7. These Days (03:53)
8. Uncivil War (03:58)
9. It's a Gas (04:50)
10. Saved My Life (03:27)
11. After Midnight (04:54)
12. Stay the Night (03:58)
ANALYZER: auCDtect: CD records authenticity detector, version 0.8.2
Copyright © 2004 Oleg Berngardt. All rights reserved.
Copyright © 2004 Alexander Djourik. All rights reserved.


FILE: 01 - If You've Got the Time.flac
Size: 20607413 Hash: 9C9C9A0F8765CA13FF273DF3020BF377 Accuracy: -m40
Conclusion: CDDA 100%
Signature: 811806F49D9B5345D2FA16A2BC1414FF058B7EB5
FILE: 02 - Give Me Your Love.flac
Size: 32011706 Hash: A872F9518ED072ED35A6607E0AC39344 Accuracy: -m40
Conclusion: CDDA 99%
Signature: 9C0110437A38F42BA4ED282777039109D083F2E7
FILE: 03 - Wrong or Right.flac
Size: 25809586 Hash: 2C0B858A33AD8019ABA2EE1FDC3E70B8 Accuracy: -m40
Conclusion: CDDA 100%
Signature: 154468C466A4F2E0385F94B9F1B178502D54AD84
FILE: 04 - Isn't It Time.flac
Size: 37230370 Hash: 0098260D2AAECB5B7FC811EB01B93B8F Accuracy: -m40
Conclusion: CDDA 99%
Signature: 9A4827E9C14B525CB4564DF9B67562C41AC5BF7F
FILE: 05 - Love Don't Prove I'm Right.flac
Size: 22618657 Hash: 973E333EC04EEEB14B52355D5253B5D2 Accuracy: -m40
Conclusion: CDDA 100%
Signature: 02949B1A79CEF006C563ECD51F77632D8E51491F
FILE: 06 - Every Time I Think of You.flac
Size: 33527275 Hash: 487A93F2BF3D2BBBF52840D69A6109C4 Accuracy: -m40
Conclusion: CDDA 99%
Signature: 7585149EB3FEC863D7CFCEC3E4134ED39480981E
FILE: 07 - Head First.flac
Size: 29615014 Hash: F32B76BB3849F06F3BF7EF463889CECE Accuracy: -m40
Conclusion: CDDA 100%
Signature: C6A3A6FFB709F0EB63A2D3476FA2B9CF7BB0ABB1
FILE: 08 - Back on My Feet Again.flac
Size: 31237771 Hash: 6CF7B9FA4F977347524905EE18E09A6E Accuracy: -m40
Conclusion: CDDA 100%
Signature: 1381BAED14324AE9389E811BADBC963B67551362
FILE: 09 - Midnight Rendezvous.flac
Size: 30830457 Hash: 4804162C8F313BEE8529D19139117FAF Accuracy: -m40
Conclusion: CDDA 100%
Signature: 247FE02926BC03F6871257E2F6E5393F41A55D61
FILE: 10 - True Love, True Confession.flac
Size: 31166540 Hash: 3C526B239C8BD2F20CFF550A9E82DC25 Accuracy: -m40
Conclusion: CDDA 100%
Signature: D008593E149F116C197DB8ECCD07E12C8C32FD0A
FILE: 11 - Anytime.flac
Size: 24965120 Hash: 84057B2EED211EC78C94FA3E98F8B13C Accuracy: -m40
Conclusion: CDDA 100%
Signature: 5CF6AD8C36D13F22CB232D3E22C1E93351B00E03
FILE: 12 - Darker Side of Town.flac
Size: 14071562 Hash: D739F1484BE4F7C4CE90742EEBE13850 Accuracy: -m40
Conclusion: CDDA 100%
Signature: 79337732ADF170D925B6610C4F0A56F4B05A15FB
FILE: 13 - Postcard.flac
Size: 21542523 Hash: 15581C259BE155EE42773CA04A97122C Accuracy: -m40
Conclusion: CDDA 100%
Signature: 29889883BDDFEB3722ED82F5A845AA936459A178
FILE: 14 - Turn and Walk Away.flac
Size: 23876908 Hash: 24D7395C8FB77B3DDD7CDBDED4F5B8B1 Accuracy: -m40
Conclusion: CDDA 100%
Signature: 99106CDDAA3666848CEB0D684B9EC59615127752
FILE: 15 - When Life Goes Right.flac
Size: 25144713 Hash: 5DDC7D2CB5BFDB1E5BD661579E4F675F Accuracy: -m40
Conclusion: CDDA 100%
Signature: 45C875A1BD21F0C37C69CB3C3F01E9026FCB00AA
FILE: 16 - Not Ready to Say Goodbye.flac
Size: 26203674 Hash: 5AF6C621F62634867DA46DB88EBB7276 Accuracy: -m40
Conclusion: CDDA 99%
Signature: 2EF487707016224AED31E42D7DFE81E2FEAC6C3E
FILE: 17 - Postlude in G.flac
Size: 7375422 Hash: B5E00A87DC41919C42AD993F0EB06A9E Accuracy: -m40
Conclusion: CDDA 100%
Signature: C454C8AF79D0D2696806722B7D2035FBECAEA473
FILE: 01 - Grass Is Greener.flac
Size: 30736506 Hash: 283224DC6AB1BBED5B00A783895B3ED8 Accuracy: -m40
Conclusion: CDDA 100%
Signature: 8BC544453303685D98285F54ED1C64C7A24BC1B9
FILE: 02 - Every Side of You.flac
Size: 27650760 Hash: 4805A47DE05DA987CB72DD47EED86B8B Accuracy: -m40
Conclusion: CDDA 100%
Signature: B0120D6F4426A2099DA0FDCC278B3A268EC45D12
FILE: 03 - I See You There.flac
Size: 33113807 Hash: 6D0C3E72F85C2FB66D566AE47696D10A Accuracy: -m40
Conclusion: CDDA 100%
Signature: 49C571B712129A8CEF1AE81A427777AA976ACB9F
FILE: 04 - Sunrise & Goodbyes.flac
Size: 29645698 Hash: A57559B1ADBE8CB6EFB98982EE85BEF4 Accuracy: -m40
Conclusion: CDDA 100%
Signature: C028015150DD5ED3F3FD19556839544B228B7DA2
FILE: 05 - I'll Have Some of That.flac
Size: 39535814 Hash: AA58EB8EC6B14F093D7347AC46E0F32D Accuracy: -m40
Conclusion: CDDA 100%
Signature: 3FE976122128827E2C6467748CBAEEFA5A61E4C7
FILE: 06 - All I Wanna Do.flac
Size: 37461070 Hash: 6A92952859FD0BDDCB04425DC362BC83 Accuracy: -m40
Conclusion: CDDA 100%
Signature: 6C4C249875AC89B3AD7D8CFF1D35BC4BB4E4D80B
FILE: 07 - These Days.flac
Size: 30765139 Hash: C0BC9081C5398022DF738EF641DF9B3D Accuracy: -m40
Conclusion: CDDA 100%
Signature: 98CB9DF2133817162181BBA9923A76BCAF2CA719
FILE: 08 - Uncivil War.flac
Size: 30146173 Hash: 707530CBF6C5C793855B68E366C2730F Accuracy: -m40
Conclusion: CDDA 99%
Signature: 8CCC37027BC0CE2F77033070B427FED6430F81C4
FILE: 09 - It's a Gas.flac
Size: 38148778 Hash: B6FB6A8DA1D7A1D995136EB7CF147F67 Accuracy: -m40
Conclusion: CDDA 100%
Signature: 8781DD0677ADA292B4AE5F072B032C5983367E38
FILE: 10 - Saved My Life.flac
Size: 27764201 Hash: 81C0B6C4DB14AF2FAFED65A5E1251073 Accuracy: -m40
Conclusion: CDDA 100%
Signature: 0C0494D30C3E81AA1C9D0AFAD40C505C515F4E43
FILE: 11 - After Midnight.flac
Size: 36140537 Hash: E72ACE927CD3A8808B0BB17D48EFE198 Accuracy: -m40
Conclusion: CDDA 100%
Signature: C6FFE4F2AF6BE05D2C3627C56BF63D586E043001
FILE: 12 - Stay the Night.flac
Size: 31391054 Hash: CA716441F4CD7EE845BE1086FC135576 Accuracy: -m40
Conclusion: CDDA 99%
Signature: F0F03A0AF92B284FF9D159BF8A6D0B20B710948E