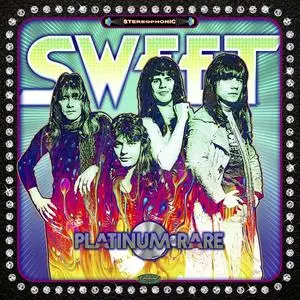 The Sweet - Platinum Rare (2021)
FLAC tracks / MP3 320 kbps | 1:28:50 | 205 / 570 Mb
Genre: Rock / Label: Prudential Music Group
Originally called The Sweetshop, the British band The Sweet enjoyed phenomenal success in the 1970s, at the time of glam rock, before disbanding in 1982 and making way for three different bands created by their former members. The formation born in 1968 changes its name two years later, after two singles and a first contract without success. Stabilized around singer Brian Connolly and musicians Mick Tucker (guitar), Steve Priest (bass) and guitarist Andy Scott, who replaced Frank Torpey, The Sweet landed at RCA in 1971 and was entrusted to the good care of songwriters Nicky Chinn and Mike Chapman, who would provide them with a first hit with "Funny Funny", followed by a series of hits, the most successful of which remained "Co-Co" (No. 2), " Block Buster! "(the band's only No. 1), "Hell Raiser", "The Ballroom Blitz", "Teenage Rampage" and "Fox on the Run" (each No. 2). In a style oscillating between glam rock with sequins and heeled boots and hard rock, The Sweet were one of the most popular bands in the UK and managed to export their success across the Atlantic. Although her albums did not reach such positions in the sales charts, Sweet Fanny Adams and Desolation Boulevard (released in 1974), nevertheless collected gold records. From 1976, the source dried up, although the albums Give Us a Wink, Off the Record (1977) and Level Headed (1978) still attracted a large European audience. The departure of Brian Connolly in 1979, after the success of " Love Is Like Oxygen ", left The Sweet in a dead end. The remaining members continued as a trio until 1981, before Brian Connoly and Andy Scott formed their own band Sweet associated with their names, followed in 2008 by Steve Priest, who died on June 4, 2020. Andy Scott became the only one to perpetuate the band's name on stage and in the studio.
Track List:
[04:06] 01. The Sweet - Ballroom Blitz (Rough Mix)
[02:36] 02. The Sweet - Unused Backtrack (ID Crisis Sessions)
[04:13] 03. The Sweet - Midnight to Daylight (Outtake)
[03:42] 04. The Sweet - Show Me the Way (Outtake)
[04:45] 05. The Sweet - Log One (That Girl) (Brian Vocal)
[03:11] 06. The Sweet - Cover Girl (Outtake)
[06:56] 07. The Sweet - Love is Like Oxygen (Instrumental)
[01:12] 08. The Sweet - Windy City (Band Demo)
[04:18] 09. The Sweet - Falling in Love (Outtake)
[03:29] 10. The Sweet - Yesterday's Hero
[03:27] 11. The Sweet - Live for Today (Rough Mix)
[03:21] 12. The Sweet - New Shoes (Rough Mix)
[03:54] 13. The Sweet - Rebel Rouser (Steve Vocal)
[05:09] 14. The Sweet - Fire Engine
[03:22] 15. The Sweet - Blockbuster (Rough Mix)
[03:29] 16. The Sweet - Play All Night (Brian Vocal)
[01:00] 17. The Sweet - Strong Love (Outtake)
[03:19] 18. The Sweet - Teenage Rampage (Rough Mix)
[02:59] 19. The Sweet - California Nights (Band Demo)
[03:09] 20. The Sweet - Hellraiser (Rough Mix)
[04:15] 21. The Sweet - Where Do We Go from Here
[02:34] 22. The Sweet - Silverbird (Band Demo)
[03:25] 23. The Sweet - Maggie
[03:02] 24. The Sweet - Lettres D'amour (Band Demo)
[03:45] 25. The Sweet - Lost Angels (Rough Mix)
ANALYZER: auCDtect: CD records authenticity detector, version 0.8.2
Copyright © 2004 Oleg Berngardt. All rights reserved.
Copyright © 2004 Alexander Djourik. All rights reserved.


FILE: 01. The Sweet - Ballroom Blitz (Rough Mix).flac
Size: 27460098 Hash: 5989B660958F4D885551E2E778070E94 Accuracy: -m40
Conclusion: CDDA 100%
Signature: 3F7CDB3CEAD6C5C56088EE1DDD2F4256079FD9F2
FILE: 02. The Sweet - Unused Backtrack (ID Crisis Sessions).flac
Size: 14895932 Hash: 83231479E2DCDCFDB81C4F5300A6A8D3 Accuracy: -m40
Conclusion: CDDA 100%
Signature: 70CB1A5FDE9FA2F51FE9E64B7F7B88A9278D8973
FILE: 03. The Sweet - Midnight to Daylight (Outtake).flac
Size: 26781327 Hash: A3F0E774A20279D971E0BB660519E9F1 Accuracy: -m40
Conclusion: CDDA 100%
Signature: D5E427760959E71842A0167D16FE2B36B407C01D
FILE: 04. The Sweet - Show Me the Way (Outtake).flac
Size: 26130292 Hash: D3B93E95772E7B7D72EDCE85BBB495F2 Accuracy: -m40
Conclusion: CDDA 100%
Signature: B309CD710705A03522C72E631C3648FE21DC1F5C
FILE: 05. The Sweet - Log One (That Girl) (Brian Vocal).flac
Size: 35849042 Hash: CEEF482794FF32D5A0E6CE7EA6E98658 Accuracy: -m40
Conclusion: CDDA 86%
Signature: 77A383435B6D5A3FA4F24119CC69D2AD3DB86713
FILE: 06. The Sweet - Cover Girl (Outtake).flac
Size: 22341946 Hash: BA672681C3049F275940A86ABBDEE037 Accuracy: -m40
Conclusion: MPEG 80%
Signature: 3A147E9EF7AA401C2D202F46EFA3D70A80025D86
FILE: 07. The Sweet - Love is Like Oxygen (Instrumental).flac
Size: 43924206 Hash: D4DB377751EC8338BBE0876814CF389F Accuracy: -m40
Conclusion: CDDA 58%
Signature: 1E8DDAB4F4AB1446E227F468E76F6948C0CB4D55
FILE: 08. The Sweet - Windy City (Band Demo).flac
Size: 7394962 Hash: 54CFF85DACDCA9E5628ADDE3F894E2A5 Accuracy: -m40
Conclusion: CDDA 100%
Signature: 3999AA3FEF35562E52B63D7CFDEDEAB5891FCFB8
FILE: 09. The Sweet - Falling in Love (Outtake).flac
Size: 30629366 Hash: 0104B1B6AC0F23725364F8ED01ECA38C Accuracy: -m40
Conclusion: CDDA 100%
Signature: 3DC826DCC1CD05BEA01AB841B5CF0913EEFB783D
FILE: 10. The Sweet - Yesterday's Hero.flac
Size: 25501252 Hash: D7C01BEC66E781E700BABF0C6EED5AC1 Accuracy: -m40
Conclusion: CDDA 100%
Signature: B788AFDA9395EEBA96ACA8B5CE5709813BFA9246
FILE: 11. The Sweet - Live for Today (Rough Mix).flac
Size: 23541979 Hash: 0138EB0F500F0215801079B9CD829423 Accuracy: -m40
Conclusion: CDDA 100%
Signature: A6EDBED7AEA0E2B874095B3938354D6694D3D447
FILE: 12. The Sweet - New Shoes (Rough Mix).flac
Size: 21773836 Hash: A081022CDA053DA25A21969B7274314D Accuracy: -m40
Conclusion: CDDA 100%
Signature: C41C6D5FC4781BC826A99AD0A8B3953BF53AB7A3
FILE: 13. The Sweet - Rebel Rouser (Steve Vocal).flac
Size: 24986201 Hash: 53176FBBA6EDA2FD5CB95C5BCB216659 Accuracy: -m40
Conclusion: CDDA 100%
Signature: 480C0B54FB607BF09707D33BDAB76B522AD4468E
FILE: 14. The Sweet - Fire Engine.flac
Size: 34738150 Hash: E4F51E6D3095E08EC22F8036A05EE4FE Accuracy: -m40
Conclusion: MPEG 79%
Signature: 5DC695E1F559C3D28BA14DF81E9C4955ECEEA13D
FILE: 15. The Sweet - Blockbuster (Rough Mix).flac
Size: 20803065 Hash: DF3008E034E76B63679FFCDEB7970C19 Accuracy: -m40
Conclusion: CDDA 100%
Signature: 6F4EBD22B78D6652F9A1141029F93614822F5FE2
FILE: 16. The Sweet - Play All Night (Brian Vocal).flac
Size: 26075211 Hash: BD79DDFCA569739E103C686DCEAA6A27 Accuracy: -m40
Conclusion: MPEG 79%
Signature: 5FA86D2663773F391D30ED9578B45723680AFEEC
FILE: 17. The Sweet - Strong Love (Outtake).flac
Size: 7011009 Hash: D16C5D2C5EE150FDC1B474D1A65F0E8F Accuracy: -m40
Conclusion: CDDA 49%
Signature: 5240C04CF0199EF877A6FA8855F8C33E723FAE0C
FILE: 18. The Sweet - Teenage Rampage (Rough Mix).flac
Size: 22731949 Hash: 8A3BA78674F241AFF55F471AC2D2B6CB Accuracy: -m40
Conclusion: CDDA 100%
Signature: 1BB072EA529929CC321EA18E4D07D1418E46EFE5
FILE: 19. The Sweet - California Nights (Band Demo).flac
Size: 21321352 Hash: 921DC6DE5DCDC4178168D03787AACD2A Accuracy: -m40
Conclusion: CDDA 99%
Signature: 03B9F83FDC67DD93FDF9A6DCAAF956A049E405FE
FILE: 20. The Sweet - Hellraiser (Rough Mix).flac
Size: 24119831 Hash: B6FAC4339ECA7DDA5BE680171EF992B3 Accuracy: -m40
Conclusion: CDDA 100%
Signature: F50CAB3F461553F9A5C13B79890F8204F8FAFC78
FILE: 21. The Sweet - Where Do We Go from Here.flac
Size: 28848403 Hash: 138D35C8408EAA976F4C2D08E8FD74C7 Accuracy: -m40
Conclusion: CDDA 99%
Signature: 03D6256CCD4DCCC3CFA80589FF83C7B0CF77162F
FILE: 22. The Sweet - Silverbird (Band Demo).flac
Size: 17174218 Hash: BFB5076CB0842CBBE27D7F4812C406E1 Accuracy: -m40
Conclusion: CDDA 100%
Signature: E8EDB91D8D1EFC7C3FB57EB30C620A75AD29EE5D
FILE: 23. The Sweet - Maggie.flac
Size: 22705250 Hash: 699C8AC3B8B62FBDDDAB8138EA9759E5 Accuracy: -m40
Conclusion: CDDA 100%
Signature: 25AD30D36E7404D0428A647153C14AE9BC4CA92D
FILE: 24. The Sweet - Lettres D'amour (Band Demo).flac
Size: 19649368 Hash: D147E8BD52CF3B92D8F2EB8221182098 Accuracy: -m40
Conclusion: CDDA 100%
Signature: E2A235728784D4F3549CDEA555945F878C71F279
FILE: 25. The Sweet - Lost Angels (Rough Mix).flac
Size: 24300481 Hash: 465B99280A443A499BE551793C1DCE8C Accuracy: -m40
Conclusion: CDDA 100%
Signature: A541ED97C1BF8F324D020AA7BEB4D18FF209FEB8