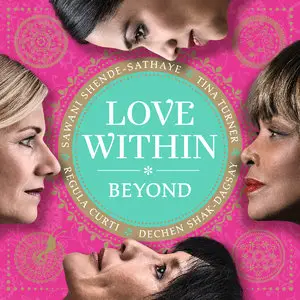 Tina Turner, Regula Curti, Dechen Shak-Dagsay & Sawani Shende-Sathaye - Love Within - Beyond (2014)
MP3 CBR 320 kbps | Tracks: 10 | 68:25 min | 162 Mb
Style: Ethnic, New Age, World Music | Label: Panorama (Universal Music)
Buddhist, Christian and Hindu prayers featuring Tina Turner, Regula Curti, Dechen Shak-Dagsay and Sawani Shende-Sathaye.
This music is a praise to all divine Mothers, goddesses and saints, to the female power within all of us. Unconditional love is powerfully shown in the symboles of the Divine Mother of all faiths and cultures, religious and non religious. Compassion and love is the all embracing sound of the heart.
Beyond's third album "Love Within" adds Hindu prayers and traditional Indian music to the cross-cultural combination of Christian and Buddhist music, mantras and prayers. It features a wide variety of instrumental textures – from Tibetan bells and bowls to Indian drums and sitars, an Armenian doudouk and even a Swiss alphorn.
On this CD we have Tina chanting Baptist prayers from her childhood and imparting the overall spiritual message "love within", Dechen singing Buddhist mantras, Regula Christian prayers and Sawani Hindu mantras. As on the platinum nominated album BEYOND the four singers have been undertaking the challenge of merging eastern and western music and overlapping their prayers in one song. They have succeeded in creating a universal and passionate sound. Their singing will help you to nourish values like love, kindness and compassion, forgiveness and tolerance.
Tracklist:
01. Love Within 10:10
02. Wisdom 05:57
03. Almighty 06:08
04. Divine Mother 06:37
05. Praise 06:17
06. Mother Within 05:18
07. Welcome 07:22
08. Lover Beyond 08:26
09. Compassion 05:28
10. Oneness 06:42