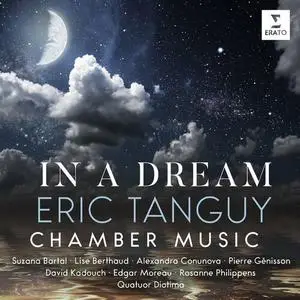 VA - Tanguy: In a Dream (2022)
FLAC (tracks), Lossless | 1:13:59 | 289 Mb
Genre: Classical / Label: Warner Classics
Eric Tanguy's focus on "imagination, poetry and an interior world" has helped to make him one of the most widely performed French composers of today. Belonging in a line that leads back from his mentor Henri Dutilleux to Messiaen and Debussy, he does not identify with any specific 'school' of composition. His aesthetic has also been shaped by the music of Sibelius and his technique is characterised by intricate use of modes. "There is rigour and purpose behind my music," he says, but I don't expect the listener to have to decode it … It's the feeling that matters." The album In a Dream takes its title from a piece for violin and piano, one of the eight chamber works on its programme. Composed between 1999 and 2019, they are performed here by violinists Alexandra Conunova and Rosanne Philippens, viola-player Lise Berthaud, cellist Edgar Moreau, clarinettist Pierre Génisson, pianists Suzana Bartal and David Kadouch, and string ensemble Quatuor Diotima.
Track List:
1. Quatuor Diotima;Suzana Bartal - Quintette pour piano et quatuor à cordes (13:46)
2. Alexandra Conunova;Suzana Bartal - In a Dream, pour violon et piano (8:38)
3. Edgar Moreau;Suzana Bartal - Spirales, pour violoncelle et piano (6:29)
4. Suzana Bartal - Nachtmusik, pour piano seul (6:55)
5. Lise Berthaud;Suzana Bartal - Rhapsodie pour alto et piano (10:21)
6. Alexandra Conunova - Sonata Breve, pour violon seul: I. Lyrique (3:41)
7. Alexandra Conunova - Sonata Breve, pour violon seul: II. Étrange (3:05)
8. Alexandra Conunova - Sonata Breve, pour violon seul: III. Vertigineux (2:14)
9. Pierre Génisson;Suzana Bartal - Lacrymosa, pour clarinette et piano (6:55)
10. David Kadouch;Edgar Moreau;Rosanne Philippens - Trio pour piano, violon et violoncelle (12:00)
ANALYZER: auCDtect: CD records authenticity detector, version 0.8.2
Copyright © 2004 Oleg Berngardt. All rights reserved.
Copyright © 2004 Alexander Djourik. All rights reserved.


FILE: 01 - Tanguy_ Quintette pour piano et quatuor à cordes.flac
Size: 62945154 Hash: 23597DC1DDE6FFCEE3795DE7EC06359F Accuracy: -m40
Conclusion: CDDA 100%
Signature: CA5BE40BBC9324C74D77ECF48813905C0EBD7B04
FILE: 02 - Tanguy_ In a Dream, pour violon et piano.flac
Size: 36211710 Hash: B9900C60715DF9344FE66E0EB73C055A Accuracy: -m40
Conclusion: CDDA 100%
Signature: 0F609EB7399C54BFF3665412EC7B8FBF72F757A8
FILE: 03 - Tanguy_ Spirales, pour violoncelle et piano.flac
Size: 27578219 Hash: 507D1FDF0A257F0912F98E78DC00BF94 Accuracy: -m40
Conclusion: CDDA 99%
Signature: CF2B80EE67BE902F101AC0ED97AF4BF4C929AEFD
FILE: 04 - Tanguy_ Nachtmusik, pour piano seul.flac
Size: 18965191 Hash: 46D4A5361AD28B71F12040D555E81FBC Accuracy: -m40
Conclusion: MPEG 99%
Signature: D820669A0531903E64B7A57E7B1EB252950A2969
FILE: 05 - Tanguy_ Rhapsodie pour alto et piano.flac
Size: 40433800 Hash: D20F971F968D5CFDAC39DDDBF6D2917A Accuracy: -m40
Conclusion: CDDA 100%
Signature: 5F12C0825B473DE4C7FF9516559D05E5523A07AE
FILE: 06 - Tanguy_ Sonata Breve, pour violon seul_ I. Lyrique.flac
Size: 19316101 Hash: 9EA33819EA78B17B7327FFC400ADD0A7 Accuracy: -m40
Conclusion: CDDA 100%
Signature: 1584822C323C4AC06713DAC12892468F60FF74FF
FILE: 07 - Tanguy_ Sonata Breve, pour violon seul_ II. Étrange.flac
Size: 13010300 Hash: 1F474515EB315D5D8BAA557921F2CAED Accuracy: -m40
Conclusion: CDDA 100%
Signature: 1B986262177518DAE1A8A890C9EDC3AB8B234132
FILE: 08 - Tanguy_ Sonata Breve, pour violon seul_ III. Vertigineux.flac
Size: 10943118 Hash: C3E74CD7F28BD5C6644F47A2AA37E628 Accuracy: -m40
Conclusion: CDDA 100%
Signature: B2FAA46C5DF8309A61C4AA1C0B20F2808CB8A83B
FILE: 09 - Tanguy_ Lacrymosa, pour clarinette et piano.flac
Size: 23257727 Hash: D279FCD53A779611F7A6E1E7F7F01B5D Accuracy: -m40
Conclusion: CDDA 100%
Signature: 800F2F4E36C94E6A77493EEDAFC3C51B144457F0
FILE: 10 - Tanguy_ Trio pour piano, violon et violoncelle.flac
Size: 51852401 Hash: B8739EE783A6C93E8FD5C3FA87678CE1 Accuracy: -m40
Conclusion: CDDA 100%
Signature: 01A96D27D3BD9415E718C1856EA618D8D7D1F60D