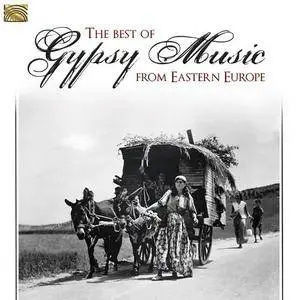 VA - The Best Of Gypsy Music From Eastern Europe (2018)
MP3 CBR 320 kbps | 1:18:38 | 179 Mb
Genre: World Music, Pop / Label: ARC Music
Gypsy music has a certain fascination, a mystery of far-away places, a kind of longing, a sadness but often such exuberant and fiery enthusiasm as to make the listeners hearts pound and feet tap. Gypsy musicians, many having learned their instruments from an early childhood, usually are virtuoso players of their instruments and are able to express and project a rainbow of emotions with their guitars, accordions, violins, and other instruments. The term gypsy music refers strictly to the gypsies own folk music, but in its broadest sense has become a general term for music performed and cultivated by gypsies. The gypsies were/are an itinerant people believed to have originated from northern India. By the 9th century gypsies were in Persia, and by the 11th they had reached Bulgaria. By the 15th century they were present throughout many European countries. As many Roma worked as musicians or entertainers, they had a considerable impact on the music of the countries they lived in- their own particular musical style often combined with the folk music of a particular country, thus preserving the traditions over centuries. Todays so-called gypsy repertoire can be described as a blend of influences from all of these areas. The Roma have influenced musical works by Bizet, Brahms, and Dvorak, to name but a few. This collection highlights a variety of gypsy music from Romania, Hungary, Serbia, Bulgaria, and Macedonia.
Track List:
1. Sî Tisjunyé Sî Kãrbunyé - Kanizsa Csillagai 03:29
2. Am o Kasza - Khamoro Budapest Band 02:46
3. Áhuz, Mámã… - Kanizsa Csillagai 04:06
4. Aroma - Kal Band 03:35
5. Fresh Czárdás - Andras Farkas Jr. Ensemble 00:52
6. Ajoj, Urtasje - Kanizsa Csillagai 03:01
7. Sje Sza Fak - Kanizsa Csillagai 03:54
8. Play It Again - Kal Band 03:12
9. The Singing Gypsies - Ibro Lolov Gypsy Orchestra 03:25
10. The Dance Begins - Andras Farkas Jr. Ensemble 01:23
11. Ljiljano - Kal Band 04:10
12. Makedonsko Devojce - King Ferus Mustafov 02:51
13. The Tiger - Ibro Lolov Gypsy Orchestra 03:56
14. Roven More Jakha - Khamoro Budapest Band 03:40
15. Balkan Toxin - Khamoro Budapest Band 05:16
16. Asa-i Viata la Tigani - Taraful din Baia 02:45
17. Cohano - Kal Band 03:51
18. Cekaj Zivote - Esma Redžepova-Teodosievska 04:43
19. Sofiysky Kjuchek - Ibro Lolov Gypsy Orchestra 03:46
20. De ce m-ai parasit? - Taraful din Baia 03:24
21. Svadbarsko Oro - King Ferus Mustafov 04:21
22. Piatra, piatra - Maria Buza 06:02