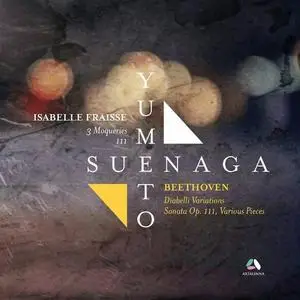 Yumeto Suenaga - Beethoven & Fraisse: Piano Works (2021)
FLAC tracks | 02:15:37 | 490 Mb
Genre: Classical / Label: ARTALINNA
Yumeto Suenaga, a Franco-Japanese pianist invites us on a most inventive journey, in the heart of late Beethoven, combining great architectures such as the Diabelli Variations or the last sonata for keyboard, Op. 111, and miniatures, sometimes even very short sketches. A true thought in motion unfolds here. Yumeto Suenaga also reveals two works by the French composer Isabelle Fraisse: 111, a tribute to the 32nd Sonata, taken from Three Dialogues with the Work of Beethoven, and the fruit of a most original enterprise, the 3 Moqueries on a Waltz by Diabelli.Franco-japonais, Yumeto Suenaga nous invite à un périple des plus inventifs, au cœur du Beethoven tardif, combinant grandes architectures telles les Variations Diabelli ou la dernière sonate pour clavier, l'Op. 111, et miniatures, parfois même des esquisses très brèves. C'est une véritable pensée en mouvement qui se dévoile ici. Yumeto Suenaga révèle en outre deux œuvres de la compositrice française Isabelle Fraisse : 111, un hommage à la 32e Sonate, extrait des Trois Dialogues avec l'oeuvre de Beethoven, et fruit d'une entreprise des plus originales, les 3 Moqueries sur une valse de Diabelli.
Track List:
CD1
01. Beethoven Alla ingharese quasi un capriccio in G Major, Op. 129 (Allegro vivace)
02. Beethoven Bagatelle in B-Flat Major, WoO 60 (Ziemlich lebhaft)
03. Beethoven Allegretto in B Minor, WoO 61
04. Beethoven Bagatelle in G Minor, WoO 61a, Hess 56 (Allegro quasi andante)
05. Beethoven 33 Veranderungen uber einen Walzer von Diabelli, Op. 120 No. 1, Thema (Vivace)
06. Beethoven 33 Veranderungen uber einen Walzer von Diabelli, Op. 120 No. 2, Variation I (Alla Marcia maestoso)
07. Beethoven 33 Veranderungen uber einen Walzer von Diabelli, Op. 120 No. 3, Variation II (Poco allegro)
08. Beethoven 33 Veranderungen uber einen Walzer von Diabelli, Op. 120 No. 4, Variation III (L'istesso tempo)
09. Beethoven 33 Veranderungen uber einen Walzer von Diabelli, Op. 120 No. 5, Variation IV (Un poco piu vivace)
10. Beethoven 33 Veranderungen uber einen Walzer von Diabelli, Op. 120 No. 6, Variation V (Allegro vivace)
11. Beethoven 33 Veranderungen uber einen Walzer von Diabelli, Op. 120 No. 7, Variation VI (Allegro ma non troppo e serioso)
12. Beethoven 33 Veranderungen uber einen Walzer von Diabelli, Op. 120 No. 8, Variation VII (Un poco piu allegro)
13. Beethoven 33 Veranderungen uber einen Walzer von Diabelli, Op. 120 No. 9, Variation VIII (Poco vivace)
14. Beethoven 33 Veranderungen uber einen Walzer von Diabelli, Op. 120 No. 10, Variation IX (Allegro pesante e risoluto)
15. Beethoven 33 Veranderungen uber einen Walzer von Diabelli, Op. 120 No. 11, Variation X (Presto)
16. Beethoven 33 Veranderungen uber einen Walzer von Diabelli, Op. 120 No. 12, Variation XI (Allegretto)
17. Beethoven 33 Veranderungen uber einen Walzer von Diabelli, Op. 120 No. 13, Variation XII (Un poco piu mosso)
18. Beethoven 33 Veranderungen uber einen Walzer von Diabelli, Op. 120 No. 14, Variation XIII (Vivace)
19. Beethoven 33 Veranderungen uber einen Walzer von Diabelli, Op. 120 No. 15, Variation XIV (Grave e maestoso)
20. Beethoven 33 Veranderungen uber einen Walzer von Diabelli, Op. 120 No. 16, Variation XV (Presto scherzando)
21. Beethoven 33 Veranderungen uber einen Walzer von Diabelli, Op. 120 No. 17, Variation XVI (Allegro)
22. Beethoven 33 Veranderungen uber einen Walzer von Diabelli, Op. 120 No. 18, Variation XVII (Allegro)
23. Beethoven 33 Veranderungen uber einen Walzer von Diabelli, Op. 120 No. 19, Variation XVIII (Poco moderato)
24. Beethoven 33 Veranderungen uber einen Walzer von Diabelli, Op. 120 No. 20, Variation XIX (Presto)
25. Beethoven 33 Veranderungen uber einen Walzer von Diabelli, Op. 120 No. 21, Variation XX (Andante)
26. Beethoven 33 Veranderungen uber einen Walzer von Diabelli, Op. 120 No. 22, Variation XXI (Allegro con brio - Meno allegro)
27. Beethoven 33 Veranderungen uber einen Walzer von Diabelli, Op. 120 No. 23, Variation XXII (Allegro molto alla Notte e giorno faticar by W. A. Mozart)
28. Beethoven 33 Veranderungen uber einen Walzer von Diabelli, Op. 120 No. 24, Variation XXIII (Allegro assai)
29. Beethoven 33 Veranderungen uber einen Walzer von Diabelli, Op. 120 No. 25, Variation XXIV, Fughetta (Andante)
30. Beethoven 33 Veranderungen uber einen Walzer von Diabelli, Op. 120 No. 26, Variation XXV (Allegro)
31. Beethoven 33 Veranderungen uber einen Walzer von Diabelli, Op. 120 No. 27, Variation XXVI (Allegro piacevole)
32. Beethoven 33 Veranderungen uber einen Walzer von Diabelli, Op. 120 No. 28, Variation XXVII (Vivace)
33. Beethoven 33 Veranderungen uber einen Walzer von Diabelli, Op. 120 No. 29, Variation XXVIII (Allegro)
34. Beethoven 33 Veranderungen uber einen Walzer von Diabelli, Op. 120 No. 30, Variation XXIX (Adagio ma non troppo)
35. Beethoven 33 Veranderungen uber einen Walzer von Diabelli, Op. 120 No. 31, Variation XXX (Andante sempre cantabile)
36. Beethoven 33 Veranderungen uber einen Walzer von Diabelli, Op. 120 No. 32, Variation XXXI (Largo molto espressivo)
37. Beethoven 33 Veranderungen uber einen Walzer von Diabelli, Op. 120 No. 33, Variation XXXII, Fuga (Allegro - Poco adagio)
38. Beethoven 33 Veranderungen uber einen Walzer von Diabelli, Op. 120 No. 34, Variation XXXIII (Tempo di Menuetto, moderato ma non tirarsi dietro)
39. Beethoven Waltz in E-Flat Major, WoO 84
CD2
40. Beethoven 11 Bagatelles, Op. 119 II. Andante con moto
41. Beethoven 11 Bagatelles, Op. 119 III. A l'Allemande
42. Beethoven 11 Bagatelles, Op. 119 VI. Andante
43. Beethoven 33 Veranderungen uber einen Walzer von Diabelli, Op. 120 No. 1, Thema (Vivace) [Reprise]
44. Fraisse 3 Moqueries sur une valse de Diabelli No. 1
45. Fraisse 3 Moqueries sur une valse de Diabelli No. 2
46. Fraisse 3 Moqueries sur une valse de Diabelli No. 3
47. Beethoven Ecossaise in E-Flat Major, WoO 86
48. Beethoven Waltz in D Major, WoO 85
49. Beethoven 11 Bagatelles, Op. 119 IX. Vivace moderato
50. Beethoven 11 Bagatelles, Op. 119 X. Allegramente
51. Beethoven 11 Bagatelles, Op. 119 VII. Allegro, ma non troppo
52. Beethoven Gro?e Fuge in B-Flat Major, Op. 134 Ouvertura (Allegro) - Meno mosso e moderato - Allegro - Fuga (Allegro) [Arrangement for Piano Four-Hands of Gro?e Fuge, Op. 133]
53. Beethoven Gro?e Fuge in B-Flat Major, Op. 134 Meno mosso e moderato - Allegro - (poco a poco sempre piu Allegro ed accelerando il tempo) [Arrangement for Piano Four-Hands of Gro?e Fuge, Op. 133]
54. Beethoven Gro?e Fuge in B-Flat Major, Op. 134 Allegro molto e con brio - Allegro - Allegro molto e con brio (Arrangement for Piano Four-Hands of Gro?e Fuge, Op. 133)
55. Fraisse 111. Dialogue avec l'opus 111 de Beethoven (Maestoso)
56. Beethoven Piano Sonata No. 32 in C Minor, Op. 111 I. Maestoso - Allegro con brio ed appassionato
57. Beethoven Piano Sonata No. 32 in C Minor, Op. 111 II. Arietta (Adagio molto semplice e cantabile)
ANALYZER: auCDtect: CD records authenticity detector, version 0.8.2
Copyright © 2004 Oleg Berngardt. All rights reserved.
Copyright © 2004 Alexander Djourik. All rights reserved.


FILE: 01 - 11 Bagatelles, Op. 119_ II. Andante con moto.flac
Size: 2794713 Hash: F252CAA51D48A2883C3D2054BF0EB04C Accuracy: -m40
Conclusion: CDDA 87%
Signature: 0D0C92690CC96FB5CA4909A7FBE02B2F2956593C
FILE: 02 - 11 Bagatelles, Op. 119_ III. À l'Allemande.flac
Size: 4973324 Hash: 47F680AD81B58876D57AF983DD54AD7D Accuracy: -m40
Conclusion: CDDA 42%
Signature: 21CF4CAC84A004CD35910E7C83D43F3CF281F9B0
FILE: 03 - 11 Bagatelles, Op. 119_ VI. Andante.flac
Size: 5295896 Hash: 083C46C8418E8F719A8AEE5DD646DC47 Accuracy: -m40
Conclusion: CDDA 100%
Signature: D4EB7215CE5C2C7AE71C79AB0678D0F2D9B06F7C
FILE: 04 - 33 Veränderungen über einen Walzer von Diabelli, Op. 120_ No. 1, Thema (Vivace) [Reprise].flac
Size: 1619551 Hash: 44FB313E7A1076428BBE3DBA4C594C28 Accuracy: -m40
Conclusion: CDDA 100%
Signature: 6E316622DCE3FE7DDFFA3D757A58D9CC77A174ED
FILE: 05 - 3 Moqueries sur une valse de Diabelli_ No. 1.flac
Size: 4904708 Hash: 85972811A81970A78E1A31575857286F Accuracy: -m40
Conclusion: CDDA 49%
Signature: EB6C3EC9346CBDD58F9C8E7297A4385265CB599F
FILE: 06 - 3 Moqueries sur une valse de Diabelli_ No. 2.flac
Size: 5705452 Hash: AEFACC8283E2DD0B04000EA708DE618E Accuracy: -m40
Conclusion: MPEG 92%
Signature: D96304FFD55A3943C8EA910D1141E578E945F6A6
FILE: 07 - 3 Moqueries sur une valse de Diabelli_ No. 3.flac
Size: 5986027 Hash: 94438AE89851E83FBA50AA3B0B34D28D Accuracy: -m40
Conclusion: MPEG 91%
Signature: C4BE4F2ACE3957FBC8C7162658DC8BD07EFCEEBE
FILE: 08 - Ecossaise in E-Flat Major, WoO 86.flac
Size: 1555491 Hash: 50C45B2B693DAF9E50CDA8E9D6D12D7E Accuracy: -m40
Conclusion: CDDA 100%
Signature: 43A3F5103AAB7CB6F1E9CF542A92E990EC8BE865
FILE: 09 - Waltz in D Major, WoO 85.flac
Size: 1758998 Hash: EFC2527F980125B6106B6F9C48B35289 Accuracy: -m40
Conclusion: CDDA 100%
Signature: C3E8A5F8DBE464F96A68C64FF6AF7E1341AAB8A1
FILE: 10 - 11 Bagatelles, Op. 119_ IX. Vivace moderato.flac
Size: 2034007 Hash: 5B9C654288CD11E27D42AD9D702F671F Accuracy: -m40
Conclusion: MPEG 100%
Signature: CDA4CB7495E068D93E0BB5A639448909347CAE28
FILE: 11 - 11 Bagatelles, Op. 119_ X. Allegramente.flac
Size: 672669 Hash: D8B86FE76E97BD953981FEEAA246C034 Accuracy: -m40
Conclusion: MPEG 100%
Signature: C7229CF39D01993B980DFB8AD5E533F0DF9A05D3
FILE: 12 - 11 Bagatelles, Op. 119_ VII. Allegro, ma non troppo.flac
Size: 3457044 Hash: E42F0D74C5AF38F73462DFE478B3B545 Accuracy: -m40
Conclusion: CDDA 100%
Signature: DB0CF359259930DEF16D4AEDDB8EC5EE322C6C7F
FILE: 13 - Große Fuge in B-Flat Major, Op. 134_ Ouvertura (Allegro) - Meno mosso e moderato - Allegro - Fuga (Allegro) [Arrangement for Piano.flac
Size: 18776916 Hash: 4BE71C2016FE96C96D198FDFAAF65970 Accuracy: -m40
Conclusion: MPEG 93%
Signature: 1A5537084FA25B3736346F5A5951ECBBA6E5CDD7
FILE: 14 - Große Fuge in B-Flat Major, Op. 134_ Meno mosso e moderato - Allegro - (poco a poco sempre più Allegro ed accelerando il tempo) [A.flac
Size: 7282066 Hash: 7645C094C7777CBA0DF07CE48EA37606 Accuracy: -m40
Conclusion: CDDA 43%
Signature: 8A2111B552CA67389957D197E32AB38F9D904E93
FILE: 15 - Große Fuge in B-Flat Major, Op. 134_ Allegro molto e con brio - Allegro - Allegro molto e con brio (Arrangement for Piano Four-Han.flac
Size: 27020613 Hash: F7F0A3EEAC7A8424BE05ABB15EE2D02A Accuracy: -m40
Conclusion: MPEG 100%
Signature: 7FEB8699011D1EE0AD471192300B28C92588C31C
FILE: 16 - 111. Dialogue avec l'opus 111 de Beethoven (Maestoso).flac
Size: 26524689 Hash: 77D324B5C909178549EF12B86F61FE1B Accuracy: -m40
Conclusion: MPEG 90%
Signature: 239F6CFC0380ECBBC653C18DDC2082579C6598E4
FILE: 17 - Piano Sonata No. 32 in C Minor, Op. 111_ I. Maestoso - Allegro con brio ed appassionato.flac
Size: 31076194 Hash: 96DA381E47F663A336D66098F52CC11E Accuracy: -m40
Conclusion: MPEG 93%
Signature: 01859929EF468A8808B9CE7DAD35E05042863CEA
FILE: 18 - Piano Sonata No. 32 in C Minor, Op. 111_ II. Arietta (Adagio molto semplice e cantabile).flac
Size: 50824485 Hash: 8D2303CD6A4B0C07B7C2588F53475CDF Accuracy: -m40
Conclusion: CDDA 43%
Signature: 131BAB0E4641025B140ACB1A3A472FE711D8C94D
FILE: 01 - Alla ingharese quasi un capriccio in G Major, Op. 129 (Allegro vivace).flac
Size: 23112510 Hash: 652255426808FE70615DA0BB6AD7A08A Accuracy: -m40
Conclusion: CDDA 86%
Signature: FB78666716F0694D1A04AA57F7B9CC2D14B82F0B
FILE: 02 - Bagatelle in B-Flat Major, WoO 60 (Ziemlich lebhaft).flac
Size: 3346788 Hash: 414AC67F408B03E6A6BD7D760097FE16 Accuracy: -m40
Conclusion: MPEG 90%
Signature: EAF9F728917B1E5C7D0A53F9CE537245533C09F0
FILE: 03 - Allegretto in B Minor, WoO 61.flac
Size: 1472559 Hash: DFB340AE2EBDCEDA68CA7ACE1967E376 Accuracy: -m40
Conclusion: CDDA 100%
Signature: 824B78B75754F9EC0F318BC1042EA8D56A9A9102
FILE: 04 - Bagatelle in G Minor, WoO 61a, Hess 56 (Allegro quasi andante).flac
Size: 6149295 Hash: A85ADA4BB7D51CC003BF8EB9708771FD Accuracy: -m40
Conclusion: CDDA 43%
Signature: 9737CBC6F89260AD6CB7FA4663121D67159A5BA8
FILE: 05 - 33 Veränderungen über einen Walzer von Diabelli, Op. 120_ No. 1, Thema (Vivace).flac
Size: 3027757 Hash: 92AC4457526F9B573BF1B4C691A60F55 Accuracy: -m40
Conclusion: CDDA 100%
Signature: BF04F480C567E042DDA278D7EDCF95716E3F3942
FILE: 06 - 33 Veränderungen über einen Walzer von Diabelli, Op. 120_ No. 2, Variation I (Alla Marcia maestoso).flac
Size: 6240391 Hash: 978686381A8BA57ADD4438D2F2F796A8 Accuracy: -m40
Conclusion: MPEG 100%
Signature: EBF75070D61BE1BAE5A1C4CF0CCD3CC6CEF24CCD
FILE: 07 - 33 Veränderungen über einen Walzer von Diabelli, Op. 120_ No. 3, Variation II (Poco allegro).flac
Size: 2161297 Hash: FD71F2A4C7859D3A51D2E887748949B7 Accuracy: -m40
Conclusion: CDDA 85%
Signature: CE50F9BC10DC57E731C7420F18B26BF8BD903364
FILE: 08 - 33 Veränderungen über einen Walzer von Diabelli, Op. 120_ No. 4, Variation III (L'istesso tempo).flac
Size: 3808868 Hash: 2F0F87E2733F7939208B4669C3819F80 Accuracy: -m40
Conclusion: MPEG 89%
Signature: 5872DDAF7D6300ABDD017E292AC8662CE15CA591
FILE: 09 - 33 Veränderungen über einen Walzer von Diabelli, Op. 120_ No. 5, Variation IV (Un poco più vivace).flac
Size: 3537178 Hash: 2C188589E956F30E0A97CFE6674598AE Accuracy: -m40
Conclusion: CDDA 100%
Signature: 8E57BF2BED30E9EAD5864BB847B15B67CC19236A
FILE: 10 - 33 Veränderungen über einen Walzer von Diabelli, Op. 120_ No. 6, Variation V (Allegro vivace).flac
Size: 3364214 Hash: DC9CFCC68AC45AE6185775A098FF31B9 Accuracy: -m40
Conclusion: CDDA 100%
Signature: F10108C87B4BE15BC45D7F0DDC5708B00AA6EEA6
FILE: 11 - 33 Veränderungen über einen Walzer von Diabelli, Op. 120_ No. 7, Variation VI (Allegro ma non troppo e serioso).flac
Size: 6217081 Hash: E498FF3BCFFF6233796765B0BCC860E4 Accuracy: -m40
Conclusion: CDDA 100%
Signature: E9102AC08722CA28EC17B1F0B54A53A597644FFD
FILE: 12 - 33 Veränderungen über einen Walzer von Diabelli, Op. 120_ No. 8, Variation VII (Un poco più allegro).flac
Size: 4580003 Hash: C54A1E69AC1CEF1545A45DBE88A8595D Accuracy: -m40
Conclusion: CDDA 100%
Signature: 24CDF03DAC10EA7A0D7F32C0FEB90048D222C874
FILE: 13 - 33 Veränderungen über einen Walzer von Diabelli, Op. 120_ No. 9, Variation VIII (Poco vivace).flac
Size: 3883427 Hash: 15E1F7CAF0D3743C0A7FC946628D4367 Accuracy: -m40
Conclusion: CDDA 49%
Signature: BF0987A7767F0FB47448D512D48D99AEA45182C2
FILE: 14 - 33 Veränderungen über einen Walzer von Diabelli, Op. 120_ No. 10, Variation IX (Allegro pesante e risoluto).flac
Size: 5822488 Hash: 95C8E9D23922AFA2F285C06506526039 Accuracy: -m40
Conclusion: MPEG 93%
Signature: 2581641B8083C63D82F8EE911C3BF0287B3A7F74
FILE: 15 - 33 Veränderungen über einen Walzer von Diabelli, Op. 120_ No. 11, Variation X (Presto).flac
Size: 2433380 Hash: D72425A26B9A4ED319251C5402F3444A Accuracy: -m40
Conclusion: MPEG 100%
Signature: 3ACE1FE10C6E98E3C061B42CA8EE980D3AFB5CB2
FILE: 16 - 33 Veränderungen über einen Walzer von Diabelli, Op. 120_ No. 12, Variation XI (Allegretto).flac
Size: 3012207 Hash: 6C1BE100B77B166FEFA88ABD7FA4606E Accuracy: -m40
Conclusion: MPEG 100%
Signature: E42711A71536B25CDBFD0F680BEF7ADE022A0A50
FILE: 17 - 33 Veränderungen über einen Walzer von Diabelli, Op. 120_ No. 13, Variation XII (Un poco più mosso).flac
Size: 2737981 Hash: 76C359C84DCD140546303D113DDCADA8 Accuracy: -m40
Conclusion: MPEG 90%
Signature: C4E1548BC7D97EB3519892DC77A02AF8C8E7909A
FILE: 18 - 33 Veränderungen über einen Walzer von Diabelli, Op. 120_ No. 14, Variation XIII (Vivace).flac
Size: 3533345 Hash: 4EBD17D6BAB6DE102D748F5460404219 Accuracy: -m40
Conclusion: CDDA 100%
Signature: 0E5C30F044C4746D5648C9E905F3441A08D42EEF
FILE: 19 - 33 Veränderungen über einen Walzer von Diabelli, Op. 120_ No. 15, Variation XIV (Grave e maestoso).flac
Size: 14462079 Hash: 6BC9A8C38501E7077A2AD26BFDF5F9CD Accuracy: -m40
Conclusion: CDDA 76%
Signature: F6DDF2C687CA9507D8C8EDE98BAB5D15BFA56F86
FILE: 20 - 33 Veränderungen über einen Walzer von Diabelli, Op. 120_ No. 16, Variation XV (Presto scherzando).flac
Size: 2097932 Hash: 598473707AC1A04CBBEDE5D32CB75240 Accuracy: -m40
Conclusion: MPEG 91%
Signature: EAE7FC52C6E781D1052F2F41438B955A203FBE19
FILE: 21 - 33 Veränderungen über einen Walzer von Diabelli, Op. 120_ No. 17, Variation XVI (Allegro).flac
Size: 3921521 Hash: 520607F4A3CDBEF7886F44B624199A43 Accuracy: -m40
Conclusion: CDDA 100%
Signature: 3A0E7A4DA26DAEE4C59F0EDF226E60417AAA0D18
FILE: 22 - 33 Veränderungen über einen Walzer von Diabelli, Op. 120_ No. 18, Variation XVII (Allegro).flac
Size: 3897901 Hash: EFFF909259D2D4FAB558E712DC1AA2A5 Accuracy: -m40
Conclusion: MPEG 99%
Signature: 759F0BC5F693966A95B1C3DD83A66BA435B1438B
FILE: 23 - 33 Veränderungen über einen Walzer von Diabelli, Op. 120_ No. 19, Variation XVIII (Poco moderato).flac
Size: 4852139 Hash: DE0755C93B5B7B4EE6E783F6BAD3997C Accuracy: -m40
Conclusion: MPEG 92%
Signature: AF21AA60FFBA1C9DD51FBA3830364B7FEC6D0302
FILE: 24 - 33 Veränderungen über einen Walzer von Diabelli, Op. 120_ No. 20, Variation XIX (Presto).flac
Size: 3798321 Hash: 9A590A3317EE58B87F7F2A305769FE5C Accuracy: -m40
Conclusion: CDDA 100%
Signature: 14085531B213646DAD774CDCE0298436AD3B6C40
FILE: 25 - 33 Veränderungen über einen Walzer von Diabelli, Op. 120_ No. 21, Variation XX (Andante).flac
Size: 5956536 Hash: 345CAC01E25041C91A100820F493D15A Accuracy: -m40
Conclusion: CDDA 100%
Signature: 34DD8937AA061D6FE3FA8850F0AC6975FE93A024
FILE: 26 - 33 Veränderungen über einen Walzer von Diabelli, Op. 120_ No. 22, Variation XXI (Allegro con brio - Meno allegro).flac
Size: 4534388 Hash: 0F2844E40B5918534C78016C959EE329 Accuracy: -m40
Conclusion: CDDA 100%
Signature: BE7386149242DCE925DE87BBC4A94BED56F2645F
FILE: 27 - 33 Veränderungen über einen Walzer von Diabelli, Op. 120_ No. 23, Variation XXII (Allegro molto alla _Notte e giorno faticar_ by W.flac
Size: 2745183 Hash: A4511035A53BAE9B456DC3EDB9F55FD1 Accuracy: -m40
Conclusion: CDDA 85%
Signature: 338CD6CE0AF702FFAEDBBFD1723F80559406C02A
FILE: 28 - 33 Veränderungen über einen Walzer von Diabelli, Op. 120_ No. 24, Variation XXIII (Allegro assai).flac
Size: 3518937 Hash: 5C203DAC253799518064D7153914552B Accuracy: -m40
Conclusion: MPEG 100%
Signature: 5C5F96ECD6D1DAAA5D4FB6319BE8D84BCB14E7C7
FILE: 29 - 33 Veränderungen über einen Walzer von Diabelli, Op. 120_ No. 25, Variation XXIV, Fughetta (Andante).flac
Size: 9079020 Hash: 7F5180D47B3BCC0011DAA920B1ECE16C Accuracy: -m40
Conclusion: CDDA 100%
Signature: 18F9E179E01A2DBABF894B65C875FA7528C6846F
FILE: 30 - 33 Veränderungen über einen Walzer von Diabelli, Op. 120_ No. 26, Variation XXV (Allegro).flac
Size: 2445933 Hash: FC77B8AD40562C8C751874014DA8C75E Accuracy: -m40
Conclusion: CDDA 100%
Signature: FF0CD4DA86C19A96ECC37041A96611FFAC18EBDA
FILE: 31 - 33 Veränderungen über einen Walzer von Diabelli, Op. 120_ No. 27, Variation XXVI (Allegro piacevole).flac
Size: 3609174 Hash: 02E0454CD71FBE49BDF21DF9618231B2 Accuracy: -m40
Conclusion: CDDA 100%
Signature: E11F9AFA47CD40499FEB15A36D353EE9BFF71A73
FILE: 32 - 33 Veränderungen über einen Walzer von Diabelli, Op. 120_ No. 28, Variation XXVII (Vivace).flac
Size: 3780365 Hash: DCE9D5058EAC9E232F2FB14AEB941E86 Accuracy: -m40
Conclusion: CDDA 100%
Signature: 4D4507AAE95F71AAF631EE446534D2F05B2B1522
FILE: 33 - 33 Veränderungen über einen Walzer von Diabelli, Op. 120_ No. 29, Variation XXVIII (Allegro).flac
Size: 4122616 Hash: 8F0FDE10ECE66FA04AD05124A24A5094 Accuracy: -m40
Conclusion: CDDA 87%
Signature: 0DF1DE6B9A13344B1242E01A783A4F3B0818B8D4
FILE: 34 - 33 Veränderungen über einen Walzer von Diabelli, Op. 120_ No. 30, Variation XXIX (Adagio ma non troppo).flac
Size: 3688052 Hash: F90F023E4365FB3FD7143B8F89BFFF95 Accuracy: -m40
Conclusion: CDDA 100%
Signature: 913F7492044CDF876551BC57E900A96C1BFE9D3A
FILE: 35 - 33 Veränderungen über einen Walzer von Diabelli, Op. 120_ No. 31, Variation XXX (Andante sempre cantabile).flac
Size: 6012885 Hash: 6064230EDFE9CC6DE20985B620CAB63F Accuracy: -m40
Conclusion: CDDA 100%
Signature: D36F606DBA0BE3326410E4A6459F998DF39E1FDF
FILE: 36 - 33 Veränderungen über einen Walzer von Diabelli, Op. 120_ No. 32, Variation XXXI (Largo molto espressivo).flac
Size: 11724718 Hash: 9810ECBF81EC3733F557119A0FCD54D4 Accuracy: -m40
Conclusion: MPEG 100%
Signature: D6C552202860A0546E38FFD122BB1F4A6564DDF7
FILE: 37 - 33 Veränderungen über einen Walzer von Diabelli, Op. 120_ No. 33, Variation XXXII, Fuga (Allegro - Poco adagio).flac
Size: 11556234 Hash: 3FA9857C4A44D67C5927BE32F59FEF1E Accuracy: -m40
Conclusion: CDDA 87%
Signature: C4972B4748EF86CDD407109432619E7F7F2F3442
FILE: 38 - 33 Veränderungen über einen Walzer von Diabelli, Op. 120_ No. 34, Variation XXXIII (Tempo di Menuetto, moderato ma non tirarsi die.flac
Size: 12551714 Hash: 40431A237A0815F90613FCEA58A3AE2F Accuracy: -m40
Conclusion: CDDA 62%
Signature: 9F93CD76ECFD7AD30D1D7A9397EECAAF7A23B8DE
FILE: 39 - Waltz in E-Flat Major, WoO 84.flac
Size: 5635063 Hash: 52212DAFB0597B155C01040251E85A9E Accuracy: -m40
Conclusion: MPEG 99%
Signature: 58FEB3FCAAA9017F71ACFBB599929C32653EDD31