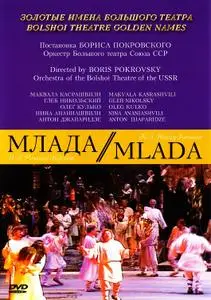 Alexander Lasarev, Orchestra of the Bolshoi Theatre - Rimsky-Korsakov: Mlada (2010/1989)
PAL 4:3 (720x576) | Русский (Dolby AC3, 2 ch) | 7.36 Gb (DVD9) | 157 min
Classical | TEN Video | Sub.: Deutsch, English
Pokrovsky's acclaimed production, a story of early Slavs prior to christian conversion, captures the essence of the Bolshoi's traditions of drama and realism. It is complemented by Andrei Petrov's inspired choreography.