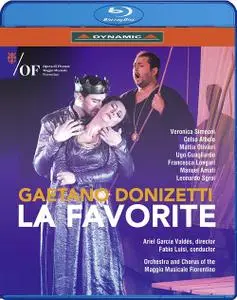 Fabio Luisi, Fiorentino Maggio Musicale Orchestra - Donizetti: La Favorite (2018) [BDRip]
BluRay-rip | AVC | MKV 1920x1080 / 6215 kbps / 29,97 fps | 154 min | 7,22 Gb
Audio: Français / AC3 / 6ch / 48.0 KHz / 448 Kbps
Classical | Dynamic | Sub: Francais, English, Italiano, Deutsch, Japanese, Korean
Gaetano Donizetti's La Favorite was rather laborious in the making: it started out as a re-working of L'Ange de Nisida, to which the composer added parts taken from some other operas of his. The work, which was premiered at the Opéra of Paris, is set in 14th-century Castile and tells the story of the hapless love between Fernand, who has second thoughts about taking holy orders and leaves the monastery of Santiago de Compostela, and Leonor, the mistress of king Alphonse XI. It is an intimate drama, where history and politics are but the backdrop to the protagonists' passions and torments. Fabio Luisi's conducting is both measured in balancing the orchestral sounds, and personal, varied and vigorous.