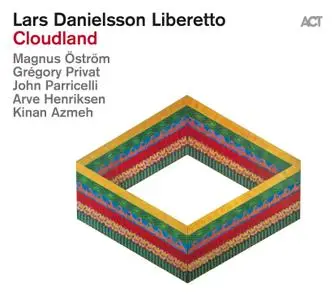 Lars Danielsson Liberetto - Cloudland (2021)
WEB FLAC (tracks) - 263 Mb | MP3 CBR 320 kbps - 119 Mb | Digital booklet | 00:48:09
Contemporary Jazz, Modern Creative | Label: ACT Music
Good things are worth waiting for. Lars Danielsson had recorded just a few tracks for a new Liberetto album in late 2019. So, when a window appeared in September 2020 between the lockdowns across Europe, he seized the opportunity to bring his fellow band-members back to his studio near Gothenburg to finish what they had started.

Those who know how attractive and approachable Liberetto's music is will find all their expectations fulfilled on "Cloudland". The 'elegant lyricism' and 'unerring groove' which Canadian writer John Kelman (All About Jazz) spotted in 2011 in the band's first album are to be found in abundance on this, their fourth. "I think of my compositions as songs," says Danielsson, who never forgets the importance of melody. After all, as he still vividly remembers, his very first music teacher was an organist responsible for steering the congregation through the hymns in a church. "Cloudland" also shows the variety of Danielsson's range of timbres and expressive possibilities. We find them in both foreseeable and new ways. Right from the start of "Imagine Joao'', a duet with John Parricelli, he states the melody with the elegance and eloquence of the consummately lyrical bassist we have come to expect. Whereas, for the last sixty seconds of Villstad, most listeners will probably jump to the obvious but wrong conclusion that the heroic, Hendrix-like sound they are hearing is an electric guitar. There is definitely alchemy, sorcery going on here and appearances can be deceptive: this is Danielsson playing cello and using a distorted amp.

There are new elements in "Cloudland": Danielsson's desire to work in asymmetric meters has been an area of exploration for many years, the bassist/cellist having been a member of Trilok Gurtu's band in the 1990s, and he has taken it further here, while never sacrificing the appeal and the emotional impact of the music. Danielsson's philosophy, essentially, is this: "If it sounds natural then it doesn't really matter what meter it's in." And that is particularly true of the title track, which is in seventeen time, but has a completely irresistible pulse, flow, even an airy elegance about it, enhanced by the unique presence of trumpeter Arve Henriksen as the lead voice.

Another new feature is the first outing for a five-string bass-cello hybrid which Lars Danielsson plays 'arco' on the opening track "Vildmark" (meaning wilderness) and plucked in "Tango Magnifique". "It's a rebuilt 18th-century instrument," says Danielsson, "and it doesn't just look beautiful, it has a wonderful sound – it really sings!" This album also marks the Liberetto debut of lively Syrian-born clarinettist/composer Kinan Azmeh. He is a multi-talented musician whose activity ranges from Yo Yo Ma's Silk Road Ensemble to commissions as composer from the NY Philharmonic. In the quietly reflective "Intermezzo" we hear both his warm and beautifully focussed tone on the clarinet, and a poet's sense of phrasing.

This album is also a celebration of the myriad talents which the members of Liberetto bring to Danielsson's music. These musicians have been familiar with his music for most of a decade. They understand it, they cherish it, and throughout "Cloudland", the joy they are evidently experiencing in being back together playing it is palpable. On "River of Little", pianist Gregory Privat's playing of the theme has luminous precision, yet the glimpse he gives us into an improvised world of freedom and fantasy is magical. We hear guitarist John Parricelli's range: from the nylon-string delicacy of "Tango Magnifique" to the casbah-ish electric riffs of "Desert of Catanga. Arve Henriksen's playing on the title track "Cloudland" will stay in listeners' minds for a long time. And drummer Magnus Öström's sensitive command of timbre and texture is jaw-dropping in the hushed "Nikita's Dream".

"Cloudland" richly rewards listeners' patience; one of its very special features is the variety of its beautifully crafted endings. Take for example, the perfect poise of the 'rallentando' which brings the title track to a close; or the enigmatic and questioning final bars of "Sacred Mind"; or the flawlessly precise and crisp conclusion to "Desert of Catanga. These are just three examples of careful, thoughtful work by the co-producers who have clearly been working throughout the time the album has been in the making as a harmonious creative team: Cæcilie Norby, Magnus Öström and Danielsson himself. In every sense, this album provides a reminder that worthwhile creative processes take time to mature.
Tracklist:
1.
Vildmark
(01:12)
2.
Cloudland (feat. Arve Henriksen)
(04:34)
3.
The Fifth Grade
(05:37)
4.
Nikita's Dream
(04:40)
5.
Tango Magnifique (feat. Arve Henriksen)
(03:53)
6.
Desert of Catanga (feat. Kinan Azmeh)
(06:17)
7.
River of Little
(03:22)
8.
Yes to You (feat. Arve Henriksen)
(03:35)
9.
Intermezzo (feat. Kinan Azmeh)
(01:58)
10.
Villstad
(04:12)
11.
Sacred Mind (feat. Arve Henriksen & Kinan Azmeh)
(05:02)
12.
Imagine Joao
(03:41)
–––––––––––-

DON'T MODIFY THIS FILE

–––––––––––-

PERFORMER: auCDtect Task Manager, ver. 1.6.0 RC1 build 1.6.0.1
Copyright © 2008-2010 y-soft. All rights reserved

ANALYZER: auCDtect: CD records authenticity detector, version 0.8.2
Copyright © 2004 Oleg Berngardt. All rights reserved.
Copyright © 2004 Alexander Djourik. All rights reserved.


FILE: 12 - Lars Danielsson Liberetto - Imagine Joao.flac
Size: 13427802 Hash: 7D9012F398EFBA1198CD792B73D09DB0 Accuracy: -m8
Conclusion: CDDA 100%
Signature: D2A3364CD37AF0C14430421B05348B3A3EAE68C8
FILE: 11 - Lars Danielsson Liberetto - Sacred Mind.flac
Size: 23638639 Hash: 8E3286E52E78721122DF9318BDD97C92 Accuracy: -m8
Conclusion: CDDA 100%
Signature: C6245B3938BE1839EFDA9CECCF41DE6F4C473E36
FILE: 10 - Lars Danielsson Liberetto - Villstad.flac
Size: 26634756 Hash: 0AB75D65A5F73F8636936B4B8FE634E1 Accuracy: -m8
Conclusion: MPEG 98%
Signature: 37B29DED69197B89966B4C10F0B29E0323BAC8DF
FILE: 09 - Lars Danielsson Liberetto - Intermezzo.flac
Size: 6952442 Hash: F7A6454947F660196DF86F9D6B753593 Accuracy: -m8
Conclusion: CDDA 85%
Signature: 0692746B8F7BBEAE3C302A5793E3F02A54A6E822
FILE: 08 - Lars Danielsson Liberetto - Yes to You.flac
Size: 19928074 Hash: F3EA577BEBDC074FC152ABAD159A4971 Accuracy: -m8
Conclusion: CDDA 100%
Signature: 0C7FA20C0120A7A4EC832F72E4D58849914A19B8
FILE: 07 - Lars Danielsson Liberetto - River of Little.flac
Size: 20871529 Hash: 32857DFA3A591C5DEC453C443548B4DF Accuracy: -m8
Conclusion: MPEG 90%
Signature: 4CE94146F46EC679B5C755C614603831E4229BB7
FILE: 06 - Lars Danielsson Liberetto - Desert of Catanga.flac
Size: 39834068 Hash: 65E80712555D9171C929674B27B1D041 Accuracy: -m8
Conclusion: MPEG 89%
Signature: 76183A55884FA034BF47724E4182F3BF434D010A
FILE: 05 - Lars Danielsson Liberetto - Tango Magnifique.flac
Size: 22261761 Hash: 5A91C8ABAD982827B6E7867847F81877 Accuracy: -m8
Conclusion: CDDA 100%
Signature: 0C59B76DFA9BB6F09D7E187281D9BF4CC93AEBB5
FILE: 04 - Lars Danielsson Liberetto - Nikita's Dream.flac
Size: 26113303 Hash: 43DF1541DC65F1BFA6E0D0CE883A0095 Accuracy: -m8
Conclusion: CDDA 54%
Signature: 5EAE2A9A6A5FE16979D10C61A981CD07BC068E18
FILE: 03 - Lars Danielsson Liberetto - The Fifth Grade.flac
Size: 34872004 Hash: 8D5BD9061AB57CE8EBFE4E9EB926793B Accuracy: -m8
Conclusion: MPEG 100%
Signature: 20CD22AB8999309CFEE4B3766298010D6D95614B
FILE: 02 - Lars Danielsson Liberetto - Cloudland.flac
Size: 27356957 Hash: 579F84FE8D1327B15399E9BD5C1D99D8 Accuracy: -m8
Conclusion: CDDA 100%
Signature: 6042723483AC669FF9E5D3B68EAA9709EF23780D
FILE: 01 - Lars Danielsson Liberetto - Vildmark.flac
Size: 4642492 Hash: 28F650898A4CD6359C9135C5F63529EB Accuracy: -m8
Conclusion: CDDA 100%
Signature: 18395FDCF009341F02D53A890FBFA13192DE9901