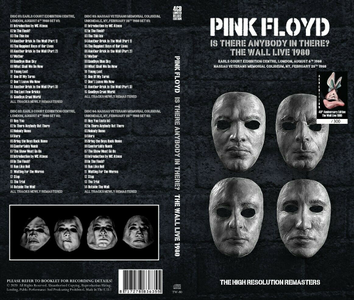 Pink Floyd - Is There Anybody In There? The Wall Live 1980 (The High Resolution Remasters) (2020)
FLAC (tracks) - 1,41 Gb | MP3 CBR 320 kbps - 501 Mb | 03:38:31
Progressive Rock, Psychedelic Rock | Label: The Brickwall Records & Tapes / Bootleg
Is There Anybody Out There? The Wall Live 1980–81 is the third live album released by Pink Floyd in 2000. It is a live rendition of The Wall, produced and engineered by James Guthrie, with tracks selected from the August 1980 and June 1981 performances at Earls Court in London. The shows involved the construction of a wall on stage throughout the first half of the show. Once complete, members of the band performed in small openings in, atop, in front of, or even behind the wall. The album artwork featured the life-masks of the four band members in front of a black wall; the masks were worn by the "surrogate band"[4] during the song "In the Flesh". "Goodbye Blue Sky" and parts of "Run Like Hell" were taken from the 17 June 1981 show, the very last performance by the four-man Pink Floyd until the 2005 Live 8 concert.
Tracklist:
Disc 1
01. Introduction by MC Atmos [London, 1980-08-06]
02. In The Flesh? [London, 1980-08-06]
03. The Thin Ice [London, 1980-08-06]
04. Another Brick In The Wall (Part 1) [London, 1980-08-06]
05. The Happiest Days Of Our Lives [London, 1980-08-06]
06. Another Brick In The Wall (Part 2) [London, 1980-08-06]
07. Mother [London, 1980-08-06]
08. Goodbye Blue Sky [London, 1980-08-06]
09. What Shall We Do Now [London, 1980-08-06]
10. Young Lust [London, 1980-08-06]
11. One Of My Turns [London, 1980-08-06]
12. Don't Leave Me Now [London, 1980-08-06]
13. Another Brick In The Wall (Part 3) [London, 1980-08-06]
14. The Last Few Bricks [London, 1980-08-06]
15. Goodbye Cruel World [London, 1980-08-06]
Disc 2
16. Hey You [London, 1980-08-06]
17. Is There Anybody out There [London, 1980-08-06]
18. Nobody Home [London, 1980-08-06]
19. Vera [London, 1980-08-06]
20. Bring The Boys Back Home [London, 1980-08-06]
21. Comfortably Numb [London, 1980-08-06]
22. The Show Must Go On [London, 1980-08-06]
23. Introduction by MC Atmos [London, 1980-08-06]
24. In The Flesh! [London, 1980-08-06]
25. Run Like Hell [London, 1980-08-06]
26. Waiting For The Worms [London, 1980-08-06]
27. Stop [London, 1980-08-06]
28. The Trial [London, 1980-08-06]
29. Outside The Wall [London, 1980-08-06]
Disc 3
01. Introduction by MC Atmos [New York, 1980-02-28]
02. In The Flesh? [New York, 1980-02-28]
03. The Thin Ice [New York, 1980-02-28]
04. Another Brick In The Wall (Part 1) [New York, 1980-02-28]
05. The Happiest Days Of Our Lives [New York, 1980-02-28]
06. Another Brick In The Wall (Part 2) [New York, 1980-02-28]
07. Mother [New York, 1980-02-28]
08. Goodbye Blue Sky [New York, 1980-02-28]
09. What Shall We Do Now [New York, 1980-02-28]
10. Young Lust [New York, 1980-02-28]
11. One Of My Turns [New York, 1980-02-28]
12. Don't Leave Me Now [New York, 1980-02-28]
13. Another Brick In The Wall (Part 3) [New York, 1980-02-28]
14. Goodbye Cruel World [New York, 1980-02-28]
Disc 4
15. Hey You [New York, 1980-02-28]
16. Is There Anybody out There [New York, 1980-02-28]
17. Nobody Home [New York, 1980-02-28]
18. Vera [New York, 1980-02-28]
19. Bring The Boys Back Home [New York, 1980-02-28]
20. Comfortably Numb [New York, 1980-02-28]
21. The Show Must Go On [New York, 1980-02-28]
22. Introduction by MC Atmos [New York, 1980-02-28]
23. In The Flesh! [New York, 1980-02-28]
24. Run Like Hell [New York, 1980-02-28]
25. Waiting For The Worms [New York, 1980-02-28]
26. Stop [New York, 1980-02-28]
27. The Trial [New York, 1980-02-28]
28. Outside The Wall [New York, 1980-02-28]
–––––––––––-

DON'T MODIFY THIS FILE

–––––––––––-

PERFORMER: auCDtect Task Manager, ver. 1.6.0 RC1 build 1.6.0.1
Copyright © 2008-2010 y-soft. All rights reserved

ANALYZER: auCDtect: CD records authenticity detector, version 0.8.2
Copyright © 2004 Oleg Berngardt. All rights reserved.
Copyright © 2004 Alexander Djourik. All rights reserved.


FILE: 1-9-What Shall We Do Now [London, 1980-08-06].flac
Size: 31578574 Hash: 852789A3E14515DF8EC3C8083A08CDA1 Accuracy: -m8
Conclusion: CDDA 100%
Signature: B3D121B1C72CCEF9FFAC342B4F80B083842AD6DE
FILE: 1-8-Goodbye Blue Sky [London, 1980-08-06].flac
Size: 24230751 Hash: 4F08E2E70072BC7FDE83A928A6C2C2D4 Accuracy: -m8
Conclusion: CDDA 100%
Signature: AFB6A4FE5784C53F9567F63899233AC9BC14497B
FILE: 1-7-Mother [London, 1980-08-06].flac
Size: 54773113 Hash: 66B7BE4FF8A555A1B5AC3EEC1D118FE4 Accuracy: -m8
Conclusion: CDDA 100%
Signature: 2FBD358A6BF4F137EFB0402EE469BEE022C269CF
FILE: 1-6-Another Brick In The Wall (Part 2) [London, 1980-08-06].flac
Size: 45457144 Hash: E9EF7A89F2165CD59ADD601A5D888EDB Accuracy: -m8
Conclusion: CDDA 100%
Signature: 25F12E907A9F4DC663E38D5ECC6C8DE4E13DD42D
FILE: 1-5-The Happiest Days Of Our Lives [London, 1980-08-06].flac
Size: 10891623 Hash: 340E1C9E9B79AB22B68E5043D7191785 Accuracy: -m8
Conclusion: CDDA 100%
Signature: F04ECABDEEC06AF07410E92C4CA83DA583807EF7
FILE: 1-4-Another Brick In The Wall (Part 1) [London, 1980-08-06].flac
Size: 29272113 Hash: 033AA5A30D2B2F9BACE61EC633445E5D Accuracy: -m8
Conclusion: CDDA 100%
Signature: 0F98F4BE73EA6000D36D0AC2111861C1FDE99CCF
FILE: 1-3-The Thin Ice [London, 1980-08-06].flac
Size: 19750188 Hash: 15B69FDDD012029FFB0E9D8215CA481A Accuracy: -m8
Conclusion: CDDA 100%
Signature: 1F9AF7FB70C0050DC28ED9FC3BBC88124025BB59
FILE: 1-2-In The Flesh_ [London, 1980-08-06].flac
Size: 22025318 Hash: 89322FBE25D6AB6F3D1CBE21E48B7085 Accuracy: -m8
Conclusion: CDDA 100%
Signature: A0DC1CC0F07071794236B3A1B96F956A845F6F79
FILE: 1-15-Goodbye Cruel World [London, 1980-08-06].flac
Size: 12335274 Hash: 77111E56A56DEA4B36D06EB1026F0DD4 Accuracy: -m8
Conclusion: CDDA 100%
Signature: 60301548901EC805F38A603D43F4BE7EE1300943
FILE: 1-14-The Last Few Bricks [London, 1980-08-06].flac
Size: 23735527 Hash: 6BF9089887AA2B03DD7E4914CCA4DB44 Accuracy: -m8
Conclusion: CDDA 100%
Signature: F2B9EE969D56A5DED260B60486707F427C43D1AC
FILE: 1-13-Another Brick In The Wall (Part 3) [London, 1980-08-06].flac
Size: 9165136 Hash: 08840CBF6354516304717FB2B7598104 Accuracy: -m8
Conclusion: CDDA 100%
Signature: EA2919B60BDEFC0CAFA1924C3903CCC32CA24DCB
FILE: 1-12-Don't Leave Me Now [London, 1980-08-06].flac
Size: 27277429 Hash: 3F3AA398C39AB8C82777C67582FCDF09 Accuracy: -m8
Conclusion: CDDA 100%
Signature: F098EA3A33C5077A15259AB471B037D380BFE9DA
FILE: 1-11-One Of My Turns [London, 1980-08-06].flac
Size: 23190925 Hash: 35B1B3DFBA097677D1D2D06DF7C1C64A Accuracy: -m8
Conclusion: CDDA 100%
Signature: E757E3C44EB39D15A60FD366C30986A9A20D84C0
FILE: 1-10-Young Lust [London, 1980-08-06].flac
Size: 34477114 Hash: 7143591A0A61F206929BED370FC66295 Accuracy: -m8
Conclusion: CDDA 100%
Signature: 8D8CCB4D4D21694844426539FC8C03C34C06E176
FILE: 1-1-Introduction by MC Atmos [London, 1980-08-06].flac
Size: 13926336 Hash: 6510AB6C66802199CCBBA474684BCA5F Accuracy: -m8
Conclusion: CDDA 99%
Signature: 2F449924E55F43B0EF6E7B213A2FEB85A84C6F4D
–––––––––––-

DON'T MODIFY THIS FILE

–––––––––––-

PERFORMER: auCDtect Task Manager, ver. 1.6.0 RC1 build 1.6.0.1
Copyright © 2008-2010 y-soft. All rights reserved

ANALYZER: auCDtect: CD records authenticity detector, version 0.8.2
Copyright © 2004 Oleg Berngardt. All rights reserved.
Copyright © 2004 Alexander Djourik. All rights reserved.


FILE: 2-9-In The Flesh! [London, 1980-08-06].flac
Size: 36912475 Hash: 9107DBCCF5A864D3B5EE8D96B373A2EE Accuracy: -m8
Conclusion: CDDA 100%
Signature: 88484957BB96F5F297A748F964D5F068E9BE6B91
FILE: 2-8-Introduction by MC Atmos [London, 1980-08-06].flac
Size: 17566036 Hash: D1EF5A6E2041BC719E34CF57A6CFAB81 Accuracy: -m8
Conclusion: CDDA 100%
Signature: B1D132A4836581E0E2C99F6209A950A57AE7A209
FILE: 2-7-The Show Must Go On [London, 1980-08-06].flac
Size: 18598498 Hash: AF06BBCD0155D1B32A65CA9922B1D8AC Accuracy: -m8
Conclusion: CDDA 100%
Signature: 57110B37EECEBDCE7A7F791E2681B9295B1B2B9C
FILE: 2-6-Comfortably Numb [London, 1980-08-06].flac
Size: 55530676 Hash: AB536396A2A664F4A2111CDB0DD43636 Accuracy: -m8
Conclusion: CDDA 100%
Signature: AADEEC522313274944215BB60CA8A3BB5BD2D068
FILE: 2-5-Bring The Boys Back Home [London, 1980-08-06].flac
Size: 10066240 Hash: 219F4A47CD66D4AC48D7CB0D4060E996 Accuracy: -m8
Conclusion: CDDA 100%
Signature: 0D9C5996BD5B62BD372725A31B33E53A889274A9
FILE: 2-4-Vera [London, 1980-08-06].flac
Size: 10315200 Hash: C16095E66D13F62BD477A6F9E87CD1B7 Accuracy: -m8
Conclusion: CDDA 100%
Signature: 46B5CE9EFE49425DC5FD231AF9F21AB76CBB84D6
FILE: 2-3-Nobody Home [London, 1980-08-06].flac
Size: 21661885 Hash: 05D06572CB9279FF66DDAA0FBD55906F Accuracy: -m8
Conclusion: CDDA 100%
Signature: 8C90D295ECE6E5828DB5B12B6EE79D6E62AE57CE
FILE: 2-2-Is There Anybody out There [London, 1980-08-06].flac
Size: 20020993 Hash: 1259F37D86CDEBAD91EB8322E91A9893 Accuracy: -m8
Conclusion: CDDA 100%
Signature: CACA790442FA28A16269B30471C506E42DA63BB8
FILE: 2-14-Outside The Wall [London, 1980-08-06].flac
Size: 19999075 Hash: 8B56969D0FFE322F91CBD0250CC5BD6C Accuracy: -m8
Conclusion: CDDA 100%
Signature: 135EACFCEEC6CC08C8859F226976FA1E207394A2
FILE: 2-13-The Trial [London, 1980-08-06].flac
Size: 42637709 Hash: 9DD55EE7FD94D7B0C3A6686D552C5891 Accuracy: -m8
Conclusion: CDDA 100%
Signature: C619D9CB527AABBCDBCACB53A487907F7C33416E
FILE: 2-12-Stop [London, 1980-08-06].flac
Size: 3501067 Hash: 8427F4F3B98BECC0A8455EB6B969239F Accuracy: -m8
Conclusion: CDDA 100%
Signature: 7880787B305629C21C5DF15AB44F0D1F0D6449B3
FILE: 2-11-Waiting For The Worms [London, 1980-08-06].flac
Size: 31657523 Hash: 704D0A9CE87D61DA0A80274B1092E1B1 Accuracy: -m8
Conclusion: CDDA 100%
Signature: 6D12521F9282C6E09F957DF7920DC3FCF8C42361
FILE: 2-10-Run Like Hell [London, 1980-08-06].flac
Size: 46061658 Hash: 461F23424AEED6B20E77EE594AEB8915 Accuracy: -m8
Conclusion: CDDA 100%
Signature: A958B771AEA51FE8751DB9E41877AF0E4F15A51C
FILE: 2-1-Hey You [London, 1980-08-06].flac
Size: 31575383 Hash: 253BA8089AF0ABF650F0C4A1F370CF5E Accuracy: -m8
Conclusion: CDDA 100%
Signature: 2BF244F936C8C9DE5EE181632A34C2BED055D6A9
–––––––––––-

DON'T MODIFY THIS FILE

–––––––––––-

PERFORMER: auCDtect Task Manager, ver. 1.6.0 RC1 build 1.6.0.1
Copyright © 2008-2010 y-soft. All rights reserved

ANALYZER: auCDtect: CD records authenticity detector, version 0.8.2
Copyright © 2004 Oleg Berngardt. All rights reserved.
Copyright © 2004 Alexander Djourik. All rights reserved.


FILE: 3-9-What Shall We Do Now [New York, 1980-02-28].flac
Size: 31573955 Hash: C036B53C2F0658D86D10329693F7AB15 Accuracy: -m8
Conclusion: CDDA 100%
Signature: 02674E079D5F56297059B714AD9D91A5B6CE3E7C
FILE: 3-8-Goodbye Blue Sky [New York, 1980-02-28].flac
Size: 23424124 Hash: 8A30664FF8D13292AA9D6DB33AF474C4 Accuracy: -m8
Conclusion: CDDA 100%
Signature: 9C2C4D1ECF2EA607E827BD5395B081F465CCCB2B
FILE: 3-7-Mother [New York, 1980-02-28].flac
Size: 52616095 Hash: C72A73BFDADD779F7B6ECE9B5BC16A6F Accuracy: -m8
Conclusion: CDDA 100%
Signature: D4E0B022F0345E0917D5EA416A0C86CB27AB73ED
FILE: 3-6-Another Brick In The Wall (Part 2) [New York, 1980-02-28].flac
Size: 46593937 Hash: 6F8E6FD4266B4A2EB5AEED2D755C5292 Accuracy: -m8
Conclusion: CDDA 100%
Signature: 9A1150B3C74A80AA65C08AEDBD2C5E8604B4653A
FILE: 3-5-The Happiest Days Of Our Lives [New York, 1980-02-28].flac
Size: 13072440 Hash: 08202CE7CA261E22E68B400E8D8A7E2B Accuracy: -m8
Conclusion: CDDA 100%
Signature: 310CF89D775CA295AAE5A2AEA280B363E6D82BD4
FILE: 3-4-Another Brick In The Wall (Part 1) [New York, 1980-02-28].flac
Size: 31636518 Hash: 1FD9A3AF360CF14B93ED6CC71F92F1A8 Accuracy: -m8
Conclusion: CDDA 100%
Signature: 13494A6952AC2341386D93C7D9C90034CECD7DDE
FILE: 3-3-The Thin Ice [New York, 1980-02-28].flac
Size: 23891966 Hash: 66202F90BFA78FD32E8887E647A8508E Accuracy: -m8
Conclusion: CDDA 99%
Signature: AC8131F3D2CBDB28F1B64B103B022C2BB72BA833
FILE: 3-2-In The Flesh_ [New York, 1980-02-28].flac
Size: 23635461 Hash: 60F3302F236A5D1049831C059DB8A89E Accuracy: -m8
Conclusion: CDDA 100%
Signature: 21E82D887BADD8FF951C15B0322E8878F5AFAB44
FILE: 3-14-Goodbye Cruel World [New York, 1980-02-28].flac
Size: 11454175 Hash: B9EFE0E7EDE6A06C7763958394E498F5 Accuracy: -m8
Conclusion: CDDA 100%
Signature: 64791C10227BBDC4B6375E7CFC57DDE4AADC2C75
FILE: 3-13-Another Brick In The Wall (Part 3) [New York, 1980-02-28].flac
Size: 33012321 Hash: D171826EBD4AF9EF57495CDABA25670E Accuracy: -m8
Conclusion: CDDA 100%
Signature: 1D0E1E4E7FAE445F4E90992043A488230F6E9338
FILE: 3-12-Don't Leave Me Now [New York, 1980-02-28].flac
Size: 26819208 Hash: 0522FE3E2A000DF7C72CA8347F528A1F Accuracy: -m8
Conclusion: CDDA 100%
Signature: FE08741551F52D317742B12534CBAB81FEAAF3AB
FILE: 3-11-One Of My Turns [New York, 1980-02-28].flac
Size: 24462073 Hash: 7FAC3ABB0E57E27ED70CD2A4A34C3322 Accuracy: -m8
Conclusion: CDDA 100%
Signature: D23E61C14408AE73806D4CB10B895D8A270AB7B3
FILE: 3-10-Young Lust [New York, 1980-02-28].flac
Size: 39131968 Hash: 12BAC48A5F4BE800D6E2641E55E028C2 Accuracy: -m8
Conclusion: CDDA 100%
Signature: 6AAB948DE125762630321C8FCEA22B61B48F90F5
FILE: 3-1-Introduction by MC Atmos [New York, 1980-02-28].flac
Size: 12404499 Hash: 9F078300DDDB834FBBECB005A810BB50 Accuracy: -m8
Conclusion: CDDA 99%
Signature: 0579A745FB86183EA3B144893C7E169C6E5E0879
–––––––––––-

DON'T MODIFY THIS FILE

–––––––––––-

PERFORMER: auCDtect Task Manager, ver. 1.6.0 RC1 build 1.6.0.1
Copyright © 2008-2010 y-soft. All rights reserved

ANALYZER: auCDtect: CD records authenticity detector, version 0.8.2
Copyright © 2004 Oleg Berngardt. All rights reserved.
Copyright © 2004 Alexander Djourik. All rights reserved.


FILE: 4-9-In The Flesh! [New York, 1980-02-28].flac
Size: 41296409 Hash: FA4F455BA55D42239BAD74A42F35CD51 Accuracy: -m8
Conclusion: CDDA 100%
Signature: C70E9B237FBA67AEFC5CE4C77A81DD5156722358
FILE: 4-8-Introduction by MC Atmos [New York, 1980-02-28].flac
Size: 18077173 Hash: A380E71D10DD90815EF0C7E5654E3054 Accuracy: -m8
Conclusion: CDDA 100%
Signature: 3A3CCD6FC1D0808F3689A7A482C4401B703CCDB1
FILE: 4-7-The Show Must Go On [New York, 1980-02-28].flac
Size: 17692639 Hash: 576D5AEFC099730D3ECFAA82D50B6EB0 Accuracy: -m8
Conclusion: CDDA 100%
Signature: 44D3536A1972A9F29E0B96B3DBE52CF0395208C1
FILE: 4-6-Comfortably Numb [New York, 1980-02-28].flac
Size: 54093243 Hash: 3B8DE65F877BCA0B7E275F958CFD3BC8 Accuracy: -m8
Conclusion: CDDA 100%
Signature: FDE2BB853EDB9045C2BF95002CD616843BB03108
FILE: 4-5-Bring The Boys Back Home [New York, 1980-02-28].flac
Size: 9635792 Hash: B6B94E6B3A1BC0A8817E32C22D708E4D Accuracy: -m8
Conclusion: CDDA 99%
Signature: 27B8AD1FB5AB4DA74CD32A32445F17818C52BCB5
FILE: 4-4-Vera [New York, 1980-02-28].flac
Size: 10214951 Hash: CE1949984EC90044581B7A1A90F2E1CC Accuracy: -m8
Conclusion: CDDA 100%
Signature: B2129A42AD4BC0D74BFA9C54256E58EC79D4D1D3
FILE: 4-3-Nobody Home [New York, 1980-02-28].flac
Size: 22895019 Hash: FB7CCA6C8D10E2678D11ADC04AE4D2B7 Accuracy: -m8
Conclusion: CDDA 99%
Signature: 9AE44616EC9E88E40660BBE79015A6DFDC8C3AF2
FILE: 4-2-Is There Anybody out There [New York, 1980-02-28].flac
Size: 20914420 Hash: D7980CD686E7EE0256B92CE606AB9962 Accuracy: -m8
Conclusion: CDDA 100%
Signature: 015DDDE90E97566B1881C698C8B1F71E36745D43
FILE: 4-14-Outside The Wall [New York, 1980-02-28].flac
Size: 27105740 Hash: D7EF1C7260C365298DBBC9BE1771DE8C Accuracy: -m8
Conclusion: CDDA 100%
Signature: 6A5A1291A946F2AB64AA08564E2C346D51CDE388
FILE: 4-13-The Trial [New York, 1980-02-28].flac
Size: 44271755 Hash: 9926BF059BF92FF86E66348765E598E4 Accuracy: -m8
Conclusion: CDDA 99%
Signature: 7385B16C7E38A2B1647208AC9EC1F4BC27533108
FILE: 4-12-Stop [New York, 1980-02-28].flac
Size: 3324080 Hash: B4801FDA125F572A3FE2C90C8183CB06 Accuracy: -m8
Conclusion: CDDA 100%
Signature: 1739C327448B8AA77CACCBA2A6D1D8BA8AD4CB7A
FILE: 4-11-Waiting For The Worms [New York, 1980-02-28].flac
Size: 31988967 Hash: D7FC621E2FD0C4C22702F99E6CC647A1 Accuracy: -m8
Conclusion: CDDA 100%
Signature: 29BC943EC89503D0C148A94F5BED26E80ED70790
FILE: 4-10-Run Like Hell [New York, 1980-02-28].flac
Size: 48452574 Hash: C360B84C538A82FDF2501BFEC41DDDE5 Accuracy: -m8
Conclusion: CDDA 100%
Signature: EA0C6162BAAD5145257207A1110D0D439F2FA0B3
FILE: 4-1-Hey You [New York, 1980-02-28].flac
Size: 25732409 Hash: 6D384C5EAA3C4092E9207737CF441498 Accuracy: -m8
Conclusion: CDDA 100%
Signature: 22CB9654AD05736E1DC6A3082691BFC0DD28FCB5