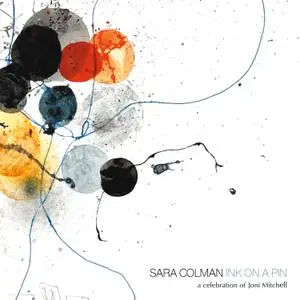 Sara Colman - Ink on a Pin: A Celebration of Joni Mitchell (2021)
WEB FLAC (tracks) - 181 Mb | MP3 CBR 320 kbps - 80 Mb | 00:34:46
Vocal Jazz | Label: Stoney Lane Records
Sara Colman, the acclaimed UK singer, songwriter and composer, releases Ink On A Pin, her new album celebrating the music of Joni Mitchell, with striking new arrangements and poignant re-workings of seven songs from one of her most significant influences. Following her much-admired 2018 release, What We're Made Of, noted by American critic Ted Gioia as 'worthy of your attention', Colman's latest project amplifles her inventiveness and versatility, as she weaves elements of folk, Americana and jazz into expressive new arrangements of iconic songs drawn from Mitchell's celebrated catalogue. Inspired by her love of classic songwriting and instinctive improvisational energy, Mitchell's work has long had a profound impact on Colman. "My awareness of Joni's unfailing ability to write songs that are uniquely personal and yet universal has deepened as I discover more about what inspired her to write them, as they have inspired countless jazz musicians before me. Often with Joni, in writing about something in her life, she seems to encapsulate the very thing that you yourself are experiencing. Genius."
Tracklist:
1.
Court and Spark
(03:22)
2.
Chelsea Morning
(03:52)
3.
Amelia
(07:18)
4.
This Flight Tonight
(03:47)
5.
Down to You
(04:12)
6.
Woodstock
(06:30)
7.
My Old Man
(05:41)
–––––––––––-

DON'T MODIFY THIS FILE

–––––––––––-

PERFORMER: auCDtect Task Manager, ver. 1.6.0 RC1 build 1.6.0.1
Copyright © 2008-2010 y-soft. All rights reserved

ANALYZER: auCDtect: CD records authenticity detector, version 0.8.2
Copyright © 2004 Oleg Berngardt. All rights reserved.
Copyright © 2004 Alexander Djourik. All rights reserved.


FILE: 07 - My Old Man.flac
Size: 24235588 Hash: BE211A1DF5AD6C4C129F3296B8C70995 Accuracy: -m8
Conclusion: CDDA 100%
Signature: 6F6D490350C49391CAEE90628A11B570F1D7E1E5
FILE: 06 - Woodstock.flac
Size: 34275924 Hash: B8547F40523B49939711F3D97102A18C Accuracy: -m8
Conclusion: CDDA 100%
Signature: CF09AABA0242A9640F4CFECEA51C34C63CB46225
FILE: 05 - Down to You.flac
Size: 23649880 Hash: 1B04CDFD8B38C4ABBB3221530BBC99E7 Accuracy: -m8
Conclusion: CDDA 100%
Signature: E596F37F679E4CAC57A6D1C829E2C9041E0D6A84
FILE: 04 - This Flight Tonight.flac
Size: 22767316 Hash: 9670E81598152FFBC44F8A063C468A72 Accuracy: -m8
Conclusion: CDDA 100%
Signature: A8AE796C3D6F5562D86C59D6643AB6495611C3F0
FILE: 03 - Amelia.flac
Size: 41510768 Hash: E6D840814DA2EFB723517594C6EC0FC3 Accuracy: -m8
Conclusion: CDDA 100%
Signature: 7C18C9CC65AF73E4D70681D9C9E0707C92F17CED
FILE: 02 - Chelsea Morning.flac
Size: 22940150 Hash: 5A3C9DB06B7AC5306F3DEFD86E799B00 Accuracy: -m8
Conclusion: CDDA 100%
Signature: 426DC2813654AC991078509134E72378E33CBF09
FILE: 01 - Court and Spark.flac
Size: 19926883 Hash: D3DCC656C4578D5116A9EDCED10444D8 Accuracy: -m8
Conclusion: CDDA 99%
Signature: 6E525490D6B7A99927EFE79BD7A534CEA52555ED