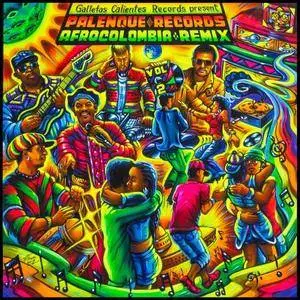 Various Artists - Palenque Records AfroColombia Remix Vol. 2 (2018)
Afrobeat, Broken Beat, Cumbia, Disco, Downtempo, House, Funk, Hip Hop, Nu-Disco, Zouk | 1:02:49 | WEB FLAC (tracks) | 416 MB
Label: Galletas Calientes
After the success of vol. 1, French Colombia-based label Galletas Calientes Records is back on track with another "Palenque Records Afrocolombia Remix" series, inviting more talented producers from the worldwide "Global Bass" scene to revisit all time Afro-Colombian classic musical pieces.
Tracklist:
01. Son Palenque - La Negra (Bosq Remix)
02. Colombiafrica & Louis Towers - No Habla Na (Dj Panko Remix)
03. Colombiafrica & Louis Towers - Mama Africa (feat. Zongo Abongo) (The Busy Twist Remix)
04. Colombiafrica & Viviano Torres - Zarandia Champeta (Frikstailers Remix)
05. Colombiafrica & Louis Towers - Mama Africa (Umoja Remix)
06. Dj Rata Piano - La Bala De Cianuro (Bleepolar Edit)
07. Son Palenque - Aloito Pio (Novalima Remix)
08. Son Palenque - La Negra (Piper Street Sound Dub Redo)
09. Estrellas Del Caribe - La Candela (Frikstailers Remix)
10. Son Palenque - La Negra (Copia Doble Systema Remix)
11. Colombiafrica & Louis Towers - Mama Africa (Umoja Long Guitar Remix)
12. Son Palenque - Aguata (Thombs Remix)
13. Son Palenque - Zamba (Kosta Kostov Remix)
14. Batata Y Su Rumba Palenquera - Clavo Y Martillo (Dj Galletas Calientes Remix)
ANALYZER: auCDtect: CD records authenticity detector, version 0.8.2
Copyright © 2004 Oleg Berngardt. All rights reserved.
Copyright © 2004 Alexander Djourik. All rights reserved.


FILE: 14. Batata Y Su Rumba Palenquera - Clavo Y Martillo (Dj Galletas Calientes Remix).flac
Size: 41109411 Hash: 69F0BDB07EBAAAC0893ADBD66F14CE6A Accuracy: -m0
Conclusion: CDDA 100%
Signature: E5DC14518DF1D899938400E5DAEF1461916E3F96
FILE: 13. Son Palenque - Zamba (Kosta Kostov Remix).flac
Size: 39192071 Hash: 202B263DFCF375D5C82084ACA832B253 Accuracy: -m0
Conclusion: CDDA 100%
Signature: 9C722EF9EE266A0276E5AF2BBF1270465D78E665
FILE: 12. Son Palenque - Aguata (Thombs Remix).flac
Size: 24043771 Hash: 56FA6EE6DE26921D5450199E070FD9E9 Accuracy: -m0
Conclusion: CDDA 100%
Signature: E837B1BEB113E2129BB18D0DB08A8199B2A4429C
FILE: 11. Colombiafrica & Louis Towers - Mama Africa (Umoja Long Guitar Remix).flac
Size: 41873474 Hash: 4A1763FBCA3A45D83C4DA308A5D12E99 Accuracy: -m0
Conclusion: CDDA 100%
Signature: 311E445359C2D19E143D205AA871E0E7CAED8EBA
FILE: 10. Son Palenque - La Negra (Copia Doble Systema Remix).flac
Size: 26662628 Hash: A4690AB162C6B98FBD341ECB5EC988CC Accuracy: -m0
Conclusion: CDDA 100%
Signature: 1462A02BDE65102763D55D2768A406E0E51C5169
FILE: 09. Estrellas Del Caribe - La Candela (Frikstailers Remix).flac
Size: 34134210 Hash: 75D9035301CCD26D5A28E351B4E83D14 Accuracy: -m0
Conclusion: CDDA 100%
Signature: 736A81AE145A4437BDFC1204E0D00B20B231015F
FILE: 08. Son Palenque - La Negra (Piper Street Sound Dub Redo).flac
Size: 28174935 Hash: C6305487D2342B1E417C141E26518D87 Accuracy: -m0
Conclusion: CDDA 100%
Signature: AB4E027F5E9784EC35EDD8CBDDD87632B5CFBBAD
FILE: 07. Son Palenque - Aloito Pio (Novalima Remix).flac
Size: 32776362 Hash: 6D9F0A8F777607A858DFF361D11E67BB Accuracy: -m0
Conclusion: CDDA 100%
Signature: 4BE637A404031DDBFFEAB0B6D19D70D7C52E8106
FILE: 06. Dj Rata Piano - La Bala De Cianuro (Bleepolar Edit).flac
Size: 15229371 Hash: 481E7703FD54B6D3A821875FE3AACBDC Accuracy: -m0
Conclusion: CDDA 100%
Signature: 25AB4859D60B04BF5D275F6C42F99124CB18C293
FILE: 05. Colombiafrica & Louis Towers - Mama Africa (Umoja Remix).flac
Size: 24349135 Hash: 0F23E26A2890A001F02D6FFB84703B68 Accuracy: -m0
Conclusion: CDDA 100%
Signature: 3248C3BA1DE12CC91C2405005B4465E810C9E740
FILE: 04. Colombiafrica & Viviano Torres - Zarandia Champeta (Frikstailers Remix).flac
Size: 30450988 Hash: 95867173BE5D592B859FC2E3DA15D88F Accuracy: -m0
Conclusion: CDDA 100%
Signature: 2F2BE2EE23715183DD9D0141CE66F20E9C18112A
FILE: 03. Colombiafrica & Louis Towers - Mama Africa (feat. Zongo Abongo) (The Busy Twist Remix).flac
Size: 26262778 Hash: 71659794EBD0F23E7154727D19B0B3ED Accuracy: -m0
Conclusion: CDDA 100%
Signature: D08F2419AE7516C491A257E6AC1352265BBE0CFF
FILE: 02. Colombiafrica & Louis Towers - No Habla Na (Dj Panko Remix).flac
Size: 32665369 Hash: 63424651D833D8CE60D9E2007F7192C3 Accuracy: -m0
Conclusion: CDDA 100%
Signature: F3BC8FE8CDA4138DA9CA75A8476B023D2B67CE8D
FILE: 01. Son Palenque - La Negra (Bosq Remix).flac
Size: 39326702 Hash: 023BEC7DE46991E54092117568D8ADA0 Accuracy: -m0
Conclusion: CDDA 100%
Signature: 0FA8CF11DF134F21E747F11C3AB9023451A423A5