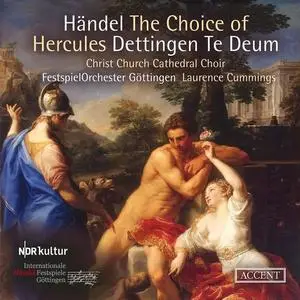 Christ Church Cathedral, Festspiel Orchester Gottingen - Handel Choice Hercules, HWV 69 Te Deum D Major, HWV 283 Dettingen(2021
FLAC tracks / MP3 320 kbps | 1:27:10 | 440 / 201 Mb
Genre: Classical / Label: Accent
This recording from the 2018 Göttingen Handel Festival presents two rarely heard works by Georg Friedrich Haendel: The Choice of Hercules and the Te Deum for the Victory of Dettingen. In The Choice of Hercules from 1751, Handel musically processes the mythical theme of Hercules at the crossroads, whereby Hercules' vacillation between virtue and lust is ideal for the back and forth in the search for the right path in life.
The Dettingen Te Deum (HWV 283) is a cantata composed by Handel in 1743. On 27 June 1743, the British army and its allies under the command of King George II had defeated the French army at the Battle of Dettingen. Handel was commissioned to write a Te Deum "with timpani and trumpets" for the victory celebrations. Laurence Cummings, the Handel Festival Orchestra, outstanding soloists and the legendary Christ Church Cathedral Choir from Oxford provide this successful performance.
Track List:
CD1
01. The Choice of Hercules, HWV 69: No. 1, Sinfonia (Live)
02. The Choice of Hercules, HWV 69: No. 2, See Hercules! How Smiles Yon Myrtle Plain (Live)
03. The Choice of Hercules, HWV 69: No. 3, Come, Blooming Boy (Live)
04. The Choice of Hercules, HWV 69: No. 4, There the Brisk Sparkling Nectar Drain (Live)
05. The Choice of Hercules, HWV 69: No. 5, While for Thy Arms That Beauty Glows (Live)
06. The Choice of Hercules, HWV 69: No. 6, Away, Mistaken Wretch, Away! (Live)
07. The Choice of Hercules, HWV 69: No. 7, This Manly Youth's Exalted Mind (Live)
08. The Choice of Hercules, HWV 69: No. 8, Rise, Youth! Exalt Thyself and Me (Live)
09. The Choice of Hercules, HWV 69: No. 9, Go, Assert Thy Heav'nly Race (Live)
10. The Choice of Hercules, HWV 69: No. 10, in Peace, in War (Live)
11. The Choice of Hercules, HWV 69: No. 11, So Shalt Thou Gain Immortal Praise (Live)
12. The Choice of Hercules, HWV 69: No. 12, Hearst Thou, What Dangers Then Thou Must Engage? (Live)
13. The Choice of Hercules, HWV 69: No. 13, Turn Thee, Youth, to Joy and Love (Live)
14. The Choice of Hercules, HWV 69: No. 14, Short Is My Way, Fair, Easy, Smooth and Plain (Live)
15. The Choice of Hercules, HWV 69: No. 15, Yet, Can I Hear That Dulcet Lay (Live)
16. The Choice of Hercules, HWV 69: No. 16, Enjoy the Sweet Elysian Grove (Live)
17. The Choice of Hercules, HWV 69: No. 17, Oh! Whither, Reason, Dost Thou Fly? (Live)
18. The Choice of Hercules, HWV 69: No. 18, Where Shall I Go? (Live)
19. The Choice of Hercules, HWV 69: No. 19, Mount, Mount the Steep Ascent (Live)
20. The Choice of Hercules, HWV 69: No. 20, Mount, Mount the Steep Ascent (Live)
21. The Choice of Hercules, HWV 69: No. 21, Arise! Mount the Steep Ascent (Live)
22. The Choice of Hercules, HWV 69: No. 22, The Sounds Breathe Fire (Live)
23. The Choice of Hercules, HWV 69: No. 23, Lead, Goddess, Lead the Way! (Live)
24. The Choice of Hercules, HWV 69: No. 24, Virtue Will Place Thee in That Blest Abode (Live)
CD2
01. Te Deum in D Major, HWV 283 "Dettingen": I. We Praise Thee, O God (Live)
02. Te Deum in D Major, HWV 283 "Dettingen": II. All the Earth Doth Worship Thee (Live)
03. Te Deum in D Major, HWV 283 "Dettingen": III. To Thee All Angels Cry Aloud (Live)
04. Te Deum in D Major, HWV 283 "Dettingen": IV. To Thee Cherubim and Seraphim (Live)
05. Te Deum in D Major, HWV 283 "Dettingen": V. The Glorious Company of the Apostels (Live)
06. Te Deum in D Major, HWV 283 "Dettingen": VI. Thou Art the King of Glory (Live)
07. Te Deum in D Major, HWV 283 "Dettingen": VII. When Thou Tookest upon Thee (Live)
08. Te Deum in D Major, HWV 283 "Dettingen": VIII. When Thou Hadst Overcome the Sharpness of Death (Live)
09. Te Deum in D Major, HWV 283 "Dettingen": IX. Thou Sittest at the Right Hand of God (Live)
10. Te Deum in D Major, HWV 283 "Dettingen": X. Symphony (Live)
11. Te Deum in D Major, HWV 283 "Dettingen": XI. We Therefore Pray Thee (Live)
12. Te Deum in D Major, HWV 283 "Dettingen": XII. Make Them to Be Number'd (Live)
13. Te Deum in D Major, HWV 283 "Dettingen": XIII. Day by Day We Magnify Thee (Live)
14. Te Deum in D Major, HWV 283 "Dettingen": XIV. Vouchsafe, O Lord (Live)
15. Te Deum in D Major, HWV 283 "Dettingen": XV. O Lord, in Thee Have I Trusted (Live)
ANALYZER: auCDtect: CD records authenticity detector, version 0.8.2
Copyright © 2004 Oleg Berngardt. All rights reserved.
Copyright © 2004 Alexander Djourik. All rights reserved.


FILE: 01 - The Choice of Hercules, HWV 69_ No. 1, Sinfonia (Live).flac
Size: 9975465 Hash: B40B3B07DECEF3EDBAEE0DF350DFAD87 Accuracy: -m40
Conclusion: CDDA 100%
Signature: 2CFE6E231629E1AE68415D27AADA9AB81E22B480
FILE: 02 - The Choice of Hercules, HWV 69_ No. 2, See Hercules! How Smiles Yon Myrtle Plain (Live).flac
Size: 13597341 Hash: 2755FAD38860AD3148A72B07D62D7391 Accuracy: -m40
Conclusion: CDDA 100%
Signature: 445C54D81E35A28E5F6BF8FE4533601B5B3C08D4
FILE: 03 - The Choice of Hercules, HWV 69_ No. 3, Come, Blooming Boy (Live).flac
Size: 8815842 Hash: 057EDC19D694900D8B1887C23F8F5F3E Accuracy: -m40
Conclusion: CDDA 100%
Signature: 359634FD58DA79DDF51731148F622BDB107AFFC6
FILE: 04 - The Choice of Hercules, HWV 69_ No. 4, There the Brisk Sparkling Nectar Drain (Live).flac
Size: 13555566 Hash: 57406A8F0A972E7D6C6EC77A01C751A1 Accuracy: -m40
Conclusion: CDDA 99%
Signature: 082CED3CDDDD7835477779176676380287E83AC3
FILE: 05 - The Choice of Hercules, HWV 69_ No. 5, While for Thy Arms That Beauty Glows (Live).flac
Size: 11724489 Hash: 8E247800CB601E44503B654DE316E87C Accuracy: -m40
Conclusion: CDDA 100%
Signature: A9CD36231EBBC57D34BF7D9B9DA649550AA1E64C
FILE: 06 - The Choice of Hercules, HWV 69_ No. 6, Away, Mistaken Wretch, Away! (Live).flac
Size: 2426261 Hash: 345FFFAA2B956ABBDD95D3743554FA47 Accuracy: -m40
Conclusion: CDDA 100%
Signature: 304486C71C436888F53988B1B353A8D0BB570424
FILE: 07 - The Choice of Hercules, HWV 69_ No. 7, This Manly Youth's Exalted Mind (Live).flac
Size: 31343789 Hash: 5D6B089131248959884C377357DFCB1B Accuracy: -m40
Conclusion: CDDA 99%
Signature: 6889382A1FB1D4709DEA8F49771748085A58D3A3
FILE: 08 - The Choice of Hercules, HWV 69_ No. 8, Rise, Youth! Exalt Thyself and Me (Live).flac
Size: 1491673 Hash: C3D20CC898D4DA20E890FAFE16AD98A6 Accuracy: -m40
Conclusion: CDDA 100%
Signature: 87D95B24A6ED932C52195565DBE4A1C5A7B9E46F
FILE: 09 - The Choice of Hercules, HWV 69_ No. 9, Go, Assert Thy Heav'nly Race (Live).flac
Size: 15598175 Hash: 8534CB627C8262C8A005F3A2E6142578 Accuracy: -m40
Conclusion: CDDA 100%
Signature: C454B72745C20C51C174827E6EA5BDE3FC81BADD
FILE: 10 - The Choice of Hercules, HWV 69_ No. 10, In Peace, in War (Live).flac
Size: 1470847 Hash: 9555BB6EBEDDC9DFFB122EBC3972AB18 Accuracy: -m40
Conclusion: CDDA 43%
Signature: 53A6FC17250487B82456452CC01F943549E67DB4
FILE: 11 - The Choice of Hercules, HWV 69_ No. 11, So Shalt Thou Gain Immortal Praise (Live).flac
Size: 11310657 Hash: 7A498AD3B80E5F043F08FE4ADAB1749F Accuracy: -m40
Conclusion: CDDA 100%
Signature: 56F7EBC7037F132A17CFF613DE2FE42C2DCC30C5
FILE: 12 - The Choice of Hercules, HWV 69_ No. 12, Hearst Thou, What Dangers Then Thou Must Engage_ (Live).flac
Size: 2561682 Hash: 7DAAE4904D0AB7037D76851C75A5A384 Accuracy: -m40
Conclusion: CDDA 100%
Signature: C10477D371B66759151EC251E29A90E7E147FE37
FILE: 13 - The Choice of Hercules, HWV 69_ No. 13, Turn Thee, Youth, to Joy and Love (Live).flac
Size: 14309476 Hash: 31C494DBECCF4A8EF8CAEEA6F7AB4599 Accuracy: -m40
Conclusion: CDDA 99%
Signature: D21E351D8C9D421E753728AE21D5D822BEDD3F4A
FILE: 14 - The Choice of Hercules, HWV 69_ No. 14, Short Is My Way, Fair, Easy, Smooth and Plain (Live).flac
Size: 3440944 Hash: A4E501593EBFEF1F3C73142D785738BC Accuracy: -m40
Conclusion: MPEG 92%
Signature: 2844DCB0078BDFFFF0F65B2F4D493BC4D6236523
FILE: 15 - The Choice of Hercules, HWV 69_ No. 15, Yet, Can I Hear That Dulcet Lay (Live).flac
Size: 18066018 Hash: 6AE2F4611C5D15D75737BA8788C80EF4 Accuracy: -m40
Conclusion: CDDA 99%
Signature: 6D40DB2F465EFE8E6CCC52257DD269779B378477
FILE: 16 - The Choice of Hercules, HWV 69_ No. 16, Enjoy the Sweet Elysian Grove (Live).flac
Size: 13643314 Hash: 76D4A0BC06950F1AFBE9654136675CE7 Accuracy: -m40
Conclusion: CDDA 100%
Signature: AD8EB405AED4C2B5C27C7599D13401EF8C4FFF75
FILE: 17 - The Choice of Hercules, HWV 69_ No. 17, Oh! Whither, Reason, Dost Thou Fly_ (Live).flac
Size: 1219371 Hash: 5120ABF28E4C2B3FCCFE86385F99457B Accuracy: -m40
Conclusion: CDDA 100%
Signature: 4380B2E0E3BDE9C5F3FDA9C3325483B4BE583F01
FILE: 18 - The Choice of Hercules, HWV 69_ No. 18, Where Shall I Go_ (Live).flac
Size: 10169401 Hash: E72308833782F5E8052A04EAB0E4943C Accuracy: -m40
Conclusion: CDDA 100%
Signature: 503C3C1B557633127F4BE8D491723B3C4D11B50E
FILE: 19 - The Choice of Hercules, HWV 69_ No. 19, Mount, Mount the Steep Ascent (Live).flac
Size: 4157346 Hash: 5E1608B6855860B62E748CD5761EA451 Accuracy: -m40
Conclusion: CDDA 100%
Signature: 598771F7F2295C693830CF158322C6E7C31871A3
FILE: 20 - The Choice of Hercules, HWV 69_ No. 20, Mount, Mount the Steep Ascent (Live).flac
Size: 7053440 Hash: BB4BADCBDC44A5C609D55855E3E67475 Accuracy: -m40
Conclusion: CDDA 100%
Signature: E7E18155279808A2FE2CC59F648065A9E7035FE7
FILE: 21 - The Choice of Hercules, HWV 69_ No. 21, Arise! Mount the Steep Ascent (Live).flac
Size: 12331666 Hash: 1AFFD84F699064B00A5BA309CE7DC2DA Accuracy: -m40
Conclusion: CDDA 100%
Signature: A9FED0CDD75473474CD6AF9CCCA9D2FFB497EA1F
FILE: 22 - The Choice of Hercules, HWV 69_ No. 22, The Sounds Breathe Fire (Live).flac
Size: 1572505 Hash: 57A4557198748D46A3D93A426B98E2DA Accuracy: -m40
Conclusion: CDDA 100%
Signature: 0246DA1ECCFAE339F37088ABAAD50A8BDEFEE449
FILE: 23 - The Choice of Hercules, HWV 69_ No. 23, Lead, Goddess, Lead the Way! (Live).flac
Size: 26068143 Hash: 0829600E9AAC93D927111A9FF89A85C7 Accuracy: -m40
Conclusion: CDDA 100%
Signature: 188C1C38544E6D96555FF27A65DFD11BA880B6A8
FILE: 24 - The Choice of Hercules, HWV 69_ No. 24, Virtue Will Place Thee in That Blest Abode (Live).flac
Size: 27798186 Hash: 7A6DBE6E842E44BCE9495DD34A7E6F5A Accuracy: -m40
Conclusion: CDDA 100%
Signature: 7087E7CC969336EC42805E98EF9F063F0FD15DA5
FILE: 01 - Te Deum in D Major, HWV 283 _Dettingen__ I. We Praise Thee, O God (Live).flac
Size: 19695003 Hash: 7442F0D528564A577E2B761052276EFB Accuracy: -m40
Conclusion: CDDA 100%
Signature: 21AE8C68DD87CD4422F0021BECFE25ABD41F9F96
FILE: 02 - Te Deum in D Major, HWV 283 _Dettingen__ II. All the Earth Doth Worship Thee (Live).flac
Size: 13267125 Hash: 9A6216327ADA671FAE89920C79DB7B4E Accuracy: -m40
Conclusion: CDDA 100%
Signature: A2BCF22C4AA1A98CF41ABA14C7E49A960FF3D0AC
FILE: 03 - Te Deum in D Major, HWV 283 _Dettingen__ III. To Thee All Angels Cry Aloud (Live).flac
Size: 11485591 Hash: DA28D062320171900DBDA0C7DE1A1DFC Accuracy: -m40
Conclusion: CDDA 100%
Signature: DCFCFD18D8D3724454E76B1C3400B946D89EF702
FILE: 04 - Te Deum in D Major, HWV 283 _Dettingen__ IV. To Thee Cherubim and Seraphim (Live).flac
Size: 16561062 Hash: DA10D7B50880C9F739F7F598DBD31AA7 Accuracy: -m40
Conclusion: CDDA 100%
Signature: B7AD7EAD5076E0971B7494BC09BF7ECCC0CA8A33
FILE: 05 - Te Deum in D Major, HWV 283 _Dettingen__ V. The Glorious Company of the Apostels (Live).flac
Size: 13449875 Hash: 9355FF6B1D6CA5E74E83FC325A6B7278 Accuracy: -m40
Conclusion: CDDA 100%
Signature: 06C516FD5BB5CE81340146A487FB761BABF4D255
FILE: 06 - Te Deum in D Major, HWV 283 _Dettingen__ VI. Thou Art the King of Glory (Live).flac
Size: 14171259 Hash: F3507242405AD23A6D097FA10BC59E04 Accuracy: -m40
Conclusion: CDDA 100%
Signature: 94EF369915F96497E8F2F1BE390121981D5FE278
FILE: 07 - Te Deum in D Major, HWV 283 _Dettingen__ VII. When Thou Tookest upon Thee (Live).flac
Size: 13979927 Hash: 66F4D129F14FDC1363647E3559BCE092 Accuracy: -m40
Conclusion: CDDA 100%
Signature: F9718036E80BD2F461E67508DAA4A3053DC0DDAF
FILE: 08 - Te Deum in D Major, HWV 283 _Dettingen__ VIII. When Thou Hadst Overcome the Sharpness of Death (Live).flac
Size: 9701444 Hash: FCC12935D689237BECF2596951DD8B9F Accuracy: -m40
Conclusion: CDDA 100%
Signature: DBAC1EC7AECF7E6E42BF764E7F5C51A3BE844FBC
FILE: 09 - Te Deum in D Major, HWV 283 _Dettingen__ IX. Thou Sittest at the Right Hand of God (Live).flac
Size: 15449414 Hash: C6C8F7BD410194FC7E46F141F6964103 Accuracy: -m40
Conclusion: CDDA 100%
Signature: 4DEE7085D0BCD8BD795487F16F4A5E98BC524B4A
FILE: 10 - Te Deum in D Major, HWV 283 _Dettingen__ X. Symphony (Live).flac
Size: 2678070 Hash: E5D901B9CE6C009BC00F0531E8AB816E Accuracy: -m40
Conclusion: CDDA 100%
Signature: A16447D8ECA37421E4DF92763AD7ED97459AAD5C
FILE: 11 - Te Deum in D Major, HWV 283 _Dettingen__ XI. We Therefore Pray Thee (Live).flac
Size: 6638180 Hash: 338B4EAF53F05200CEBF66EAA5B75CEC Accuracy: -m40
Conclusion: CDDA 86%
Signature: A8B12FE9F49AFD88486723CBB7D06BCAC0824A92
FILE: 12 - Te Deum in D Major, HWV 283 _Dettingen__ XII. Make Them to Be Number'd (Live).flac
Size: 7937169 Hash: F9F13AEE2B373B355C14E0B090075056 Accuracy: -m40
Conclusion: CDDA 100%
Signature: EFBF8E36B6432C96B96AE243A2464A36F9922FB2
FILE: 13 - Te Deum in D Major, HWV 283 _Dettingen__ XIII. Day by Day We Magnify Thee (Live).flac
Size: 17483898 Hash: CEBBFD364AC5BCEB40FA90705AD58C34 Accuracy: -m40
Conclusion: CDDA 99%
Signature: CA5E384FB7E63FAD85A9DB215330F651FE5A763B
FILE: 14 - Te Deum in D Major, HWV 283 _Dettingen__ XIV. Vouchsafe, O Lord (Live).flac
Size: 8859209 Hash: 965C84E222E1B654652549B978C09C5C Accuracy: -m40
Conclusion: CDDA 100%
Signature: A45FD62A6D00AA61660382D1788FDFA90004B17C
FILE: 15 - Te Deum in D Major, HWV 283 _Dettingen__ XV. O Lord, in Thee Have I Trusted (Live).flac
Size: 24520723 Hash: 7E138624CAABC59E2AC34ACDDA4DAC8C Accuracy: -m40
Conclusion: CDDA 100%
Signature: 59FAD6F0BF0A7FC53A89C93DFFD998A62054D494