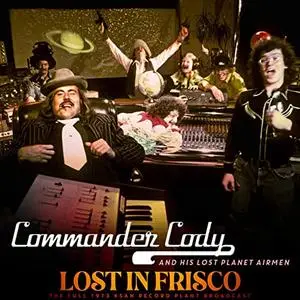 Commander Cody And His Lost Planet Airmen - Lost In Frisco (Live 1973) (2021)
MP3 320 kbps | 50:10 | 115 Mb
Genre: Alt. Country, Rock'n'Roll / Label: Freefall Records
The band's style mixed country, rock and roll, Western swing, rockabilly, and jump blues together on a foundation of boogie-woogie piano. They were among the first country rock bands to take its cues less from folk rock and bluegrass and more from the rowdy barroom country of the Ernest Tubb and Ray Price style. The band became known for marathon live shows.
Track List:
[02:20] 01. Commander Cody And His Lost Planet Airmen - Good Rockin' Tonight (Live 1973)
[02:20] 02. Commander Cody And His Lost Planet Airmen - Semi Truck (Live 1973)
[03:53] 03. Commander Cody And His Lost Planet Airmen - Seeds and Stems Again Blues (Live 1973)
[03:02] 04. Commander Cody And His Lost Planet Airmen - Honeysuckle Honey (Live 1973)
[03:01] 05. Commander Cody And His Lost Planet Airmen - Sister Sue (Live 1973)
[03:11] 06. Commander Cody And His Lost Planet Airmen - Cryin' Time (Live 1973)
[05:37] 07. Commander Cody And His Lost Planet Airmen - Milk Cow Blues (Live 1973)
[02:24] 08. Commander Cody And His Lost Planet Airmen - Six Pack to Go (Live 1973)
[03:09] 09. Commander Cody And His Lost Planet Airmen - I Got Loaded (Live 1973)
[04:15] 10. Commander Cody And His Lost Planet Airmen - Beat Me Daddy Eight to the Bar (Live 1973)
[03:34] 11. Commander Cody And His Lost Planet Airmen - Hot Rod Lincoln (Live 1973)
[04:14] 12. Commander Cody And His Lost Planet Airmen - Josephine (Live 1973)
[02:54] 13. Commander Cody And His Lost Planet Airmen - Rock That Boogie (Live 1973)
[02:47] 14. Commander Cody And His Lost Planet Airmen - Twenty Flight Rock (Live 1973)
[03:22] 15. Commander Cody And His Lost Planet Airmen - Jailhouse Rock (Live 1973)