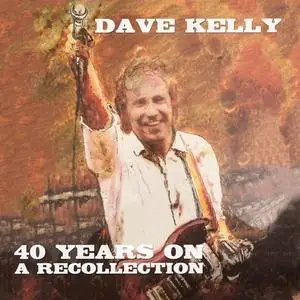 Dave Kelly - 40 Years on - a Recollection (2021)
FLAC tracks / MP3 320 kbps | 3:49:31 | 523 Mb / 1,4 Gb
Genre: Blues Rock / Label: Repertoire Records (UK) Limited
When the British Blues Boom exploded in the late 60s it brought to fame such now legendary names as Eric Clapton, Peter Green and John Mayall. But there were many other fine musicians creating great music and establishing their own careers in bands and on record. One of the most important performers was Dave Kelly, a young, multi-talented London-born slide guitarist, singer, composer and bandleader. Dave first came to fame with the John Dummer Blues Band and went on play with Paul Jones and Tom McGuinness in the highly successful Blues Band, while leading a parallel life with his own outfit the Dave Kelly Band.
Track List:
[03:22] 01. Dave Kelly - Straight Line (To My Heart)
[03:03] 02. Dave Kelly - Dawn Surprise
[03:19] 03. Dave Kelly - Ungrateful
[02:51] 04. Dave Kelly - Don'tcha Hang up the Phone
[05:20] 05. Dave Kelly - Velocity and Love
[06:22] 06. Dave Kelly - Life After Love
[04:06] 07. Dave Kelly - The Duisburg Blues
[03:42] 08. Dave Kelly - Worried Man
[03:30] 09. Dave Kelly - Time After Time
[05:02] 10. Dave Kelly - Waiting for Bessie (Live at the Montreux Jazz Festival, Switzerland June 1983)
[03:41] 11. Dave Kelly - Give Me My Money
[03:19] 12. Dave Kelly - Come Kiss Me Love (Live June 2008)
[04:16] 13. The Dave Kelly Band - Mr Estes Said (Live at the Rockhaus, Salzburg, Austria, November 2002)
[04:25] 14. The Dave Kelly Band - When the Blues Come to Call (Live at the Rockhaus, Salzburg, Austria, November 2002)
[03:53] 15. Dave Kelly - Going Home (Live at the Montreux Jazz Festival, Switzerland June 1983)
[02:40] 16. Dave Kelly - If It Fits
[04:41] 17. Dave Kelly - Watching the Fire
[04:17] 18. Dave Kelly - Love is a Compromise
[03:36] 19. Dave Kelly - Glad I'm Living
[02:53] 20. Dave Kelly - Return to Sender
[03:49] 21. Dave Kelly - Foreign Station
[04:10] 22. Dave Kelly; Christine Collister; The Country Gentlemen - The Night They Drove Old Dixie Down (Live at Fareham Arts Centre, May 2005)
[03:56] 23. Dave Kelly - That's Why
[04:28] 24. Dave Kelly - Tongue Tied
[02:30] 25. Dave Kelly - Jim Canaan
[05:22] 26. Dave Kelly - (Sittin' on) The Dock of the Bay
[03:13] 27. Dave Kelly - I'm into Something Good
[04:15] 28. Dave Kelly - Rooster Blues
[04:27] 29. Dave Kelly; Christine Collister; The Country Gentlemen - 110 in the Shade (Live in 2005)
[04:13] 30. Dave Kelly; Christine Collister; The Country Gentlemen - Pancho and Lefty (Live in 2005)
[03:32] 31. Dave Kelly - Two More Bottles of Wine (Live at the Montreux Jazz Festival, Switzerland June 1983)
[02:08] 32. Dave Kelly - Oklahoma
[03:55] 33. Dave Kelly - Anyhow, I Love You (Live in June 2008)
[03:38] 34. Dave Kelly - Ee Do Do Qua Qua
[03:04] 35. Dave Kelly - You're Gonna Make Me Lonesome
[04:32] 36. Dave Kelly; Christine Collister; The Country Gentlemen - World in Motion (Live in 2005)
[02:08] 37. Dave Kelly - Red Red Wine
[03:24] 38. Dave Kelly - Crying in the Rain
[04:39] 39. Dave Kelly - City of New Orleans
[03:50] 40. Dave Kelly - She's Funny That Way
[03:50] 41. Dave Kelly - Rolling Log (Live at the Montreux Jazz Festival, Switzerland June 1983)
[06:42] 42. Dave Kelly - That Same Thing (Live at Sandviken, Sweden in 1997)
[04:53] 43. Dave Kelly - I Can't Be Satisfied / Chicago Calling (Live at the Sinkkasten, Frankfurt, May 1984)
[05:48] 44. Dave Kelly - Hoochie Coochie Man (Live at the Montreux Jazz Festival, Switzerland June 1983)
[04:01] 45. The British Blues All Stars - Lovey Dovey (Live at Kubana, Siegburg, Germany, June 2015)
[04:50] 46. Dave Kelly - Too Bad to Be True (Live at the Montreux Jazz Festival, Switzerland June 1983)
[04:05] 47. The Dave Kelly Band - My Old Friend the Blues (Live at the Rockhaus, Salzburg, Austria, November 2002)
[02:53] 48. Dave Kelly - Foolish Pride (Live at the Montreux Jazz Festival, Switzerland June 1983)
[06:10] 49. The Dave Kelly Band - You Shook Me (Live at the Rockhaus, Salzburg, Austria, November 2002)
[02:40] 50. Dave Kelly - Barnyard Boogie (Live at the Montreux Jazz Festival, Switzerland June 1983)
[04:37] 51. Dave Kelly - Walking Blues (Live at the Sinkkasten, Frankfurt, May 1984)
[05:21] 52. The British Blues All Stars - Dust My Blues (Live at Kubana, Siegburg, Germany, June 2015)
[05:07] 53. Dave Kelly - Lights Out (Live at the Montreux Jazz Festival, Switzerland June 1983)
[04:59] 54. Dave Kelly - Blind Man (Live at the Sinkkasten, Frankfurt, May 1984)
[09:40] 55. Dave Kelly - Grits Ain't Groceries (Live at the Montreux Jazz Festival, Switzerland June 1983)
ANALYZER: auCDtect: CD records authenticity detector, version 0.8.2
Copyright © 2004 Oleg Berngardt. All rights reserved.
Copyright © 2004 Alexander Djourik. All rights reserved.


FILE: 01 - Straight Line (To My Heart).flac
Size: 24114346 Hash: B151280A7194D37946A6443378808274 Accuracy: -m40
Conclusion: CDDA 100%
Signature: 21AA96580251C3DF0EA557CCB2C1AA307927CFB7
FILE: 02 - Dawn Surprise.flac
Size: 24547829 Hash: 07297415D72A74C3083AF271997BC9A6 Accuracy: -m40
Conclusion: CDDA 100%
Signature: BC853C0BBC2A69CC485A1BDB6D5CFB591C0AA8FF
FILE: 03 - Ungrateful.flac
Size: 25067629 Hash: 392B834FE515BAF474DED2046941FCF6 Accuracy: -m40
Conclusion: CDDA 100%
Signature: 17B232E132C18DD8FA258BB63B865ED8B4541E95
FILE: 04 - Don'tcha Hang up the Phone.flac
Size: 21813186 Hash: 8ECA87F8437DFAB21B73F9BD885884F1 Accuracy: -m40
Conclusion: CDDA 100%
Signature: CC2FBBB0D97887C8CCA2E88A56BB8FD1F112515D
FILE: 05 - Velocity and Love.flac
Size: 37178867 Hash: 7BDAC0F20E63199AC74BA1BF2C3B25C3 Accuracy: -m40
Conclusion: CDDA 100%
Signature: 6E18630C509C44235633A7BAAE60A7BBABF985A3
FILE: 06 - Life After Love.flac
Size: 44762733 Hash: FD4D948D9CE9A686B33B3B52BB175C78 Accuracy: -m40
Conclusion: CDDA 100%
Signature: 501D82CBFDB7E7DE4BF28AD23BC6AE050FA29212
FILE: 07 - The Duisburg Blues.flac
Size: 31323451 Hash: DB45291C7B1ED5CF4C73D68ABD80A1E4 Accuracy: -m40
Conclusion: CDDA 100%
Signature: 032DDA6805399FBA1581CCD9A5B4070A388EFC8F
FILE: 08 - Worried Man.flac
Size: 25606486 Hash: 512A9AFA3DA1EA9DA99A44EF7E7D2922 Accuracy: -m40
Conclusion: CDDA 100%
Signature: 27B94F77A0BC651F0AFEA9D933599EB6C5F43931
FILE: 09 - Time After Time.flac
Size: 26250497 Hash: 2E02A5FF5C0DAC80A7BCCE6260A20283 Accuracy: -m40
Conclusion: CDDA 100%
Signature: F1748588C0D23A83DF5693AC674FA0C7A9BF915E
FILE: 10 - Waiting for Bessie (Live at the Montreux Jazz Festival, Switzerland June 1983).flac
Size: 30901239 Hash: ADF7304215B230DCB62C98B6EEF3E323 Accuracy: -m40
Conclusion: CDDA 100%
Signature: 6DD360B9BC47189D4127DBB10F9FAF78231DDCAE
FILE: 11 - Give Me My Money.flac
Size: 25483668 Hash: 6ECB689AF66FEB5D7D1C2DA3E8AF4A8B Accuracy: -m40
Conclusion: CDDA 100%
Signature: 42E754FC086B1FBDC199E5950D66E44F72C8B249
FILE: 12 - Come Kiss Me Love (Live June 2008).flac
Size: 24177404 Hash: 3DAD15DF2DEEAA42F502309D5B64FC89 Accuracy: -m40
Conclusion: CDDA 99%
Signature: A40A83C99D019988031AD75E91CC2A6559C51739
FILE: 13 - Mr Estes Said (Live at the Rockhaus, Salzburg, Austria, November 2002).flac
Size: 25880402 Hash: F96966D39B3EDC8348B1DEF8F3E126AE Accuracy: -m40
Conclusion: MPEG 100%
Signature: A5528114DF2E369D5C50B38CD017F9877B0798F3
FILE: 14 - When the Blues Come to Call (Live at the Rockhaus, Salzburg, Austria, November 2002).flac
Size: 24939179 Hash: BFCA17BBAD66113999F12A911FAFC4F7 Accuracy: -m40
Conclusion: MPEG 100%
Signature: 7DFC974B4B017737BE70F23483CA2EBAD8831B8C
FILE: 15 - Going Home (Live at the Montreux Jazz Festival, Switzerland June 1983).flac
Size: 23700787 Hash: B3DAA6CD55EB9E9EC664BBCD4D8E5A44 Accuracy: -m40
Conclusion: CDDA 100%
Signature: DD437CD6AAB6E6883B742D0A14BE49547CE9580B
FILE: 16 - If It Fits.flac
Size: 19111298 Hash: 8D930814DD754EE8750E4C302C624594 Accuracy: -m40
Conclusion: CDDA 100%
Signature: 38D44E82948D57705DFB3A775447ED8B394C1CC3
FILE: 17 - Watching the Fire.flac
Size: 33407589 Hash: BD4C9959711E0AB604AA84C56D5EE9D0 Accuracy: -m40
Conclusion: CDDA 100%
Signature: 86727EBCC3A1A3F8C65241FF4992AE7FEF262EDB
FILE: 18 - Love is a Compromise.flac
Size: 28837492 Hash: 17BB01F20F75BEFFE96D54BF9A2BB509 Accuracy: -m40
Conclusion: CDDA 100%
Signature: CB9BD3617070E1EB4722C511BCC1482C6DB7A2BB
FILE: 19 - Glad I'm Living.flac
Size: 25279081 Hash: 21CFA713F542CAAD457DE01E8BCADE02 Accuracy: -m40
Conclusion: CDDA 100%
Signature: 01659CDCC84CFC299BBE7E5F84B63A496C73EDD6
FILE: 20 - Return to Sender.flac
Size: 21610464 Hash: 59BF8E3E1EA443124205973A2BD7D171 Accuracy: -m40
Conclusion: CDDA 100%
Signature: D0F13EF9C436971C70BBBD5CD9FC3502B371DB93
FILE: 21 - Foreign Station.flac
Size: 27216603 Hash: 97F2C4F915F5F635694C9E0A5A005F1D Accuracy: -m40
Conclusion: CDDA 100%
Signature: 478DB5F5B692A9365DE1EC81A6715D32CC205571
FILE: 22 - The Night They Drove Old Dixie Down (Live at Fareham Arts Centre, May 2005).flac
Size: 27889423 Hash: 5987C960689FCEAF271E84729FD839F6 Accuracy: -m40
Conclusion: CDDA 100%
Signature: CF2356FA640AEAA0C01E5A06695E8757B6B4E6F9
FILE: 23 - That's Why.flac
Size: 28928050 Hash: 867235DDF9E3C615759CB94853B2DE40 Accuracy: -m40
Conclusion: CDDA 100%
Signature: 933E3D9FC341A6F5DCAA732225FF540372B98ADE
FILE: 24 - Tongue Tied.flac
Size: 29412379 Hash: 59B32EAC8E2855561440C1FD41D6D70F Accuracy: -m40
Conclusion: CDDA 100%
Signature: AEDA96DE9AC0D67F2BDA5D40FC3016E6173F2B42
FILE: 25 - Jim Canaan.flac
Size: 18417464 Hash: 0D3F70A9C858831F0E9C94787F3187F1 Accuracy: -m40
Conclusion: CDDA 99%
Signature: 0F7A871E062CAF4A0348609F4EC98A55F7378C7D
FILE: 26 - (Sittin' on) The Dock of the Bay.flac
Size: 38512594 Hash: 4D7E178805FC1DEFF2C5B65B2FBF164D Accuracy: -m40
Conclusion: CDDA 100%
Signature: 2D96934AE8F2ED240B97849B58331D9330E2CE47
FILE: 27 - I'm into Something Good.flac
Size: 23172055 Hash: 9E42D8C72CF4400954B3E0C24818A0CF Accuracy: -m40
Conclusion: CDDA 100%
Signature: 4F79CDC4B96F29B0FA66278DCB92E1B3B7924655
FILE: 28 - Rooster Blues.flac
Size: 33444438 Hash: 0986D28A68BE10571D1296E8E70600A8 Accuracy: -m40
Conclusion: CDDA 100%
Signature: 1FC3DA1AF3A22C5A2F8CCF6F909F0842CAE76D34
FILE: 29 - 110 in the Shade (Live in 2005).flac
Size: 32062271 Hash: D51E22762F333281D566F700C916D9FB Accuracy: -m40
Conclusion: CDDA 100%
Signature: FDE99A76A8A35F336998627C1AD208C62FE0442A
FILE: 30 - Pancho and Lefty (Live in 2005).flac
Size: 31237035 Hash: A163DB3E56330CA68AB31A4AE4D82368 Accuracy: -m40
Conclusion: CDDA 100%
Signature: 5A90617CD81098239AC4C51AF5D77531ECD65445
FILE: 31 - Two More Bottles of Wine (Live at the Montreux Jazz Festival, Switzerland June 1983).flac
Size: 20049801 Hash: F92C5426B17F895F848372FFE3081BEA Accuracy: -m40
Conclusion: CDDA 100%
Signature: 59987FCFA7C5F00999DD0D4FA6EEAF22B41AC87A
FILE: 32 - Oklahoma.flac
Size: 15944313 Hash: 3A0CE91C9F065BCF03F3DFC2E27B19A3 Accuracy: -m40
Conclusion: CDDA 99%
Signature: E97D1DBF8FAE43B549385A13162E9C773DDF2CFF
FILE: 33 - Anyhow, I Love You (Live in June 2008).flac
Size: 27691276 Hash: 9E47D32AF20A4884D0D6C9332C7C67B3 Accuracy: -m40
Conclusion: CDDA 100%
Signature: 45843D331F6C0962C4149EB3AC3B3DE900169B93
FILE: 34 - Ee Do Do Qua Qua.flac
Size: 26041596 Hash: FF7913B3557DFBCFF35AF04EB413693C Accuracy: -m40
Conclusion: CDDA 100%
Signature: 1B52155CD0C5126BFE516C76CE632D89C0C00AC4
FILE: 35 - You're Gonna Make Me Lonesome.flac
Size: 24949670 Hash: C7862E5469332682702B38EA42963FF1 Accuracy: -m40
Conclusion: CDDA 100%
Signature: B53263765E87DE4E7A5E6AEB1200CB3817C99E68
FILE: 36 - World in Motion (Live in 2005).flac
Size: 32891169 Hash: BDB944E6D1DC234F02E0B034F61FD30B Accuracy: -m40
Conclusion: CDDA 100%
Signature: F32A9A294E4B6B3A7F2E8A75CE63AA03DCBD9C61
FILE: 37 - Red Red Wine.flac
Size: 15684975 Hash: A56F47996C1B584A936B7DDD4336F067 Accuracy: -m40
Conclusion: CDDA 100%
Signature: E6061E0D4E6B705CD0FDB0220418E42ECC43A52D
FILE: 38 - Crying in the Rain.flac
Size: 22343474 Hash: C4C06DA92BF4CDF643154A93ABC1FCBA Accuracy: -m40
Conclusion: CDDA 99%
Signature: 8DDECC2D4AEC3B911D96C790FE6FE1D3DCC32B93
FILE: 39 - City of New Orleans.flac
Size: 34064647 Hash: 9E50C46E6299991F3DC11199A283297D Accuracy: -m40
Conclusion: CDDA 100%
Signature: AA877FFB0246DA082BDC47E9CE957F06AE74F90F
FILE: 40 - She's Funny That Way.flac
Size: 27177623 Hash: 95923BF5BF0E30D9636DFA079CF525E9 Accuracy: -m40
Conclusion: CDDA 99%
Signature: 1B2A2BAB8DE49D9CB0125474E0B3368CD42F26DF
FILE: 41 - Rolling Log (Live at the Montreux Jazz Festival, Switzerland June 1983).flac
Size: 21446633 Hash: 5B3A38E50F84DEB230E447DC16BF433F Accuracy: -m40
Conclusion: CDDA 100%
Signature: 70DA859915932CEB0A5E4DB44EEB4D8B9AD60DB0
FILE: 42 - That Same Thing (Live at Sandviken, Sweden in 1997).flac
Size: 40466331 Hash: 032BD3F1FB316D9D457D249329CBCB47 Accuracy: -m40
Conclusion: CDDA 100%
Signature: D58DF1E05BEFA92A2AB7A348CFB12C0D5D9E446F
FILE: 43 - I Can't Be Satisfied _ Chicago Calling (Live at the Sinkkasten, Frankfurt, May 1984).flac
Size: 32426245 Hash: AEFB8B3CA153B76229CECB10DBECEC5B Accuracy: -m40
Conclusion: CDDA 100%
Signature: D5FBA3A4885CBFD89D406898EDE781B315138EEF
FILE: 44 - Hoochie Coochie Man (Live at the Montreux Jazz Festival, Switzerland June 1983).flac
Size: 31879508 Hash: 7C72B17073EAF305A28974501987A943 Accuracy: -m40
Conclusion: CDDA 100%
Signature: 2EB04F41A97784E105F661FD42042CF472CE1E63
FILE: 45 - Lovey Dovey (Live at Kubana, Siegburg, Germany, June 2015).flac
Size: 25790600 Hash: 925C03B6D5B937FF5B2B841CD7891698 Accuracy: -m40
Conclusion: CDDA 100%
Signature: 978987693B76AC94CFECC8C5D84CA59226C493EB
FILE: 46 - Too Bad to Be True (Live at the Montreux Jazz Festival, Switzerland June 1983).flac
Size: 29036076 Hash: 83E11EA40C12B483C92E635EDFC5AF63 Accuracy: -m40
Conclusion: CDDA 100%
Signature: 87F0408780E288242C27A1B3728894C7A18C0367
FILE: 47 - My Old Friend the Blues (Live at the Rockhaus, Salzburg, Austria, November 2002).flac
Size: 22955614 Hash: 85F7F1DF9D7CC5A88B75B82F080C9BFE Accuracy: -m40
Conclusion: MPEG 100%
Signature: 3E8F38FD7BE98309D70126EB49B6622AEFFF2481
FILE: 48 - Foolish Pride (Live at the Montreux Jazz Festival, Switzerland June 1983).flac
Size: 16867301 Hash: E87A7665A5A19ABDF60E641C990C5FED Accuracy: -m40
Conclusion: CDDA 99%
Signature: F45965B8FFE993928909B5A2ADB475167E3DC73C
FILE: 49 - You Shook Me (Live at the Rockhaus, Salzburg, Austria, November 2002).flac
Size: 36352880 Hash: 6F3F55094EFB3FEB0EAE05FF761BEC6D Accuracy: -m40
Conclusion: MPEG 100%
Signature: D6FE2EDA6A2BD479A25B1CE50C80C9D7E357D69B
FILE: 50 - Barnyard Boogie (Live at the Montreux Jazz Festival, Switzerland June 1983).flac
Size: 15630753 Hash: 9FEA4B6E86734343ED3E01BA20913829 Accuracy: -m40
Conclusion: CDDA 100%
Signature: D245F02C64FE239790DE1AED630DE685EDEE0A69
FILE: 51 - Walking Blues (Live at the Sinkkasten, Frankfurt, May 1984).flac
Size: 29100336 Hash: 9D18DA4085294927E4B2A2325A417A9F Accuracy: -m40
Conclusion: CDDA 99%
Signature: E209D3006E36CF645E5D7A322687849D35C8A5B0
FILE: 52 - Dust My Blues (Live at Kubana, Siegburg, Germany, June 2015).flac
Size: 34065170 Hash: 5C839936F107B23CB153242A4BFA3F1C Accuracy: -m40
Conclusion: CDDA 100%
Signature: 41E8EC49BAF20F52D8DE7A8A91E9F796633ABA82
FILE: 53 - Lights Out (Live at the Montreux Jazz Festival, Switzerland June 1983).flac
Size: 28595716 Hash: B8F540CD8891972483BE13F09B5BC244 Accuracy: -m40
Conclusion: CDDA 100%
Signature: B2749F2D2BC9EF2AA160ACC5C781D932674B8677
FILE: 54 - Blind Man (Live at the Sinkkasten, Frankfurt, May 1984).flac
Size: 33992611 Hash: 668A440459F5643BF2CE11EE247B561C Accuracy: -m40
Conclusion: CDDA 100%
Signature: 12472FE20C78970C2B12F96CB959E1C88EED27FB
FILE: 55 - Grits Ain't Groceries (Live at the Montreux Jazz Festival, Switzerland June 1983).flac
Size: 53946383 Hash: 656A117979507CDA3908199B1FD6C9BC Accuracy: -m40
Conclusion: CDDA 100%
Signature: CC91EC9066BA7E838D6B1623541F1A87BFED593B