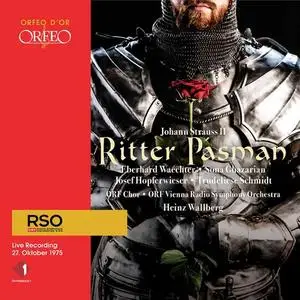 Eberhard Waechter - J. Strauss II: Ritter Pásmán, Op. 441 (Excerpts) [Live] (2021)
FLAC tracks / MP3 320 kbps | 2:14:15 | 679 / 307 Mb
Genre: Classical / Label: Orfeo
When the Court Opera Director Wilhelm Jahn commissioned the by no means unvain Johann Strauss Jr. to write a 'genuine' opera, he readily accepted. So, he wrote Ritter Pásmán, a work the Waltz King himself regarded as his only one in this genre, although the plot is basically like an operetta. The source was the narrative Pázmán lovag by the Hungarian writer János Aranyi (1817-1882). It deals with jealousy and a kind of tit-for-tat. The premiere of the comic opera at the Vienna Court Opera on New Year's Day 1892 was a major society event, but its artistic success lagged somewhat behind. The reviewers of the premiere were distanced towards the work. On the one hand, they unanimously elevated the ballet music at the beginning of Act III to the status of an absolute masterpiece. (By the way, this was the first time that a cimbalom could be heard in the orchestra of the Court Opera). The present live recording was captured at the Vienna Musikverein on 27 October 1975, with the ORF Vienna Radio Symphony Orchestra under the baton of Heinz Wallberg, Eberhard Waechter as Ritter Pásmàn, Sona Ghazarian as Queen, Josef Hopfwieser as Hungarian King, and Truedeliese Schmidt as Eva as main cast. The recording includes the complete ballet music as bonus tracks, performed by the Slovac State Philharmonic Orchestra under the baton of Alfred Walter.
Track List:
CD1:
01. Ritter Pásmán, Op. 411 (Excerpts): Prelude [Live]
02. Ritter Pásmán, Op. 411 (Excerpts): Die Männer gehen fort vom Haus [Live]
03. Ritter Pásmán, Op. 411 (Excerpts): Gundy, was gähnst du: [Live]
04. Ritter Pásmán, Op. 411 (Excerpts): Auf Feldern, in den Wäldern [Live]
05. Ritter Pásmán, Op. 411 (Excerpts): Der Ritter Pásmán schickte mich [Live]
06. Ritter Pásmán, Op. 411 (Excerpts): Mischu, laß hören [Live]
07. Ritter Pásmán, Op. 411 (Excerpts): Ich bin ein Ungar und Edelmann [Live]
08. Ritter Pásmán, Op. 411 (Excerpts): Fort von Napels gold'ner Zone [Live]
09. Ritter Pásmán, Op. 411 (Excerpts): Ich sollte mich schämen [Live]
10. Ritter Pásmán, Op. 411 (Excerpts): Verzeih', du himmlisch reines Wesen [Live]
11. Ritter Pásmán, Op. 411 (Excerpts): Hoi hoh [Live]
12. Ritter Pásmán, Op. 411 (Excerpts): Grüss' Gott, Frau Eva! [Live]
13. Ritter Pásmán, Op. 411 (Excerpts): Ich will den Adel an' Nagel hängen [Live]
14. Ritter Pásmán, Op. 411 (Excerpts): Ein Ring, ein Ring [Live]
15. Ritter Pásmán, Op. 411 (Excerpts): Der Wein, der Wein [Live]
16. Ritter Pásmán, Op. 411 (Excerpts): Herbei zur Fischerei [Live]
17. Ritter Pásmán, Op. 411 (Excerpts): Sie hört nicht [Live]
18. Ritter Pásmán, Op. 411 (Excerpts): Was hab ich getan! [Live]
19. Ritter Pásmán, Op. 411 (Excerpts): Ich trage Schuld [Live]
20. Ritter Pásmán, Op. 411 (Excerpts): Nie verrate [Live]
21. Ritter Pásmán, Op. 411 (Excerpts): O gold'ne Frucht [Live]
CD2:
01. Ritter Pásmán, Op. 411 (Excerpts): Brr! Warum ist mir so kalt [Live]
02. Ritter Pásmán, Op. 411 (Excerpts): Nur leise, zur heimlichen Reise [Live]
03. Ritter Pásmán, Op. 411 (Excerpts): Der Lärm ist vorbei [Live]
04. Ritter Pásmán, Op. 411 (Excerpts): Mir war so wohl [Live]
05. Ritter Pásmán, Op. 411 (Excerpts): Auf's Pferd ich reit [Live]
06. Ritter Pásmán, Op. 411 (Excerpts): Introduction [Live]
07. Ritter Pásmán, Op. 411 (Excerpts): Heil uns'rer Königin [Live]
08. Ritter Pásmán, Op. 411 (Excerpts): Euch schlägt mein ganzes Herz entgegen [Live]
09. Ritter Pásmán, Op. 411 (Excerpts): Ballet [Live]
10. Ritter Pásmán, Op. 411 (Excerpts): Rodomonte, der Narr ist da [Live]
11. Ritter Pásmán, Op. 411 (Excerpts): So sag', was hast du vom Kuss geseh'n [Live]
12. Ritter Pásmán, Op. 411 (Excerpts): Ha! Eva hier! [Live]
13. Ritter Pásmán, Op. 411 (Excerpts): Nun sag mir endlich seinen Namen [Live]
14. Ritter Pásmán, Op. 411 (Excerpts): Verzeih', holde Königin [Live]
15. Act III Ballet Music from "Ritter Pásmán": I. Polka (Bonus Track)
16. Act III Ballet Music from "Ritter Pásmán": II. Andante grazioso - Waltz (Bonus Track)
17. Act III Ballet Music from "Ritter Pásmán": III. Czardas (Bonus Track)
ANALYZER: auCDtect: CD records authenticity detector, version 0.8.2
Copyright © 2004 Oleg Berngardt. All rights reserved.
Copyright © 2004 Alexander Djourik. All rights reserved.


FILE: 01 - Ritter Pásmán, Op. 411 (Excerpts)_ Brr! Warum ist mir so kalt [Live].flac
Size: 11514518 Hash: 7EE7044CB22CB66F17E9BD2C5E14EFF9 Accuracy: -m40
Conclusion: CDDA 100%
Signature: 58D9E13AD965B2E457F233272A24F370B7E6C6F9
FILE: 02 - Ritter Pásmán, Op. 411 (Excerpts)_ Nur leise, zur heimlichen Reise [Live].flac
Size: 15914020 Hash: 22374F5152CFDEC4558E35D8530A1CAF Accuracy: -m40
Conclusion: CDDA 100%
Signature: E317A6551F130A31C4C2C78023C32D2C6A8BE75F
FILE: 03 - Ritter Pásmán, Op. 411 (Excerpts)_ Der Lärm ist vorbei [Live].flac
Size: 23772573 Hash: EE88CE82CA7062671A316C2D7278609D Accuracy: -m40
Conclusion: CDDA 100%
Signature: D0225C442024058382E0A1E9F3AB340ABCE7B774
FILE: 04 - Ritter Pásmán, Op. 411 (Excerpts)_ Mir war so wohl [Live].flac
Size: 23645246 Hash: 2C54EFAC5E683BD3664A649789683528 Accuracy: -m40
Conclusion: CDDA 100%
Signature: AD93941B1C2E6C7E72E5DED5E4DFA398748A3D51
FILE: 05 - Ritter Pásmán, Op. 411 (Excerpts)_ Auf's Pferd ich reit [Live].flac
Size: 9782495 Hash: 02FF958DF51BE99D4AB5444CFF560C24 Accuracy: -m40
Conclusion: CDDA 100%
Signature: 793B28757299E41718C385609FACCEA19DE64DBB
FILE: 06 - Ritter Pásmán, Op. 411 (Excerpts)_ Introduction [Live].flac
Size: 12701839 Hash: D0A5559DF39E646EAB1A4B176C9C4E81 Accuracy: -m40
Conclusion: CDDA 100%
Signature: 88CDABD4E10021DEF566E38DD5256E01404174CE
FILE: 07 - Ritter Pásmán, Op. 411 (Excerpts)_ Heil uns'rer Königin [Live].flac
Size: 20623720 Hash: 11C22CEC4F1AD812E119874D85F6ED4D Accuracy: -m40
Conclusion: CDDA 100%
Signature: 5EFB07701D32C3484423F521AF8AB00D9A4E0FE0
FILE: 08 - Ritter Pásmán, Op. 411 (Excerpts)_ Euch schlägt mein ganzes Herz entgegen [Live].flac
Size: 22190531 Hash: BB05E87411DCC207DF3A68ACF5954D67 Accuracy: -m40
Conclusion: CDDA 100%
Signature: 121A5C326DD1BF2884A4E855141D0905AD983E0F
FILE: 09 - Ritter Pásmán, Op. 411 (Excerpts)_ Ballet [Live].flac
Size: 25718753 Hash: 655EF67C6D97BCB2C6D907BD38AD540D Accuracy: -m40
Conclusion: CDDA 100%
Signature: 3078D372C834C253E0540D07C9474579AC1EBCB6
FILE: 10 - Ritter Pásmán, Op. 411 (Excerpts)_ Rodomonte, der Narr ist da [Live].flac
Size: 27747363 Hash: F88C5D809FE3C4695C3AFD6B9348A1F7 Accuracy: -m40
Conclusion: CDDA 100%
Signature: 8DB1530FA84D656DC9853967733706C6DC9D235A
FILE: 11 - Ritter Pásmán, Op. 411 (Excerpts)_ So sag', was hast du vom Kuss geseh'n [Live].flac
Size: 10987172 Hash: 44D6B3ACDEC33AA34ACA97E658503717 Accuracy: -m40
Conclusion: CDDA 100%
Signature: 68FEDACCED923CBAE36F6F108AE07C0C24795D5C
FILE: 12 - Ritter Pásmán, Op. 411 (Excerpts)_ Ha! Eva hier! [Live].flac
Size: 9358411 Hash: 637F54B05B2BAB7ACE04B1DBA0B770D1 Accuracy: -m40
Conclusion: CDDA 100%
Signature: F08DBA24EA329AC59CFEEAA936F6B23407BFF107
FILE: 13 - Ritter Pásmán, Op. 411 (Excerpts)_ Nun sag mir endlich seinen Namen [Live].flac
Size: 22938447 Hash: 074862228DFFFC7DFA64242367FD88B0 Accuracy: -m40
Conclusion: CDDA 100%
Signature: 2C7324ED820EE4F039026752FA86A85D8F8121C9
FILE: 14 - Ritter Pásmán, Op. 411 (Excerpts)_ Verzeih', holde Königin [Live].flac
Size: 29702609 Hash: DA193B4FE5DD8BBDEC7B168C9D820536 Accuracy: -m40
Conclusion: CDDA 100%
Signature: 28CFFDDA2F40ADE5A809284E17DBD2E4E063E34F
FILE: 15 - Act III Ballet Music from _Ritter Pásmán__ I. Polka (Bonus Track).flac
Size: 24049327 Hash: A3DB924017E072807CF38422FFD791D7 Accuracy: -m40
Conclusion: CDDA 100%
Signature: 8747F2EE85A5C3FE43ACD6AC6C5D04DBB44A8442
FILE: 16 - Act III Ballet Music from _Ritter Pásmán__ II. Andante grazioso - Waltz (Bonus Track).flac
Size: 46194169 Hash: 983A5FF438E23EB1050DC6CC0297BD9D Accuracy: -m40
Conclusion: CDDA 100%
Signature: BA2EA61D74ADCB8F750AD4FBA189A20680DCEFBE
FILE: 17 - Act III Ballet Music from _Ritter Pásmán__ III. Czardas (Bonus Track).flac
Size: 26857950 Hash: 99C72F57E1B4DC44627EB9B450494263 Accuracy: -m40
Conclusion: CDDA 100%
Signature: C07E87797FC568ED1EE630A9019FAA0EAE271D76
FILE: 01 - Ritter Pásmán, Op. 411 (Excerpts)_ Prelude [Live].flac
Size: 14134668 Hash: C0FC302A24134F101F3BE83FCA5B6AE9 Accuracy: -m40
Conclusion: CDDA 100%
Signature: 89995D7521DF73C929F9795FA44E93F14E11D97D
FILE: 02 - Ritter Pásmán, Op. 411 (Excerpts)_ Die Männer gehen fort vom Haus [Live].flac
Size: 5118932 Hash: F93EF3003F3E8570FE4A7B09CB2217BC Accuracy: -m40
Conclusion: CDDA 100%
Signature: 1829CFC539244E8E19563CCAB83D278BF93460C3
FILE: 03 - Ritter Pásmán, Op. 411 (Excerpts)_ Gundy, was gähnst du_ [Live].flac
Size: 10791371 Hash: C1D2FA874F1DA9879561C49EBEE4FB4F Accuracy: -m40
Conclusion: CDDA 99%
Signature: 504A9765CB5CE85BB0D6297D560042DDEC15C078
FILE: 04 - Ritter Pásmán, Op. 411 (Excerpts)_ Auf Feldern, in den Wäldern [Live].flac
Size: 11669135 Hash: 7432DF256410866E4E58DC8FD02A87A4 Accuracy: -m40
Conclusion: CDDA 100%
Signature: A184936304A80A302CD9F26EFE4DE21FDA7BDD47
FILE: 05 - Ritter Pásmán, Op. 411 (Excerpts)_ Der Ritter Pásmán schickte mich [Live].flac
Size: 9723535 Hash: 7DD254E696BCBA11BB8D42DEF2000C76 Accuracy: -m40
Conclusion: CDDA 100%
Signature: F1500C5FFB62304CC3897D4FA04D547BD2D8D4F5
FILE: 06 - Ritter Pásmán, Op. 411 (Excerpts)_ Mischu, laß hören [Live].flac
Size: 13905272 Hash: 03D570F028BDD8E9A0F4B010CF1F4D76 Accuracy: -m40
Conclusion: CDDA 100%
Signature: E01AE6BD31B11322DEA5FE08D751C5048B0D0B38
FILE: 07 - Ritter Pásmán, Op. 411 (Excerpts)_ Ich bin ein Ungar und Edelmann [Live].flac
Size: 22249832 Hash: DFDD9E09ABD8FBF1CF019FBCD7D9E1C5 Accuracy: -m40
Conclusion: CDDA 99%
Signature: 82FB91A76E6E67DF5635F395D18049CD3014491D
FILE: 08 - Ritter Pásmán, Op. 411 (Excerpts)_ Fort von Napels gold'ner Zone [Live].flac
Size: 7368988 Hash: 49FD3A3900A28F7739947D52B5A78955 Accuracy: -m40
Conclusion: CDDA 99%
Signature: 8202A4B76ECA99F2BB3FFF1AB31405F6D3F23AF5
FILE: 09 - Ritter Pásmán, Op. 411 (Excerpts)_ Ich sollte mich schämen [Live].flac
Size: 28123920 Hash: 5B7EC52428906CC46410B506FA7DBBF4 Accuracy: -m40
Conclusion: CDDA 100%
Signature: 0A7B9096D2C50EFE4F9D60071B9287011F650B76
FILE: 10 - Ritter Pásmán, Op. 411 (Excerpts)_ Verzeih', du himmlisch reines Wesen [Live].flac
Size: 17258388 Hash: 1856846143E4F87A828952814D454392 Accuracy: -m40
Conclusion: CDDA 100%
Signature: 124759D1F1957E87F224830A4AF02E86F433EC1B
FILE: 11 - Ritter Pásmán, Op. 411 (Excerpts)_ Hoi hoh [Live].flac
Size: 10163204 Hash: 7B41FC40704F33A58CDFF99FBECE782F Accuracy: -m40
Conclusion: CDDA 100%
Signature: 73CBE15A046F705F82855924E548ADAEDB545DF8
FILE: 12 - Ritter Pásmán, Op. 411 (Excerpts)_ Grüss' Gott, Frau Eva! [Live].flac
Size: 13432030 Hash: 49C1E055751E69ECE9E3014CD57B6E08 Accuracy: -m40
Conclusion: CDDA 100%
Signature: 3BBDA473786E378EF10D899089C63A98B192F227
FILE: 13 - Ritter Pásmán, Op. 411 (Excerpts)_ Ich will den Adel an' Nagel hängen [Live].flac
Size: 20543389 Hash: A75B48629F089AC2F49C023A400A2F13 Accuracy: -m40
Conclusion: CDDA 99%
Signature: 1546035373F6A6D218EB085E12F229545D0928DA
FILE: 14 - Ritter Pásmán, Op. 411 (Excerpts)_ Ein Ring, ein Ring [Live].flac
Size: 14480007 Hash: BD5E90FB3482C28CD40361DF06A5B9A4 Accuracy: -m40
Conclusion: CDDA 100%
Signature: 25067EC28212DFD224B05DC09D11825D3F4AFA88
FILE: 15 - Ritter Pásmán, Op. 411 (Excerpts)_ Der Wein, der Wein [Live].flac
Size: 24789617 Hash: E56E9004C2A40BC40AC517D960C89F0D Accuracy: -m40
Conclusion: CDDA 100%
Signature: 4B84924BE73A3D7910B0AE961ED0DACBAE754024
FILE: 16 - Ritter Pásmán, Op. 411 (Excerpts)_ Herbei zur Fischerei [Live].flac
Size: 15320040 Hash: B8422E8DD24D1FC31E4E480FE7C0F794 Accuracy: -m40
Conclusion: CDDA 100%
Signature: 8DA0E721FBED5A62CE3BD98CFE8FC2B0D0EC6E0C
FILE: 17 - Ritter Pásmán, Op. 411 (Excerpts)_ Sie hört nicht [Live].flac
Size: 21921260 Hash: EEEC1FAC669E1196163522518CAF1EB9 Accuracy: -m40
Conclusion: CDDA 100%
Signature: 795D6FA278FC0E23AD3F08289B79F390708CB839
FILE: 18 - Ritter Pásmán, Op. 411 (Excerpts)_ Was hab ich getan! [Live].flac
Size: 18173020 Hash: B5186CA2730D8AE0AD9220390D978996 Accuracy: -m40
Conclusion: CDDA 100%
Signature: B9F7C191CE945F2F18699E317AC99AC3E8E1B9F0
FILE: 19 - Ritter Pásmán, Op. 411 (Excerpts)_ Ich trage Schuld [Live].flac
Size: 12888363 Hash: 60D36C9173AA09D03C791D1B90663D52 Accuracy: -m40
Conclusion: CDDA 100%
Signature: FE0DEC707C3811145528830268C9980B4AE8E0F7
FILE: 20 - Ritter Pásmán, Op. 411 (Excerpts)_ Nie verrate [Live].flac
Size: 27097705 Hash: E1EA14CF7365DC7F90C9CF0FCEC57F8A Accuracy: -m40
Conclusion: CDDA 100%
Signature: 4DE16471D9689719883B3F4C559DDE574E2BF709
FILE: 21 - Ritter Pásmán, Op. 411 (Excerpts)_ O gold'ne Frucht [Live].flac
Size: 14418561 Hash: 530A2B64168343BAA1655AEA56E7A41E Accuracy: -m40
Conclusion: CDDA 100%
Signature: 1461ACAEFA5C60A38AB82238523E19F4871E3CFF