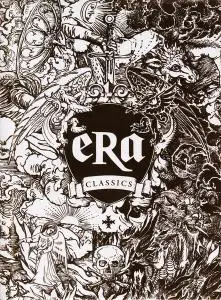 Era - Classics I & II (2010)
EAC Rip | FLAC (tracks+.cue+log) - 481 MB | MP3 CBR 320 kbps (LAME 3.93) - 186 MB | Covers - 1,44 GB
Genre: Modern Classical, New Age | RAR 3% Rec. | Label: Mercury (275 681 2)
Classics, the fifth Era album by producer Eric Lévi, is similar in style to previous releases but is novel in its new age adaptation of well-known classical works by Giulio Caccini, Antonio Vivaldi, Giuseppe Verdi, Johann Sebastian Bach, Gustav Mahler, George Frederick Handel, and Samuel Barber. The past couple Era albums, The Mass (2003) and Reborn (2008), weren't as well received as the first couple, Era (1997) and Era 2 (2000). Though this didn't prevent them from reaching the Top Ten of the French albums chart, many fans expressed disappointment that Lévi was increasingly running out of good ideas and either repeating himself or, in the case of songs like "Kilimandjaro" from Reborn, making awful music. Rather than come up with fresh material of his own once again, Lévi goes back to the classics for Classics, crafting Era-style new age adaptations of Caccini's Ave Maria, Vivaldi's Spring and Winter from The Four Seasons, Verdi's Nabucco and La Forza del Destino, Bach's Concerto No. 3, Malher's Fifth Symphony, Handel's Sarabande and Ombra Mai Fu, and Barber's Adagio for Strings. He also revisits a song of his own, "Sombre Day" from The Mass, and performs it in a new style. Granted, these classical works are generally well known and in some cases timeworn (e.g., Adagio for Strings), but they're given a creative spin by Lévi, who is undoubtedly adept at string and choral arrangements and new age production techniques if not composing original material of his own. Surely one of Lévi's most commercially oriented efforts and more than a little contrived, Classics is nonetheless the most enjoyable Era album in some time.

Following the success of 2009's Classics, French new age composer Eric Levi raids his classical music collection for a second time on ten tracks that fuse his trademark blend of Gregorian chanting and electronic production with famous orchestral pieces including Pachelbel's Canon ("Ave Paternum Deo"), Mozart's Requiem ("Madeus"), and Beethoven's Moonlight Sonata ("I'm No Angel"), alongside two original compositions, "Voxifera" and "Prelude."
CD 1 Tracklist (Classics I (2009)):
01. Redemption
02. Sunset Drive
03. Arising Force
04. The Chosen Path
05. Ritus Pacis
06. Adagietto
07. Dark Wonders
08. Wind Of Hope
09. Sombre Day
10. Adagio For Strings
Total time:
40:24
CD 2 Tracklist (Classics II (2010)):
01. Ave Paternum Deo
02. Madeus
03. Abbey Road Blues
04. A Brand Bew Day
05. Voxifera (Rock Edit)
06. Prelude
07. I'm No Angel
08. Journey
09. Thunder Flash
10. Outro Madeus
Total time:
38:55
Exact Audio Copy V1.0 beta 3 from 29. August 2011

Отчёт EAC об извлечении, выполненном 1. марта 2015, 17:41

Era / Classics I & II (Mercury - 275 681 2)

Дисковод: Optiarc DVD RW AD-7803H Adapter: 1 ID: 0

Режим чтения : Достоверность
Использование точного потока : Да
Отключение кэша аудио : Да
Использование указателей C2 : Нет

Коррекция смещения при чтении : 48
Способность читать области Lead-in и Lead-out : Нет
Заполнение пропущенных сэмплов тишиной : Да
Удаление блоков с тишиной в начале и конце : Нет
При вычислениях CRC использовались нулевые сэмплы : Да
Интерфейс : Встроенный Win32-интерфейс для Win NT/2000
Обработка зазоров : Добавлено к предыдущему треку

Выходной формат : Пользовательский кодировщик
Выбранный битрейт : 1024 kBit/s
Качество : Высокий
Добавление ID3-тега : Нет
Утилита сжатия : C:\Program Files (x86)\Exact Audio Copy\Flac\flac.exe
Дополнительные параметры : -8 -V -T "ARTIST=%artist%" -T "TITLE=%title%" -T "ALBUM=%albumtitle%" -T "DATE=%year%" -T "TRACKNUMBER=%tracknr%" -T "GENRE=%genre%" -T "COMMENT=ripped by Jurassic Giant Bird" %source%


TOC извлечённого CD

Трек | Старт | Длительность | Начальный сектор | Конечный сектор
––––––––––––––––––––––––––––––––––-
1 | 0:00.00 | 4:53.39 | 0 | 22013
2 | 4:53.39 | 3:40.72 | 22014 | 38585
3 | 8:34.36 | 3:44.50 | 38586 | 55435
4 | 12:19.11 | 4:16.49 | 55436 | 74684
5 | 16:35.60 | 3:45.22 | 74685 | 91581
6 | 20:21.07 | 5:23.02 | 91582 | 115808
7 | 25:44.09 | 3:53.58 | 115809 | 133341
8 | 29:37.67 | 4:04.46 | 133342 | 151687
9 | 33:42.38 | 3:51.68 | 151688 | 169080
10 | 37:34.31 | 2:49.60 | 169081 | 181815
11 | 42:56.16 | 6:38.36 | 193216 | 223101


Трек 1

Имя файла D:\01. Redemption.wav

Длина предзазора 0:00:02.00

Пиковый уровень 99.8 %
Скорость извлечения 1.2 X
Качество трека 100.0 %
CRC теста BB961BC6
CRC копии BB961BC6
Точное извлечение (достоверность 4) [4ABF5EBA] (AR v2)
Копирование… OK

Трек 2

Имя файла D:\02. Sunset Drive.wav

Пиковый уровень 99.8 %
Скорость извлечения 1.3 X
Качество трека 100.0 %
CRC теста 0D6DC067
CRC копии 0D6DC067
Точное извлечение (достоверность 4) [745277E2] (AR v2)
Копирование… OK

Трек 3

Имя файла D:\03. Arising Force.wav

Пиковый уровень 99.9 %
Скорость извлечения 1.4 X
Качество трека 100.0 %
CRC теста FDF28987
CRC копии FDF28987
Точное извлечение (достоверность 4) [C914B2DF] (AR v2)
Копирование… OK

Трек 4

Имя файла D:\04. The Chosen Path.wav

Пиковый уровень 99.9 %
Скорость извлечения 1.4 X
Качество трека 99.9 %
CRC теста BA4363FD
CRC копии BA4363FD
Точное извлечение (достоверность 4) [A2D545B3] (AR v2)
Копирование… OK

Трек 5

Имя файла D:\05. Ritus Pacis.wav

Пиковый уровень 98.9 %
Скорость извлечения 1.6 X
Качество трека 100.0 %
CRC теста BA40C1F5
CRC копии BA40C1F5
Точное извлечение (достоверность 4) [F0B08E49] (AR v2)
Копирование… OK

Трек 6

Имя файла D:\06. Adagietto.wav

Пиковый уровень 99.9 %
Скорость извлечения 1.6 X
Качество трека 99.9 %
CRC теста 066C5C8B
CRC копии 066C5C8B
Точное извлечение (достоверность 4) [F2C96EBB] (AR v2)
Копирование… OK

Трек 7

Имя файла D:\07. Dark Wonders.wav

Пиковый уровень 98.9 %
Скорость извлечения 1.8 X
Качество трека 100.0 %
CRC теста 623752DD
CRC копии 623752DD
Точное извлечение (достоверность 4) [A97F9608] (AR v2)
Копирование… OK

Трек 8

Имя файла D:\08. Winds Of Hope.wav

Пиковый уровень 99.9 %
Скорость извлечения 1.9 X
Качество трека 100.0 %
CRC теста 1F2EABB2
CRC копии 1F2EABB2
Точное извлечение (достоверность 4) [66E28CF3] (AR v2)
Копирование… OK

Трек 9

Имя файла D:\09. Sombre Day.wav

Пиковый уровень 99.9 %
Скорость извлечения 2.0 X
Качество трека 100.0 %
CRC теста 8FECB589
CRC копии 8FECB589
Точное извлечение (достоверность 4) [EF95FFC1] (AR v2)
Копирование… OK

Трек 10

Имя файла D:\10. Adagio For Strings.wav

Пиковый уровень 99.8 %
Скорость извлечения 2.0 X
Качество трека 100.0 %
CRC теста 7B4BEFDF
CRC копии 7B4BEFDF
Точное извлечение (достоверность 4) [FA05F924] (AR v2)
Копирование… OK


Все треки извлечены точно

Ошибок не произошло

Конец отчёта

==== Контрольная сумма отчёта DBAC3A5E918FC9662FF36FAFD934DC5C6D3D38BAEAA047ADBFE0FA44B891DC14 ====
[CUETools log; Date: 07.06.2021 11:00:17; Version: 2.1.4]
CD-Extra data track length 06:38:36.
[CTDB TOCID: QtRDZLQhQbj4eeLW89wZ8d.wGD0-] found.
Track | CTDB Status
1 | (48/49) Accurately ripped
2 | (49/49) Accurately ripped
3 | (49/49) Accurately ripped
4 | (49/49) Accurately ripped
5 | (49/49) Accurately ripped
6 | (49/49) Accurately ripped
7 | (49/49) Accurately ripped
8 | (49/49) Accurately ripped
9 | (49/49) Accurately ripped
10 | (49/49) Accurately ripped
[AccurateRip ID: 0010687d-0084a103-a00b9e0b] found.
Track [ CRC | V2 ] Status
01 [251b3931|4abf5eba] (00+08/15) Accurately ripped
02 [b891d38e|745277e2] (00+08/16) Accurately ripped
03 [506be68f|c914b2df] (00+08/16) Accurately ripped
04 [d7e1e5df|a2d545b3] (00+08/16) Accurately ripped
05 [780a0a2e|f0b08e49] (00+08/16) Accurately ripped
06 [d8fe9176|f2c96ebb] (00+08/16) Accurately ripped
07 [55b0786d|a97f9608] (00+08/16) Accurately ripped
08 [40d60877|66e28cf3] (00+08/16) Accurately ripped
09 [95c0c764|ef95ffc1] (00+08/17) Accurately ripped
10 [29343ebf|fa05f924] (00+08/18) Accurately ripped
Offsetted by 12:
01 [d8d5810f] (02/15) Accurately ripped
02 [2bbea346] (03/16) Accurately ripped
03 [23322f8f] (03/16) Accurately ripped
04 [45451512] (03/16) Accurately ripped
05 [dc3020c9] (03/16) Accurately ripped
06 [57c41706] (03/16) Accurately ripped
07 [0c6f8526] (03/16) Accurately ripped
08 [b8dc453f] (03/16) Accurately ripped
09 [a7c3a708] (04/17) Accurately ripped
10 [414d762a] (05/18) Accurately ripped

Track Peak [ CRC32 ] [W/O NULL] [ LOG ]
– 99,9 [4FE5BE99] [66712971]
01 99,8 [BB961BC6] [B1154451] CRC32
02 99,8 [0D6DC067] [144C188B] CRC32
03 99,9 [FDF28987] [576CFF18] CRC32
04 99,9 [BA4363FD] [5BBC0360] CRC32
05 98,9 [BA40C1F5] [C749BE05] CRC32
06 99,9 [066C5C8B] [71D1E6B7] CRC32
07 98,9 [623752DD] [771013E5] CRC32
08 99,9 [1F2EABB2] [C92E8FAC] CRC32
09 99,9 [8FECB589] [86C5B930] CRC32
10 99,8 [7B4BEFDF] [BF666D04] CRC32
Exact Audio Copy V1.0 beta 3 from 29. August 2011

Отчёт EAC об извлечении, выполненном 1. марта 2015, 18:59

Era / 2010 - Classics I & II (Mercury - 275 681 2)

Дисковод: Optiarc DVD RW AD-7803H Adapter: 1 ID: 0

Режим чтения : Достоверность
Использование точного потока : Да
Отключение кэша аудио : Да
Использование указателей C2 : Нет

Коррекция смещения при чтении : 48
Способность читать области Lead-in и Lead-out : Нет
Заполнение пропущенных сэмплов тишиной : Да
Удаление блоков с тишиной в начале и конце : Нет
При вычислениях CRC использовались нулевые сэмплы : Да
Интерфейс : Встроенный Win32-интерфейс для Win NT/2000
Обработка зазоров : Добавлено к предыдущему треку

Выходной формат : Пользовательский кодировщик
Выбранный битрейт : 1024 kBit/s
Качество : Высокий
Добавление ID3-тега : Нет
Утилита сжатия : C:\Program Files (x86)\Exact Audio Copy\Flac\flac.exe
Дополнительные параметры : -8 -V -T "ARTIST=%artist%" -T "TITLE=%title%" -T "ALBUM=%albumtitle%" -T "DATE=%year%" -T "TRACKNUMBER=%tracknr%" -T "GENRE=%genre%" -T "COMMENT=ripped by Jurassic Giant Bird" %source%


TOC извлечённого CD

Трек | Старт | Длительность | Начальный сектор | Конечный сектор
––––––––––––––––––––––––––––––––––-
1 | 0:00.00 | 4:04.64 | 0 | 18363
2 | 4:04.64 | 4:14.29 | 18364 | 37442
3 | 8:19.18 | 4:37.20 | 37443 | 58237
4 | 12:56.38 | 4:34.69 | 58238 | 78856
5 | 17:31.32 | 3:48.57 | 78857 | 96013
6 | 21:20.14 | 3:26.21 | 96014 | 111484
7 | 24:46.35 | 4:32.11 | 111485 | 131895
8 | 29:18.46 | 4:03.08 | 131896 | 150128
9 | 33:21.54 | 4:49.09 | 150129 | 171812
10 | 38:10.63 | 0:44.50 | 171813 | 175162


Трек 1

Имя файла D:\01. Ave Paternum Deo.wav

Длина предзазора 0:00:02.00

Пиковый уровень 98.9 %
Скорость извлечения 1.1 X
Качество трека 100.0 %
CRC теста B8EBA31F
CRC копии B8EBA31F
Точное извлечение (достоверность 18) [2B39FDC9] (AR v2)
Копирование… OK

Трек 2

Имя файла D:\02. Madeus.wav

Длина предзазора 0:00:01.34

Пиковый уровень 98.9 %
Скорость извлечения 1.3 X
Качество трека 100.0 %
CRC теста D2BE81BA
CRC копии D2BE81BA
Точное извлечение (достоверность 17) [8E52FA3F] (AR v2)
Копирование… OK

Трек 3

Имя файла D:\03. Abbey Road Blues.wav

Длина предзазора 0:00:01.04

Пиковый уровень 98.9 %
Скорость извлечения 1.4 X
Качество трека 100.0 %
CRC теста 376F325B
CRC копии 376F325B
Точное извлечение (достоверность 18) [B0AEEF9D] (AR v2)
Копирование… OK

Трек 4

Имя файла D:\04. A Brand Bew Day.wav

Длина предзазора 0:00:00.57

Пиковый уровень 99.9 %
Скорость извлечения 1.5 X
Качество трека 100.0 %
CRC теста 592899F5
CRC копии 592899F5
Точное извлечение (достоверность 17) [857D1D91] (AR v2)
Копирование… OK

Трек 5

Имя файла D:\05. Voxifera (Rock Edit).wav

Длина предзазора 0:00:01.28

Пиковый уровень 98.9 %
Скорость извлечения 1.4 X
Качество трека 99.9 %
CRC теста CF64FD7D
CRC копии CF64FD7D
Точное извлечение (достоверность 17) [863E87D1] (AR v2)
Копирование… OK

Трек 6

Имя файла D:\06. Prelude.wav

Длина предзазора 0:00:00.56

Пиковый уровень 92.3 %
Скорость извлечения 1.7 X
Качество трека 100.0 %
CRC теста 9F9B9D87
CRC копии 9F9B9D87
Точное извлечение (достоверность 17) [E53DEA2F] (AR v2)
Копирование… OK

Трек 7

Имя файла D:\07. I'm No Angel.wav

Длина предзазора 0:00:01.22

Пиковый уровень 98.9 %
Скорость извлечения 1.9 X
Качество трека 100.0 %
CRC теста A07D6E7C
CRC копии A07D6E7C
Точное извлечение (достоверность 17) [E3DA028B] (AR v2)
Копирование… OK

Трек 8

Имя файла D:\08. Journey.wav

Длина предзазора 0:00:00.49

Пиковый уровень 98.9 %
Скорость извлечения 1.9 X
Качество трека 100.0 %
CRC теста 773B999A
CRC копии 773B999A
Точное извлечение (достоверность 17) [4054AF9D] (AR v2)
Копирование… OK

Трек 9

Имя файла D:\09. Thunder Flash.wav

Длина предзазора 0:00:01.70

Пиковый уровень 98.9 %
Скорость извлечения 2.0 X
Качество трека 100.0 %
CRC теста 124071B3
CRC копии 124071B3
Точное извлечение (достоверность 17) [C4C5017F] (AR v2)
Копирование… OK

Трек 10

Имя файла D:\10. Outro Madeus.wav

Пиковый уровень 98.9 %
Скорость извлечения 1.3 X
Качество трека 100.0 %
CRC теста F582E6E3
CRC копии F582E6E3
Точное извлечение (достоверность 17) [2A4E0545] (AR v2)
Копирование… OK


Все треки извлечены точно

Ошибок не произошло

Конец отчёта

==== Контрольная сумма отчёта 6369D43134D3708A6A27908411EBEE04D0F9C97EBF8121902EA76B6D21709570 ====
[CUETools log; Date: 07.06.2021 11:08:12; Version: 2.1.4]
[CTDB TOCID: B3YnV9yw7L6XPy2vnpJ6vvoON_o-] found.
Track | CTDB Status
1 | (110/110) Accurately ripped
2 | (110/110) Accurately ripped
3 | (110/110) Accurately ripped
4 | (110/110) Accurately ripped
5 | (110/110) Accurately ripped
6 | (110/110) Accurately ripped
7 | (110/110) Accurately ripped
8 | (110/110) Accurately ripped
9 | (110/110) Accurately ripped
10 | (110/110) Accurately ripped
[AccurateRip ID: 000fb51a-007ce0da-77091f0a] found.
Track [ CRC | V2 ] Status
01 [aff22d3d|2b39fdc9] (07+29/57) Accurately ripped
02 [3d9b464f|8e52fa3f] (07+28/56) Accurately ripped
03 [750e00e3|b0aeef9d] (07+29/57) Accurately ripped
04 [a7d1567a|857d1d91] (07+28/56) Accurately ripped
05 [243a6756|863e87d1] (07+28/56) Accurately ripped
06 [7124f05e|e53dea2f] (07+28/56) Accurately ripped
07 [3d8c48ee|e3da028b] (07+28/56) Accurately ripped
08 [2cc9f308|4054af9d] (07+28/56) Accurately ripped
09 [9500f5c1|c4c5017f] (07+28/56) Accurately ripped
10 [0039dd38|2a4e0545] (07+28/56) Accurately ripped
Offsetted by 12:
01 [92921181] (02/57) Accurately ripped
02 [20c7e1ab] (02/56) Accurately ripped
03 [24d15b7f] (02/57) Accurately ripped
04 [b80c8b96] (02/56) Accurately ripped
05 [11cd7a26] (02/56) Accurately ripped
06 [441812ae] (02/56) Accurately ripped
07 [a4158786] (02/56) Accurately ripped
08 [75847808] (02/56) Accurately ripped
09 [60f52fe3] (02/56) Accurately ripped
10 [516a2a1a] (02/56) Accurately ripped

Track Peak [ CRC32 ] [W/O NULL] [ LOG ]
– 99,9 [10919726] [F9CB4CEE]
01 98,9 [B8EBA31F] [A761D4B9] CRC32
02 98,9 [D2BE81BA] [5F241A18] CRC32
03 98,9 [376F325B] [5493340C] CRC32
04 99,9 [592899F5] [ADB4F442] CRC32
05 98,9 [CF64FD7D] [20162755] CRC32
06 92,3 [9F9B9D87] [90A7ED66] CRC32
07 98,9 [A07D6E7C] [073EDF54] CRC32
08 98,9 [773B999A] [33BC7680] CRC32
09 98,9 [124071B3] [04265E45] CRC32
10 98,9 [F582E6E3] [A383B67C] CRC32
Thanks to
Jurassic Giant BirdSee also:
Era - The Mass (2003)
Era - Reborn (2008)
Era - The 7th Sword (2017)