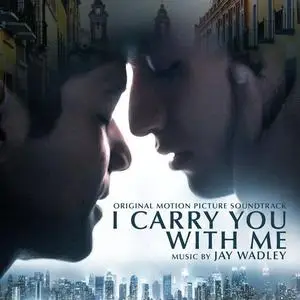 Jay Wadley - I Carry You With Me (Original Motion Picture Soundtrack) (2021)
FLAC tracks / MP3 320 kbps | 57:48 | 265 / 132 Mb
Genre: Soundtrack / Label: Milan
I Carry You with Me (Te Llevo Conmigo) is a 2020 Spanish-language drama film directed by Heidi Ewing, from a screenplay by Ewing and Alan Page Arriaga. It stars Armando Espitia, Christian Vázquez, Michelle Rodríguez, Ángeles Cruz, Arcelia Ramírez and Michelle González. It had its world premiere at the Sundance Film Festival on January 26, 2020, where it won both the NEXT Innovator and Audience Awards. It is scheduled to be released on June 25, 2021, by Sony Pictures Classics.
Jay Wadley artistically and skillfully moves between genres creating affecting scores featuring modern orchestra, poignant piano, and vibrant electronic soundscapes that communicate from a deep understanding of the compositional process, production, and narrative.
Track List:
01 - Jay Wadley - I Carry You With Me (3:50)
02 - Jay Wadley - Bar Franco (1:48)
03 - Jay Wadley - Chiles En Nogada (3:49)
04 - Jay Wadley - Sandra (1:42)
05 - Jay Wadley - Complicated Boyfriend (2:08)
06 - Jay Wadley - Gerardo's Flashback (5:12)
07 - Jay Wadley - You Can't Take Him From Me (1:18)
08 - Jay Wadley - Take That Off (2:10)
09 - Jay Wadley - One Year (4:01)
10 - Jay Wadley - We Are Not Going To Die (1:55)
11 - Jay Wadley - The Letter / New York (4:22)
12 - Jay Wadley - I'm Proud of You (1:39)
13 - Jay Wadley - He Should Come Back (2:46)
14 - Jay Wadley - Reunited (2:42)
15 - Jay Wadley - Ivan's Chance (3:38)
16 - Jay Wadley - You Came To Me (3:04)
17 - Jay Wadley - I Just Can't See It (2:35)
18 - Jay Wadley - Dad's In the Hospital (2:35)
19 - Jay Wadley - There's No Path (6:33)
ANALYZER: auCDtect: CD records authenticity detector, version 0.8.2
Copyright © 2004 Oleg Berngardt. All rights reserved.
Copyright © 2004 Alexander Djourik. All rights reserved.


FILE: 01 - I Carry You With Me.flac
Size: 18552971 Hash: 9AD7015EA922320B35E7F19AEDB18743 Accuracy: -m40
Conclusion: CDDA 100%
Signature: 42DBC943CCD67FD1E8F7F7ED0455E2C37A7B9583
FILE: 02 - Bar Franco.flac
Size: 9432674 Hash: 2A596C1BDAD87AAD9554703931E8B22E Accuracy: -m40
Conclusion: CDDA 100%
Signature: 61AB8D9380342D55E03B8326EE3C9223DAE3F78F
FILE: 03 - Chiles En Nogada.flac
Size: 17682474 Hash: 71735555F851CAF25D9B1DF19EC3F77F Accuracy: -m40
Conclusion: CDDA 99%
Signature: 640FB39221D8936A9D8A2630C7386E53332E7E93
FILE: 04 - Sandra.flac
Size: 7270622 Hash: B9A7A31136CA55115DC06BDF0BD9BA7C Accuracy: -m40
Conclusion: CDDA 100%
Signature: 9651C1DB3C04BCB8B6BE9EF7AD2E0331C8C25932
FILE: 05 - Complicated Boyfriend.flac
Size: 11280444 Hash: BAC6105EAF9CE10C4B9A793A10CB927A Accuracy: -m40
Conclusion: CDDA 100%
Signature: D7590C6191F410B6767EA2A00A8008B755CB9660
FILE: 06 - Gerardo's Flashback.flac
Size: 22036458 Hash: A5A5CE222971BECE04F1416D04150924 Accuracy: -m40
Conclusion: CDDA 100%
Signature: 47A98CA3A7D0EBED9090CBB1A883BA77A787DAEB
FILE: 07 - You Can't Take Him From Me.flac
Size: 6575163 Hash: CAA926732BDA7127AF274E83A5A1CDE2 Accuracy: -m40
Conclusion: CDDA 100%
Signature: 5E9F2BED32BEDCFF66E40B56326073E2596222D6
FILE: 08 - Take That Off.flac
Size: 9467913 Hash: 94578FB2445D6D881528DBBADB0E319F Accuracy: -m40
Conclusion: CDDA 100%
Signature: D9970FDB919D6B14A7B1172C355F00EA04923EB4
FILE: 09 - One Year.flac
Size: 21711518 Hash: 88FC01CEFB741181D8D17BE33404EB08 Accuracy: -m40
Conclusion: CDDA 100%
Signature: 7750F0878B0235417A4853C4FFAE3BC997765A0A
FILE: 10 - We Are Not Going To Die.flac
Size: 8565749 Hash: BB9DF48903384CECEB5A2A46EF1AE25D Accuracy: -m40
Conclusion: CDDA 100%
Signature: 6C25140A60BF06017FEAB694672ABA2A39740B4A
FILE: 11 - The Letter _ New York.flac
Size: 22384847 Hash: 7431F02918976FFA8E69B6575961C1F9 Accuracy: -m40
Conclusion: CDDA 99%
Signature: 7B0599C637781FF4EA78D85889A008DADF112414
FILE: 12 - I'm Proud of You.flac
Size: 6986708 Hash: 83CB18E53349381EC5AD8E127752754E Accuracy: -m40
Conclusion: CDDA 62%
Signature: 21E99FA6225DE28A9ABA4ABA30CACEA4AFAF75FB
FILE: 13 - He Should Come Back.flac
Size: 13408493 Hash: 6E92F31C66473FB870B35907BE8E735F Accuracy: -m40
Conclusion: CDDA 100%
Signature: FF761BB60DA3F41A4689411629434E57E1A4C15D
FILE: 14 - Reunited.flac
Size: 14608693 Hash: E915B707D22B1ECE6E47841344F00F64 Accuracy: -m40
Conclusion: CDDA 100%
Signature: D2A2A65B697036C083BA6B0CA858DE9FA8D3D111
FILE: 15 - Ivan's Chance.flac
Size: 17879669 Hash: 856A65AE7497B384374EE4A0BB8EA8DF Accuracy: -m40
Conclusion: CDDA 100%
Signature: 8A94E51A8AE4E6A1299ABA9963082408AF6B0AA9
FILE: 16 - You Came To Me.flac
Size: 13927087 Hash: 52B5D2A9C015DE8268C9E90617E8427F Accuracy: -m40
Conclusion: CDDA 100%
Signature: 9210012263095964ADE0D7F41002E71F1EF1097C
FILE: 17 - I Just Can't See It.flac
Size: 12658395 Hash: 2D2E0A74B8E4E35245B66FBF66CCCEB9 Accuracy: -m40
Conclusion: CDDA 100%
Signature: D4C9DAA0B37646BC138109AEC55B8A6A5AAC9985
FILE: 18 - Dad's In the Hospital.flac
Size: 12810123 Hash: 7D57DB19C72E04F0E7452F80E6CC2C1D Accuracy: -m40
Conclusion: CDDA 100%
Signature: E4FF9E1271D9E90E867C83A4E04C99F2995DC112
FILE: 19 - There's No Path.flac
Size: 32213713 Hash: 9077DD7608811431622A81AFBAEAB347 Accuracy: -m40
Conclusion: CDDA 100%
Signature: A63B24637FBE9756FC5B5DA7AF3FB5C8F3914978