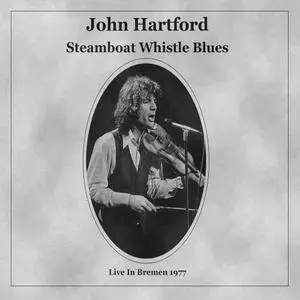 John Hartford - Steamboat Whistle Blues (2021)
FLAC tracks / MP3 320 kbps | 1:27:19 | 554 / 182 Mb
Genre: Bluegrass, Country, Folk, Americana / Label: M.i.G - music GmbH
1967 hatten Mike Clarke und David Crosby die Byrds verlassen. Übrig blieben nur noch Roger McGuinn sowie Chris Hillman. Der Country Musik-affine Hillman holte Gram Parsons zu den Byrds und die drei beschlossen, ein Album über die Musikhistorie von Amerika einzuspielen, basierend auf Hillbilly, Country und Bluegrass. Dazu mieteten sie sich in die Columbia Studios in Nashville ein und holten sich Musiker aus der lokalen Szene, darunter John Hartford und auch Clarence White.
Unter der Regie von Produzent Pete Asher spielten die Byrds das Album »Sweetheart Of The Rodeo« ein. John Hartfords Einfluss als Gitarrist und Banjo-Spieler auf dieser Produktion gilt als enorm. Das Album gilt als ein Meilenstein der Rockgeschichte, es war die Geburtsstunde eines neuen Genres, dem Country-Rock oder heutzutage auch Americana genannt. Ohne dieses Album wären zukünftige Erfolge von Bands wie den Flying Burrito Brothers, Poco, den Eagles oder Künstlern wie Jackson Browne oder Alison Krauss undenkbar gewesen.
Doch im Leben von John Hartford gab es keinen Platz, sich künstlerisch einem Bandgefüge zu unterwerfen. Er nahm lieber Soloalben auf und ging damit weltweit auf Tournee. Im gleichen Jahr, als »Sweatheart Of The Rodeo« auf den Markt kam, coverte der amerikanische Countrystar Glen Campbell die John Hartford Komposition »Gentle On My Mind«. Der Song eroberte in der Campbell-Version die Welt und brachte Hartford im gleichen Jahr noch zwei Grammies ein. In den folgenden Jahren / Jahrzehnten coverten Künstler wie Aretha Franklin, Frank Sinatra, Elvis Presley bis hin zu R. E.M. und Alison Krauss diesen Song.
Track List:
01. Buffalo Gals (Live, Bremen, 1977) (2:45)
02. Skippin' in the Mississippi Dew (Live, Bremen, 1977) (4:35)
03. Don't Leave Your Records in the Sun (Live, Bremen, 1977) (2:23)
04. Gentle on My Mind (Live, Bremen, 1977) (4:06)
05. I Would Not Be Here (Live, Bremen, 1977) (1:50)
06. Waugh Paugh (Live, Bremen, 1977) (3:06)
07. Nobody Eats the Linebaugh's Anymore (Live, Bremen, 1977) (6:24)
08. Salty Dog Blues (Live, Bremen, 1977) (4:28)
09. Turn Your Radio On (Live, Bremen, 1977) (8:44)
10. Orange Blossom Special (Live, Bremen, 1977) (3:37)
11. Granny Wontcha Smoke Some Marihuana (Live, Bremen, 1977) (3:15)
12. A Simple Thing as Love (Live, Bremen, 1977) (4:14)
13. Tryin' to Do Something to Get Your Attention (Live, Bremen, 1977) (6:10)
14. You Know, You Know (Live, Bremen, 1977) (4:04)
15. Steamboat Whistle Blues (Live, Bremen, 1977) (3:16)
16. My Rag (Live, Bremen, 1977) (3:37)
17. Austin Minor Sympathy (Live, Bremen, 1977) (8:39)
18. Let Him Go on, Mama (Live, Bremen, 1977) (4:55)
19. Up on the Hill Where They Do the Boogie (Live, Bremen, 1977) (4:28)
20. (Good Old Electric) Washing Machine (Live, Bremen, 1977) (2:52)
ANALYZER: auCDtect: CD records authenticity detector, version 0.8.2
Copyright © 2004 Oleg Berngardt. All rights reserved.
Copyright © 2004 Alexander Djourik. All rights reserved.


FILE: 01. John Hartford - Buffalo Gals (Live, Bremen, 1977).flac
Size: 19331003 Hash: 003163302D97940E09DCCFBF943DF106 Accuracy: -m40
Conclusion: CDDA 100%
Signature: 5597E404ACBEEEC61DC4626D97F536F022548FCA
FILE: 02. John Hartford - Skippin' in the Mississippi Dew (Live, Bremen, 1977).flac
Size: 31415164 Hash: F4D68AE62C4B023979C272CA934377F1 Accuracy: -m40
Conclusion: CDDA 100%
Signature: DB38033A200E49613ACF26199606849C9C9115CB
FILE: 03. John Hartford - Don't Leave Your Records in the Sun (Live, Bremen, 1977).flac
Size: 16320551 Hash: FFCA231261C4C8A7BEFBA7007FC31760 Accuracy: -m40
Conclusion: CDDA 99%
Signature: 82BC40BCA8F2D670F65AF1754C9187595256C6AD
FILE: 04. John Hartford - Gentle on My Mind (Live, Bremen, 1977).flac
Size: 28300952 Hash: EEB4D3F9B8D57C2EE2034AC35672BB66 Accuracy: -m40
Conclusion: CDDA 100%
Signature: 0EDC38AEF5601CFE5E65ACFA9B1A37C7C2E87758
FILE: 05. John Hartford - I Would Not Be Here (Live, Bremen, 1977).flac
Size: 13023835 Hash: 8F236DE4E8DE8325A6C96C6F5C196359 Accuracy: -m40
Conclusion: CDDA 100%
Signature: 8CCFFE88B6993E19A5EE3A0E59DA9DFACB4102F2
FILE: 06. John Hartford - Waugh Paugh (Live, Bremen, 1977).flac
Size: 22292897 Hash: 097F8CB261CDEF5DDE607D652887BF85 Accuracy: -m40
Conclusion: CDDA 99%
Signature: 2A7E1485C343EB1BF6D630EDF0CD7097587D3DB0
FILE: 07. John Hartford - Nobody Eats the Linebaugh's Anymore (Live, Bremen, 1977).flac
Size: 40993652 Hash: 90D1C29D4AD60562E1FD3DB359F13742 Accuracy: -m40
Conclusion: CDDA 100%
Signature: 3B157F01CA85690640AC9612785B1BA822C1FFF5
FILE: 08. John Hartford - Salty Dog Blues (Live, Bremen, 1977).flac
Size: 30166556 Hash: 3940C73F586CCA08E64EA6AB50FE01A5 Accuracy: -m40
Conclusion: CDDA 100%
Signature: 4BBC24715584C31F64A842886479B04C2F72940D
FILE: 09. John Hartford - Turn Your Radio On (Live, Bremen, 1977).flac
Size: 55851016 Hash: A309721401442DC4D010C79C82D5B068 Accuracy: -m40
Conclusion: CDDA 100%
Signature: 4128B3FBEBFEA99D769D9B7D6BFB9448CCD28D12
FILE: 10. John Hartford - Orange Blossom Special (Live, Bremen, 1977).flac
Size: 24718194 Hash: BA1DA565CAE174AFEDD2A726972EBC2D Accuracy: -m40
Conclusion: CDDA 100%
Signature: FD59852C8C2B14BE58223D6CFE594BD9F879BA88
FILE: 11. John Hartford - Granny Wontcha Smoke Some Marihuana (Live, Bremen, 1977).flac
Size: 22530224 Hash: A68A7BEA3A0F29246F2D0313D3C0A601 Accuracy: -m40
Conclusion: CDDA 100%
Signature: B45EF846BDBDEFB1E37D95BCBA86822EF2205A5B
FILE: 12. John Hartford - A Simple Thing as Love (Live, Bremen, 1977).flac
Size: 26852389 Hash: 011B57005A20D2C07B7FE052C1F8B5C7 Accuracy: -m40
Conclusion: CDDA 100%
Signature: 4929FEEB298997DF108C503C35B2487B8C6BBAA9
FILE: 13. John Hartford - Tryin' to Do Something to Get Your Attention (Live, Bremen, 1977).flac
Size: 38856512 Hash: 7DADC136215D7DBD8FA05014DCCA6FC8 Accuracy: -m40
Conclusion: CDDA 100%
Signature: 262AABC85FAF640EE888E00FBB813CF69F49F852
FILE: 14. John Hartford - You Know, You Know (Live, Bremen, 1977).flac
Size: 26244367 Hash: 39B95DDE540F674BAF5776AB7AE1E8B7 Accuracy: -m40
Conclusion: CDDA 100%
Signature: 9E19B4BF767325B796763C80C1373A1AFEAE9117
FILE: 15. John Hartford - Steamboat Whistle Blues (Live, Bremen, 1977).flac
Size: 22278322 Hash: 4C48CAE43DDBE205C084C031253EEB58 Accuracy: -m40
Conclusion: CDDA 100%
Signature: 45DDF05C66172C1E68850B6E16A1393167728B0F
FILE: 16. John Hartford - My Rag (Live, Bremen, 1977).flac
Size: 23769414 Hash: 247CF4D8E7436E9F5FBB921EF234C127 Accuracy: -m40
Conclusion: CDDA 100%
Signature: 880479718467166D8A8E6BB1064B2546F8C6821B
FILE: 17. John Hartford - Austin Minor Sympathy (Live, Bremen, 1977).flac
Size: 56110876 Hash: EFD7C3F8EF7B2329CFE3EB3CEB3857E3 Accuracy: -m40
Conclusion: CDDA 99%
Signature: 8D320B3E5D909AB80697CCD90292A8CAE30FB3D8
FILE: 18. John Hartford - Let Him Go on, Mama (Live, Bremen, 1977).flac
Size: 32057562 Hash: 371E2830C70B4AF000B04ACD91706719 Accuracy: -m40
Conclusion: CDDA 99%
Signature: B878A323DDB7AFBE459B8435642FE282487C292E
FILE: 19. John Hartford - Up on the Hill Where They Do the Boogie (Live, Bremen, 1977).flac
Size: 30971831 Hash: A8B1C7B030AD9AD6E5A497BCAB9B9C9A Accuracy: -m40
Conclusion: CDDA 100%
Signature: BC2C5CAB27B5D4AD112FAB9ECFACDF428C9E2EB2
FILE: 20. John Hartford - (Good Old Electric) Washing Machine (Live, Bremen, 1977).flac
Size: 17874664 Hash: 90856A11EC6EF38A59D092CF91FA716F Accuracy: -m40
Conclusion: CDDA 100%
Signature: 21E834C7C83DB67B340EDA80292EB512940AF427