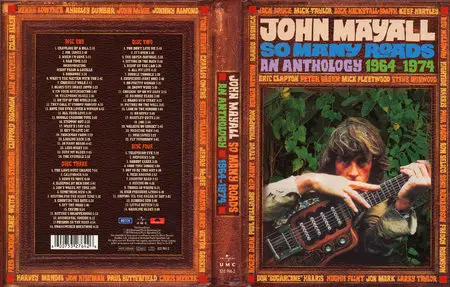 John Mayall - So Many Roads: An Anthology 1964-1974 (2010) 4CD Box Set
EAC | WV | Image (Cue&Log) ~ 1.6 Gb | Mp3 (CBR320) ~ 705 Mb | Scans ~ 353 Mb
British Blues, Blues-Rock | Label: Universal, UMC | # 532 764-2 | Time: 05:03:50
2010 four CD anthology from the British Blues legend. John Mayall's band, The Bluesbreakers, were undoubtedly a hot-house for the British Blues scene in the late '60s and early `70s and it's quite staggering when you examine the roll call of floating members who served their apprenticeship with John Mayall including Jack Bruce, Eric Clapton, Mick Fleetwood, Peter Green, Keef Hartley, John McVie, Mick Taylor and Steve Winwood. This lavish box set contains 74 tracks, all newly remastered from the original master tapes, including five tracks released in Europe on CD for the first time. The 40-page booklet features sleevenotes by Mark Powell with rare and previously unseen photographs.
In 1992, Polydor released two double disc retrospectives of John Mayall's career on the Decca, Deram, and its own imprint. The first, entitled London Blues, covered the years 1964-1969; the second, Room To Move, picked up at the end of 1969 and went through to 1974, his final year with the label before departing for ABC. For those who own those two collections and wonder if 2010's four-disc, So Many Roads: An Anthology 1964-1974 is worth owning, the answer is a qualified "yes." Of course there is overlap so you may not want to replace them only with this. But this box goes deeper and wider in an aesthtic sense – its track choices are arguably better, and the sense of flow is less fragmented. And of course, the audio is far better here. The previous collections sought to showcase the many dynamic shifts in the evolution of Mayall's approach to blues rather than focusing on its incremental changes. What's portrayed here is more organic and subtle. Certainly most expected tracks are included, from his first single, "Crawling Up A Hill" and "Mr. James," from '64; and "I'm Your Witchdoctor" b/w "Telephone Blues," (the latter was first 45 by the Eric Clapton-era Bluesbreakers and was produced by Jimmy Page) from 1965. Disc one covers album up to A Hard Road; disc two from that album to 1968's Blues From Laurel Canyon; disc three from 1969's revolutionary The Turning Point through Back To The Roots; and disc four from there through The Latest Edition in 1974. There are many LP cuts obviously , but also live material, compilation tracks and singles – 74 tracks in total. While some are not obvious choices, virtually all are essential for Mayall enthusiasts. His high standards as a a recording and performing artist, are underscored by his role as mentor to younger talent– Clapton, Peter Green, Mick Taylor, John McVie, Mick Fleetwood, Aynsley Dunbar, Keef Hartley, Jon Mark, Johnny Almond, Harvey Mandel, Larry Taylor, Steve Winwood and Brad Resnick all passed through his ranks. Also notable are Mayall's collaborations with established jazz and blues artists such as Freddy Robinson, Blue Mitchell, and Fred Jackson. The package also includes an exhaustive and engaging liner essay by Mark Powell, loads of rare photos, and complete discographical information, making it the definitive compilation.



Review by Thom Jurek, Allmusic.com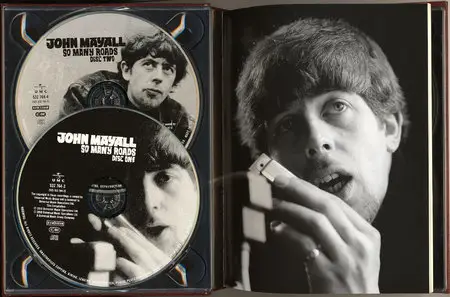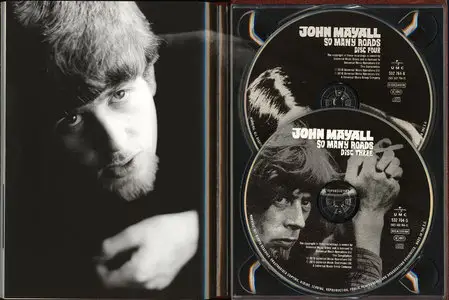 Tracklist:
CD1:

01. Crawling Up A Hill (02:18)
02. Mr. James (02:52)
03. When I'm Gone (03:18)
04. R&B Time Incorporating: Night Train & Lucille (02:25)
05. Runaway (02:36)
06. What's The Matter With You (02:44)
07. Crocodile Walk (02:15)
08. Blues City Shake Down (02:24)
09. I'm Your Witchdoctor (02:12)
10. Telephone Blues (03:58)
11. On Top Of The World (02:49)
12. They Call It Stormy Monday (04:36)
13. Have You Ever Loved A Woman (06:44)
14. All Your Love (03:37)
15. Double Crossing Time (03:04)
16. Steppin' Out (02:30)
17. What'd I Say (04:29)
18. Key To Love (02:09)
19. Parchman Farm (02:22)
20. Looking Back (02:37)
21. So Many Roads (04:45)
22. Long Night (02:03)
23. Dust My Blues (02:48)
24. The Stumble (02:53)

CD2:

01. You Don't Love Me (02:51)
02. It's Over (02:51)
03. The Super-natural (02:57)
04. Sitting In The Rain (02:58)
05. Ridin' On The L&N (02:28)
06. All My Life (04:25)
07. Double Trouble (03:23)
08. Supricions (part one) (02:48)
09. Oh Pretty Woman (03:34)
10. Snowy Wood (03:37)
11. Checkin' Up On My Baby (03:58)
12. No More Tears (03:10)
13. Brand New Start (03:25)
14. Picture On The Wall (03:05)
15. Look On The Mirror (04:03)
16. No Reply (03:09)
17. Hartley Quits (02:56)
18. 2401 (03:57)
19. Walking On Sunset (02:56)
20. Medicine Man (02:47)
21. Miss James (02:31)
22. Fly Tomorrow (09:03)

CD3:

01. The Laws Must Change (07:17)
02. California (09:23)
03. Room To Move (04:42)
04. Sleeping By Her Side (05:03)
05. Don't Waste My Time (03:11)
06. Something New (04:39)
07. Waiting For The Right Time (05:35)
08. Counting The Days (05:32)
09. Off The Road (02:49)
10. Crying (06:27)
11. Nature's Disappearing (05:55)
12. Accidental Suicide (06:15)
13. Prison On The Road (04:16)
14. Unanswered Questions (04:39)

CD4:

01. Television Eye (07:31)
02. Memories (05:03)
03. Nobody Cares (03:58)
04. Good Time Boogie (09:11)
05. Got To Be This Way (06:52)
06. Mess Around (02:55)
07. Country Road (07:16)
08. Moving On (04:28)
09. Things Go Wrong (06:38)
10. High Pressure Living (06:48)
11. Driving 'Til The Break Of Day (05:06)
12. Burning Sun (05:08)
13. Little Kitten (02:35)
14. Gasoline Blues (03:41)
Exact Audio Copy V0.99 prebeta 4 from 23. January 2008

Отчёт EAC об извлечении, выполненном 28. августа 2010, 15:14

John Mayall / So Many Roads, An Anthology 1964-1974 - Disk One

Дисковод: Optiarc DVD RW AD-7200A Adapter: 0 ID: 1

Режим чтения : Достоверность
Использование точного потока : Да
Отключение кэша аудио : Да
Использование указателей C2 : Нет

Коррекция смещения при чтении : 48
Способность читать области Lead-in и Lead-out : Нет
Заполнение пропущенных сэмплов тишиной : Да
Удаление блоков с тишиной в начале и конце : Нет
При вычислениях CRC использовались нулевые сэмплы : Да
Интерфейс : Встроенный Win32-интерфейс для Win NT/2000

Выходной формат : Пользовательский кодировщик
Выбранный битрейт : 128 kBit/s
Качество : Высокий
Добавление ID3-тэга : Нет
Утилита сжатия : C:\Program Files\Exact Audio Copy\wavpack.exe
Дополнительные параметры : -w "Artist=%a" -w "Title=%t" -w "Album=%g" -w "Year=%y" -w "Track=%n" -w "Genre=%m" -h %s %d


TOC извлечённого CD

Трек | Старт | Длительность | Начальный сектор | Конечный сектор
––––––––––––––––––––––––––––––––––-
1 | 0:00.00 | 2:17.65 | 0 | 10339
2 | 2:17.65 | 2:51.46 | 10340 | 23210
3 | 5:09.36 | 3:17.34 | 23211 | 38019
4 | 8:26.70 | 2:24.25 | 38020 | 48844
5 | 10:51.20 | 2:36.21 | 48845 | 60565
6 | 13:27.41 | 2:43.30 | 60566 | 72820
7 | 16:10.71 | 2:15.25 | 72821 | 82970
8 | 18:26.21 | 2:23.62 | 82971 | 93757
9 | 20:50.08 | 2:11.35 | 93758 | 103617
10 | 23:01.43 | 3:58.15 | 103618 | 121482
11 | 26:59.58 | 2:48.38 | 121483 | 134120
12 | 29:48.21 | 4:35.37 | 134121 | 154782
13 | 34:23.58 | 6:43.66 | 154783 | 185073
14 | 41:07.49 | 3:36.32 | 185074 | 201305
15 | 44:44.06 | 3:04.01 | 201306 | 215106
16 | 47:48.07 | 2:30.16 | 215107 | 226372
17 | 50:18.23 | 4:28.23 | 226373 | 246495
18 | 54:46.46 | 2:08.68 | 246496 | 256163
19 | 56:55.39 | 2:21.62 | 256164 | 266800
20 | 59:17.26 | 2:37.18 | 266801 | 278593
21 | 61:54.44 | 4:44.23 | 278594 | 299916
22 | 66:38.67 | 2:02.69 | 299917 | 309135
23 | 68:41.61 | 2:47.59 | 309136 | 321719
24 | 71:29.45 | 2:52.33 | 321720 | 334652


Характеристики диапазона извлечения и сообщения об ошибках

Выбранный диапазон

Имя файла Y:\Releases\John Mayall\So Many Roads, An Anthology 1964-1974\John Mayall - So Many Roads, An Anthology 1964-1974 (2010)\John Mayall - So Many Roads, An Anthology 1964-1974 - Disk One.wav

Пиковый уровень 98.8 %
Качество диапазона 100.0 %
CRC теста 91DF6C84
CRC копии 91DF6C84
Копирование… OK

Ошибок не произошло


AccurateRip: сводка

Трек 1 нет в базе данных
Трек 2 нет в базе данных
Трек 3 нет в базе данных
Трек 4 нет в базе данных
Трек 5 нет в базе данных
Трек 6 нет в базе данных
Трек 7 нет в базе данных
Трек 8 нет в базе данных
Трек 9 нет в базе данных
Трек 10 нет в базе данных
Трек 11 нет в базе данных
Трек 12 нет в базе данных
Трек 13 нет в базе данных
Трек 14 нет в базе данных
Трек 15 нет в базе данных
Трек 16 нет в базе данных
Трек 17 нет в базе данных
Трек 18 нет в базе данных
Трек 19 нет в базе данных
Трек 20 нет в базе данных
Трек 21 нет в базе данных
Трек 22 нет в базе данных
Трек 23 нет в базе данных
Трек 24 нет в базе данных

Ни одного трека нет в базе AccurateRip

Конец отчёта
[CUETools log; Date: 17.08.2013 13:28:47; Version: 2.1.4]
[CTDB TOCID: C8U3hZzlK8o3TPbWSh05hplcyJI-] found.
Track | CTDB Status
1 | (3/3) Accurately ripped
2 | (3/3) Accurately ripped
3 | (3/3) Accurately ripped
4 | (3/3) Accurately ripped
5 | (3/3) Accurately ripped
6 | (3/3) Accurately ripped
7 | (2/3) Accurately ripped, or (1/3) differs in 180 samples @01:52:28
8 | (3/3) Accurately ripped
9 | (3/3) Accurately ripped
10 | (3/3) Accurately ripped
11 | (3/3) Accurately ripped
12 | (3/3) Accurately ripped
13 | (3/3) Accurately ripped
14 | (3/3) Accurately ripped
15 | (3/3) Accurately ripped
16 | (3/3) Accurately ripped
17 | (3/3) Accurately ripped
18 | (3/3) Accurately ripped
19 | (3/3) Accurately ripped
20 | (3/3) Accurately ripped
21 | (3/3) Accurately ripped
22 | (3/3) Accurately ripped
23 | (3/3) Accurately ripped
24 | (3/3) Accurately ripped
[AccurateRip ID: 003e5876-044b5fd8-48116e18] found.
Track [ CRC | V2 ] Status
01 [3eff4120|ee3fe46c] (05+11/18) Accurately ripped
02 [4adf6a5a|6ee5dc69] (05+11/18) Accurately ripped
03 [55852975|71877d0c] (05+11/18) Accurately ripped
04 [83177d28|7d949e53] (05+11/18) Accurately ripped
05 [f6fe53cb|895a0dd8] (05+11/18) Accurately ripped
06 [05fdd6ad|ba7206c3] (05+11/18) Accurately ripped
07 [9b149db9|8b30dd03] (00+02/17) Accurately ripped
08 [1ffb6a3a|d8b5b826] (05+11/18) Accurately ripped
09 [1274a458|0e2ea526] (05+11/18) Accurately ripped
10 [7011a67d|7b39a37e] (05+11/18) Accurately ripped
11 [b4edc23a|3ac10756] (05+11/18) Accurately ripped
12 [f6e6ef8c|f772c31c] (05+11/18) Accurately ripped
13 [74cdae4f|6b1fd030] (05+12/19) Accurately ripped
14 [6376e98f|9e90f7b5] (05+12/19) Accurately ripped
15 [88e2f3ff|957726d3] (05+12/19) Accurately ripped
16 [ac09d66a|e0b0e051] (05+12/19) Accurately ripped
17 [8d3ef2b7|4f48db10] (05+12/19) Accurately ripped
18 [ccaa8a1e|e279c84e] (05+12/19) Accurately ripped
19 [894b2432|a395ee46] (05+12/19) Accurately ripped
20 [19193337|5b58bb06] (05+12/19) Accurately ripped
21 [a4a92ff8|882ab546] (05+12/19) Accurately ripped
22 [ae9299a3|214144d0] (05+12/19) Accurately ripped
23 [5d01a9e2|f58d6d28] (04+12/18) Accurately ripped
24 [884d0aa6|da9fb857] (04+12/16) Accurately ripped
Offsetted by -60:
01 [d95da2d8] (02/18) Accurately ripped
02 [47139dd2] (02/18) Accurately ripped
03 [60508841] (02/18) Accurately ripped
04 [0901b70c] (02/18) Accurately ripped
05 [0d8fc5e3] (02/18) Accurately ripped
06 [1620fbe9] (02/18) Accurately ripped
07 [ec554891] (02/17) Accurately ripped
08 [56b0f2ca] (02/18) Accurately ripped
09 [26e2a8c8] (02/18) Accurately ripped
10 [6ff4de21] (02/18) Accurately ripped
11 [d36815ba] (02/18) Accurately ripped
12 [0e4aba90] (02/18) Accurately ripped
13 [f3989a87] (02/19) Accurately ripped
14 [334c2dab] (02/19) Accurately ripped
15 [a87e5013] (02/19) Accurately ripped
16 [54804e46] (02/19) Accurately ripped
17 [b24e5193] (02/19) Accurately ripped
18 [468f55c2] (02/19) Accurately ripped
19 [02e5f992] (02/19) Accurately ripped
20 [a37a7d57] (02/19) Accurately ripped
21 [611dabac] (02/19) Accurately ripped
22 [5f3ddb93] (02/19) Accurately ripped
23 [f1553082] (02/18) Accurately ripped
24 [6fc8d1f6] (00/16) No match (V2 was not tested)

Track Peak [ CRC32 ] [W/O NULL] [ LOG ]
– 98,8 [91DF6C84] [87DC3AF3] CRC32
01 98,8 [A598D7C7] [4EDDE03C]
02 98,8 [460D28E0] [16601789]
03 98,8 [F5E2BF84] [E6DA0471]
04 98,8 [2D647BAF] [D437AB1B]
05 98,8 [69C9D33E] [946D2691]
06 98,8 [D86111DB] [59EFF9BF]
07 98,8 [44F137A6] [D7AB279C]
08 98,8 [9368988A] [116A3347]
09 98,8 [7106FFF1] [94FB7234]
10 98,8 [44023ECD] [1BD32CD7]
11 98,8 [FAFA28BC] [7A07C177]
12 98,8 [310F5D36] [923B19D8]
13 98,8 [B747B9B3] [5CBDC9C1]
14 98,3 [514172CB] [E3797911]
15 98,3 [F18D16A1] [F052B41F]
16 97,1 [A8892FC7] [4C6EC491]
17 98,6 [7782B9DD] [1CE6C7DC]
18 98,2 [69154BB4] [D1298BE3]
19 98,3 [73F2C5BD] [B6A71C6A]
20 96,0 [C18B57DB] [B9681FE5]
21 98,8 [986B40FF] [5B5683E2]
22 77,4 [4CDFB482] [39E0AAF4]
23 98,8 [9C4D09C1] [8C58EBA7]
24 98,8 [629E1831] [C58C22AA]
foobar2000 1.2 / Dynamic Range Meter 1.1.1
log date: 2013-08-17 13:37:10

––––––––––––––––––––––––––––––––––––––––
Analyzed: John Mayall / So Many Roads, An Anthology 1964-1974 - Disk One
––––––––––––––––––––––––––––––––––––––––

DR Peak RMS Duration Track
––––––––––––––––––––––––––––––––––––––––
DR8 -0.10 dB -9.01 dB 2:18 01-Crawling Up A Hill
DR8 -0.10 dB -9.37 dB 2:52 02-Mr. James
DR7 -0.10 dB -8.22 dB 3:17 03-When I'm Gone
DR7 -0.10 dB -9.05 dB 2:24 04-R&B Time Incorporating: Night Train & Lucille
DR8 -0.10 dB -9.89 dB 2:36 05-Runaway
DR7 -0.10 dB -8.54 dB 2:43 06-What's The Matter With You
DR9 -0.10 dB -9.86 dB 2:15 07-Crocodile Walk
DR8 -0.10 dB -9.37 dB 2:24 08-Blues City Shake Down
DR6 -0.10 dB -7.67 dB 2:11 09-I'm Your Witchdoctor
DR6 -0.10 dB -8.37 dB 3:58 10-Telephone Blues
DR8 -0.10 dB -9.48 dB 2:49 11-On Top Of The World
DR9 -0.10 dB -10.69 dB 4:35 12-They Call It Stormy Monday
DR11 -0.10 dB -12.35 dB 6:44 13-Have You Ever Loved A Woman
DR6 -0.15 dB -7.59 dB 3:36 14-All Your Love
DR7 -0.15 dB -8.78 dB 3:04 15-Double Crossing Time
DR7 -0.25 dB -8.85 dB 2:30 16-Steppin' Out
DR7 -0.12 dB -9.01 dB 4:28 17-What'd I Say
DR6 -0.15 dB -7.33 dB 2:09 18-Key To Love
DR8 -0.14 dB -9.07 dB 2:22 19-Parchman Farm
DR7 -0.35 dB -8.66 dB 2:37 20-Looking Back
DR7 -0.10 dB -9.25 dB 4:44 21-So Many Roads
DR11 -2.22 dB -16.92 dB 2:03 22-Long Night
DR9 -0.10 dB -10.17 dB 2:48 23-Dust My Blues
DR10 -0.10 dB -11.12 dB 2:52 24-The Stumble
––––––––––––––––––––––––––––––––––––––––

Number of tracks: 24
Official DR value: DR8

Samplerate: 44100 Hz
Channels: 2
Bits per sample: 16
Bitrate: 645 kbps
Codec: WavPack
================================================================================
Exact Audio Copy V0.99 prebeta 4 from 23. January 2008

Отчёт EAC об извлечении, выполненном 28. августа 2010, 16:00

John Mayall / So Many Roads, An Anthology 1964-1974 - Disk Two

Дисковод: Optiarc DVD RW AD-7200A Adapter: 0 ID: 1

Режим чтения : Достоверность
Использование точного потока : Да
Отключение кэша аудио : Да
Использование указателей C2 : Нет

Коррекция смещения при чтении : 48
Способность читать области Lead-in и Lead-out : Нет
Заполнение пропущенных сэмплов тишиной : Да
Удаление блоков с тишиной в начале и конце : Нет
При вычислениях CRC использовались нулевые сэмплы : Да
Интерфейс : Встроенный Win32-интерфейс для Win NT/2000

Выходной формат : Пользовательский кодировщик
Выбранный битрейт : 128 kBit/s
Качество : Высокий
Добавление ID3-тэга : Нет
Утилита сжатия : C:\Program Files\Exact Audio Copy\wavpack.exe
Дополнительные параметры : -w "Artist=%a" -w "Title=%t" -w "Album=%g" -w "Year=%y" -w "Track=%n" -w "Genre=%m" -h %s %d


TOC извлечённого CD

Трек | Старт | Длительность | Начальный сектор | Конечный сектор
––––––––––––––––––––––––––––––––––-
1 | 0:00.00 | 2:50.33 | 0 | 12782
2 | 2:50.33 | 2:50.47 | 12783 | 25579
3 | 5:41.05 | 2:56.58 | 25580 | 38837
4 | 8:37.63 | 2:57.70 | 38838 | 52182
5 | 11:35.58 | 2:28.14 | 52183 | 63296
6 | 14:03.72 | 4:24.49 | 63297 | 83145
7 | 18:28.46 | 3:22.38 | 83146 | 98333
8 | 21:51.09 | 2:48.04 | 98334 | 110937
9 | 24:39.13 | 3:33.33 | 110938 | 126945
10 | 28:12.46 | 3:37.02 | 126946 | 143222
11 | 31:49.48 | 3:57.27 | 143223 | 161024
12 | 35:47.00 | 3:10.15 | 161025 | 175289
13 | 38:57.15 | 3:24.23 | 175290 | 190612
14 | 42:21.38 | 3:04.58 | 190613 | 204470
15 | 45:26.21 | 4:02.46 | 204471 | 222666
16 | 49:28.67 | 3:08.25 | 222667 | 236791
17 | 52:37.17 | 2:55.43 | 236792 | 249959
18 | 55:32.60 | 3:56.25 | 249960 | 267684
19 | 59:29.10 | 2:55.36 | 267685 | 280845
20 | 62:24.46 | 2:47.17 | 280846 | 293387
21 | 65:11.63 | 2:30.53 | 293388 | 304690
22 | 67:42.41 | 9:02.23 | 304691 | 345363


Характеристики диапазона извлечения и сообщения об ошибках

Выбранный диапазон

Имя файла Y:\Releases\John Mayall\So Many Roads, An Anthology 1964-1974\John Mayall - So Many Roads, An Anthology 1964-1974 (2010)\John Mayall - So Many Roads, An Anthology 1964-1974 - Disk Two.wav

Пиковый уровень 98.8 %
Качество диапазона 100.0 %
CRC теста F65AB860
CRC копии F65AB860
Копирование… OK

Ошибок не произошло


AccurateRip: сводка

Трек 1 нет в базе данных
Трек 2 нет в базе данных
Трек 3 нет в базе данных
Трек 4 нет в базе данных
Трек 5 нет в базе данных
Трек 6 нет в базе данных
Трек 7 нет в базе данных
Трек 8 нет в базе данных
Трек 9 нет в базе данных
Трек 10 нет в базе данных
Трек 11 нет в базе данных
Трек 12 нет в базе данных
Трек 13 нет в базе данных
Трек 14 нет в базе данных
Трек 15 нет в базе данных
Трек 16 нет в базе данных
Трек 17 нет в базе данных
Трек 18 нет в базе данных
Трек 19 нет в базе данных
Трек 20 нет в базе данных
Трек 21 нет в базе данных
Трек 22 нет в базе данных

Ни одного трека нет в базе AccurateRip

Конец отчёта
[CUETools log; Date: 17.08.2013 13:31:54; Version: 2.1.4]
[CTDB TOCID: sXHb6hwT1UODhH.V07cWCdzl4Jc-] found.
Track | CTDB Status
1 | (5/5) Accurately ripped
2 | (5/5) Accurately ripped
3 | (5/5) Accurately ripped
4 | (5/5) Accurately ripped
5 | (5/5) Accurately ripped
6 | (5/5) Accurately ripped
7 | (5/5) Accurately ripped
8 | (5/5) Accurately ripped
9 | (5/5) Accurately ripped
10 | (5/5) Accurately ripped
11 | (5/5) Accurately ripped
12 | (5/5) Accurately ripped
13 | (5/5) Accurately ripped
14 | (5/5) Accurately ripped
15 | (5/5) Accurately ripped
16 | (5/5) Accurately ripped
17 | (5/5) Accurately ripped
18 | (5/5) Accurately ripped
19 | (5/5) Accurately ripped
20 | (5/5) Accurately ripped
21 | (4/5) Accurately ripped
22 | (4/5) Accurately ripped, or (1/5) differs in 732 samples @02:22:14-02:22:15,02:26:39-02:26:40,02:28:62-02:28:63,02:29:09,02:29:30-02:29:31,02:29:74,02:30:42,02:31:10-02:31:11,02:31:32-02:31:33,02:32:65-02:32:66,02:42:09-02:42:10
[AccurateRip ID: 0038467c-038e441b-3b11fc16] found.
Track [ CRC | V2 ] Status
01 [c1db1296|0e491658] (06+15/21) Accurately ripped
02 [9c4c1d75|3a2b8217] (06+15/21) Accurately ripped
03 [178d305c|25d01c6e] (06+15/21) Accurately ripped
04 [59c6c263|14e9f8a9] (06+15/21) Accurately ripped
05 [8a7dfae3|56bf4437] (06+15/21) Accurately ripped
06 [5ea8dc66|8748c57c] (06+15/21) Accurately ripped
07 [0a37c437|b696db48] (06+15/21) Accurately ripped
08 [b8968156|9fd792e7] (06+15/21) Accurately ripped
09 [f2783f52|5231c3a4] (06+15/21) Accurately ripped
10 [bae35577|b017b373] (06+15/21) Accurately ripped
11 [86ca6ac6|a92a0781] (06+15/21) Accurately ripped
12 [4f62e1a8|c144d7bf] (06+15/21) Accurately ripped
13 [5f62f2a0|b311db94] (06+15/21) Accurately ripped
14 [b5e3ac86|dc90c407] (06+15/21) Accurately ripped
15 [6f9836f3|10907b0c] (06+15/21) Accurately ripped
16 [fcbd4465|24ad2ece] (06+15/21) Accurately ripped
17 [04ad7026|20aa9452] (06+15/21) Accurately ripped
18 [6be5fc92|d0e913c7] (06+15/21) Accurately ripped
19 [c81d4b27|3a3631aa] (06+15/21) Accurately ripped
20 [64b34201|5f473112] (06+15/21) Accurately ripped
21 [0aeef55d|446d0a9c] (06+14/20) Accurately ripped
22 [e79d4291|085ad7bf] (05+14/19) Accurately ripped

Track Peak [ CRC32 ] [W/O NULL] [ LOG ]
– 98,8 [F65AB860] [76E8F1FF] CRC32
01 98,8 [21503EFF] [014D85B4]
02 98,8 [DA369006] [E9031B30]
03 98,8 [7AF5DD63] [B8779A18]
04 94,0 [27983DAC] [DF0C1BB0]
05 98,8 [D6CDE14C] [1AF7DC28]
06 98,8 [EFA788F1] [2392F42D]
07 98,8 [5CE47778] [C355C287]
08 98,8 [C44BC368] [E481AF55]
09 98,8 [42BDE833] [EBD53836]
10 98,8 [46A50951] [837F3D7E]
11 98,8 [4D69DAE5] [B27D5BCE]
12 98,8 [20141953] [FF257E9E]
13 98,8 [AD9B0A13] [AB620520]
14 97,1 [B782905A] [9A6F268B]
15 98,8 [EEF3A16B] [C60299C6]
16 98,8 [5D32044D] [F78527AA]
17 98,8 [7D836B0C] [BFBE49A6]
18 97,3 [868A4A23] [CB5D32FB]
19 98,8 [462FEB41] [2A20FD2D]
20 86,5 [FADFAE79] [B1D6645F]
21 98,8 [813AFEE5] [73617942]
22 98,8 [4D309ADC] [5C459E5C]
foobar2000 1.2 / Dynamic Range Meter 1.1.1
log date: 2013-08-17 13:37:54

––––––––––––––––––––––––––––––––––––––––
Analyzed: John Mayall / So Many Roads, An Anthology 1964-1974 - Disk Two
––––––––––––––––––––––––––––––––––––––––

DR Peak RMS Duration Track
––––––––––––––––––––––––––––––––––––––––
DR10 -0.10 dB -11.95 dB 2:50 01-You Don't Love Me
DR10 -0.10 dB -11.83 dB 2:51 02-It's Over
DR10 -0.10 dB -12.34 dB 2:57 03-The Super-natural
DR12 -0.53 dB -15.46 dB 2:58 04-Sitting In The Rain
DR8 -0.10 dB -8.91 dB 2:28 05-Ridin' On The L&N
DR7 -0.10 dB -8.90 dB 4:25 06-All My Life
DR9 -0.10 dB -11.54 dB 3:23 07-Double Trouble
DR9 -0.10 dB -10.00 dB 2:48 08-Supricions (part one)
DR10 -0.10 dB -12.24 dB 3:33 09-Oh Pretty Woman
DR10 -0.10 dB -11.43 dB 3:37 10-Snowy Wood
DR9 -0.10 dB -9.60 dB 3:57 11-Checkin' Up On My Baby
DR8 -0.10 dB -10.78 dB 3:10 12-No More Tears
DR12 -0.10 dB -13.52 dB 3:24 13-Brand New Start
DR10 -0.25 dB -13.29 dB 3:05 14-Picture On The Wall
DR10 -0.10 dB -12.54 dB 4:03 15-Look On The Mirror
DR12 -0.10 dB -15.40 dB 3:08 16-No Reply
DR10 -0.10 dB -10.49 dB 2:56 17-Hartley Quits
DR11 -0.23 dB -12.27 dB 3:56 18-2401
DR11 -0.10 dB -12.91 dB 2:55 19-Walking On Sunset
DR14 -1.25 dB -18.16 dB 2:47 20-Medicine Man
DR11 -0.10 dB -14.37 dB 2:31 21-Miss James
DR10 -0.10 dB -14.64 dB 9:02 22-Fly Tomorrow
––––––––––––––––––––––––––––––––––––––––

Number of tracks: 22
Official DR value: DR10

Samplerate: 44100 Hz
Channels: 2
Bits per sample: 16
Bitrate: 756 kbps
Codec: WavPack
================================================================================
Exact Audio Copy V0.99 prebeta 4 from 23. January 2008

Отчёт EAC об извлечении, выполненном 28. августа 2010, 16:51

John Mayall / So Many Roads, An Anthology 1964-1974 - Disk Three

Дисковод: Optiarc DVD RW AD-7200A Adapter: 0 ID: 1

Режим чтения : Достоверность
Использование точного потока : Да
Отключение кэша аудио : Да
Использование указателей C2 : Нет

Коррекция смещения при чтении : 48
Способность читать области Lead-in и Lead-out : Нет
Заполнение пропущенных сэмплов тишиной : Да
Удаление блоков с тишиной в начале и конце : Нет
При вычислениях CRC использовались нулевые сэмплы : Да
Интерфейс : Встроенный Win32-интерфейс для Win NT/2000

Выходной формат : Пользовательский кодировщик
Выбранный битрейт : 128 kBit/s
Качество : Высокий
Добавление ID3-тэга : Нет
Утилита сжатия : C:\Program Files\Exact Audio Copy\wavpack.exe
Дополнительные параметры : -w "Artist=%a" -w "Title=%t" -w "Album=%g" -w "Year=%y" -w "Track=%n" -w "Genre=%m" -h %s %d


TOC извлечённого CD

Трек | Старт | Длительность | Начальный сектор | Конечный сектор
––––––––––––––––––––––––––––––––––-
1 | 0:00.00 | 7:16.27 | 0 | 32726
2 | 7:16.27 | 9:22.00 | 32727 | 74876
3 | 16:38.27 | 4:41.71 | 74877 | 96022
4 | 21:20.23 | 5:02.70 | 96023 | 118742
5 | 26:23.18 | 3:10.63 | 118743 | 133055
6 | 29:34.06 | 4:38.41 | 133056 | 153946
7 | 34:12.47 | 5:34.30 | 153947 | 179026
8 | 39:47.02 | 5:31.48 | 179027 | 203899
9 | 45:18.50 | 2:48.56 | 203900 | 216555
10 | 48:07.31 | 6:26.44 | 216556 | 245549
11 | 54:34.00 | 5:54.70 | 245550 | 272169
12 | 60:28.70 | 6:14.42 | 272170 | 300261
13 | 66:43.37 | 4:15.67 | 300262 | 319453
14 | 70:59.29 | 4:39.01 | 319454 | 340379


Характеристики диапазона извлечения и сообщения об ошибках

Выбранный диапазон

Имя файла Y:\Releases\John Mayall\So Many Roads, An Anthology 1964-1974\John Mayall - So Many Roads, An Anthology 1964-1974 (2010)\John Mayall - So Many Roads, An Anthology 1964-1974 - Disk Three.wav

Пиковый уровень 98.8 %
Качество диапазона 100.0 %
CRC теста 45020361
CRC копии 45020361
Копирование… OK

Ошибок не произошло


AccurateRip: сводка

Трек 1 нет в базе данных
Трек 2 нет в базе данных
Трек 3 нет в базе данных
Трек 4 нет в базе данных
Трек 5 нет в базе данных
Трек 6 нет в базе данных
Трек 7 нет в базе данных
Трек 8 нет в базе данных
Трек 9 нет в базе данных
Трек 10 нет в базе данных
Трек 11 нет в базе данных
Трек 12 нет в базе данных
Трек 13 нет в базе данных
Трек 14 нет в базе данных

Ни одного трека нет в базе AccurateRip

Конец отчёта
[CUETools log; Date: 17.08.2013 13:30:19; Version: 2.1.4]
[CTDB TOCID: qVWa2Zmucm.uhhC6E7JvV9KtoMA-] found.
Track | CTDB Status
1 | (5/5) Accurately ripped
2 | (5/5) Accurately ripped
3 | (5/5) Accurately ripped
4 | (5/5) Accurately ripped
5 | (5/5) Accurately ripped
6 | (5/5) Accurately ripped
7 | (5/5) Accurately ripped
8 | (5/5) Accurately ripped
9 | (5/5) Accurately ripped
10 | (5/5) Accurately ripped
11 | (5/5) Accurately ripped
12 | (5/5) Accurately ripped
13 | (5/5) Accurately ripped
14 | (5/5) Accurately ripped
[AccurateRip ID: 0028fed0-01aba1c6-c211ba0e] found.
Track [ CRC | V2 ] Status
01 [debbbdf4|ce971684] (04+10/14) Accurately ripped
02 [b8274b3b|87e507f5] (04+11/15) Accurately ripped
03 [0db89b79|9d0f90ff] (04+12/16) Accurately ripped
04 [31b14de2|684c8c80] (04+11/15) Accurately ripped
05 [36bafcf1|5d497c25] (04+11/15) Accurately ripped
06 [0af23ae7|80afc160] (04+11/15) Accurately ripped
07 [0cab2e14|413ab413] (04+11/15) Accurately ripped
08 [6bf62aa4|9d04936c] (04+11/15) Accurately ripped
09 [2fc5dd90|580e0c0b] (04+11/15) Accurately ripped
10 [2f6ffeef|ae8900fe] (04+11/15) Accurately ripped
11 [9aa14e14|3a9d3564] (03+11/14) Accurately ripped
12 [0fa39da2|5e1b211a] (03+11/14) Accurately ripped
13 [0fd36d19|b4346959] (03+11/14) Accurately ripped
14 [ae089618|e5d7ec70] (03+11/14) Accurately ripped

Track Peak [ CRC32 ] [W/O NULL] [ LOG ]
– 98,8 [45020361] [103FF7F8] CRC32
01 98,8 [92494E59] [0B98C77F]
02 98,5 [A4A598F3] [252B3AEB]
03 77,5 [50CDABA1] [E4B6B73E]
04 52,0 [7B8FE42C] [1F49A360]
05 82,9 [C949D935] [D866659D]
06 92,7 [931B7012] [C3E8F2D3]
07 81,1 [47DEDA63] [F1D0443E]
08 78,3 [F38D181F] [A918F194]
09 95,2 [E074F7A9] [52D47100]
10 76,0 [E87CCDBD] [739DC40C]
11 83,8 [14D7DFE3] [E1EA8A57]
12 98,8 [59B879E9] [42BC7352]
13 96,0 [DF693C62] [79939EDA]
14 98,8 [DE1EC1FC] [0E1CAD88]
foobar2000 1.2 / Dynamic Range Meter 1.1.1
log date: 2013-08-17 13:38:43

––––––––––––––––––––––––––––––––––––––––
Analyzed: John Mayall / So Many Roads, An Anthology 1964-1974 - Disk Three
––––––––––––––––––––––––––––––––––––––––

DR Peak RMS Duration Track
––––––––––––––––––––––––––––––––––––––––
DR10 -0.10 dB -12.82 dB 7:16 01-The Laws Must Change
DR13 -0.12 dB -16.55 dB 9:22 02-California
DR10 -2.21 dB -16.68 dB 4:42 03-Room To Move
DR10 -5.68 dB -18.24 dB 5:03 04-Sleeping By Her Side
DR10 -1.62 dB -13.56 dB 3:11 05-Don't Waste My Time
DR11 -0.65 dB -14.10 dB 4:39 06-Something New
DR9 -1.81 dB -13.09 dB 5:34 07-Waiting For The Right Time
DR9 -2.12 dB -14.31 dB 5:32 08-Counting The Days
DR12 -0.42 dB -14.85 dB 2:49 09-Off The Road
DR10 -2.38 dB -14.96 dB 6:27 10-Crying
DR10 -1.53 dB -13.89 dB 5:55 11-Nature's Disappearing
DR11 -0.10 dB -13.65 dB 6:15 12-Accidental Suicide
DR11 -0.35 dB -13.78 dB 4:16 13-Prison On The Road
DR11 -0.10 dB -12.73 dB 4:39 14-Unanswered Questions
––––––––––––––––––––––––––––––––––––––––

Number of tracks: 14
Official DR value: DR11

Samplerate: 44100 Hz
Channels: 2
Bits per sample: 16
Bitrate: 741 kbps
Codec: WavPack
================================================================================
Exact Audio Copy V0.99 prebeta 4 from 23. January 2008

Отчёт EAC об извлечении, выполненном 28. августа 2010, 17:49

John Mayall / So Many Roads, An Anthology 1964-1974 - Disk Four

Дисковод: Optiarc DVD RW AD-7200A Adapter: 0 ID: 1

Режим чтения : Достоверность
Использование точного потока : Да
Отключение кэша аудио : Да
Использование указателей C2 : Нет

Коррекция смещения при чтении : 48
Способность читать области Lead-in и Lead-out : Нет
Заполнение пропущенных сэмплов тишиной : Да
Удаление блоков с тишиной в начале и конце : Нет
При вычислениях CRC использовались нулевые сэмплы : Да
Интерфейс : Встроенный Win32-интерфейс для Win NT/2000

Выходной формат : Пользовательский кодировщик
Выбранный битрейт : 128 kBit/s
Качество : Высокий
Добавление ID3-тэга : Нет
Утилита сжатия : C:\Program Files\Exact Audio Copy\wavpack.exe
Дополнительные параметры : -w "Artist=%a" -w "Title=%t" -w "Album=%g" -w "Year=%y" -w "Track=%n" -w "Genre=%m" -h %s %d


TOC извлечённого CD

Трек | Старт | Длительность | Начальный сектор | Конечный сектор
––––––––––––––––––––––––––––––––––-
1 | 0:00.00 | 7:30.51 | 0 | 33800
2 | 7:30.51 | 5:02.21 | 33801 | 56471
3 | 12:32.72 | 3:57.49 | 56472 | 74295
4 | 16:30.46 | 9:10.46 | 74296 | 115591
5 | 25:41.17 | 6:51.64 | 115592 | 146480
6 | 32:33.06 | 2:54.34 | 146481 | 159564
7 | 35:27.40 | 7:15.25 | 159565 | 192214
8 | 42:42.65 | 4:28.03 | 192215 | 212317
9 | 47:10.68 | 6:37.43 | 212318 | 242135
10 | 53:48.36 | 6:47.45 | 242136 | 272705
11 | 60:36.06 | 5:05.42 | 272706 | 295622
12 | 65:41.48 | 5:08.11 | 295623 | 318733
13 | 70:49.59 | 2:34.33 | 318734 | 330316
14 | 73:24.17 | 3:40.57 | 330317 | 346873


Характеристики диапазона извлечения и сообщения об ошибках

Выбранный диапазон

Имя файла Y:\Releases\John Mayall\So Many Roads, An Anthology 1964-1974\John Mayall - So Many Roads, An Anthology 1964-1974 (2010)\John Mayall - So Many Roads, An Anthology 1964-1974 - Disk Four.wav

Пиковый уровень 98.8 %
Качество диапазона 99.9 %
CRC теста 79A866F8
CRC копии 79A866F8
Копирование… OK

Ошибок не произошло


AccurateRip: сводка

Трек 1 нет в базе данных
Трек 2 нет в базе данных
Трек 3 нет в базе данных
Трек 4 нет в базе данных
Трек 5 нет в базе данных
Трек 6 нет в базе данных
Трек 7 нет в базе данных
Трек 8 нет в базе данных
Трек 9 нет в базе данных
Трек 10 нет в базе данных
Трек 11 нет в базе данных
Трек 12 нет в базе данных
Трек 13 нет в базе данных
Трек 14 нет в базе данных

Ни одного трека нет в базе AccurateRip

Конец отчёта
[CUETools log; Date: 17.08.2013 13:27:22; Version: 2.1.4]
[CTDB TOCID: ySjJ4lMSfoG.wIo7DhNbcUtgO9o-] found.
Track | CTDB Status
1 | (4/4) Accurately ripped
2 | (4/4) Accurately ripped
3 | (4/4) Accurately ripped
4 | (4/4) Accurately ripped
5 | (4/4) Accurately ripped
6 | (4/4) Accurately ripped
7 | (4/4) Accurately ripped
8 | (4/4) Accurately ripped
9 | (4/4) Accurately ripped
10 | (4/4) Accurately ripped
11 | (4/4) Accurately ripped
12 | (4/4) Accurately ripped
13 | (4/4) Accurately ripped
14 | (4/4) Accurately ripped
[AccurateRip ID: 002aae4a-01c213d6-c912100e] found.
Track [ CRC | V2 ] Status
01 [13644e98|bebf9a45] (06+15/21) Accurately ripped
02 [6a3a9e40|6ed8bfe8] (06+15/21) Accurately ripped
03 [2bfd239a|86466b02] (06+15/21) Accurately ripped
04 [3c647bcf|16eaca46] (06+15/21) Accurately ripped
05 [a64d57f6|c382b5c2] (06+15/21) Accurately ripped
06 [003bed79|7349588f] (06+15/21) Accurately ripped
07 [d6319095|6413f1d6] (06+15/21) Accurately ripped
08 [fd4abeb8|b49c3f89] (06+15/21) Accurately ripped
09 [0fbb3da6|97bfcb14] (06+15/21) Accurately ripped
10 [ee6ba657|d2c43f88] (06+15/21) Accurately ripped
11 [eb231b6f|0e84450c] (06+15/21) Accurately ripped
12 [b6898176|31772fd4] (06+15/21) Accurately ripped
13 [0e35d43e|c4f61cef] (06+15/21) Accurately ripped
14 [2b9aab11|55fe65d6] (06+15/21) Accurately ripped

Track Peak [ CRC32 ] [W/O NULL] [ LOG ]
– 98,8 [79A866F8] [453026C2] CRC32
01 98,8 [F236FEF1] [6C1BEBC6]
02 95,7 [9836D3D2] [238D52F5]
03 76,9 [410D7139] [1438583A]
04 98,8 [AA6F5DDD] [67BCE62A]
05 98,8 [8CD949D7] [1BEB56CA]
06 98,8 [3781379B] [DD2D1F66]
07 98,8 [6DC71780] [63BE0FE3]
08 98,8 [6C4C6979] [86FC1D96]
09 98,8 [BAC82CB9] [BC34A0BA]
10 98,8 [EC8C8258] [B7ADDA0B]
11 98,8 [672B6E8A] [3CA8A6F8]
12 98,8 [3F85121D] [EDF58DAC]
13 98,8 [15970DB9] [79DB892B]
14 98,8 [9202708A] [BFD90DEE]
foobar2000 1.2 / Dynamic Range Meter 1.1.1
log date: 2013-08-17 13:39:27

––––––––––––––––––––––––––––––––––––––––
Analyzed: John Mayall / So Many Roads, An Anthology 1964-1974 - Disk Four
––––––––––––––––––––––––––––––––––––––––

DR Peak RMS Duration Track
––––––––––––––––––––––––––––––––––––––––
DR12 -0.10 dB -12.92 dB 7:31 01-Television Eye
DR12 -0.38 dB -13.69 dB 5:02 02-Memories
DR12 -2.28 dB -16.94 dB 3:58 03-Nobody Cares
DR12 -0.10 dB -14.12 dB 9:11 04-Good Time Boogie
DR10 -0.10 dB -12.62 dB 6:52 05-Got To Be This Way
DR12 -0.10 dB -13.28 dB 2:54 06-Mess Around
DR12 -0.10 dB -13.80 dB 7:15 07-Country Road
DR12 -0.10 dB -13.68 dB 4:28 08-Moving On
DR12 -0.10 dB -13.72 dB 6:38 09-Things Go Wrong
DR12 -0.10 dB -14.00 dB 6:48 10-High Pressure Living
DR13 -0.10 dB -14.96 dB 5:06 11-Driving 'Til The Break Of Day
DR12 -0.10 dB -13.93 dB 5:08 12-Burning Sun
DR12 -0.10 dB -13.12 dB 2:34 13-Little Kitten
DR13 -0.10 dB -14.24 dB 3:41 14-Gasoline Blues
––––––––––––––––––––––––––––––––––––––––

Number of tracks: 14
Official DR value: DR12

Samplerate: 44100 Hz
Channels: 2
Bits per sample: 16
Bitrate: 860 kbps
Codec: WavPack
================================================================================