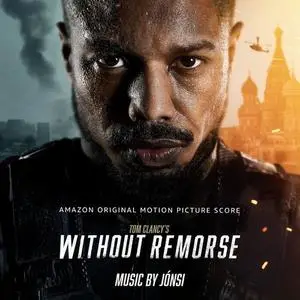 Jónsi - Tom Clancy's Without Remorse (Amazon Original Motion Picture Score) (2021)
FLAC tracks / MP3 320 kbps | 1:12:56 | 166 / 354 Mb
Genre: Soundtrack / Label: Paramount Music
Tom Clancy's Without Remorse is an adaptation of the titular writer's best-selling novel. The film version follows a lost Navy SEAL (Michael B. Jordan) who cracks under pressure and decides to take on both drug lords and the Vietnamese after the death of his pregnant wife. It's dramatic, thrilling, and full of plenty gripping fight scenes — as the film's trailer showed — but ultimately it isn't a fulfilling watch.However, for his original score, Jónsi translates all of that drama and tension into a sleek blend of ambient soundscapes, stirring orchestral strings, and industrial electronica that's entertaining on its own. He may be known for his heartfelt singing in Sigur Rós, but Jónsi gets the opportunity here to flex just how cinematic and melodramatic he can make songs sound through the lens of an action thriller adaptation — and he pushes himself to new heights in the process.
Track List:
[03:27] 01. Jónsi - Aleppo
[03:49] 02. Jónsi - Sniper
[02:32] 03. Jónsi - Hallway
[01:13] 04. Jónsi - Say Her Name
[04:51] 05. Jónsi - Jail
[03:50] 06. Jónsi - Campfire
[02:20] 07. Jónsi - Vaseliev
[04:34] 08. Jónsi - Arlington
[03:46] 09. Jónsi - Welcome Home
[02:13] 10. Jónsi - Death Follows Me
[02:32] 11. Jónsi - SCIF
[03:51] 12. Jónsi - Barents Sea
[02:19] 13. Jónsi - Zodiac
[01:48] 14. Jónsi - Murmansk
[04:55] 15. Jónsi - Rykov
[02:05] 16. Jónsi - Swim
[02:46] 17. Jónsi - Exfil
[03:09] 18. Jónsi - True Patriot
[03:02] 19. Jónsi - Rooftop
[03:07] 20. Jónsi - Stairs
[03:22] 21. Jónsi - Aftermath
[03:47] 22. Jónsi - Potomac
[03:23] 23. Jónsi - Funeral
ANALYZER: auCDtect: CD records authenticity detector, version 0.8.2
Copyright © 2004 Oleg Berngardt. All rights reserved.
Copyright © 2004 Alexander Djourik. All rights reserved.


FILE: 01 - Aleppo.flac
Size: 19011723 Hash: 1D4C66666D979F1DEBA4C179295072B4 Accuracy: -m40
Conclusion: CDDA 100%
Signature: 3CBF9A7399B2794726326E41E257B99BEBD4164D
FILE: 02 - Sniper.flac
Size: 21831713 Hash: BEE8332F67C9BB7690D9455DC2ADD18F Accuracy: -m40
Conclusion: CDDA 100%
Signature: 11057AEEA57AB907C693C07419965F70E54E3F8B
FILE: 03 - Hallway.flac
Size: 10824768 Hash: 77DDFFE2EF5520C0BAB8D84E6371C36D Accuracy: -m40
Conclusion: CDDA 100%
Signature: 8224026E0E9E633E1D841D302CED571103983914
FILE: 04 - Say Her Name.flac
Size: 6451768 Hash: D75CD68750183750888E9C409BA3EBD6 Accuracy: -m40
Conclusion: CDDA 100%
Signature: 2835512890259DF5B5080C5797925C2C9C39839F
FILE: 05 - Jail.flac
Size: 22244692 Hash: 2BDF96D5CB96EBCF2410431F778962B6 Accuracy: -m40
Conclusion: CDDA 100%
Signature: 0E1E664DEFB7E9A16FC3E9409148EDAF1E7DBD79
FILE: 06 - Campfire.flac
Size: 17175163 Hash: 1A907920381BBEF3205753F4BE0F4D1B Accuracy: -m40
Conclusion: CDDA 100%
Signature: F47B45C0B4A0300E0B97C688E16B9C1F8C533FF1
FILE: 07 - Vaseliev.flac
Size: 11666525 Hash: 1192521404CAFF308AA117B35149BC53 Accuracy: -m40
Conclusion: CDDA 100%
Signature: DE7E495EF1495C5FC9346720CC1C9EB80FCEFB29
FILE: 08 - Arlington.flac
Size: 20702561 Hash: 76E58BDC52A8D449D370BA4C2D6DACDC Accuracy: -m40
Conclusion: CDDA 99%
Signature: 5F9F2B6BAEEF132DD04C975EBE1C50DD709E1E64
FILE: 09 - Welcome Home.flac
Size: 19608703 Hash: B8BAB1F7F266AC0244B5535B48E65661 Accuracy: -m40
Conclusion: CDDA 100%
Signature: 8E15C13D8D78BC929A30D337FDCF024F50E89E35
FILE: 10 - Death Follows Me.flac
Size: 11297749 Hash: 64AD1E726AE35B2C7E08209219D2894F Accuracy: -m40
Conclusion: CDDA 100%
Signature: 7CD7D2224FDF0956783A519EA84BBC1B5020F480
FILE: 11 - SCIF.flac
Size: 11972361 Hash: 8AFBFB67441C83C73ECABFE94E73D2B6 Accuracy: -m40
Conclusion: CDDA 100%
Signature: 9529969E61C54F808D4C24620EFCAF6FA7D2ABB5
FILE: 12 - Barents Sea.flac
Size: 22701950 Hash: 6005579D33FD49663142DD532B904F4B Accuracy: -m40
Conclusion: CDDA 100%
Signature: 3C967B4CBB16B152C7CA803F7E1CB8F90D3ED4CC
FILE: 13 - Zodiac.flac
Size: 12315524 Hash: A8089B427036CF49ECC850DE19EE4369 Accuracy: -m40
Conclusion: CDDA 100%
Signature: 5AEB032B1C9C014E8AB702ED9B2D9FF16D9F93E7
FILE: 14 - Murmansk.flac
Size: 10321000 Hash: 2059220A40687D8E9A3341E6AD1137DF Accuracy: -m40
Conclusion: CDDA 100%
Signature: 6C2D58C48B5834052AFDF996E9081129819FD90B
FILE: 15 - Rykov.flac
Size: 22795015 Hash: A947F3EFB13C4041E4C98FCA418EDBCC Accuracy: -m40
Conclusion: CDDA 100%
Signature: 6FA0521E26386C0B04285F6F9C1B87E1AA63EFAF
FILE: 16 - Swim.flac
Size: 9974699 Hash: 96E2FB263041C8D170092908AF95C527 Accuracy: -m40
Conclusion: CDDA 100%
Signature: 5819561633D02AF28D1F2D6BF4C78653B32D5FBE
FILE: 17 - Exfil.flac
Size: 14283808 Hash: C46A18BF3ACE94625D07DE9566AA8C19 Accuracy: -m40
Conclusion: CDDA 100%
Signature: A51761D39DECD2565181E3BEA6386C57BA429130
FILE: 18 - True Patriot.flac
Size: 13420330 Hash: 7B08A17CCC145FB9602DD1C884F08D85 Accuracy: -m40
Conclusion: CDDA 100%
Signature: C312532257DA3D5DE3F5A1988DF1B5CDB37037A9
FILE: 19 - Rooftop.flac
Size: 20305093 Hash: EC5F7BA32346A0DD3E0EE72F183848EB Accuracy: -m40
Conclusion: CDDA 99%
Signature: 14EEDF5A338A51448AACBEF6E98F722D200DB747
FILE: 20 - Stairs.flac
Size: 20359001 Hash: 6B181AA283736BFE561F4BDD734EFB3B Accuracy: -m40
Conclusion: CDDA 99%
Signature: ED50D55F7A58CDBA272F91893ED088C72321FE05
FILE: 21 - Aftermath.flac
Size: 18201649 Hash: 3E6F985D03504CEAE3C293E2AB81636B Accuracy: -m40
Conclusion: CDDA 100%
Signature: D59305FE090E6B3D83A76D615BB203CCD947CA77
FILE: 22 - Potomac.flac
Size: 19138260 Hash: 39C55ADAD4BAC81900F7B84BD0DA5EE4 Accuracy: -m40
Conclusion: CDDA 100%
Signature: 21493B47AA24D8058F25E6325E3338D0170D6C51
FILE: 23 - Funeral.flac
Size: 15709664 Hash: 62832CEEF02DBA22D2141E07707C3C96 Accuracy: -m40
Conclusion: CDDA 100%
Signature: A020A5E0A23D2B71905D0C2458C5ECCDE590554E