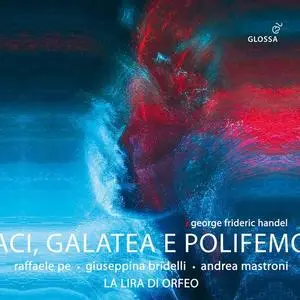 La Lira di Orfeo, Luca Guglielmi - Aci, Galatea e Polifemo, HWV 72 (Reconstr. R. Pe & F. Longo) (2021)
FLAC tracks / MP3 320 kbps | 1:23:00 | 191 / 377 Mb
Genre: Classical / Label: Glossa
For a production at the King's Theatre, Handel had created a mixed version of his Italian serenata Aci, Galatea e Polifemo HWV 72 and the English masque Acis and Galatea HWV 49a, which was performed semi-staged several times in 1732 with a star cast (including Senesino) to great acclaim. For today's ears, the musically attractive version HWV 49b suffers not least from the mixture of English and Italian text. In keeping with Handel's intentions, a purely Italian version was created here with additions from Italian works by the composer. The result is as convincing musically as it is scenically and would have deserved its own number in the catalogue of works.
Track List:
CD1
1. Aci, Galatea e Polifemo, HWV 72 (Reconstr. R. Pe & F. Longo): Ouverture (3:59)
2. Aci, Galatea e Polifemo, HWV 72 (Reconstr. R. Pe & F. Longo): Mi palpita il cor (2:25)
3. Aci, Galatea e Polifemo, HWV 72 (Reconstr. R. Pe & F. Longo): Affano tiranno (4:53)
4. Aci, Galatea e Polifemo, HWV 72 (Reconstr. R. Pe & F. Longo): Sorge il dì (4:04)
5. Aci, Galatea e Polifemo, HWV 72 (Reconstr. R. Pe & F. Longo): Vanti, o cara (0:48)
6. Aci, Galatea e Polifemo, HWV 72 (Reconstr. R. Pe & F. Longo): Lontan da te (3:34)
7. Aci, Galatea e Polifemo, HWV 72 (Reconstr. R. Pe & F. Longo): Se di perle un tesoro (0:30)
8. Aci, Galatea e Polifemo, HWV 72 (Reconstr. R. Pe & F. Longo): Sforzano a piangere (6:28)
9. Aci, Galatea e Polifemo, HWV 72 (Reconstr. R. Pe & F. Longo): Ma qual orrido suono (2:21)
10. Aci, Galatea e Polifemo, HWV 72 (Reconstr. R. Pe & F. Longo): Ferito son d'amore (3:21)
11. Aci, Galatea e Polifemo, HWV 72 (Reconstr. R. Pe & F. Longo): Deh lascia, o Polifemo (0:55)
12. Aci, Galatea e Polifemo, HWV 72 (Reconstr. R. Pe & F. Longo): Benché tuoni (2:25)
13. Aci, Galatea e Polifemo, HWV 72 (Reconstr. R. Pe & F. Longo): Cadrai depressa e vinta (0:44)
14. Aci, Galatea e Polifemo, HWV 72 (Reconstr. R. Pe & F. Longo): Non sempre, no, crudele (4:45)
CD2
1. Aci, Galatea e Polifemo, HWV 72 (Reconstr. R. Pe & F. Longo): Folle, quanto mi rido (0:32)
2. Aci, Galatea e Polifemo, HWV 72 (Reconstr. R. Pe & F. Longo): Dell'aquila l'artigli (3:31)
3. Aci, Galatea e Polifemo, HWV 72 (Reconstr. R. Pe & F. Longo): Meglio spiega i tuoi sensi (0:27)
4. Aci, Galatea e Polifemo, HWV 72 (Reconstr. R. Pe & F. Longo): Proverà lo sdegno mio (1:50)
5. Aci, Galatea e Polifemo, HWV 72 (Reconstr. R. Pe & F. Longo): Ingrata, se mi nieghi (0:36)
6. Aci, Galatea e Polifemo, HWV 72 (Reconstr. R. Pe & F. Longo): Fra l'ombre e gli orrori (5:47)
7. Aci, Galatea e Polifemo, HWV 72 (Reconstr. R. Pe & F. Longo): Ah, crude stelle (0:32)
8. Aci, Galatea e Polifemo, HWV 72 (Reconstr. R. Pe & F. Longo): Qui l'augel da pianta in pianta (8:40)
9. Aci, Galatea e Polifemo, HWV 72 (Reconstr. R. Pe & F. Longo): Giunsi alfin mio tesoro (0:31)
10. Aci, Galatea e Polifemo, HWV 72 (Reconstr. R. Pe & F. Longo): Se m'ami, o caro (4:26)
11. Aci, Galatea e Polifemo, HWV 72 (Reconstr. R. Pe & F. Longo): Qui sull'alto del monte (0:14)
12. Aci, Galatea e Polifemo, HWV 72 (Reconstr. R. Pe & F. Longo): Cara, sino i tormenti (0:30)
13. Aci, Galatea e Polifemo, HWV 72 (Reconstr. R. Pe & F. Longo): Delfin vivrà sul monte (2:06)
14. Aci, Galatea e Polifemo, HWV 72 (Reconstr. R. Pe & F. Longo): Oh Dei (0:06)
15. Aci, Galatea e Polifemo, HWV 72 (Reconstr. R. Pe & F. Longo): Verso già l'alma (4:43)
16. Aci, Galatea e Polifemo, HWV 72 (Reconstr. R. Pe & F. Longo): Misera, e dove sono? (0:58)
17. Aci, Galatea e Polifemo, HWV 72 (Reconstr. R. Pe & F. Longo): Del mar fra l'onde (2:14)
18. Aci, Galatea e Polifemo, HWV 72 (Reconstr. R. Pe & F. Longo): Ferma, ma già nel mare (3:00)
19. Aci, Galatea e Polifemo, HWV 72 (Reconstr. R. Pe & F. Longo): Chi ben ama ha per oggetti (1:12)
ANALYZER: auCDtect: CD records authenticity detector, version 0.8.2
Copyright © 2004 Oleg Berngardt. All rights reserved.
Copyright © 2004 Alexander Djourik. All rights reserved.


FILE: 01 - Aci, Galatea e Polifemo, HWV 72 (Reconstr. R. Pe & F. Longo)_ Folle, quanto mi rido.flac
Size: 2472049 Hash: CFD1BD72521A14B8D7748C204EDF8864 Accuracy: -m40
Conclusion: CDDA 100%
Signature: BA808A09182B235BFD4DCBBD03559A38018C85BE
FILE: 02 - Aci, Galatea e Polifemo, HWV 72 (Reconstr. R. Pe & F. Longo)_ Dell'aquila l'artigli.flac
Size: 18942247 Hash: 8B35C396F45A436165B2667912F0AD23 Accuracy: -m40
Conclusion: CDDA 100%
Signature: 8B56D0464986D66D57A55ADA4E6BD91CAB0A4FC9
FILE: 03 - Aci, Galatea e Polifemo, HWV 72 (Reconstr. R. Pe & F. Longo)_ Meglio spiega i tuoi sensi.flac
Size: 2302001 Hash: EC9E68EB7505C91FFA00DA37D06D2D38 Accuracy: -m40
Conclusion: CDDA 100%
Signature: 3DE63C13F29783C79F7667A12FF812853D808E6E
FILE: 04 - Aci, Galatea e Polifemo, HWV 72 (Reconstr. R. Pe & F. Longo)_ Proverà lo sdegno mio.flac
Size: 10037208 Hash: CBB9C908BFC24A92B7FA3035D695F944 Accuracy: -m40
Conclusion: CDDA 100%
Signature: CE7833D00A9EF3D0A4B5574568214F5EA3471ACE
FILE: 05 - Aci, Galatea e Polifemo, HWV 72 (Reconstr. R. Pe & F. Longo)_ Ingrata, se mi nieghi.flac
Size: 2611500 Hash: 8FBED0D197F91EEBB20E316D14AB1A5F Accuracy: -m40
Conclusion: CDDA 100%
Signature: 4482155E824AB8FB67A6523281B1464B75DFC640
FILE: 06 - Aci, Galatea e Polifemo, HWV 72 (Reconstr. R. Pe & F. Longo)_ Fra l'ombre e gli orrori.flac
Size: 22028779 Hash: F6535A76AA89BC797BA01A7647F949DA Accuracy: -m40
Conclusion: CDDA 99%
Signature: AAB9604ED48D3E902BAB1EE5221451122F64C43C
FILE: 07 - Aci, Galatea e Polifemo, HWV 72 (Reconstr. R. Pe & F. Longo)_ Ah, crude stelle.flac
Size: 2320960 Hash: 23B618A3F906049E9A6D61142CB1D488 Accuracy: -m40
Conclusion: CDDA 100%
Signature: 2BDC9E9B3EBBFC3A5CC5950B11A7F5BC6ECD6741
FILE: 08 - Aci, Galatea e Polifemo, HWV 72 (Reconstr. R. Pe & F. Longo)_ Qui l'augel da pianta in pianta.flac
Size: 38025579 Hash: E6BB939B6E1AB9FCA15A4F3307F8D3E7 Accuracy: -m40
Conclusion: CDDA 100%
Signature: A5B5C15357C6FFBCAD1781CF18B6D48F3F7A1A92
FILE: 09 - Aci, Galatea e Polifemo, HWV 72 (Reconstr. R. Pe & F. Longo)_ Giunsi alfin mio tesoro.flac
Size: 2474688 Hash: CE2D644B095E663601A67FA4398D90D1 Accuracy: -m40
Conclusion: CDDA 86%
Signature: EB00A3C10CF13A21FC765C5E25617613D68A1837
FILE: 10 - Aci, Galatea e Polifemo, HWV 72 (Reconstr. R. Pe & F. Longo)_ Se m'ami, o caro.flac
Size: 17912581 Hash: F14FE93B59AC1DABD23E4CE5457D19EC Accuracy: -m40
Conclusion: CDDA 85%
Signature: CEB9A441E0D2F458CD2EBD05239DE3F08416CA3A
FILE: 11 - Aci, Galatea e Polifemo, HWV 72 (Reconstr. R. Pe & F. Longo)_ Qui sull'alto del monte.flac
Size: 1092940 Hash: 90267B8326342821B3D5B3583E9F6CE4 Accuracy: -m40
Conclusion: MPEG 91%
Signature: E9139E47313C36C91E1AB2B8B483B2E7A6ED8202
FILE: 12 - Aci, Galatea e Polifemo, HWV 72 (Reconstr. R. Pe & F. Longo)_ Cara, sino i tormenti.flac
Size: 2517308 Hash: B11587CE1305C124739623B3CB512133 Accuracy: -m40
Conclusion: CDDA 100%
Signature: BB1C30AA2C30452D5ED7BB019B5732FAA7257807
FILE: 13 - Aci, Galatea e Polifemo, HWV 72 (Reconstr. R. Pe & F. Longo)_ Delfin vivrà sul monte.flac
Size: 10813309 Hash: 3EA166BE1C0698D61D4ED91F8B7FF01F Accuracy: -m40
Conclusion: CDDA 99%
Signature: DDE497E00B69073E69FE1CC034A73D04F4EAE169
FILE: 14 - Aci, Galatea e Polifemo, HWV 72 (Reconstr. R. Pe & F. Longo)_ Oh Dei.flac
Size: 592994 Hash: 59C0DE8292E5E94D519F70170C71D92E Accuracy: -m40
Conclusion: CDDA 76%
Signature: 5BAA5259E638A9B74278618F594DB35EFFF711D3
FILE: 15 - Aci, Galatea e Polifemo, HWV 72 (Reconstr. R. Pe & F. Longo)_ Verso già l'alma.flac
Size: 18215248 Hash: 79F8E53B2D210F10DFE34C9E0FEC45D1 Accuracy: -m40
Conclusion: ???
Signature: B36EBDA44A30046529642F05D6B90FE9F24518B4
FILE: 16 - Aci, Galatea e Polifemo, HWV 72 (Reconstr. R. Pe & F. Longo)_ Misera, e dove sono_.flac
Size: 4208448 Hash: AA28ADE140F875AC8793942580F37206 Accuracy: -m40
Conclusion: CDDA 99%
Signature: FC46948F9131D55A5C9F01A5C20E7B09A97EE6DD
FILE: 17 - Aci, Galatea e Polifemo, HWV 72 (Reconstr. R. Pe & F. Longo)_ Del mar fra l'onde.flac
Size: 11987683 Hash: 924EE8AC85BBEDC67716D74BFF900F2A Accuracy: -m40
Conclusion: CDDA 99%
Signature: 85D2EBDE1FB90C9D8731FAA84285ED972A7B6C1C
FILE: 18 - Aci, Galatea e Polifemo, HWV 72 (Reconstr. R. Pe & F. Longo)_ Ferma, ma già nel mare.flac
Size: 12736233 Hash: 1990BBED0BB71282401A53BFD49C5A1F Accuracy: -m40
Conclusion: CDDA 92%
Signature: 438E9AEA52A4CAE5586D63C2498742D7E9606E60
FILE: 19 - Aci, Galatea e Polifemo, HWV 72 (Reconstr. R. Pe & F. Longo)_ Chi ben ama ha per oggetti.flac
Size: 6423270 Hash: 95829C20B27EC1FFFAA0C203BD7663F4 Accuracy: -m40
Conclusion: CDDA 100%
Signature: 4ADCA7F69ADF508D023A0BD85ECA9A99558EB23A
FILE: 01 - Aci, Galatea e Polifemo, HWV 72 (Reconstr. R. Pe & F. Longo)_ Ouverture.flac
Size: 21876415 Hash: BBEE1229E4F3256B874AEDD8BAA10A19 Accuracy: -m40
Conclusion: CDDA 99%
Signature: EB436786B5E1918917F652716B852CE91B2EB1F5
FILE: 02 - Aci, Galatea e Polifemo, HWV 72 (Reconstr. R. Pe & F. Longo)_ Mi palpita il cor.flac
Size: 11600414 Hash: 9102B0756817D83913EA90628EC1D636 Accuracy: -m40
Conclusion: CDDA 100%
Signature: D4C9AE8D15B3D932B466C10562C3FB2CC9A4208D
FILE: 03 - Aci, Galatea e Polifemo, HWV 72 (Reconstr. R. Pe & F. Longo)_ Affano tiranno.flac
Size: 24282731 Hash: 79E9A79AE19A821CCBEC6AA94040A249 Accuracy: -m40
Conclusion: CDDA 100%
Signature: 5CB9569FF1B2DD2FC19FC2F6E047B6711AF8496F
FILE: 04 - Aci, Galatea e Polifemo, HWV 72 (Reconstr. R. Pe & F. Longo)_ Sorge il dì.flac
Size: 19724878 Hash: A7A5D74095EABD3A18D5E79D003B37C4 Accuracy: -m40
Conclusion: CDDA 100%
Signature: 6DDC13EAD93CD5465D47F976C2A1E2F8BB8586EE
FILE: 05 - Aci, Galatea e Polifemo, HWV 72 (Reconstr. R. Pe & F. Longo)_ Vanti, o cara.flac
Size: 3841369 Hash: 6BF4652100E67D32EE85CF7A9B467504 Accuracy: -m40
Conclusion: CDDA 100%
Signature: 8E237E75915E3953484DBE30F6CFDC20546F6A4B
FILE: 06 - Aci, Galatea e Polifemo, HWV 72 (Reconstr. R. Pe & F. Longo)_ Lontan da te.flac
Size: 19088698 Hash: 08214E4EB61C9E8E730AEDA73B10B4BA Accuracy: -m40
Conclusion: CDDA 100%
Signature: 40A444301B25BF2DCBC61461FE57A3D88E9BAC56
FILE: 07 - Aci, Galatea e Polifemo, HWV 72 (Reconstr. R. Pe & F. Longo)_ Se di perle un tesoro.flac
Size: 2178985 Hash: BEC912A02064285D6B9409D8653C3652 Accuracy: -m40
Conclusion: CDDA 100%
Signature: 0F7972E081987B71EC6B94FBC4BA53DC51F98669
FILE: 08 - Aci, Galatea e Polifemo, HWV 72 (Reconstr. R. Pe & F. Longo)_ Sforzano a piangere.flac
Size: 30368264 Hash: 715FB76D5CC7E6D5488CCF7FED00A11B Accuracy: -m40
Conclusion: CDDA 58%
Signature: E7F3FB7F10A4951FB2F3BFCD19A21EF83CD46385
FILE: 09 - Aci, Galatea e Polifemo, HWV 72 (Reconstr. R. Pe & F. Longo)_ Ma qual orrido suono.flac
Size: 11495139 Hash: 7AEDF7DCFD940C29CD121C315F5EDD8B Accuracy: -m40
Conclusion: CDDA 100%
Signature: B1FDA67D036E1A8F7B7E3739A0CDA2CB83473E6D
FILE: 10 - Aci, Galatea e Polifemo, HWV 72 (Reconstr. R. Pe & F. Longo)_ Ferito son d'amore.flac
Size: 17767034 Hash: B5453AA061B96788CF5525E57E466AE9 Accuracy: -m40
Conclusion: CDDA 100%
Signature: 9FD29B04BA7BB4156623AFC311FF16C4601D688A
FILE: 11 - Aci, Galatea e Polifemo, HWV 72 (Reconstr. R. Pe & F. Longo)_ Deh lascia, o Polifemo.flac
Size: 4590011 Hash: AE631C60301CCAC79127F36D5F65F15C Accuracy: -m40
Conclusion: CDDA 99%
Signature: 1BAA87DB56DD59F45992B386B7CE26724C265E41
FILE: 12 - Aci, Galatea e Polifemo, HWV 72 (Reconstr. R. Pe & F. Longo)_ Benché tuoni.flac
Size: 12612979 Hash: D8F94C32587492F24028921D7538842B Accuracy: -m40
Conclusion: CDDA 100%
Signature: C78BA6CEC9E8920731A957017DC24EE2475DEB1F
FILE: 13 - Aci, Galatea e Polifemo, HWV 72 (Reconstr. R. Pe & F. Longo)_ Cadrai depressa e vinta.flac
Size: 3306961 Hash: A072469189D2DA063BE31205500A14C9 Accuracy: -m40
Conclusion: CDDA 100%
Signature: DD0C4887A34F7C8EC71CFE972D874F641E0C393D
FILE: 14 - Aci, Galatea e Polifemo, HWV 72 (Reconstr. R. Pe & F. Longo)_ Non sempre, no, crudele.flac
Size: 19643058 Hash: 748C1FD84E7CEEF59C17ACCF3E14AF4C Accuracy: -m40
Conclusion: CDDA 100%
Signature: F8E3C19FC94B7AD84F9AE8EFB5F7D2928C749D5B