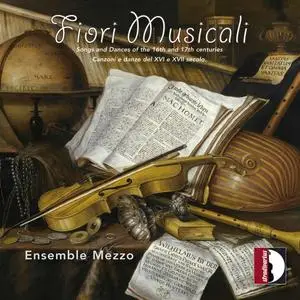 Ensemble Mezzo & Ye'ela Avital - Fiori musicali: Songs & Dances of the 16th & 17th Centuries (2021)
FLAC tracks / MP3 320 kbps | 58:10 | 285 / 133 Mb
Genre: Classical / Label: Stradivarius
This album includes a carefully curated selection of Renaissance and early Baroque gems. Lightly skirting the fluid boundaries between high art music and folk music in early modern Europe, much of the vocal music presented here demonstrates the grace and charm with which even the most erudite and famed composers applied their craft to popular song and dance. The instrumental music further reiterates the centrality of dance music in the 16th and 17th centuries, whether explicitly or as a rhythmic and formal underpinning. Above all, while skillfully composed by master musicians, the music is infused by musical cultures existing beyond the Church and court. At first glance unrelated, but a more discerning gaze will uncover the fine thread of cultural exchange between high art music and popular musical traditions running throughout the album.