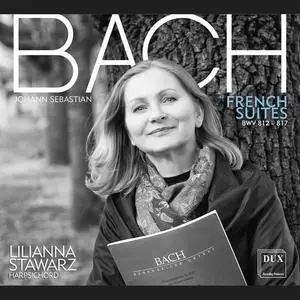 Lilianna Stawarz - J.S. Bach: French Suites Nos. 1-6, BWVV 812-817 (2021)
FLAC tracks / MP3 320 kbps | 1:47:07 | 246 / 632 Mb
Genre: Classical / Label: DUX
Liliana Stawarz presents a program of Bach's French Suites. Liliana graduated in 1988 from the Fryderyk Chopin Academy of Music in Warsaw (the harpsichord class of Wladyslaw Klosiewicz). Two years later she gained a diploma from the Conservatoire à Rayonnement Régional de Rueil-Malmaison, where she studied with Huguette Dreyfus.
In 2012–2016 she served as Deputy Dean of the Department of Instrumental Studies and Musical Education and as a coordinator of the Concert Bureau at the Bialystok branch of the Fryderyk Chopin University of Music in Warsaw. She is currently a Professor at the Fryderyk Chopin University of Music and Head of its Interdepartmental Faculty of Early Music. For twenty years she was a member of the Il Tempo Early Music Ensemble which focused on instrumental and vocal-instrumental music from early Baroque to the Classical period.
She made numerous recordings for radio, recorded five albums and participated in prestigious early music festivals with Il Tempo, in Poland and abroad (Bruges, Brussels, Utrecht, Moscow, New York, New Brunswick, Rome, Berlin). In 2018 she received the Fryderyk Award of the Polish recording industry in the category "Album of the Year – Early Music" for a live recording of Antonio Caldara's oratorio Maddalena ai piedi di Cristo, released by Polish Radio.
Track List:
CD1
01. French Suite No. 1 in D Minor, BWV 812: I. Allemande
02. French Suite No. 1 in D Minor, BWV 812: II. Courante
03. French Suite No. 1 in D Minor, BWV 812: III. Sarabande
04. French Suite No. 1 in D Minor, BWV 812: IV. Menuet I
05. French Suite No. 1 in D Minor, BWV 812: V. Menuet II
06. French Suite No. 1 in D Minor, BWV 812: VI. Gigue
07. French Suite No. 2 in C Minor, BWV 813: I. Allemande
08. French Suite No. 2 in C Minor, BWV 813: II. Courante
09. French Suite No. 2 in C Minor, BWV 813: III. Sarabande
10. French Suite No. 2 in C Minor, BWV 813: IV. Air
11. French Suite No. 2 in C Minor, BWV 813: V. Menuet I
12. French Suite No. 2 in C Minor, BWV 813: VI. Menuet II
13. French Suite No. 2 in C Minor, BWV 813: VII. Gigue
14. French Suite No. 3 in B Minor, BWV 814: I. Allemande
15. French Suite No. 3 in B Minor, BWV 814: II. Courante
16. French Suite No. 3 in B Minor, BWV 814: III. Sarabande
17. French Suite No. 3 in B Minor, BWV 814: IV. Anglaise
18. French Suite No. 3 in B Minor, BWV 814: V. Menuet I
19. French Suite No. 3 in B Minor, BWV 814: VI. Menuet II
20. French Suite No. 3 in B Minor, BWV 814: V. Gigue
CD2
01. French Suite No. 4 in E-Flat Major, BWV 815: I. Allemande
02. French Suite No. 4 in E-Flat Major, BWV 815: II. Courante
03. French Suite No. 4 in E-Flat Major, BWV 815: III. Sarabande
04. French Suite No. 4 in E-Flat Major, BWV 815: IV. Gavotte
05. French Suite No. 4 in E-Flat Major, BWV 815: V. Air
06. French Suite No. 4 in E-Flat Major, BWV 815: VI. Menuet
07. French Suite No. 4 in E-Flat Major, BWV 815: VII. Gigue
08. French Suite No. 5 in G Major, BWV 816: I. Allemande
09. French Suite No. 5 in G Major, BWV 816: II. Courante
10. French Suite No. 5 in G Major, BWV 816: III. Sarabande
11. French Suite No. 5 in G Major, BWV 816: IV. Gavotte
12. French Suite No. 5 in G Major, BWV 816: V. Bourrée
13. French Suite No. 5 in G Major, BWV 816: VI. Loure
14. French Suite No. 5 in G Major, BWV 816: VII. Gigue
15. French Suite No. 6 in E Major, BWV 817: Ia. Prelude
16. French Suite No. 6 in E Major, BWV 817: Ib. Allemande
17. French Suite No. 6 in E Major, BWV 817: II. Courante
18. French Suite No. 6 in E Major, BWV 817: III. Sarabande
19. French Suite No. 6 in E Major, BWV 817: IV. Gavotte
20. French Suite No. 6 in E Major, BWV 817: Va. Menuet polonais
21. French Suite No. 6 in E Major, BWV 817: VIII. Menuet
22. French Suite No. 6 in E Major, BWV 817: Vc. Menuet polonaise da capo
23. French Suite No. 6 in E Major, BWV 817: VI. Bourrée
24. French Suite No. 6 in E Major, BWV 817: VII. Gigue
ANALYZER: auCDtect: CD records authenticity detector, version 0.8.2
Copyright © 2004 Oleg Berngardt. All rights reserved.
Copyright © 2004 Alexander Djourik. All rights reserved.


FILE: 01 - French Suite No. 4 in E-Flat Major, BWV 815_ I. Allemande.flac
Size: 20460703 Hash: 6B08FB4DD39EF07DCA994A176D954924 Accuracy: -m40
Conclusion: CDDA 100%
Signature: C461679FC655983D529C706A9BB250A3B3D46C58
FILE: 02 - French Suite No. 4 in E-Flat Major, BWV 815_ II. Courante.flac
Size: 13748414 Hash: 761E8F0572473C7F04C50C4D2DAB6382 Accuracy: -m40
Conclusion: CDDA 100%
Signature: 7AB604B1917A1E9257F9EB0C37BF8E6B4528EB47
FILE: 03 - French Suite No. 4 in E-Flat Major, BWV 815_ III. Sarabande.flac
Size: 19479288 Hash: 3EE64EE49C5BBB6B887EE9B64D6AB6D9 Accuracy: -m40
Conclusion: CDDA 100%
Signature: 0ECD82765746E0D5D6361C53E4FCF3665B558F5C
FILE: 04 - French Suite No. 4 in E-Flat Major, BWV 815_ IV. Gavotte.flac
Size: 8767343 Hash: 2BB484A1958C451681F60D81C82C4111 Accuracy: -m40
Conclusion: CDDA 100%
Signature: 35C98ECC78BE841A3D1747F4AEA6581E2DDD6AE3
FILE: 05 - French Suite No. 4 in E-Flat Major, BWV 815_ V. Air.flac
Size: 11726258 Hash: DFB212BE0067AD06493F37C978C859E8 Accuracy: -m40
Conclusion: CDDA 99%
Signature: EB2E1B1E797C0542B47898B7BCB4F6098E435DC6
FILE: 06 - French Suite No. 4 in E-Flat Major, BWV 815_ VI. Menuet.flac
Size: 5191394 Hash: 96818D0BF8688E84447E88BF4D7C3096 Accuracy: -m40
Conclusion: CDDA 100%
Signature: 214B85DC10BF4793C3A8CEF0E1AA5A85DFBB887A
FILE: 07 - French Suite No. 4 in E-Flat Major, BWV 815_ VII. Gigue.flac
Size: 17073577 Hash: AEFA5AC9A433DFC40B1A4FBF56BE0C14 Accuracy: -m40
Conclusion: CDDA 100%
Signature: 57054362ECF6754D9F6A456336914B23A0132AC2
FILE: 08 - French Suite No. 5 in G Major, BWV 816_ I. Allemande.flac
Size: 23902776 Hash: 97B4C156DB38FC7B04F305EA898E821C Accuracy: -m40
Conclusion: CDDA 100%
Signature: EDBF862B662E606C61BEA66FFD5F14794D215C9F
FILE: 09 - French Suite No. 5 in G Major, BWV 816_ II. Courante.flac
Size: 12525159 Hash: DE639EB68B55A6989414521B983C9FE8 Accuracy: -m40
Conclusion: CDDA 100%
Signature: DBE76729253578F0DD98C041DF0942305B1DFA8F
FILE: 10 - French Suite No. 5 in G Major, BWV 816_ III. Sarabande.flac
Size: 27678052 Hash: 85FC8ACE3058CEF74A8AC5CAF076E42D Accuracy: -m40
Conclusion: CDDA 99%
Signature: 0BE057D936506582F148C5EF46181E796E3A283F
FILE: 11 - French Suite No. 5 in G Major, BWV 816_ IV. Gavotte.flac
Size: 7335835 Hash: 910B10CC62FD5DC4DE21C365EE110A65 Accuracy: -m40
Conclusion: CDDA 100%
Signature: 987289832DB79B0CDDDE0BB0C6F56DE587D9A040
FILE: 12 - French Suite No. 5 in G Major, BWV 816_ V. Bourrée.flac
Size: 8913036 Hash: 722DC1262B81C31C4465AED99367050B Accuracy: -m40
Conclusion: CDDA 100%
Signature: ED1C6C3238C01BEF1BF45E8E9F6C28498F5EBF44
FILE: 13 - French Suite No. 5 in G Major, BWV 816_ VI. Loure.flac
Size: 16318217 Hash: F0E34E962A27847FD9CC0B934C07CCBB Accuracy: -m40
Conclusion: CDDA 100%
Signature: 7FFFA0EEFF2F14595446B8EDADEE4DB89B319793
FILE: 14 - French Suite No. 5 in G Major, BWV 816_ VII. Gigue.flac
Size: 23329673 Hash: 34149836053E14B34077C78E285BD817 Accuracy: -m40
Conclusion: CDDA 100%
Signature: EF4E32853B720D893A63FC75B3F09BDE442A1B15
FILE: 15 - French Suite No. 6 in E Major, BWV 817_ Ia. Prelude.flac
Size: 9826216 Hash: C2234148BAE3722F92737EB94553A70D Accuracy: -m40
Conclusion: CDDA 100%
Signature: 12D32CC4D8C0A17A18152A04E795464A64FE11C0
FILE: 16 - French Suite No. 6 in E Major, BWV 817_ Ib. Allemande.flac
Size: 26021767 Hash: 601F2E8ED4220368882839CEE78826FB Accuracy: -m40
Conclusion: CDDA 100%
Signature: 44A72B44B64B4AA6187181E30531C1F229AA3F79
FILE: 17 - French Suite No. 6 in E Major, BWV 817_ II. Courante.flac
Size: 13748118 Hash: DE1D632B74F2612BA3829210E6ED544F Accuracy: -m40
Conclusion: CDDA 100%
Signature: DF0818E8E748916DA0A7B0EDD5CEEBD127477564
FILE: 18 - French Suite No. 6 in E Major, BWV 817_ III. Sarabande.flac
Size: 18388281 Hash: 780ED1A6F3FB7F41CDA9A33677FE487C Accuracy: -m40
Conclusion: CDDA 100%
Signature: B6CD1FC5E5E06C428A561BE362FCB6C4B73AE70B
FILE: 19 - French Suite No. 6 in E Major, BWV 817_ IV. Gavotte.flac
Size: 8404336 Hash: 87B623FAEB8056FEBD7830CDB1D99004 Accuracy: -m40
Conclusion: CDDA 99%
Signature: FDD95AA947922B5E04009C36D425BDC7F952BD7F
FILE: 20 - French Suite No. 6 in E Major, BWV 817_ Va. Menuet polonais.flac
Size: 9953565 Hash: DDCE7CF7164595353C30015EA1A8D901 Accuracy: -m40
Conclusion: CDDA 100%
Signature: FFFFBD0FBA1CA16D8A7E2E985EA511B1A67CD6D9
FILE: 21 - French Suite No. 6 in E Major, BWV 817_ VIII. Menuet.flac
Size: 7572697 Hash: 2F8C40EEE11CC6D0BEAB7099E08F8EC8 Accuracy: -m40
Conclusion: CDDA 100%
Signature: C97B6E6C5A28623E7DD63773DD38999B53B39F89
FILE: 22 - French Suite No. 6 in E Major, BWV 817_ Vc. Menuet polonaise da capo.flac
Size: 5128678 Hash: 3DE3D3BF2C390DE2EF593D07FB9FE701 Accuracy: -m40
Conclusion: CDDA 100%
Signature: EE7DCCD79173BDDD1C8028E3209F7499B9522D4D
FILE: 23 - French Suite No. 6 in E Major, BWV 817_ VI. Bourrée.flac
Size: 11016372 Hash: 08E324C3D910CBEEE2C976BF12316D82 Accuracy: -m40
Conclusion: CDDA 100%
Signature: 3D4D017C63561DE14F760324B458018C44458A33
FILE: 24 - French Suite No. 6 in E Major, BWV 817_ VII. Gigue.flac
Size: 17518142 Hash: 8FAE60DB51CB6EF0577F77B52689EF1F Accuracy: -m40
Conclusion: CDDA 100%
Signature: 3EE531CF54F34B2EB1CB4634F23936BE77138BA3
FILE: 01 - French Suite No. 1 in D Minor, BWV 812_ I. Allemande.flac
Size: 24756389 Hash: 46F16E45E496528920E406A275D0310B Accuracy: -m40
Conclusion: CDDA 100%
Signature: 393FD56BC1B0908490E9C357D14C8474B8380E3B
FILE: 02 - French Suite No. 1 in D Minor, BWV 812_ II. Courante.flac
Size: 13965352 Hash: EFC0411C4F411E13C93492B7FE1D91C4 Accuracy: -m40
Conclusion: CDDA 100%
Signature: ECDC4A19D3E40D5ECA1BC24F97C787A086D3FC39
FILE: 03 - French Suite No. 1 in D Minor, BWV 812_ III. Sarabande.flac
Size: 19425703 Hash: 6102ADC29FFA63F530A6BD378F37046E Accuracy: -m40
Conclusion: CDDA 100%
Signature: 85F3DD78B86AC799F5DFB98C02923702A0ED8118
FILE: 04 - French Suite No. 1 in D Minor, BWV 812_ IV. Menuet I.flac
Size: 7518419 Hash: C309CF64963F78F9A435943DFE615093 Accuracy: -m40
Conclusion: CDDA 99%
Signature: 5023912BE5FAD58E104E5D2F801470F6DD8D2990
FILE: 05 - French Suite No. 1 in D Minor, BWV 812_ V. Menuet II.flac
Size: 12875720 Hash: 063087240AD4DE00E5C1F1EE41B9FDA5 Accuracy: -m40
Conclusion: CDDA 100%
Signature: EA0B5F8A6FF6D44956F56B2DFBF61824785EB036
FILE: 06 - French Suite No. 1 in D Minor, BWV 812_ VI. Gigue.flac
Size: 21794473 Hash: B120556C796373F1369BDF6A96E470C4 Accuracy: -m40
Conclusion: CDDA 100%
Signature: 5B7FEF7E9C0FFA7BEE7236A01A3994D75668C3C6
FILE: 07 - French Suite No. 2 in C Minor, BWV 813_ I. Allemande.flac
Size: 22308742 Hash: 971D402B59C09D4A881E37C3F61F98A4 Accuracy: -m40
Conclusion: CDDA 100%
Signature: 3858D4E35BE8E84D1A67FC7B6C08B3266E309931
FILE: 08 - French Suite No. 2 in C Minor, BWV 813_ II. Courante.flac
Size: 14042412 Hash: E85498D3C806F2890B9496FE080422E0 Accuracy: -m40
Conclusion: CDDA 100%
Signature: C997E49F995B7279A12B664535A746EA2F9A3F07
FILE: 09 - French Suite No. 2 in C Minor, BWV 813_ III. Sarabande.flac
Size: 23260753 Hash: 0353D1127F077190408F69FD1816E443 Accuracy: -m40
Conclusion: CDDA 99%
Signature: 639D0DAB4C8CC7F1AEAA1D9F27DC1E3A4168CD78
FILE: 10 - French Suite No. 2 in C Minor, BWV 813_ IV. Air.flac
Size: 10754846 Hash: BD3F401251D5A6DAD120F5BFA720B971 Accuracy: -m40
Conclusion: CDDA 100%
Signature: 2F3DA6E65C0201994E287E82D36D365ECE210552
FILE: 11 - French Suite No. 2 in C Minor, BWV 813_ V. Menuet I.flac
Size: 9647141 Hash: 62C4A65BAF77381C0D38DFC5E9323428 Accuracy: -m40
Conclusion: CDDA 100%
Signature: 59AB438CEE2FC16113387E91CBC0C581777BA71F
FILE: 12 - French Suite No. 2 in C Minor, BWV 813_ VI. Menuet II.flac
Size: 12517272 Hash: 3348E3872D657938DCFB870CB3C850FA Accuracy: -m40
Conclusion: CDDA 99%
Signature: 2210431A7CB9F7578BB66163FE13B9A54819D602
FILE: 13 - French Suite No. 2 in C Minor, BWV 813_ VII. Gigue.flac
Size: 15612570 Hash: 8E30E10DBEA3E263A78B295B412A8C71 Accuracy: -m40
Conclusion: CDDA 100%
Signature: 3B266E78DE8E428CA64E112848AAA2EA88AEF614
FILE: 14 - French Suite No. 3 in B Minor, BWV 814_ I. Allemande.flac
Size: 25589200 Hash: 2954B8C319F5A1D314362DEB9D63D10A Accuracy: -m40
Conclusion: CDDA 99%
Signature: B2DB620D0CDA62B31F0B911D880622B8F38E42A7
FILE: 15 - French Suite No. 3 in B Minor, BWV 814_ II. Courante.flac
Size: 15327299 Hash: 2E625AABB917C21778D811388264A905 Accuracy: -m40
Conclusion: CDDA 100%
Signature: E4CCA92C05FFFF47FC5697E129135282F8F30640
FILE: 16 - French Suite No. 3 in B Minor, BWV 814_ III. Sarabande.flac
Size: 23012746 Hash: EFC489EE6508E053B6964550534D0DAE Accuracy: -m40
Conclusion: CDDA 100%
Signature: 22DA8BADFA35786342E5B799A21662AC61BADB27
FILE: 17 - French Suite No. 3 in B Minor, BWV 814_ IV. Anglaise.flac
Size: 11010586 Hash: A612E777A6152F8718C8B9B9CC4643FE Accuracy: -m40
Conclusion: CDDA 100%
Signature: 37DFBF8A928521EF70B819AE3324C9EE67F868B8
FILE: 18 - French Suite No. 3 in B Minor, BWV 814_ V. Menuet I.flac
Size: 9501029 Hash: 7AD06D59B767E41E3F7CC0D11CAA09E7 Accuracy: -m40
Conclusion: CDDA 100%
Signature: B8C8C14A21D164E0B8897FA8A38E41161264F430
FILE: 19 - French Suite No. 3 in B Minor, BWV 814_ VI. Menuet II.flac
Size: 11814244 Hash: 3967F15969997EBBA430C5D7F08C7A77 Accuracy: -m40
Conclusion: CDDA 99%
Signature: 6827634B0A32951BBE368D0CED905DC0CFAB60E5
FILE: 20 - French Suite No. 3 in B Minor, BWV 814_ V. Gigue.flac
Size: 15243692 Hash: 83E3497AD35CAF303C067C81F485E1B6 Accuracy: -m40
Conclusion: CDDA 100%
Signature: 1A6BC10BB5299E3C5C5178864D7B1E8599D8A5E4