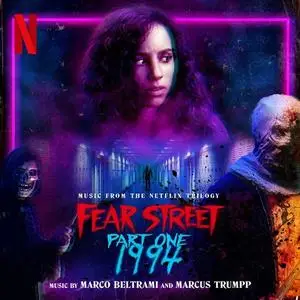 Marco Beltrami - Fear Street Part One: 1994 (Music from the Netflix Trilogy) (2021)
FLAC tracks / MP3 320 kbps | 45:02 | 229 / 103 Mb
Genre: Soundtrack / Label: Milan
Fear Street Part One: 1994 is a 2021 American slasher film directed by Leigh Janiak, with a script co-written by Phil Graziadei and Janiak, from an original story by Kyle Killen, Graziadei, and Janiak. Based on the book series of the same name by R. L. Stine, the film was released by Netflix on July 2, 2021 as the first installment in the Fear Street Trilogy. It received generally positive reviews from critics.Marco Beltrami (born October 7, 1966) is an American composer and conductor of film and television scores. He has worked in a number of genres, including horror (Scream, Mimic, The Faculty, Resident Evil, The Woman in Black, A Quiet Place), action (Terminator 3: Rise of the Machines, Live Free or Die Hard, World War Z), science-fiction (I, Robot, Snowpiercer), Western (3:10 to Yuma, Jonah Hex, The Homesman), and superhero (Hellboy, The Wolverine, Logan).
Track List:
01. Marco Beltrami - Mall Massacre (03:53)
02. Marco Beltrami - Main Titles (02:07)
03. Marco Beltrami - Morning in Shadyside (02:00)
04. Marco Beltrami - Candlelight Vigil (03:16)
05. Marco Beltrami - Stop the Bus (01:36)
06. Marco Beltrami - Goode in the Woods (01:50)
07. Marco Beltrami - Some Creeper (01:58)
08. Marco Beltrami - Skullmask (02:46)
09. Marco Beltrami - Sheriff Goode (02:45)
10. Marco Beltrami - Reminder of Us (03:41)
11. Marco Beltrami - Bathroom Blowout (02:31)
12. Marco Beltrami - Sam Bait (02:27)
13. Marco Beltrami - Berman is the Key (02:29)
14. Marco Beltrami - Market Massacre (06:26)
15. Marco Beltrami - Bring Her Back (02:11)
16. Marco Beltrami - See You Tonight (01:32)
17. Marco Beltrami - Sam Attack (01:25)
ANALYZER: auCDtect: CD records authenticity detector, version 0.8.2
Copyright © 2004 Oleg Berngardt. All rights reserved.
Copyright © 2004 Alexander Djourik. All rights reserved.


FILE: 01 - Mall Massacre.flac
Size: 19486049 Hash: 0ADA3E3563048FBF33459FCFD922AFB8 Accuracy: -m40
Conclusion: CDDA 100%
Signature: EC3B4E185200AD147D8649C7EBCC7FBF0FEC6660
FILE: 02 - Main Titles.flac
Size: 14650159 Hash: D8B4A013ACC786B0170CDB6F11D9E884 Accuracy: -m40
Conclusion: CDDA 100%
Signature: 178F62CC22AE1820F8C05B060E2D8A42E4BA5E3B
FILE: 03 - Morning in Shadyside.flac
Size: 9195699 Hash: 9D0FAD4E71C72056327FBB2032535D4E Accuracy: -m40
Conclusion: CDDA 100%
Signature: CA7EB90D01F5D7D3C5C47BB49BF642AEAF34CE9A
FILE: 04 - Candlelight Vigil.flac
Size: 16321280 Hash: FC4BDE91ECE1AFA76FDB2F87F63D6BF1 Accuracy: -m40
Conclusion: CDDA 100%
Signature: D9B1656D3BC1C9D2DF48AAF39B1C61248A891A0B
FILE: 05 - Stop the Bus.flac
Size: 9237689 Hash: 408EFFF7B255C7574B85F43C43E70A85 Accuracy: -m40
Conclusion: CDDA 99%
Signature: E6597DEE4C75FD5B41611F18953116B832D9215D
FILE: 06 - Goode in the Woods.flac
Size: 8455252 Hash: AC36F7DAF569FC1178E515BF3A2F7431 Accuracy: -m40
Conclusion: CDDA 100%
Signature: 20F427492A6DDA481592CA376C70D9A8BE8A44E7
FILE: 07 - Some Creeper.flac
Size: 9507094 Hash: 677A9ED962F4C3A710F25C9DB4111AD3 Accuracy: -m40
Conclusion: CDDA 100%
Signature: D49A60CE907EB52C2FB20FEDFA2EC69D0A712E1C
FILE: 08 - Skullmask.flac
Size: 15486238 Hash: 0F4AD98A51E60ECF333B926599561C4F Accuracy: -m40
Conclusion: CDDA 99%
Signature: 2EF4BC711D3DA42339B478FF479D10C3B76DCB80
FILE: 09 - Sheriff Goode.flac
Size: 12420365 Hash: 9D40A5D98DEC44B888DB71EF99F9E325 Accuracy: -m40
Conclusion: CDDA 99%
Signature: ADF7AC24344D3B9A3BE1C608F32271A51CE71212
FILE: 10 - Reminder of Us.flac
Size: 17250075 Hash: 50B03CB0ECFA83ED194BFC942987794B Accuracy: -m40
Conclusion: CDDA 100%
Signature: 37E1D853716A8BABFA70D5C8D97F45CAF911E85F
FILE: 11 - Bathroom Blowout.flac
Size: 14659803 Hash: 50D4B3F7A88ABDEA2FC837A9B1E72E18 Accuracy: -m40
Conclusion: CDDA 100%
Signature: E7CBD187A363CC87FF567E890728A15CE39A4C08
FILE: 12 - Sam Bait.flac
Size: 13082210 Hash: 8025AE4E187F98A70CD57BFB6B4E5E3D Accuracy: -m40
Conclusion: CDDA 100%
Signature: 6431DD8F00ECC4BC96F3326284883F4705204ECE
FILE: 13 - Berman is the Key.flac
Size: 16099168 Hash: DDD21B0C3E78ADAFF2E52D3164E5295F Accuracy: -m40
Conclusion: CDDA 100%
Signature: A2D63D34A3B595D4BD02710CC13B858CB9145184
FILE: 14 - Market Massacre.flac
Size: 36536257 Hash: D3B7A6581324D562C2B8B723BCAEE7BF Accuracy: -m40
Conclusion: CDDA 100%
Signature: 98197CBD746984A73FECA5C49CA962DBB912796D
FILE: 15 - Bring Her Back.flac
Size: 11996479 Hash: 63D2720F8CF476B2124F1647CFA97269 Accuracy: -m40
Conclusion: CDDA 99%
Signature: 7A110816B86AAF502C990560064E4087B1106EEA
FILE: 16 - See You Tonight.flac
Size: 8090984 Hash: 8624C2FCAC7BEC5A86C1650ABC6F4016 Accuracy: -m40
Conclusion: CDDA 99%
Signature: DBFBB64DCE80B578E3E01790FCDC87D6E6718002
FILE: 17 - Sam Attack.flac
Size: 8722837 Hash: 6E48536BC6078986F521FA00207DA63D Accuracy: -m40
Conclusion: CDDA 100%
Signature: A2B90E92FDC7D949294C517BCCF37D22D22AC52D