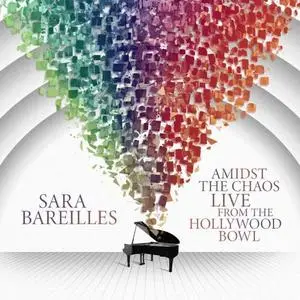 Sara Bareilles - Amidst the Chaos: Live from the Hollywood Bowl (2021)
FLAC tracks / MP3 320 kbps | 01:49:28 | 695 / 259 Mb
Genre: Pop, Singer-Songwriter / Label: Epic
Sara Bareilles' singer-songwriter and acting sides both get a workout this month. On May 6, she debuts on Peacock's "Girls5eva," a Tina Fey-executive-produced comedy about a late-'90s girl group whose 40-something members reunite after their ancient hit gets sampled in a hip-hop song. And she's back on more familiar show business turf — albeit what was at the time a new headlining venue for her — on the album "Amidst the Chaos: Live at the Hollywood Bowl," out May 21.
Track List:
1. Orpheus / Fire (Live from the Hollywood Bowl) (6:13)
2. Poetry by Dead Men (Live from the Hollywood Bowl) (5:32)
3. Eyes on You (Live from the Hollywood Bowl) (4:05)
4. I Choose You (Live from the Hollywood Bowl) (6:06)
5. Love Song (Live from the Hollywood Bowl) (6:54)
6. Armor (Live from the Hollywood Bowl) (5:24)
7. If I Can't Have You (feat. Emily King) (Live from the Hollywood Bowl) (6:02)
8. Miss Simone (Live from the Hollywood Bowl) (5:32)
9. Someone Who Loves Me (feat. The Milk Carton Kids) (Live from the Hollywood Bowl) (3:54)
10. A Safe Place to Land (Live from the Hollywood Bowl) (3:47)
11. You Matter To Me (feat. Solomon Dorsey) (Live from the Hollywood Bowl) (3:07)
12. Bad Idea (feat. Butterfly Boucher) (Live from the Hollywood Bowl) (3:18)
13. She Used To Be Mine (Live from the Hollywood Bowl) (5:16)
14. Uncharted (Live from the Hollywood Bowl) (3:55)
15. No Such Thing / Satellite Call (Live from the Hollywood Bowl) (7:15)
16. Let The Rain (Live from the Hollywood Bowl) (3:42)
17. King of Anything (Live from the Hollywood Bowl) (7:46)
18. Brave (Live from the Hollywood Bowl) (4:20)
19. Orpheus (feat. T Bone Burnett) (Live from the Hollywood Bowl) (4:50)
20. Gravity (feat. Rob Moose) (Live from the Hollywood Bowl) (7:09)
21. Saint Honesty (Live from the Hollywood Bowl) (5:29)
ANALYZER: auCDtect: CD records authenticity detector, version 0.8.2
Copyright © 2004 Oleg Berngardt. All rights reserved.
Copyright © 2004 Alexander Djourik. All rights reserved.


FILE: 01. Sara Bareilles - Orpheus - Fire (Live from the Hollywood Bowl).flac
Size: 40467379 Hash: 6162A498C0BF186D5117581C547EB3F7 Accuracy: -m40
Conclusion: CDDA 100%
Signature: 5D6156E878CF9D8EBBE226C0DCD3F31B430B9229
FILE: 02. Sara Bareilles - Poetry by Dead Men (Live from the Hollywood Bowl).flac
Size: 38408967 Hash: 1465A9FF7E56BB0AC1D5A4C895F7491B Accuracy: -m40
Conclusion: CDDA 99%
Signature: D779F1F4CC1C56A184338BE23B68E8087734A4A3
FILE: 03. Sara Bareilles - Eyes on You (Live from the Hollywood Bowl).flac
Size: 31070960 Hash: 627328BC515F6BBD3E778633C7F2DD0A Accuracy: -m40
Conclusion: CDDA 100%
Signature: C436D7215BDA6980558FB2EB919673BAB0CD6334
FILE: 04. Sara Bareilles - I Choose You (Live from the Hollywood Bowl).flac
Size: 41033248 Hash: 76AFF7F430C693B5329DBD573C9F3A53 Accuracy: -m40
Conclusion: CDDA 100%
Signature: 0867234F42118D2B8CC95305699AD78B0AA4B87C
FILE: 05. Sara Bareilles - Love Song (Live from the Hollywood Bowl).flac
Size: 48299166 Hash: 762BCEE484A798A5728B5129958B65C3 Accuracy: -m40
Conclusion: CDDA 100%
Signature: 2E837B78F59BA90EC630434E5EDFB76EB041B636
FILE: 06. Sara Bareilles - Armor (Live from the Hollywood Bowl).flac
Size: 38560378 Hash: 92A57DA46C2B929B27B8685F4C2E55A8 Accuracy: -m40
Conclusion: CDDA 100%
Signature: E1DFFBB84C74912BDA90CE466E37AB080A116405
FILE: 07. Sara Bareilles - If I Can't Have You (Live from the Hollywood Bowl).flac
Size: 41647380 Hash: 170804E385BBC27887852534191E4211 Accuracy: -m40
Conclusion: CDDA 100%
Signature: AB0EC7BE23D0DEA010564916F9A9CF618B45E444
FILE: 08. Sara Bareilles - Miss Simone (Live from the Hollywood Bowl).flac
Size: 34522078 Hash: F01B752FCED6DDD106AD5D9374F981C8 Accuracy: -m40
Conclusion: CDDA 100%
Signature: F05E9017CC9CDE81B99B8D7526D03B1B6B096866
FILE: 09. Sara Bareilles - Someone Who Loves Me (Live from the Hollywood Bowl).flac
Size: 22590218 Hash: 631761F4508FEB69E4F203692A86573F Accuracy: -m40
Conclusion: ???
Signature: 34CF595A8D5BD61C761E691225C03E1F5657BB2B
FILE: 10. Sara Bareilles - A Safe Place to Land (Live from the Hollywood Bowl).flac
Size: 22893775 Hash: 0AD47858DD779CAFE8DDBA31B8100442 Accuracy: -m40
Conclusion: MPEG 95%
Signature: 999DD00DC81B7241876F6C11356CA00B5D5DAD06
FILE: 11. Sara Bareilles - You Matter To Me (Live from the Hollywood Bowl).flac
Size: 19966886 Hash: 1A75C53ED89447310AD6D83B33EA55A2 Accuracy: -m40
Conclusion: CDDA 100%
Signature: 1B83DDA1AAD830A29E33CDEB0551E1DA0357C997
FILE: 12. Sara Bareilles - Bad Idea (Live from the Hollywood Bowl).flac
Size: 24490760 Hash: 0AA10EC8B094445FDD7FA611CE47B837 Accuracy: -m40
Conclusion: CDDA 100%
Signature: 50617724F80D009F385C8E996133B5A0183E03C4
FILE: 13. Sara Bareilles - She Used To Be Mine (Live from the Hollywood Bowl).flac
Size: 30349615 Hash: AEC6981205C518501342C94B9E3A296C Accuracy: -m40
Conclusion: CDDA 100%
Signature: 36E1EF7E3B0A6D06213B82A37F4BEB284EA0B0A8
FILE: 14. Sara Bareilles - Uncharted (Live from the Hollywood Bowl).flac
Size: 23528525 Hash: 77220E54958B173346874DC2000BCECD Accuracy: -m40
Conclusion: CDDA 100%
Signature: DE6F4C22152BF142E9778690CCED2CC8B55BB128
FILE: 15. Sara Bareilles - No Such Thing - Satellite Call (Live from the Hollywood Bowl).flac
Size: 47319648 Hash: 2A767E05577607C672B8444A32FD5D12 Accuracy: -m40
Conclusion: CDDA 100%
Signature: 88939E92C35189A7ACAE181F837D75503207B4BC
FILE: 16. Sara Bareilles - Let The Rain (Live from the Hollywood Bowl).flac
Size: 28255342 Hash: 3431C5F2869ECB77ABDA0629BAD9BF79 Accuracy: -m40
Conclusion: CDDA 100%
Signature: 7995CE08827F0643CAD3F47DB5E24F5F2D555622
FILE: 17. Sara Bareilles - King of Anything (Live from the Hollywood Bowl).flac
Size: 50515319 Hash: B6EE924510160847892809E1CE5A4F0B Accuracy: -m40
Conclusion: CDDA 100%
Signature: 2747ABA7FECAB293723A19B65D3C6B54B17BE01B
FILE: 18. Sara Bareilles - Brave (Live from the Hollywood Bowl).flac
Size: 31521596 Hash: E724008AA60DE2CCB564A4F12E01E900 Accuracy: -m40
Conclusion: CDDA 100%
Signature: 43C1406ACAEED8DD04FB7D446C4F1AFF9D56776C
FILE: 19. Sara Bareilles - Orpheus (Live from the Hollywood Bowl).flac
Size: 33442534 Hash: 07D62C82294FB29931D55F37156C2B5E Accuracy: -m40
Conclusion: CDDA 100%
Signature: FB6AF51B38873749C7E9BDA857B0BA735E0BA554
FILE: 20. Sara Bareilles - Gravity (Live from the Hollywood Bowl).flac
Size: 47609304 Hash: 752E0AB56A10A3297D27AE916F7E3765 Accuracy: -m40
Conclusion: CDDA 100%
Signature: 1E40AECE5055AD7B7AA11B4739FBC8D1E2EB9B8F
FILE: 21. Sara Bareilles - Saint Honesty (Live from the Hollywood Bowl).flac
Size: 32786574 Hash: A56E012C3F284BADBD7D5C9A9FAFEC46 Accuracy: -m40
Conclusion: CDDA 100%
Signature: 4AA21FC2AF2F61816E7881954F294C28AA8D85CF