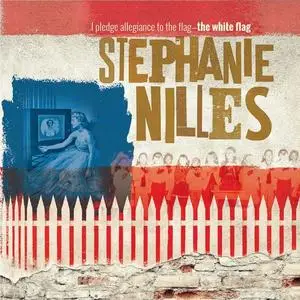 Stephanie Nilles - I Pledge Allegiance to The Flag - The White Flag (2021)
FLAC tracks / MP3 320 kbps | 1:14:32 | 171 / 258 Mb
Genre: Jazz / Label: Sunnyside
Among the many issues that still plague the United States is its seemingly unending betrayal of its Black population. Though the struggle against prejudice in the States continues, the complexion of its fighters continues to change, as broader swathes of the American public begin to pick up the mantle of racial justice and equality for all.The voices of African American militants continue to ring in the vanguard's ears. One such musical example is the late, great bassist/composer Charles Mingus, whose music was vehemently charged with indignation concerning the rights of the downtrodden. His messages, both outright and nuanced, are touchstones for many musicians who choose to address these issues, including singer-songwriter/pianist Stephanie Nilles, who interprets Mingus's canon on her new recording, I pledge allegiance to the flag – the white flag.
Track List:
1. Fables of Faubus (13:11)
2. East Coasting (4:09)
3. Oh Lord Don't Let Them Drop That Atomic Bomb On Me (5:06)
4. O.P. (3:42)
5. Goodbye Pork Pie Hat (7:05)
6. Free Cell Block F, 'Tis Nazi U.S.A (5:56)
7. Devil Woman (6:43)
8. Peggy's Blue Skylight (5:31)
9. Pithecanthropus Erectus (9:21)
10. Remember Rockefeller at Attica (4:47)
11. Alabama (9:05)
ANALYZER: auCDtect: CD records authenticity detector, version 0.8.2
Copyright © 2004 Oleg Berngardt. All rights reserved.
Copyright © 2004 Alexander Djourik. All rights reserved.


FILE: 01 - Fables of Faubus.flac
Size: 52100776 Hash: B6D5B5200D484458A70E4C1E5A20D001 Accuracy: -m40
Conclusion: CDDA 100%
Signature: 651AB465F291F3F13811FE9A579B6572C2FF1ED8
FILE: 02 - East Coasting.flac
Size: 14801606 Hash: DBFBB64F37BB051DEADB6A2EE1FA7B93 Accuracy: -m40
Conclusion: CDDA 100%
Signature: 0A55B492DC235F4CBA0D15922462D53453899130
FILE: 03 - Oh Lord Don't Let Them Drop That Atomic Bomb On Me.flac
Size: 21284869 Hash: 1F4BCC1B40881613B8EDE67C53C4341D Accuracy: -m40
Conclusion: CDDA 100%
Signature: F111F88CF99433331BEF0E58FC2FD86453E6E827
FILE: 04 - O.P.flac
Size: 14036277 Hash: A8258011417B645EF9D9A75B3F74E358 Accuracy: -m40
Conclusion: CDDA 100%
Signature: 461E1D4CE6A7FF99FEEF68FFAD97214A6EF6AE11
FILE: 05 - Goodbye Pork Pie Hat.flac
Size: 21188960 Hash: 230EBB9C2C730124B6476863E8E90D00 Accuracy: -m40
Conclusion: CDDA 100%
Signature: 5FDA7CBD0E6DAABAE2A389340ED166FA29E5199F
FILE: 06 - Free Cell Block F, 'Tis Nazi U.S.A.flac
Size: 23451854 Hash: 1D82D9D5787B7B8BC16CD6CAB275B738 Accuracy: -m40
Conclusion: CDDA 100%
Signature: 79449FF4B0457EE0ECDD604A56F802F3FFA50E8C
FILE: 07 - Devil Woman.flac
Size: 25204767 Hash: 8C4FB7E1111C0EEB67EBAE053D0124C3 Accuracy: -m40
Conclusion: CDDA 100%
Signature: F52DCFCA721A3FC8A1A73358453BD8D3C7460552
FILE: 08 - Peggy's Blue Skylight.flac
Size: 17137167 Hash: C7C37C6DB8E7813D4380599551C7B35E Accuracy: -m40
Conclusion: CDDA 100%
Signature: EA7962F4BAD852B4993D21B6F1CBA70AF39B890B
FILE: 09 - Pithecanthropus Erectus.flac
Size: 33735358 Hash: DF5ABE7566E07456208ADE23C0A2AE3E Accuracy: -m40
Conclusion: CDDA 100%
Signature: C9066875603202BD6F4832A4466259A55C1694C8
FILE: 10 - Remember Rockefeller at Attica.flac
Size: 19689956 Hash: 6DAE428A4A991FA9242D3A996348A376 Accuracy: -m40
Conclusion: CDDA 100%
Signature: 8AAAAA51F621B9A5298CF714CA1B5EF732F6D169
FILE: 11 - Alabama.flac
Size: 28100266 Hash: AFF3DB8D2D2C9ECF7808FC59E552443C Accuracy: -m40
Conclusion: CDDA 100%
Signature: A5FF432FFA6FDC12C953DBAB3E99B4A79B235F38