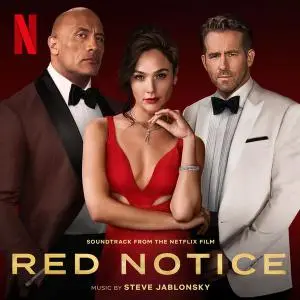 Steve Jablonsky - Red Notice (Soundtrack from the Netflix Film) (2021)
FLAC tracks / MP3 320 kbps | 1:10:14 | 337 / 161 Mb
Genre: Soundtrack / Label: Milan
Steve Jablonsky est le plus discret des compositeurs installés à Hollywood. Il n'en est pas moins le signataire des musiques de films comme The Texas Chainsaw Massacre (2003) et Transformers (2007) qui lui valent chacun un Oscar. Par la suite, il compose les bandes-son de A Nightmare on Elm Street (2010) et les suites de la saga Transformers en 2009 et 2011. En 2013, il met sa science musicale au service de culturistes criminels dans Pain & Gain. SteveJablonskycollabore en 2013 avec le groupe post-rock Explosions in the Sky pour la bande originale de Lone Survivor qui sort en France en juillet 2014.
Track List:
[03:28] 01. Steve Jablonsky - The Egg
[03:55] 02. Steve Jablonsky - Red Notice
[02:33] 03. Steve Jablonsky - Main Title
[03:11] 04. Steve Jablonsky - Roma
[02:50] 05. Steve Jablonsky - Museum Chase
[03:01] 06. Steve Jablonsky - Baby Did A Bad Bad Thing
[01:23] 07. Steve Jablonsky - Bali
[01:20] 08. Steve Jablonsky - Profile
[03:30] 09. Steve Jablonsky - The Captain Wants To See You
[01:38] 10. Steve Jablonsky - Booth's Father
[03:08] 11. Steve Jablonsky - Escape From Gora Smerti
[03:09] 12. Steve Jablonsky - Teamwork
[02:17] 13. Steve Jablonsky - Too Focused on Winning
[02:28] 14. Steve Jablonsky - Here's The Plan
[04:41] 15. Steve Jablonsky - Masquerade Ball
[02:28] 16. Steve Jablonsky - Arrest Me
[03:26] 17. Steve Jablonsky - Sotto Voce
[03:39] 18. Steve Jablonsky - The Watch
[01:10] 19. Steve Jablonsky - The Hatch
[01:52] 20. Steve Jablonsky - The Vault
[04:25] 21. Steve Jablonsky - Mine Shaft
[02:04] 22. Steve Jablonsky - Checkmate
[01:39] 23. Steve Jablonsky - Resting Failure Face
[02:38] 24. Steve Jablonsky - One More Job
[04:08] 25. Steve Jablonsky - Myth or Legend