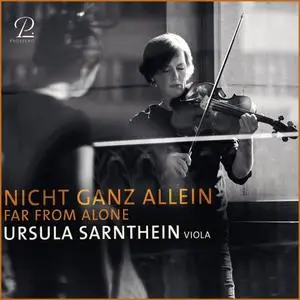 Ursula Sarnthein - Nicht Ganz Allein - Works For Solo Viola (2021)
FLAC tracks | 58:07 | 295 Mb
Genre: Classical / Label: Prospero Classical
Bach's Chaconne and folk music from Denmark? Biber's Passacaglia and a Swiss "Scottish"? And all that for viola alone? Played on a very special instrument: the famous Stradivarius viola "Gibson" from 1743… When Ursula Sarnthein, violist in the Zurich Tonhalle Orchestra, began recording the famous Chaconne from Bach's Partita in D minor, BWV 2004, in September 2020, she did not yet know exactly where the journey would take her. The goal was to record music that crossed the violist's musical path and that touched her – and that she can play alone on the viola. And her viola is a very special instrument: it's the famous "Gibson", that Stradivari has built in 1734.
Track List:
1. Rosenkranz Sonatas: Passacaglia in G Minor For Solo Violin, C. 105 (Arr. for Viola) (8:04)
2. Partita No. 2 For Violin Solo, BWV 1004: V. Chaconne (Arr. for Viola) (14:04)
3. Peder Gyes (3:11)
4. Dronningens Contillion (1:24)
5. Rumlekvadrillen (2:12)
6. Vor der Alphütte. Two "Zäuerli" From Appenzell (1:35)
7. Nicht ganz allein! Eine Polka. (Arr. for Viola) (2:42)
8. Schottisch (Arr. for Viola) (1:04)
9. Etude No. 5 in G Major, "Variazioni" (6:37)
10. A Frunzei (Arr. for Viola) (2:16)
11. Tanz (1:10)
12. Cântec de Dor/Brau (3:12)
13. Little Concerto For Solo Viola: I. Elegie (3:42)
14. Little Concerto For Solo Viola: II. Capriccio (3:50)
15. Little Concerto For Solo Viola: III. Tanz (3:17)
ANALYZER: auCDtect: CD records authenticity detector, version 0.8.2
Copyright © 2004 Oleg Berngardt. All rights reserved.
Copyright © 2004 Alexander Djourik. All rights reserved.


FILE: 01. Ursula Sarnthein - Rosenkranz Sonatas Passacaglia in G Minor For Solo Violin, C. 105 (Arr. for Viola).flac
Size: 46130302 Hash: 89262901CCC413E96416F3F2F396FFD3 Accuracy: -m40
Conclusion: CDDA 100%
Signature: E6A2F83F7F96AC8C58BBD5B392467E9AAB759CB0
FILE: 02. Ursula Sarnthein - Partita No. 2 For Violin Solo, BWV 1004 V. Chaconne (Arr. for Viola).flac
Size: 82291008 Hash: BD6F37E4D2D290F61A1907A168F46732 Accuracy: -m40
Conclusion: CDDA 100%
Signature: DF1AB664230486873A235594A74CADEA6B5BAB2C
FILE: 03. Ursula Sarnthein - Peder Gyes.flac
Size: 16818690 Hash: 99F2CE77A8A551EE7684265FA2442A56 Accuracy: -m40
Conclusion: CDDA 100%
Signature: 50A502D75D98F91F43B2D2B063581C10FA06AE1D
FILE: 04. Ursula Sarnthein - Dronningens Contillion.flac
Size: 7918331 Hash: 4A6EF68BC36EB93B766C89335640B08E Accuracy: -m40
Conclusion: CDDA 100%
Signature: 9D3074433F27DC941B1091B1C17526BFD1494DD2
FILE: 05. Ursula Sarnthein - Rumlekvadrillen.flac
Size: 11529550 Hash: E947A0AF4C57232C283C0AAEDD399A00 Accuracy: -m40
Conclusion: CDDA 100%
Signature: FF55E622D46263C9222B86E272ED4A9619697966
FILE: 06. Ursula Sarnthein - Vor der Alphütte. Two Zäuerli From Appenzell.flac
Size: 8660371 Hash: 90A70B3283ED780A3C506B446EE740E3 Accuracy: -m40
Conclusion: CDDA 100%
Signature: 7B97344FE99204C10B66B59D4FF2ECCE2DA69794
FILE: 07. Ursula Sarnthein - Nicht ganz allein! Eine Polka. (Arr. for Viola).flac
Size: 14505494 Hash: 533A745ED321F75FE86ADFF01E6F2B74 Accuracy: -m40
Conclusion: CDDA 100%
Signature: BC6C24FE6D938091122EE1B6B5ED51BC7C20D724
FILE: 08. Ursula Sarnthein - Schottisch (Arr. for Viola).flac
Size: 6111633 Hash: C74D491A894A75E334CEF862D0D90A8F Accuracy: -m40
Conclusion: CDDA 100%
Signature: 6BBD1FB9B5EA945022D418DAFEE38F76843E3FEC
FILE: 09. Ursula Sarnthein - Etude No. 5 in G Major, Variazioni.flac
Size: 32833550 Hash: 7D0EFD4E8602229B18E30263191D366E Accuracy: -m40
Conclusion: CDDA 100%
Signature: ED44F5ED6B2C8AEA5F01B2449D53DA61B6CDB3DA
FILE: 10. Ursula Sarnthein - A Frunzei (Arr. for Viola).flac
Size: 12533424 Hash: A2904B50470D1E56A77D6A00FEEA5A8E Accuracy: -m40
Conclusion: CDDA 99%
Signature: 0DF677F1109272F59155241C51D9764228702265
FILE: 11. Ursula Sarnthein - Tanz.flac
Size: 6258642 Hash: 0298AEB1FBD7A244B92492E39B5B927E Accuracy: -m40
Conclusion: CDDA 100%
Signature: 205AFA96DD8D5A46B7D7ACE799B83565CC69ADAE
FILE: 12. Ursula Sarnthein - Cântec de DorBrau.flac
Size: 16650938 Hash: 835D3FF3CB6CBB060CC4D44D2DF2E61F Accuracy: -m40
Conclusion: CDDA 100%
Signature: 9306E388D3EFF015BC1EFEE975E5EAC8699D2C2A
FILE: 13. Ursula Sarnthein - Little Concerto For Solo Viola I. Elegie.flac
Size: 15603513 Hash: 2E2FEF5961D3EF44825672F83908E690 Accuracy: -m40
Conclusion: CDDA 100%
Signature: 1F90A54ACA9515ECD76A63E70D10B7EB8163FB77
FILE: 14. Ursula Sarnthein - Little Concerto For Solo Viola II. Capriccio.flac
Size: 17318316 Hash: 9765675495DCB32BD5E103A3A4356FA7 Accuracy: -m40
Conclusion: CDDA 100%
Signature: D44FB58F679EFBB2E0C9AA6D920DE26DFA9C5CD9
FILE: 15. Ursula Sarnthein - Little Concerto For Solo Viola III. Tanz.flac
Size: 14579389 Hash: A49621D9521AFF59259F14018756E07D Accuracy: -m40
Conclusion: CDDA 100%
Signature: 0A56C9F950AA8532DDE6E22814A098CE1D86A997