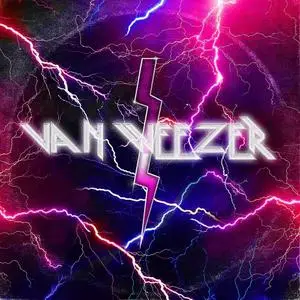 Weezer - Van Weezer (2021)
FLAC tracks / MP3 320 kbps | 30:49 | 70 / 214 Mb
Genre: Alternative Rock, Pop Punk / Label: Crush Music/Atlantic
Fourteenth studio album by the American rock band. In February 2019, Weezer frontman Rivers Cuomo began working on new songs with a hard rock influence, in contrast to the pop rock and electropop sound that had been featured on the band's previous albums 'Pacific Daydream' (2017), the 'Teal Album' (2019), and the then-upcoming 'Black Album' (2019). In an interview that month with Entertainment Weekly, Cuomo mentioned that an album tentatively titled 'Van Weezer' was in the works, and that it would take the band 'back to big guitars'. The album features the single 'The End of the Game'.
Track List:
1. Hero (03:56)
2. All of the Good Ones (02:44)
3. The End of the Game (03:01)
4. I Need Some of That (03:19)
5. Beginning of the End (03:15)
6. Blue Dream (02:50)
7. 1 More Hit (03:05)
8. Sheila Can Do It (02:57)
9. She Needs Me (02:52)
10. Precious Metal Girl (02:50)
ANALYZER: auCDtect: CD records authenticity detector, version 0.8.2
Copyright © 2004 Oleg Berngardt. All rights reserved.
Copyright © 2004 Alexander Djourik. All rights reserved.


FILE: 01 - Hero.flac
Size: 30195060 Hash: AE624F211E0D58A42C1CA53ADAC8783F Accuracy: -m40
Conclusion: CDDA 100%
Signature: 6D6B1C17E797A599DAB10AF1A06958C73D06B19F
FILE: 02 - All the Good Ones.flac
Size: 20361849 Hash: 3339489F81BDA1191FD0301AD6E5A911 Accuracy: -m40
Conclusion: CDDA 99%
Signature: DC5E27E2192DD675301BF0868C97C6E4E6E7CC61
FILE: 03 - The End of the Game.flac
Size: 23486723 Hash: 6EDB5D24F36D4335EBDE85E60C23C410 Accuracy: -m40
Conclusion: CDDA 99%
Signature: AED5590EE40690493E272994525FCBD3468A3F2E
FILE: 04 - I Need Some of That.flac
Size: 24148265 Hash: B7B0F60F48493FF6442DAFBB8905D1B2 Accuracy: -m40
Conclusion: CDDA 100%
Signature: CBF3A59D8603D8C09D72730F76DF572D8FDE9BA1
FILE: 05 - Beginning of the End.flac
Size: 22186024 Hash: 0C5F2BAD88B4C25A3ED50F0D5A0108DC Accuracy: -m40
Conclusion: CDDA 100%
Signature: B8582EFDB7ADFB1ABEE958A04C8977C53663FF63
FILE: 06 - Blue Dream.flac
Size: 21127632 Hash: 847BFBB41028B409A19B871E57EC3F72 Accuracy: -m40
Conclusion: CDDA 99%
Signature: 63641893BB2DA3D0AA4C1753D300857DC2EB59DE
FILE: 07 - 1 More Hit.flac
Size: 22886408 Hash: C3FC9558681FF8A29CF15DB5A81A67E7 Accuracy: -m40
Conclusion: CDDA 100%
Signature: 6D03AE5C942BC1FDE53D7ED6CE8534C91B55AF8E
FILE: 08 - Sheila Can Do It.flac
Size: 22977515 Hash: 7C2ED1A499A780FCAF759B60B24E24EC Accuracy: -m40
Conclusion: CDDA 100%
Signature: 3701C301C00B79E1BD301DE2D18D72CB948D81AA
FILE: 09 - She Needs Me.flac
Size: 20059553 Hash: F2D82BE519FA6B29FDAF993A29AB6DCC Accuracy: -m40
Conclusion: CDDA 100%
Signature: 0B199D3EDDA5C60D03E8FAC30FABB52F5506A38C
FILE: 10 - Precious Metal Girl.flac
Size: 16840517 Hash: 288A38E68A0C031EFC4B0EA6522CDA34 Accuracy: -m40
Conclusion: CDDA 100%
Signature: 369A35F7413337C45201E2C3808C4A779374E3D0