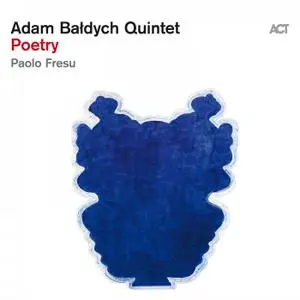 Adam Bałdych & Paolo Fresu - Poetry (2021)
WEB FLAC (tracks) - 294 Mb | MP3 CBR 320 kbps - 134 Mb | Digital booklet | 00:52:57
Jazz, Modern Creative | Label: ACT Music
Polish violinist Adam Bałdych is a unique virtuoso of his instrument in jazz. However, he puts his virtuosity entirely at the service of the music - with a cultivated tone, a strong sense for sound and space and a talent for haunting melodies. All qualities that link him to the Sardinian trumpeter Paolo Fresu, one of Italy's most successful jazz musicians, who becomes Bałdych's musical partner in lyrical musical conversations on "Poetry".

Chance remarks can have far-reaching consequences. When Adam Bałdych was in the early stages of working on the compositions for this new album, among the first feedback he received from a friend was the phrase "you are a poet of the violin." That remark didn't just give him the title of the album. It also set him thinking about the effect that music has on him and that, by extension, it can hopefully have on other people…

Bałdych, described by Jazzwise's Stuart Nicholson as "probably the greatest violinist in jazz today," explains that impulse quite simply: "I want to communicate." He has a strong desire, as he explains, to "create music which will come into people's lives and stay with them." Such beliefs have been reinforced and seemingly made more urgent by the detachment of the pandemic. He started asking himself the question: "What is there in my life story that I can share?" And that in turn led him to search for other lyrical and poetic voices, kindred spirits to place alongside his own. Thus we find one of the great lyrical voices of European jazz, Sardinian trumpeter Paolo Fresu, of whom Bałdych says: "This soul connection is the basic and most important thing, which can then be expressed in the music." Fresu is on five tunes, most notably on the title track "Poetry", a true gem at the heart of this programme.

We also hear a saxophonist with whom Baldych feels a particularly strong affinity, Marek Konarski. Both musicians grew up in the same town, Gorzów, roughly ten years apart.Their paths diverged in the years Konarski made his home in Denmark, where he is still involved in several projects. Bałdych says: "He is younger than me, but we have so much in common I sometimes feel we must have known each other in a past life." That sense that this group is producing music which is rooted in a past reality is there right from the opening track, "I Remember".

The decision to place his own solo voice alongside others in "Poetry" marks a further step in Baldych's musical journey, away from virtuosity towards the kind of authentic individual expression that feels most natural to him. "I stopped trying to be a virtuoso producing huge numbers of notes. I want to tell a story, and to shape and balance simplicity with the innovative language of the violin.

He has also - literally - deepened his musical voice, through the use of the renaissance violin, tuned a seventh below the normal violin. That sonorous voice has become more confident, and is to be heard at its most yearning and soulful on the deeply touching short tune "Grace".

"Poetry" is also a landmark album for Bałdych in another sense. It is about to be ten years since his appearance at a late night show at the Quasimodo club as part of JazzFest Berlin in 2011. That performance, which also included pianist Krzysztof Dys, now part of Bałdych's regular band, led to Siggi Loch signing the violinist the very next day to the ACT label, This is the Pole's sixth album for the label.

There have been other changes in Bałdych's life in the past year. The album is dedicated to the violinist's wife Karina, and to his young son Teodor who was born in 2020. Time not spent on the road has clearly had its compensations, and when Baldych talks, his deeply positive spirit shines through: "Troubles give the opportunity to do things you wouldn't normally do. I have an improviser's soul."

Adam Bałdych also feels a very strong connection to the regular quartet he has worked with for the past three years. Krzysztof Dys on piano, Michał Barański on bass, Dawid Fortuna on drums and Bałdychhimself worked successfully together on "Sacrum Profanum". Over the past three years the trust and the teamwork have deepened, and the way they dovetail together on "Poetry" shows that they are a working band in the truest sense of that phrase. "We really explore together, we work on the music like a string quartet does," he says. And the listener can hear in tracks such as "I Remember" and "Open Sky" with their folk music energy, just how eager this band is to stretch out on these tunes in the live context. And audiences are responding too: the quartet scooped up the audience prize at the July 2021 BMW Jazz Welt Competition.

Adam Bałdych has marked the tenth anniversary of his arrival at ACT with an important album. "Poetry" is not just instantly appealing, it also has depth, honesty and soul.
Tracklist:
1.
Heart Beats (with Paolo Fresu)
(03:56)
2.
I Remember (with Paolo Fresu)
(06:09)
3.
Stars
(05:14)
4.
Teodor (with Paolo Fresu)
(06:03)
5.
Poetry (with Paolo Fresu)
(03:52)
6.
Hyperballad
(05:19)
7.
Wish
(04:52)
8.
Psalmody
(05:44)
9.
Birds
(03:38)
10.
Grace
(01:21)
11.
Open Sky (with Paolo Fresu)
(06:47)
–––––––––––-

DON'T MODIFY THIS FILE

–––––––––––-

PERFORMER: auCDtect Task Manager, ver. 1.6.0 RC1 build 1.6.0.1
Copyright © 2008-2010 y-soft. All rights reserved

ANALYZER: auCDtect: CD records authenticity detector, version 0.8.2
Copyright © 2004 Oleg Berngardt. All rights reserved.
Copyright © 2004 Alexander Djourik. All rights reserved.


FILE: 11 - Open Sky.flac
Size: 41388313 Hash: 6E578436A2E6EFDB31CB23081C07A5AE Accuracy: -m8
Conclusion: CDDA 100%
Signature: 108279D0D73569C223998B6FA806010F621F20E8
FILE: 10 - Grace.flac
Size: 5145205 Hash: D35E0DFC16C9025C1A993F2554E81066 Accuracy: -m8
Conclusion: CDDA 100%
Signature: DBCA440D95FF1D21FCA484EAD9F89C2C3EF7FE85
FILE: 09 - Birds.flac
Size: 20518099 Hash: 56932D5F1CA15147C501D74CA327A655 Accuracy: -m8
Conclusion: CDDA 99%
Signature: 28A2535068DD3C03C5160C2A408B9FCF2C9A8D5A
FILE: 08 - Psalmody.flac
Size: 36924488 Hash: 204796BDE5A369863791A45917F6589A Accuracy: -m8
Conclusion: CDDA 100%
Signature: 61BB6770EEDB425B517AE126CC2D2FEE73C453F1
FILE: 07 - Wish.flac
Size: 28191543 Hash: D1EEF540EBD7F8BE547EB7E6521CE64C Accuracy: -m8
Conclusion: CDDA 99%
Signature: 2A2C26940E5F4586E160C84E92E186003E5945F7
FILE: 06 - Hyperballad.flac
Size: 30466891 Hash: D58460E6097F74806B3E3E5D523CDDF9 Accuracy: -m8
Conclusion: CDDA 100%
Signature: 7F50BE49B623CB5FA1C05EADC909565B24056A04
FILE: 05 - Poetry.flac
Size: 15972728 Hash: FF3B41090BA5F156A2E0F2A4CC767334 Accuracy: -m8
Conclusion: CDDA 100%
Signature: 9267C67DEE55C0445FB292C7DB4D5877456E4556
FILE: 04 - Teodor.flac
Size: 32906809 Hash: 286374C7DBE9F89870039A8C46C0B750 Accuracy: -m8
Conclusion: CDDA 100%
Signature: AB85F18C148C04813805FE459A2F91DF4871B007
FILE: 03 - Stars.flac
Size: 28972240 Hash: CEE17017A279DF400A5B211E71221BC2 Accuracy: -m8
Conclusion: CDDA 99%
Signature: C087396CFE67B182FB970D3AB2A45FE47E802FE5
FILE: 02 - I Remember.flac
Size: 33838343 Hash: 205C84B67EA7D8C45F7DEEFF96B5E096 Accuracy: -m8
Conclusion: CDDA 100%
Signature: 024CBC220E4569F06343DB0E079342E5993551A8
FILE: 01 - Heart Beats.flac
Size: 20486039 Hash: 147107DC6C9DE542077FE845158A0041 Accuracy: -m8
Conclusion: CDDA 100%
Signature: 4421160F644277FFFFDE77F043B50C750CCD06E3