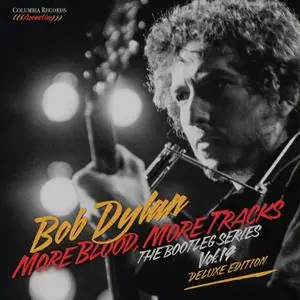 Bob Dylan - More Blood, More Tracks: The Bootleg Series Vol.14 (Deluxe Edition) (2018)
WEB FLAC (tracks) - 1,7 Gb | MP3 CBR 320 kbps - 824 Mb | Digital booklet | 06:00:00
Folk Rock | Label: Legacy Recordings
Strictly limited Deluxe 6 CD Set Includes every surviving take from Blood On The Tracks, including the complete New York sessions. Features alternate versions of Tangled Up In Blue , Simple Twist Of Fate and Shelter From The Storm Over 70 previously unreleased recordings Bonus hardcover book features original handwritten lyrics, photographs and more The latest chapter in the highly acclaimed Bootleg Series makes available the pivotal studio recordings made by Bob Dylan during six extraordinary sessions in 1974 that resulted in the artist's 1975 masterpiece, Blood On The Tracks. The 6CD full-length deluxe version includes the complete New York sessions in chronological order including outtakes, false starts and studio banter. The album's producers have worked from best sources available, in most cases utilizing the original multi-track session tapes. The only recordings remaining from the Minneapolis sessions are the multi-track masters of the five performances included on the finished Blood On The Tracks album. Each of these has been remixed and remastered for the deluxe edition. The deluxe box set is a strictly limited edition. The set includes a hardcover photo book featuring liner notes by rock historian Jeff Slate and a complete reproduction of one of Dylan's legendary handwritten 57 page notebooks, where you can follow the lyrical development of the songs that would eventually comprise Blood On The Tracks.
Tracklist:
CD 1
A & R Studios
New York
September 16, 1974
1. If You See Her, Say Hello (Take 1) – solo
2. If You See Her, Say Hello (Take 2) – solo. Previously released on The Bootleg Series, Vols. 1-3: Rare and Unreleased, 1961-1991
3. You're a Big Girl Now (Take 1) – solo
4. You're a Big Girl Now (Take 2) – solo
5. Simple Twist of Fate (Take 1) – solo
6. Simple Twist of Fate (Take 2) – solo
7. You're a Big Girl Now (Take 3) – solo
8. Up to Me (Rehearsal) – solo
9. Up to Me (Take 1) – solo
10. Lily, Rosemary and the Jack of Hearts (Take 1) – solo
11. Lily, Rosemary and the Jack of Hearts (Take 2) – solo – included on Blood on the Tracks test pressing
CD 2
A & R Studios
New York
September 16, 1974
1. Simple Twist of Fate (Take 1A) – with band
2. Simple Twist of Fate (Take 2A) – with band
3. Simple Twist of Fate (Take 3A) – with band
4. Call Letter Blues (Take 1) – with band
5. Meet Me in the Morning (Take 1) – with band – edited version included on Blood on the Tracks test pressing and previously released on Blood on the Tracks
6. Call Letter Blues (Take 2) – with band – previously released on The Bootleg Series, Vols. 1-3: Rare and Unreleased, 1961-1991
7. Idiot Wind (Take 1) – with bass
8. Idiot Wind (Take 1, Remake) – with bass
9. Idiot Wind (Take 3 with insert) – with bass
10. Idiot Wind (Take 5) – with bass
11. Idiot Wind (Take 6) – with bass
12. You're Gonna Make Me Lonesome When You Go (Rehearsal and Take 1) – with band
13. You're Gonna Make Me Lonesome When You Go (Take 2) – with band
14. You're Gonna Make Me Lonesome When You Go (Take 3) – with band
15. You're Gonna Make Me Lonesome When You Go (Take 4) – with band
16. You're Gonna Make Me Lonesome When You Go (Take 5) – with band
17. You're Gonna Make Me Lonesome When You Go (Take 6) – with band
18. You're Gonna Make Me Lonesome When You Go (Take 6, Remake) – with band
19. You're Gonna Make Me Lonesome When You Go (Take 7) – with band
20. You're Gonna Make Me Lonesome When You Go (Take 8) – with band
Bob Dylan: vocals, guitar, harmonica
Eric Weissberg, Charles Brown III, Barry Kornfeld: guitars
Thomas McFaul: keyboards
Tony Brown: bass
Richard Crooks: drums
Buddy Cage: steel guitar (5-6)
CD 3
A & R Studios
New York
September 16, 1974
1. Tangled Up in Blue (Take 1) – with bass
A & R Studios
New York
September 17, 1974
2. You're a Big Girl Now (Take 1, Remake) – with bass and organ
3. You're a Big Girl Now (Take 2, Remake) – with bass, organ, and steel guitar –included on Blood on the Tracks test pressing and previously released on Biograph
4. Tangled Up in Blue (Rehearsal) – with bass and organ
5. Tangled Up in Blue (Take 2, Remake) – with bass and organ
6. Spanish Is the Loving Tongue (Take 1) – with bass and piano
7. Call Letter Blues (Rehearsal) – with bass and piano
8. You're Gonna Make Me Lonesome When You Go (Take 1, Remake) – with bass and piano
9. Shelter from the Storm (Take 1) – with bass and piano – previously released on the Jerry McGuire original soundtrack
10. Buckets of Rain (Take 1) – with bass
11. Tangled Up in Blue (Take 3, Remake) – with bass
12. Buckets of Rain (Take 2) – with bass
13. Shelter from the Storm (Take 2) – with bass
14. Shelter from the Storm (Take 3) – with bass
15. Shelter from the Storm (Take 4) – with bass – previously released on Blood on the Tracks
Bob Dylan: vocals, guitar, harmonica
Tony Brown: bass
Paul Griffin: keyboards (2-9)
Buddy Cage: steel guitar (3)
CD 4
A & R Studios
New York
September 17, 1974
1. You're Gonna Make Me Lonesome When You Go (Take 1, Remake 2) – with bass
2. You're Gonna Make Me Lonesome When You Go (Take 2, Remake 2) – with bass
3. Buckets of Rain (Take 1, Remake) – previously released on Blood on the Tracks
A & R Studios
New York
September 18, 1974
4. Buckets of Rain (Take 2, Remake) – solo
5. Buckets of Rain (Take 3, Remake) – solo
6. Buckets of Rain (Take 4, Remake) – solo
A & R Studios
New York
September 19, 1974
7. Up to Me (Take 1, Remake) – with bass
8. Up to Me (Take 2, Remake) – with bass
9. Buckets of Rain (Take 1, Remake 2) – with bass
10. Buckets of Rain (Take 2, Remake 2) – with bass
11. Buckets of Rain (Take 3, Remake 2) – with bass
12. Buckets of Rain (Take 4, Remake 2) – with bass – previously released on Blood on the Tracks
13. If You See Her, Say Hello (Take 1, Remake) – with bass – previously included on Blood on the Tracks test pressing
14. Up to Me (Take 1, Remake 2) – with bass
15. Up to Me (Take 2, Remake 2) – with bass
16. Up to Me (Take 3, Remake 2) – with bass
17. Buckets of Rain (Rehearsal) – with bass
18. Meet Me in the Morning (Take 1, Remake) – with bass – previously released on the "Duquesne Whistle" 7" single
19. Meet Me in the Morning (Take 2, Remake) – with bass
20. Buckets of Rain (Take 5, Remake 2) – with bass
Bob Dylan: vocals, guitar, harmonica
Tony Brown: bass (1-2, 7-20)
CD 5
A & R Studios
New York
September 19, 1974
1. Tangled Up in Blue (Rehearsal and Take 1, Remake 2) – with bass
2. Tangled Up in Blue (Take 2, Remake 2) – with bass
3. Tangled Up in Blue (Take 3, Remake 2) – with bass – included on Blood on the Tracks test pressing and previously released on The Bootleg Series, Vols. 1-3: Rare and Unreleased, 1961-1991
4. Simple Twist of Fate (Take 2, Remake) – with bass
5. Simple Twist of Fate (Take 3, Remake) – with bass – previously released on Blood on the Tracks
6. Up to Me (Rehearsal and Take 1, Remake 3) – with bass
7. Up to Me (Take 2, Remake 3) – with bass – previously released on Biograph
8. Idiot Wind (Rehearsal and Takes 1-3, Remake) – with bass
9. Idiot Wind (Take 4, Remake) – with bass
10. Idiot Wind (Take 4, Remake with organ overdub) included on Blood on the Tracks test pressing and previously released on The Bootleg Series, Vols. 1-3: Rare and Unreleased, 1961-1991
11. You're a Big Girl Now (Take 1, Remake 2) – with bass
12. Meet Me in the Morning (Take 1, Remake 2) – with bass
13. Meet Me in the Morning (Takes 2-3, Remake 2) – with bass
Bob Dylan: vocals, guitar, harmonica
Tony Brown: bass
CD 6
A & R Studios
New York
September 19, 1974
1. You're a Big Girl Now (Takes 3-6, Remake 2) – with bass
2. Tangled Up in Blue (Rehearsal and Takes 1-2, Remake 3) – with bass
3. Tangled Up in Blue (Take 3, Remake 3) – with bass
Sound 80 Studio
Minneapolis, MN
December 27, 1974
4. Idiot Wind – with band – previously released on Blood on the Tracks
5. You're a Big Girl Now – with band – previously released on Blood on the Tracks
Sound 80 Studio
Minneapolis, MN
December 30, 1974
6. Tangled up in Blue – with band – previously released on Blood on the Tracks
7. Lily, Rosemary and the Jack of Hearts – with band – previously released on Blood on the Tracks
8. If You See Her, Say Hello – with band – previously released on Blood on the Tracks
Bob Dylan: vocals, guitar, harmonica, organ (4-5), mandolin (8)
Tony Brown: bass (1-3)
Chris Weber: guitar (4-6, 8)
Kevin Odegard: guitar (6)
Peter Ostroushko: mandolin (8)
Gregg Inhofer: keyboards (4-8)
Billy Peterson: bass (4, 6-7)
Bill Berg: drums (4-8)
All songs written by Bob Dylan except Spanish is the Loving Tongue (traditional, arranged by Bob Dylan)
New York sessions originally engineered by Phil Ramone
Minneapolis sessions originally engineered by Paul Martinson
–––––––––––-

DON'T MODIFY THIS FILE

–––––––––––-

PERFORMER: auCDtect Task Manager, ver. 1.6.0 RC1 build 1.6.0.1
Copyright © 2008-2010 y-soft. All rights reserved

ANALYZER: auCDtect: CD records authenticity detector, version 0.8.2
Copyright © 2004 Oleg Berngardt. All rights reserved.
Copyright © 2004 Alexander Djourik. All rights reserved.


FILE: 87-If You See Her, Say Hello.flac
Size: 27254984 Hash: A3D8ABD5D6B7232A1E62A17502A1A433 Accuracy: -m0
Conclusion: CDDA 100%
Signature: 12032BEFA2C383C1BC41ECAC325BF9CDB98695D8
FILE: 86-Lily, Rosemary and the Jack of Hearts.flac
Size: 55664673 Hash: 5B50B4FDE4748521DCAD37C5B60CCA5B Accuracy: -m0
Conclusion: CDDA 100%
Signature: 11BA848CF6ED3C1EB6AE7639AC1B3EF5C2E140B7
FILE: 85-Tangled up in Blue.flac
Size: 36754179 Hash: 7D07918DA8F3854D527C4802548BA27C Accuracy: -m0
Conclusion: CDDA 100%
Signature: 451134084AFFCE777BD1BFFDEB07DEDFCBC778A4
FILE: 84-You're a Big Girl Now.flac
Size: 24686152 Hash: 3A1E2226F945CCEF2DFE378B517964EA Accuracy: -m0
Conclusion: CDDA 100%
Signature: 4C04B1F8B87768AF5CB4FBDA100A6D96B8EA8821
FILE: 83-Idiot Wind.flac
Size: 49486558 Hash: 17599A5F254DECC028616D003223C314 Accuracy: -m0
Conclusion: CDDA 100%
Signature: C98E0C3D7B23BB910E99B25489DD59B1CBCF4FD3
FILE: 82-Tangled Up in Blue (Take 3, Remake 3).flac
Size: 34347136 Hash: 6DA068B38C5C56FA8BBBBB0720677D5E Accuracy: -m0
Conclusion: CDDA 100%
Signature: 3547D6EC8B4DF08E430DD75020F7AECBF769526B
FILE: 81-Tangled Up in Blue (Rehearsal and Takes 1-2, Remake 3).flac
Size: 23943107 Hash: 546CC1A0BC5018A76E91C010A8963298 Accuracy: -m0
Conclusion: CDDA 99%
Signature: 7D1E9444F183A332802B7B041B53B1C83AB44693
FILE: 80-You're a Big Girl Now (Takes 3-6, Remake 2).flac
Size: 8687172 Hash: B77A0DE0F81AE2C53492C108EF33B99F Accuracy: -m0
Conclusion: CDDA 99%
Signature: B60FBB1F3286469679B761BB5DF3B488F9758C8C
FILE: 79-Meet Me in the Morning (Takes 2-3, Remake 2).flac
Size: 6816412 Hash: 8DC49541EC47203DED24713C70E7A0E0 Accuracy: -m0
Conclusion: CDDA 100%
Signature: 19684C39160F91B33402B8D5F3223910D22A864B
FILE: 78-Meet Me in the Morning (Take 1, Remake 2).flac
Size: 18148157 Hash: A8D6392A086CB2EDA054C28089EFB99C Accuracy: -m0
Conclusion: CDDA 100%
Signature: 9E54FDD29F7837ADFC491FFF5845EDAA716ED6B9
FILE: 77-You're a Big Girl Now (Take 1, Remake 2).flac
Size: 12485899 Hash: BA4B106792CAED0581AD2F60D0C5A5FF Accuracy: -m0
Conclusion: CDDA 100%
Signature: 70F3639AB5CE13B4087611CE35A974DC96FF27BF
FILE: 76-Idiot Wind (Take 4, Remake with organ overdub).flac
Size: 44110674 Hash: 23C091FC8E12484225593075962C1A74 Accuracy: -m0
Conclusion: CDDA 100%
Signature: E3EC105E3C5A06ED51D0D8814AD2A5F75C1A9029
FILE: 75-Idiot Wind (Take 4, Remake).flac
Size: 45383332 Hash: 7D39EF33EF9366FA3C6F3351A8CDD26D Accuracy: -m0
Conclusion: CDDA 100%
Signature: C0550F864891D08C55612F844C7B79DDEAA1114D
FILE: 74-Idiot Wind (Rehearsal and Takes 1-3, Remake).flac
Size: 20782147 Hash: 4B0AF7F4DE60E52DF7CABF113BF5B4A3 Accuracy: -m0
Conclusion: CDDA 100%
Signature: FF575C7754644028BEBC853BA09EB0BD24E1EA69
FILE: 73-Up to Me (Take 2, Remake 3).flac
Size: 35374249 Hash: BF68129E3C01847BA0E1612EABCE232B Accuracy: -m0
Conclusion: CDDA 100%
Signature: E2B09604E865CAC4C97BCE844EFF8B64B6869E2D
FILE: 72-Up to Me (Rehearsal and Take 1, Remake 3).flac
Size: 11265292 Hash: 14CF0702E1EE4047708B192C16A113D4 Accuracy: -m0
Conclusion: CDDA 100%
Signature: D475B811B92C7A1113F3C57522EBEF522B20C0F1
FILE: 71-Simple Twist of Fate (Take 3, Remake).flac
Size: 21880523 Hash: C3BE16AD1263E5CF70C9A751DCFBE50E Accuracy: -m0
Conclusion: CDDA 100%
Signature: 93077B4AA6ECD6998E72B5C589E911437E48B769
FILE: 70-Simple Twist of Fate (Take 2, Remake).flac
Size: 22209149 Hash: 87C08B45BD5A58A0040DC82F04D867D6 Accuracy: -m0
Conclusion: CDDA 100%
Signature: 3FD3773174057D2F8216B6974E27F977E492CC42
FILE: 69-Tangled Up in Blue (Take 3, Remake 2).flac
Size: 35479137 Hash: C72DF71CAE9B9136ED476E6895DB18E7 Accuracy: -m0
Conclusion: CDDA 100%
Signature: 1895138D7E958EC9D1FF8D347FEC6CF2C22A796F
FILE: 68-Tangled Up in Blue (Take 2, Remake 2).flac
Size: 7461992 Hash: E440812B62D1BAF67DFED75C7DF72EBC Accuracy: -m0
Conclusion: CDDA 100%
Signature: 54565E3299F8B3C3FFB35BA31120E388E78C4363
FILE: 67-Tangled Up in Blue (Rehearsal and Take 1, Remake 2).flac
Size: 14491290 Hash: 261DD9E395A33A152B5EEBD6495BE578 Accuracy: -m0
Conclusion: CDDA 100%
Signature: 083C28EB358C6753189D7142EEC145CD8AA7D2C6
FILE: 66-Buckets of Rain (Take 5, Remake 2).flac
Size: 15462006 Hash: 09E0D0B11B3F6BF843F793331DA997F3 Accuracy: -m0
Conclusion: CDDA 100%
Signature: B68D4502CB69B7C527B55C9C4159082AD40ED58D
FILE: 65-Meet Me in the Morning (Take 2, Remake).flac
Size: 22102399 Hash: 80DDB902AF315499551BD0C7799CE66E Accuracy: -m0
Conclusion: CDDA 99%
Signature: 832FB906B1E3F81E8775372B3F62EC4A15132D25
FILE: 64-Meet Me in the Morning (Take 1, Remake).flac
Size: 24303336 Hash: 7CAF5898465FFBB641A520D9B2E2A851 Accuracy: -m0
Conclusion: CDDA 100%
Signature: 8D94123711F210E61F3DD7C464AEC3F9E77386AE
FILE: 63-Buckets of Rain (Rehearsal).flac
Size: 3158935 Hash: 1867478427C748AD6516AC10A724A927 Accuracy: -m0
Conclusion: CDDA 99%
Signature: 52C0C3C35EF5434C14B79FD31D2796CDF4A745A2
FILE: 62-Up to Me (Take 3, Remake 2).flac
Size: 34587532 Hash: 309DCDA62F926877DAC138C9B15B9F4E Accuracy: -m0
Conclusion: CDDA 100%
Signature: E32CC9AC73FDDACD4492E86D96D8E62EC3E092CF
FILE: 61-Up to Me (Take 2, Remake 2).flac
Size: 36353012 Hash: 8507A462CB48907D5005C752A5E84F10 Accuracy: -m0
Conclusion: CDDA 100%
Signature: E862295CC0C018FD3E2D8ADF9DB453F43402C90B
FILE: 60-Up to Me (Take 1, Remake 2).flac
Size: 4374846 Hash: F561B3132F23540B77477EEA7664C2A1 Accuracy: -m0
Conclusion: CDDA 100%
Signature: ABBEDE911BD36CB72BFD2FEB499FA240C6667F5F
FILE: 59-If You See Her, Say Hello (Take 1, Remake).flac
Size: 16025305 Hash: E04889D60EBFA381ABB5B955C8ED8D57 Accuracy: -m0
Conclusion: CDDA 100%
Signature: 7378342598F7F589C50E8F192D832C0429869B61
FILE: 58-Buckets of Rain (Take 4, Remake 2).flac
Size: 15730313 Hash: C0D76277225D5EB91EE81B50EC815663 Accuracy: -m0
Conclusion: CDDA 100%
Signature: ABB9C41BECE3BAB535FC801558E4891347EA8667
FILE: 57-Buckets of Rain (Take 3, Remake 2).flac
Size: 7758970 Hash: 022C32D1BBF3EAB408FE265CF33C38FC Accuracy: -m0
Conclusion: CDDA 99%
Signature: 511A9AEF9D8BA4968F87A08CEEAF7439E4F7DFD0
FILE: 56-Buckets of Rain (Take 2, Remake 2).flac
Size: 4174384 Hash: 58CF169866BAF28E35F32DDC943560A5 Accuracy: -m0
Conclusion: CDDA 100%
Signature: F6722DFC326FDE8B9B8CBA178FC49762912BE507
FILE: 55-Buckets of Rain (Take 1, Remake 2).flac
Size: 12661212 Hash: 4A2D2C639B1C0157FAD1778F64C8CE66 Accuracy: -m0
Conclusion: CDDA 85%
Signature: A32C3A6C6B8F5414831597C0C12488B45ABFD6A0
FILE: 54-Up to Me (Take 2, Remake).flac
Size: 34812568 Hash: A508559B61FA73AC97FAE65D7C708362 Accuracy: -m0
Conclusion: CDDA 100%
Signature: 9A66E3DE79121A4BE1BA11F4FE6CC4D503FD9094
FILE: 53-Up to Me (Take 1, Remake).flac
Size: 6595649 Hash: 36E8AAA5110CF0F3392CA58AC57C5C67 Accuracy: -m0
Conclusion: CDDA 100%
Signature: 4901DA1FC74291772DA6F3968C1B67A5D540EE46
FILE: 52-Buckets of Rain (Take 4, Remake).flac
Size: 12166107 Hash: 3C68C1512D20BC245E2A1C5F513D2328 Accuracy: -m0
Conclusion: CDDA 100%
Signature: 3194FA2DE2491D676B273C19D9E175B17BD522FF
FILE: 51-Buckets of Rain (Take 3, Remake).flac
Size: 4055434 Hash: 07DE981CE26C01B1B722021CD4D3C199 Accuracy: -m0
Conclusion: CDDA 100%
Signature: 13F1E52B5747BD2039C6832BED665B170A7DA9E6
FILE: 50-Buckets of Rain (Take 2, Remake).flac
Size: 13312660 Hash: BCDE6AB8A7ACD4483BDCB9FA962F5D29 Accuracy: -m0
Conclusion: CDDA 100%
Signature: 118F6123F235668A7B2BA23B9842DFF3DB7680BD
FILE: 49-Buckets of Rain (Take 1, Remake).flac
Size: 14979160 Hash: BB09849A7C00A579E61234571EF76240 Accuracy: -m0
Conclusion: CDDA 94%
Signature: E3A079288F55741D09F2266EC8D5D92B18E8BAF3
FILE: 48-You're Gonna Make Me Lonesome When You Go (Take 2, Remake 2).flac
Size: 18226314 Hash: 647339C575B75D41FF2B57BF49AFED44 Accuracy: -m0
Conclusion: CDDA 100%
Signature: 7F381A3151FA6C0755901F053C68E095F3655011
FILE: 47-You're Gonna Make Me Lonesome When You Go (Take 1, Remake 2).flac
Size: 19098114 Hash: 48026DEEC57A2241453B179397F44A4E Accuracy: -m0
Conclusion: CDDA 100%
Signature: 382866F91C883F920A3FC5902D99224D2E05C46F
FILE: 46-Shelter from the Storm (Take 4).flac
Size: 25804629 Hash: F12EA249DF5BC9155CB4D77AB4F027EA Accuracy: -m0
Conclusion: CDDA 100%
Signature: F24E63F77A8ECE9340870B65272FC33017F289EF
FILE: 45-Shelter from the Storm (Take 3).flac
Size: 10822851 Hash: DFB331F6BC9BB11538838D6B69205AEA Accuracy: -m0
Conclusion: CDDA 100%
Signature: 11D91065089D1CB1EF06965F1A0C3E2B7CD89F59
FILE: 44-Shelter from the Storm (Take 2).flac
Size: 22819918 Hash: 308A1204AAC9F59DAB32D2DF57A6FB7C Accuracy: -m0
Conclusion: CDDA 100%
Signature: 69EA9FA813A48384883EAC688576A9DABB0B3840
FILE: 43-Buckets of Rain (Take 2).flac
Size: 14257679 Hash: 788112992663D7C6C4FDC61895A5AC53 Accuracy: -m0
Conclusion: CDDA 85%
Signature: E02CD44EE77642308E3BF4D6C775CB140FBB1EFB
FILE: 42-Tangled Up in Blue (Take 3, Remake).flac
Size: 33709283 Hash: 1DDA5EB0FFF51758FEA88528C4D9FAD6 Accuracy: -m0
Conclusion: CDDA 100%
Signature: 67CF0DC5A17FAA8182813D664F802635AC315009
FILE: 41-Buckets of Rain (Take 1).flac
Size: 11534670 Hash: 9EB2E65B8AF42A5E1B17550E51D6B1CA Accuracy: -m0
Conclusion: CDDA 85%
Signature: 2EAFF9C865DE07429F8E7214AC699E5F2AB6670C
FILE: 40-Shelter from the Storm (Take 1).flac
Size: 34472155 Hash: 6261A93A5269B7EB0460A1A56BD412AD Accuracy: -m0
Conclusion: CDDA 100%
Signature: 678F185095CF199DE2EDD3918187944AD7B2FB2A
FILE: 39-You're Gonna Make Me Lonesome When You Go (Take 1, Remake).flac
Size: 18336367 Hash: 616A0B08749F6FA5E88256DF5E8A0738 Accuracy: -m0
Conclusion: CDDA 100%
Signature: 86642BA524A72A368DA4212EF6EADA51605DEE7B
FILE: 38-Call Letter Blues (Rehearsal).flac
Size: 9898576 Hash: 63E6B300AFD18CD4F427832506AE1524 Accuracy: -m0
Conclusion: CDDA 100%
Signature: CADAD1CC54DC9EB7CD98AA4A974CC60F549E1FEC
FILE: 37-Spanish Is the Loving Tongue (Take 1).flac
Size: 22887850 Hash: FB9E8B6BF306E57992A4849B3C33882B Accuracy: -m0
Conclusion: CDDA 100%
Signature: 84A80EC6BBA676BB5F2889DBEE545B75351196C9
FILE: 36-Tangled Up in Blue (Take 2, Remake).flac
Size: 35251213 Hash: 48F40ACE88AE836D69F98F228591A54C Accuracy: -m0
Conclusion: CDDA 100%
Signature: 27B8D5D5BE3F9CE0DA32B579C1AAE66897E7DA14
FILE: 35-Tangled Up in Blue (Rehearsal).flac
Size: 3412964 Hash: 9910E7F894098A0C60701D13B45D1ABF Accuracy: -m0
Conclusion: CDDA 100%
Signature: A60ED76298F5E649A6D0A2FD2B09DA85634B1ECD
FILE: 34-You're a Big Girl Now (Take 2, Remake).flac
Size: 21794662 Hash: CF65BE929FB232AD479A60F78F87A831 Accuracy: -m0
Conclusion: CDDA 100%
Signature: 87BBE62D2414CFAD981CAC3DF5EFEF4B423BB28A
FILE: 33-You're a Big Girl Now (Take 1, Remake).flac
Size: 22734065 Hash: E0AC772907776DFC46FF6EAC41D6DB05 Accuracy: -m0
Conclusion: CDDA 100%
Signature: 6E864EC4E4087BA02312D1017FD27BDCCFEE5BDA
FILE: 32-Tangled Up in Blue (Take 1).flac
Size: 39937303 Hash: 98DC224B7852683AAD2799CA9DC9E6ED Accuracy: -m0
Conclusion: CDDA 100%
Signature: 48C3024B9DB1B7A931B11CE3125BDEDAE6615776
FILE: 31-You're Gonna Make Me Lonesome When You Go (Take 8).flac
Size: 21129921 Hash: 024D17FDCD79FCDC17F29372B3D5C0BF Accuracy: -m0
Conclusion: CDDA 100%
Signature: 3E539E1888CE7F2C1401D6992891B0D94BC16748
FILE: 30-You're Gonna Make Me Lonesome When You Go (Take 7).flac
Size: 5090239 Hash: 541E3ED0375FB5A750956F545787A39F Accuracy: -m0
Conclusion: CDDA 99%
Signature: 7725988CB70926D869204005E4562C34FCE4E422
FILE: 29-You're Gonna Make Me Lonesome When You Go (Take 6, Remake).flac
Size: 4602209 Hash: D5113268957CE395C5BA81CE10A19A34 Accuracy: -m0
Conclusion: CDDA 100%
Signature: 660506E990570A0A899FEFA645C96C58A358BC80
FILE: 28-You're Gonna Make Me Lonesome When You Go (Take 6).flac
Size: 4412554 Hash: 5EFF3030F7F37A481FFABA4481FA7ECE Accuracy: -m0
Conclusion: CDDA 100%
Signature: E826FECBBE6C3ADFC15E2C5D019ED53069749BC3
FILE: 27-You're Gonna Make Me Lonesome When You Go (Take 5).flac
Size: 22717138 Hash: B4499B648CC3F8D9BF9A15804F2CDE77 Accuracy: -m0
Conclusion: CDDA 99%
Signature: 6C49CD2D33050C9FCBC1D606C54C74AF5C528DB7
FILE: 26-You're Gonna Make Me Lonesome When You Go (Take 4).flac
Size: 14310919 Hash: AED15EA32919AD76D34B4DCCBBAB5D24 Accuracy: -m0
Conclusion: CDDA 100%
Signature: 5C90A8283FC3600B396500867FCB27B77D54F24C
FILE: 25-You're Gonna Make Me Lonesome When You Go (Take 3).flac
Size: 5245706 Hash: C922B642EC49A626E19BB55FF2E53DBF Accuracy: -m0
Conclusion: CDDA 99%
Signature: FD62482D37163BCAC57EC9D5C3C59CC6986F3A63
FILE: 24-You're Gonna Make Me Lonesome When You Go (Take 2).flac
Size: 3234949 Hash: 30A82EE0A767B68DDFA7143C26B0BE1B Accuracy: -m0
Conclusion: CDDA 100%
Signature: AA900F5434434FD842A34532CE8E0B1A1EB2A5EA
FILE: 23-You're Gonna Make Me Lonesome When You Go (Rehearsal and Take 1).flac
Size: 7004996 Hash: 060B8B4C7A9B28D8FA55CE43EA1626F1 Accuracy: -m0
Conclusion: CDDA 100%
Signature: 583D60F7A8B544E8FB907969F443A0142893919C
FILE: 22-Idiot Wind (Take 6).flac
Size: 45054061 Hash: 8724F1496870E69DDDEA346443EF4FD4 Accuracy: -m0
Conclusion: CDDA 100%
Signature: E2F287881EA2C5E2DEBC99FBA8AF3E8EBE0520A8
FILE: 21-Idiot Wind (Take 5).flac
Size: 1499691 Hash: 14C6096FD4219E69939C896A75CB196F Accuracy: -m0
Conclusion: CDDA 100%
Signature: BD34F7B311E4EDBEFDE64BF856E9D264FDFE3260
FILE: 20-Idiot Wind (Take 3 with insert).flac
Size: 33734107 Hash: 0E3C66A5346DC379EFAD8CB8B8994D0C Accuracy: -m0
Conclusion: CDDA 100%
Signature: 4DF50F097C40234DC4A4563381DED6787F7C851E
FILE: 19-Idiot Wind (Take 1, Remake).flac
Size: 22652880 Hash: 3977AC778931793B07CB3A748BC7A34D Accuracy: -m0
Conclusion: CDDA 100%
Signature: 7EB6A560D6AF581844BE40B52D32EE39BEF5A720
FILE: 18-Idiot Wind (Take 1).flac
Size: 15156942 Hash: 889A5A0801CBF16B238178045DFE07F4 Accuracy: -m0
Conclusion: CDDA 100%
Signature: 81FC1B7FE9BFAEACBA1941969D1138F735936302
FILE: 17-Call Letter Blues (Take 2).flac
Size: 25479088 Hash: EFD23641BA7E87D2646D7742C0876B14 Accuracy: -m0
Conclusion: CDDA 100%
Signature: 663D169C3CF4EB951D648433A183CCE98287E951
FILE: 16-Meet Me in the Morning (Take 1).flac
Size: 32028650 Hash: C1F465A11038D7C97F97D9915CCB3427 Accuracy: -m0
Conclusion: CDDA 99%
Signature: 870E8A9164B25B1E1DAEF77A6064B01D53AF06DC
FILE: 15-Call Letter Blues (Take 1).flac
Size: 26490824 Hash: 3E1ABDF62902BC0B8E8A266FBA085DB1 Accuracy: -m0
Conclusion: CDDA 100%
Signature: F475542560CE669140FFDD2D116E90DB8D967D07
FILE: 14-Simple Twist of Fate (Take 3A).flac
Size: 21858675 Hash: 59DE00528E5F78D0296A30542C99B5A9 Accuracy: -m0
Conclusion: CDDA 100%
Signature: BF4567C55FDFEF3841813CA2CD107CDABE91DF28
FILE: 13-Simple Twist of Fate (Take 2A).flac
Size: 6360867 Hash: 78A566E8DA45045CCEAF78E25D98857A Accuracy: -m0
Conclusion: CDDA 99%
Signature: 966D7BB9323CB1A751E9B8CC6ECE2583DA85D9E1
FILE: 12-Simple Twist of Fate (Take 1A).flac
Size: 24704882 Hash: AA5BAAFB426FE1234440CBCDC2D65F00 Accuracy: -m0
Conclusion: CDDA 100%
Signature: 16418D38B4A46C245517C56ABED82FA7DDF6AF24
FILE: 11-Lily, Rosemary and the Jack of Hearts (Take 2).flac
Size: 54560569 Hash: 8C87B49F073E0BFF0C1E8D3A2E40D584 Accuracy: -m0
Conclusion: CDDA 100%
Signature: E0DFB0DEA75E7F9AB482E538D7B3B0654B8DC5D4
FILE: 10-Lily, Rosemary and the Jack of Hearts (Take 1).flac
Size: 14518509 Hash: 8AD653407BAFF3CAEC939E20A56C3A21 Accuracy: -m0
Conclusion: CDDA 100%
Signature: 3F98E24A3293E87F8A33C99A4A12E78D48C8299A
FILE: 09-Up to Me (Take 1).flac
Size: 31953004 Hash: 8193F9F63FE4A69299B4E48D6CE202C4 Accuracy: -m0
Conclusion: CDDA 100%
Signature: 679FE48CA131B03FD55477014EB9BFC20CABACAF
FILE: 08-Up to Me (Rehearsal).flac
Size: 1365438 Hash: 00DE8F8148AF3C8804DF50C745054EA5 Accuracy: -m0
Conclusion: CDDA 100%
Signature: EABD496C63ED675984C66954AD4CD8D863785923
FILE: 07-You're a Big Girl Now (Take 3).flac
Size: 20077324 Hash: BA4CB6C2BCBAB3EAB170244FCB455212 Accuracy: -m0
Conclusion: CDDA 100%
Signature: 9E12EC91C5C2EA485D58001F244FE1C694D50B43
FILE: 06-Simple Twist of Fate (Take 2).flac
Size: 26173827 Hash: 23E6DCD8CDC408B15E0C29C0D0915BE4 Accuracy: -m0
Conclusion: CDDA 100%
Signature: 28D1EDCCCAA283F0BF73FA9A8903649C2107AE6A
FILE: 05-Simple Twist of Fate (Take 1).flac
Size: 24053099 Hash: E804DCA53FABF4686CA81E19534362F4 Accuracy: -m0
Conclusion: CDDA 100%
Signature: AB389C907438E8A9AC36C241CEE8B7D016DCE1B3
FILE: 04-You're a Big Girl Now (Take 2).flac
Size: 22228589 Hash: C92F9012A3B7AABB7C5E520D7979793F Accuracy: -m0
Conclusion: CDDA 100%
Signature: C3E9687BE64D56DD03A2D6C7443D9AB8ABD6F65D
FILE: 03-You're a Big Girl Now (Take 1).flac
Size: 27895744 Hash: E795F31CC7A3DB6C448ECBF3895FC0A5 Accuracy: -m0
Conclusion: CDDA 100%
Signature: EF340177F29FA0625F6AE64133A72B750D89FD8B
FILE: 02-If You See Her, Say Hello (Take 2).flac
Size: 18822564 Hash: A162085D19FD56E86051E298C2CD0D62 Accuracy: -m0
Conclusion: CDDA 100%
Signature: E23847F8930161F90EAD717B5FCE5D3892340C36
FILE: 01-If You See Her, Say Hello (Take 1).flac
Size: 21097867 Hash: CB0C634BD83C0552CEC4A44FF74E470B Accuracy: -m0
Conclusion: CDDA 100%
Signature: D8E20AAFBB521BA6844C2BA6B0008ED4F83BA285