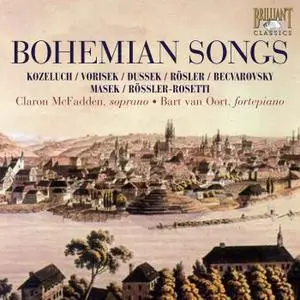 Claron McFadden, Bart Van Oort - Bohemian Songs (2008)
WEB | FLAC (tracks) - 361 MB | 01:17:47
Genre: Classical | Label: Brilliant Classics
Bohemia at the end of the 18th century and the early 19th was teeming with highly skilled composers and musicians, centred around the city of Prague. Charles Burney described it as 'the conservatory of Europe'. He also found that rural areas were rich in musical activities, especially in schools. The majority of the composers wrote for their particular instrument, and the names of Dussek and Kozeluch in particular have survived to this day. They along with Vorisek are the best known composers on this fascinating programme of songs from this golden age of Czech music.