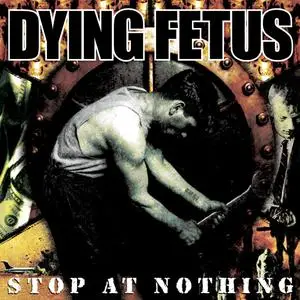 Dying Fetus - Stop At Nothing (2003)
U.S.A. | MP3 CBR 320 Kbps | 79 MB
Brutal Death Metal/Grindcore | Label : Relapse Records
Stop at Nothing is the fourth album by the Maryland technical death metal band Dying Fetus. The album, like its predecessor, Destroy the Opposition, was produced by the band and Steve Carr. Shortly after the release of Destroy the Opposition, all of the band except for John Gallagher quit. Gallagher brought in new vocalist Vince Matthews, guitarist Mike Kimball, bass guitarist Sean Beasley and drummer Eric Seyanga. The black and white part of the cover of the album is part of a photograph taken by Lewis Wickes Hine, the American sociologist and photographer, called "Power house mechanic working on steam pump".The steam pump has been shown in color while the original photo was completely black and white.