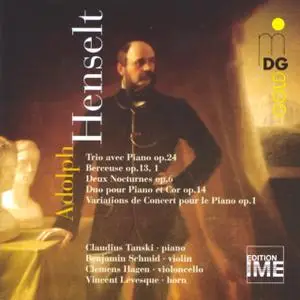 Claudius Tanski, Benjamin Schmid, Clemens Hagen, Vincent Lévesque - Henselt: Piano Music (2000)
WEB | FLAC (tracks) - 247 MB | 01:04:44
Genre: Classical | Label: MDG Gold
Adolf von Henselt's music is not well known today outside piano circles. His Piano Trio Op. 24, dedicated to Franz Liszt, is one of the few chamber works he created, and it bears more signs of the performer's career he left behind than of the influential pedagogue he became. If Henselt's writing is a little over-the-top in places, the playing on this recording is even more so. The ensemble is occasionally on the heavy side, and MDG's sound is so direct and open that the performers' stresses are exaggerated even further. This is evident, for instance, in the closing bars of the first movement exposition and in much of the following development section.