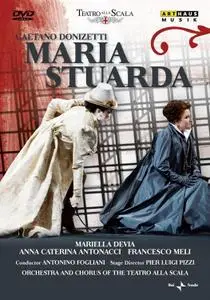 Antonio Fogliani, Orchestra del Teatro alla Scalla - Donizetti: Maria Stuarda (2008)
NTSC 16:9 (720x480) | Italiano (LinearPCM, 2 ch) | (Dolby AC3, 6 ch) | 7.24 Gb (DVD9) | 138 min
Classical | Arthaus Musik | Sub.: Deutsch, English, Francais, Espanol, Italiano, Japanese
Two queens on one island. A recipe for disaster. Especially as both have a legitimate claim to the other's throne. They are, after all, related… So the power politics are the name of the game. And, for reasons of state, one of the heads that wears a crown has to roll. Maria Stuarda was laid to rest for more than a hundred years, finally being revived in 1958 in Bergamo under conductor Oliviero de Fabritiis. However the real breakthrough for the opera fi nally came with Giorgio de Lullo's Florentine production for the Maggio Musicale in 1967 (with set design and costumes by Pier Luigi Pizzi, director, set designer and costume designer at La Scala in 2008).