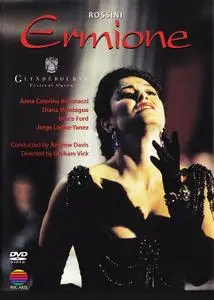 Andrew Davis, The London Philharmonic - Rossini: Ermione (2006/1995)
NTSC 4:3 (720x480) | Italiano (Dolby AC3, 2 ch) | 7.05 Gb (DVD9) | 138 min
Classical | NVC Arts | Sub.: English, Deutsch, Espanol, Francais, Italiano, Portugues
Recorded at Glyndebourne's superb new opera house, this lavishly praised production of Rossini's forgotten and unusual tragic opera has proved to be an unequivocal success. Based on Racine's Andromaque, this account of the Greek and Trojan love tangle has been set by Graham Vick in the classically-inspired auditorium of an Italian opera house, rather than in ancient Greece. The set designs, with their striking colours, forms and lighting are as if created especially for the small screen.