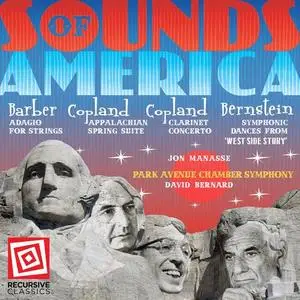 David Bernard & Park Avenue Chamber Symphony - Sounds of America: Barber, Copland and Bernstein (2021)
FLAC tracks / MP3 320 kbps | 1:13:48 | 339 / 169 Mb
Genre: Classical / Label: Recursive Classics
Nothing comes quite as close, musically speaking that is, to reaching at the core of America quite like the ballet Appalachian Spring by Aaron Copland (1900-1990). Despite having received his formal musical training in Paris under Nadia Boulanger and living in Brooklyn, he's the composer who captures best the "big sky country" spirit of America, especially in works like Billy the Kid, Fanfare for the Common Man, Rodeo and his score for Of Mice and Men. The "outdoorsy" and folksy feel of Appalachian Spring, typical of Copland's open intervals and harmonic structure, have caused it to become one of the best representations of American culture. Conductor David Bernard's relaxed tempo for the Introduction allows for the dawn's natural unfolding, before the full-blown awakening of nature which follows. The agrestic, corn-pone manner within the Revivalist and His Flock segment comes across well here, as well as the energetic, multi-layered rhythms of the Solo Dance of the Bride. The following Meno Mosso recapitulation of the opening sequence is highly expressive as well. The brisk tempo of the Variations on a Shaker Hymn (Simple Gifts) works very well here, and the Coda, as the sun sets in the west is heartfelt, warm and highly evocative.