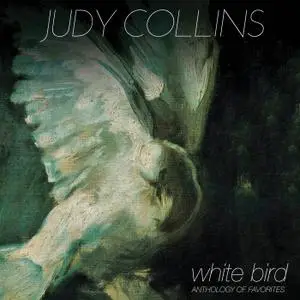 Judy Collins - White Bird: Anthology of Favorites (2021)
WEB FLAC (tracks) - 243 Mb | MP3 CBR 320 kbps - 93 Mb | 00:40:19
Folk, Female Vocal | Label: Wildflower Records
Folk music legend Judy Collins hand-picked this selection of her most treasured recent recordings! Features a brand new, never before released cover of "White Bird," the 1969 gem from San Francisco hippie rock group It's A Beautiful Day, which will be released as a single on March 19 and supported with a publicity campaign! Also includes superb new versions of Joni Mitchell's "Chelsea Morning," The Byrds' "Turn! Turn! Turn!," and Randy Newman's "I Think It's Going To Rain Today!" Special guests include CSN's Stephen Stills, Willie Nelson & Joan Baez!
Tracklist:
1.
White Bird
(04:11)
2.
Chelsea Morning
(03:19)
3.
Turn! Turn! Turn! (To Everything There is a Season)
(04:07)
4.
Pack up Your Sorrows (Re-Recorded)
(03:26)
5.
When I Go
(04:27)
6.
I Think It's Going to Rain Today
(04:07)
7.
Last Thing on My Mind
(02:58)
8.
Blackbird
(02:28)
9.
Both Sides Now
(03:28)
10.
Diamonds and Rust
(03:35)
11.
Send in the Clowns
(04:07)
–––––––––––-

DON'T MODIFY THIS FILE

–––––––––––-

PERFORMER: auCDtect Task Manager, ver. 1.6.0 RC1 build 1.6.0.1
Copyright © 2008-2010 y-soft. All rights reserved

ANALYZER: auCDtect: CD records authenticity detector, version 0.8.2
Copyright © 2004 Oleg Berngardt. All rights reserved.
Copyright © 2004 Alexander Djourik. All rights reserved.


FILE: 11 Send in the Clowns.flac
Size: 23807007 Hash: 5C8A9621E13CA9A1158BA4D6C7B11CDE Accuracy: -m8
Conclusion: CDDA 100%
Signature: BECE9208C358786C95C4BFF12565454B2AFB8CF1
FILE: 10 Diamonds and Rust.flac
Size: 24333988 Hash: 22208ADF8A4474495FE22D0AF50B5B49 Accuracy: -m8
Conclusion: CDDA 100%
Signature: 914E8E75C3114BEB1F29CF9D58252F44CB57E309
FILE: 09 Both Sides Now.flac
Size: 24287937 Hash: C8CC52CBE7557B4FB90900EF0152B056 Accuracy: -m8
Conclusion: CDDA 100%
Signature: 204B552CA9E5D6E7250651507286C5158DA71820
FILE: 08 Blackbird.flac
Size: 16619724 Hash: 6C2890B5717484B4361CD9AC6A54FA32 Accuracy: -m8
Conclusion: CDDA 100%
Signature: 54EE318916353B25A8923ADF7C2EF9FB331CF0FF
FILE: 07 Last Thing on My Mind.flac
Size: 20058224 Hash: DF5951BFBF81CA5BEE39E2AF543110BD Accuracy: -m8
Conclusion: CDDA 100%
Signature: D94D24573092443D2011E3304FB2D2D9CF3C8115
FILE: 06 I Think It's Going to Rain Today.flac
Size: 24687635 Hash: E33E5D197C3DCB17F583A8B9E7FE6E98 Accuracy: -m8
Conclusion: CDDA 100%
Signature: 59003E8A47FE5B4FBB568B71ED79A33D26D76CBD
FILE: 05 When I Go.flac
Size: 24790718 Hash: 1920BC9F46B8D6E0CDFE6EBB40AE7794 Accuracy: -m8
Conclusion: CDDA 100%
Signature: 7DA392FE782FB53102DABCDDC24DC69DFEABD7A4
FILE: 04 Pack up Your Sorrows (Re-Recorded).flac
Size: 21254899 Hash: CA3C8027F1DA243D87A86ED1B36DEB49 Accuracy: -m8
Conclusion: CDDA 100%
Signature: BE8CDBFDC150C279C4CEF479A0947F7CB20001F4
FILE: 03 Turn! Turn! Turn! (To Everything There is a Season).flac
Size: 25952819 Hash: 0AE60F17DC7C4BB4F7E20CF961A1085D Accuracy: -m8
Conclusion: CDDA 100%
Signature: 1385DC22DAC3D71A4A675A430423E50B4089A587
FILE: 02 Chelsea Morning.flac
Size: 22397366 Hash: C8F550C8F06468ECDEC07778122B72EA Accuracy: -m8
Conclusion: CDDA 100%
Signature: 5414A474B11AF83F679E9466FC00661E2061F8AE
FILE: 01 White Bird.flac
Size: 25974431 Hash: B161DEB045FDF9AF18DD9F850DE3E836 Accuracy: -m8
Conclusion: CDDA 100%
Signature: 04DB3EAF227792C0B92E12863081241E65ED36FC