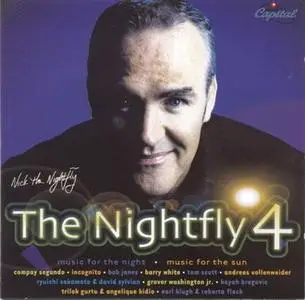 Nick The Nightfly - The Nightfly 4 (2000)
2CD | Mp3 Lame 3.98@~260 | RS.com | 275 MB
Genre: Nu Jazz, Lounge, Chill Out, Nu Soul
The formula is the usual one : excellent music, musicians of refined taste even when sometimes less noticed or disowned ones, relax atmospheres. To listen to all pieces one after the another, sometimes prevails a habit sense, but taken one by one, is perhaps the best that popular music of the last decade has produced.
Dal suo nome trae origine una ulteriore serie di compilation, intitolata The NightFly, ovviamente strettamente imparentata con la precedente: musica di qualità, che spazia dal Jazz alla World Music, dal Brasil all'Acid Jazz alle musiche di frontiera, con i protagonisti della musica Chill Out Lounge e Nu Jazz, e via etichettando.
La formula è la solita: musica eccellente, musicisti di gusto raffinato anche se a volte poco noti o sconosciuti, atmosfere rilassate, niente hit inflazionati, se mai qualche cover molto particolare. Ad ascoltare tutti i pezzi uno dopo l'altro, a volte prevale un senso di assuefazione, ma presi uno per uno, è forse il meglio che la musica popolare dell'ultimo decennio ha prodotto.
Tracklist:
Cd 1 - Music For The Night
1. Ryuichi Sakamoto - Forbidden Colours (4:47)
2. Andreas Vollenweider - Stella (5:19)
3. Dancing Fantasy - Take Five (5:24)
4. Marc Antoine - Palm Strings (5:05)
5. Tc - Alma Nua (5:05)
6. David Benoit - Rejoyce (4:45)
7. Norman Brown - That's The Way Love Goes (4:45)
8. Clara Ponty - Migration (3:36)
9. Trilok Gurtu & Angelique Kidjo - African Fantasy (2:50)
10. Boney James - Are You Ready (5:00)
11. Earl Klugh & Roberta Flack - Naw And Again (4:33)
12. Carlos Nuñez - Os Amores Libres (2:13)
13. Jesse Cook - Cascada (3:09)
14. Dave Koz - Together Again (3:59)
15. Doctor 3 - Danny Boy (4:02)
16. Kayah Bregovic - Trudno Khochac (3:56)

Cd 2 - Music For The Sun
1. Compay Segundo - Chan Chan (5:17)
2. Mo' Horizons - Brasil (6:10)
3. Ray Barretto - What's Going On (5:15)
4. Incognito - Fearless (6:12)
5. Grover Washington Jr. - The Night Fantastic (3:02)
6. Barry White - Staying Power (6:05)
7. Rick Braun - Hollywood And Vine (4:44)
8. Count Basic - Trust Your Instinct (4:10)
9. Saturnino - Si Tutto Accade Per Il Mio Bene (3:48)
10. Bob Janes - Raise Of The Roof (4:50)
11. Tom Grant - Tune It In (4:32)
12. Tom Scott & The L.A. Express - Just Takin' A Walk (5:47)
13. Spyro Gyra - If You Will (5:11)
14. Joyce Cooling - Callie (3:31)
15. Bouble Scale & Everett Harp - Locomotion (5:07)
16. Alex Bugnon - All That I Can Say (5:07)