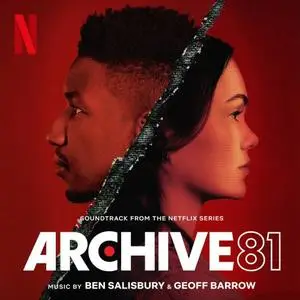 Ben Salisbury, Geoff Barrow - Archive 81 (Soundtrack From The Netflix Series) (2022)
FLAC tracks | 1:24:08 | 271 Mb
Genre: Soundtrack / Label: INVADA Records
Archive 81 is an upcoming American horror streaming television series showrun by Rebecca Sonnenshine, written by Paul Harris Boardman and executive produced by Sonnenshine, Boardman, and James Wan. The series is inspired by the podcast of the same name. It stars Mamoudou Athie and Dina Shihabi in leading roles. The series is scheduled to be released on January 14, 2022 on Netflix.
Ben Salisbury
Known for his work on natural history programs and his collaborative material with fellow producer Geoff Barrow, Ben Salisbury is an English musician, arranger, and composer. He became interested in music at an early age — having been classically trained on piano from the age of five — and went on to study for a degree in music at both Newcastle University and Bournemouth University. After studies, he made his way into score work for television and film, most notably for David Attenborough's documentary series The Life of Mammals, Life in Cold Blood, and Life in the Undergrowth.
Track List:
1.01 - Ben Salisbury, Geoff Barrow - Archive 81 – Titles (0:35)
1.02 - Ben Salisbury, Geoff Barrow - The Visser Ritual (2:25)
1.03 - Ben Salisbury, Geoff Barrow - Tape Cleaning (1:04)
1.04 - Ben Salisbury, Geoff Barrow - Losing Track Of Time (3:05)
1.05 - Ben Salisbury, Geoff Barrow - Jess Opens Up (2:39)
1.06 - Ben Salisbury, Geoff Barrow - Journey To The Compound (1:25)
1.07 - Ben Salisbury, Geoff Barrow - Seizure (1:03)
1.08 - Ben Salisbury, Geoff Barrow - Ghost Story / Cracking The Code (4:39)
1.09 - Ben Salisbury, Geoff Barrow - Otherside (3:43)
1.10 - Ben Salisbury, Geoff Barrow - Mold (3:13)
1.11 - Ben Salisbury, Geoff Barrow - Someone In There (3:56)
1.12 - Ben Salisbury, Geoff Barrow - Séance (3:01)
1.13 - Ben Salisbury, Geoff Barrow - Cameras (1:55)
1.14 - Ben Salisbury, Geoff Barrow - The Greenstone Totem (2:14)
1.15 - Ben Salisbury, Geoff Barrow - Dan's Theme (1:47)
1.16 - Ben Salisbury, Geoff Barrow - I'm a Spirit Receiver (3:02)
1.17 - Ben Salisbury, Geoff Barrow - Church Seizure / The Compound (2:17)
1.18 - Ben Salisbury, Geoff Barrow - The Cult of Kaelego (2:35)
1.19 - Ben Salisbury, Geoff Barrow - A Connection Through Time (1:38)
1.20 - Ben Salisbury, Geoff Barrow - Tamara's Opera (1:40)
1.21 - Ben Salisbury, Geoff Barrow - Dan's First Lucid Dream (3:40)
1.22 - Ben Salisbury, Geoff Barrow - I Need To Find Her (2:41)
1.23 - Ben Salisbury, Geoff Barrow - Pep Talk (1:12)
1.24 - Ben Salisbury, Geoff Barrow - 1994 (2:13)
1.25 - Ben Salisbury, Geoff Barrow - Going Rogue (1:05)
1.26 - Ben Salisbury, Geoff Barrow - Fucking Smothering Me (2:27)
1.27 - Ben Salisbury, Geoff Barrow - The Basement of Visser (4:44)
1.28 - Ben Salisbury, Geoff Barrow - The Ritual Space Recreated (3:11)
1.29 - Ben Salisbury, Geoff Barrow - Song of The Otherworld (2:15)
1.30 - Ben Salisbury, Geoff Barrow - Masks (5:09)
1.31 - Ben Salisbury, Geoff Barrow - What Are You Playing? (3:37)
1.32 - Ben Salisbury, Geoff Barrow - Stay Out (2:22)
1.33 - Ben Salisbury, Geoff Barrow - Archive 81 - Credits (1:34)
ANALYZER: auCDtect: CD records authenticity detector, version 0.8.2
Copyright © 2004 Oleg Berngardt. All rights reserved.
Copyright © 2004 Alexander Djourik. All rights reserved.


FILE: 01. Ben Salisbury - Archive 81 – Titles.flac
Size: 2470552 Hash: 49FBEE125E6AD534D368894529AA33C8 Accuracy: -m40
Conclusion: CDDA 76%
Signature: 740A05AD9A96AD79D457DCDB950F7ACF7FE94A5F
FILE: 02. Ben Salisbury - The Visser Ritual.flac
Size: 9506513 Hash: F97E5671C54A85891C25E40C8D0A6EF4 Accuracy: -m40
Conclusion: MPEG 100%
Signature: CC96F543B1B1C5935DD435BFE3E37BEF9186E747
FILE: 03. Ben Salisbury - Tape Cleaning.flac
Size: 3184375 Hash: DF02EE792F621781D8053CBEA339AC7F Accuracy: -m40
Conclusion: MPEG 100%
Signature: 7FBC1DDBAAD54A80E40A64C9915FBB8C7FF9F153
FILE: 04. Ben Salisbury - Losing Track Of Time.flac
Size: 9024057 Hash: 35DD81B5F05C1489F706D5E9CECD7F1D Accuracy: -m40
Conclusion: CDDA 87%
Signature: 1E53A691CEAF3F3EDCE58E443C6583F08BE4941A
FILE: 05. Ben Salisbury - Jess Opens Up.flac
Size: 8570486 Hash: E86BFD5EF0C089FC4F5F60823B2A35E5 Accuracy: -m40
Conclusion: CDDA 42%
Signature: D5C9943BB6E8B7626D38B19D16E94D8F3E070D6F
FILE: 06. Ben Salisbury - Journey To The Compound.flac
Size: 3652318 Hash: 46D60AA8EEFEFF71221FAC6E8EE1CDF8 Accuracy: -m40
Conclusion: CDDA 100%
Signature: 7C300608492342C49958ECE9A12E7F7D198743F2
FILE: 07. Ben Salisbury - Seizure.flac
Size: 3534333 Hash: 1FBB21413A32E90A15CC5DA4104E8905 Accuracy: -m40
Conclusion: CDDA 85%
Signature: 3AE9A3AEAC83E6FFB0F9B339B9180F5B445F7D7B
FILE: 08. Ben Salisbury - Ghost Story - Cracking The Code.flac
Size: 17469141 Hash: EBCADA2960E6973B3127EE14D547ABC0 Accuracy: -m40
Conclusion: CDDA 86%
Signature: E4F61BB1C77BAB41B60B4454FA865B056F61AFE6
FILE: 09. Ben Salisbury - Otherside.flac
Size: 14030685 Hash: EE181ED120D700E2CC8EE2C0141CE270 Accuracy: -m40
Conclusion: MPEG 99%
Signature: 06B80468C25675DD4AD1BED755659F0B5EE61297
FILE: 10. Ben Salisbury - Mold.flac
Size: 10150492 Hash: D5EBE94CB64C87B27D041436A199BE70 Accuracy: -m40
Conclusion: MPEG 90%
Signature: 04D509A056388AA8CC645B0944401C4AA1AAB972
FILE: 11. Ben Salisbury - Someone In There.flac
Size: 13947345 Hash: A62FCCA562BB8180F52FDC9D0018A6E1 Accuracy: -m40
Conclusion: MPEG 100%
Signature: 38E7BBD7D737187F9BC9763DC66ED37E0DE14710
FILE: 12. Ben Salisbury - Séance.flac
Size: 7520989 Hash: E7A5C636C9CDA26A5FB2CBA099806F61 Accuracy: -m40
Conclusion: MPEG 93%
Signature: B6D2F243929EC21B27E34E2DD20F2A342FCE99E2
FILE: 13. Ben Salisbury - Cameras.flac
Size: 8024747 Hash: DF6A45F832B913D58FBF48A565E627DC Accuracy: -m40
Conclusion: CDDA 54%
Signature: D71A37C04C58FB4E8B6624F005189F8B712D3205
FILE: 14. Ben Salisbury - The Greenstone Totem.flac
Size: 7175915 Hash: 9D2617845A58429F5A8D524C528D44AA Accuracy: -m40
Conclusion: CDDA 42%
Signature: 6D4B4E39622A36D5BC48BE460A7B0ED062DD1A74
FILE: 15. Ben Salisbury - Dan's Theme.flac
Size: 6312298 Hash: 81DE6F768C8BC0C2271B45E7D8AC53E0 Accuracy: -m40
Conclusion: MPEG 80%
Signature: D6DA55FC8589557BAD6925FEE66DA7B7DDBF40B9
FILE: 16. Ben Salisbury - I'm a Spirit Receiver.flac
Size: 10260662 Hash: CB0A97F46965346EF82A65BE104A7E27 Accuracy: -m40
Conclusion: MPEG 100%
Signature: 7CA0DE68A7B136252F6C7FC192B28EE25415FB98
FILE: 17. Ben Salisbury - Church Seizure - The Compound.flac
Size: 7198953 Hash: 125ECED412B345BDB508F91C050E217B Accuracy: -m40
Conclusion: CDDA 92%
Signature: 85BCEC1BDE523E2C399F47500A1DEDCAF07F27FE
FILE: 18. Ben Salisbury - The Cult of Kaelego.flac
Size: 10529554 Hash: 23A768660343428F5A10262157CF4943 Accuracy: -m40
Conclusion: CDDA 86%
Signature: EFF1CE46E09D6ABF0984F0D717DDD02A74C661C1
FILE: 19. Ben Salisbury - A Connection Through Time.flac
Size: 4949105 Hash: 970D59BE37C934BB2A7B82AAEF4123BD Accuracy: -m40
Conclusion: CDDA 99%
Signature: 48281BF0A898B7C77C1AF7B6682550755E7BCA1A
FILE: 20. Ben Salisbury - Tamara's Opera.flac
Size: 6673692 Hash: EC66DAD7B83CE9793A6D394455304D26 Accuracy: -m40
Conclusion: CDDA 100%
Signature: 7B576AF119849B9890FF35094213F3A6950D779A
FILE: 21. Ben Salisbury - Dan's First Lucid Dream.flac
Size: 13113410 Hash: 48AE403D0C29C4FFA2FC722338743F11 Accuracy: -m40
Conclusion: CDDA 100%
Signature: D14825B6BCE14AD70B296BA42DF47CE0B7EC2F2A
FILE: 22. Ben Salisbury - I Need To Find Her.flac
Size: 7025738 Hash: CB3F9AA626A985266DACE9ACFB5A5B8F Accuracy: -m40
Conclusion: MPEG 100%
Signature: F3B6510A3F71759392CB1F6CBA6F392244BDE622
FILE: 23. Ben Salisbury - Pep Talk.flac
Size: 3173603 Hash: 94983BCBB2991D0AC36D84311BE82875 Accuracy: -m40
Conclusion: MPEG 100%
Signature: 4EDB28633B979DABC081AD2464CBCDADDF51F23E
FILE: 24. Ben Salisbury - 1994.flac
Size: 6124766 Hash: 7501890832B8CF6FFDA25144435B734E Accuracy: -m40
Conclusion: CDDA 42%
Signature: 089A96B107B4F8DA90D18FD8B5DCA6E49451E018
FILE: 25. Ben Salisbury - Going Rogue.flac
Size: 3746736 Hash: 0E551A4D5C736DF149DCFE7E56E7FDDF Accuracy: -m40
Conclusion: MPEG 100%
Signature: 947420D47DFF638732CB6EE74914C3B3FA323375
FILE: 26. Ben Salisbury - Fucking Smothering Me.flac
Size: 8895361 Hash: D2FB3059ECCDF3C38F5E1C88C953790F Accuracy: -m40
Conclusion: MPEG 100%
Signature: AC5E1A4997FCDFE42AD09DB1E47E9F929A715F10
FILE: 27. Ben Salisbury - The Basement of Visser.flac
Size: 16728711 Hash: 36D11D8A075465B1C1A1E8286C7BB4F9 Accuracy: -m40
Conclusion: CDDA 100%
Signature: 48DE76E6516B9967130470BC052B12384173A52E
FILE: 28. Ben Salisbury - The Ritual Space Recreated.flac
Size: 10169007 Hash: 3B142779EEF04F8B57E64AD7F3C72283 Accuracy: -m40
Conclusion: CDDA 100%
Signature: E8E8871B48DE797AFEC572C463F865B63EB34F23
FILE: 29. Ben Salisbury - Song of The Otherworld.flac
Size: 12321162 Hash: BE03D635A1EBFE740EBA8BD2DC8FC395 Accuracy: -m40
Conclusion: CDDA 100%
Signature: C895F1FB8DA34F4D68F66165F31F8F3DD6DB6A18
FILE: 30. Ben Salisbury - Masks.flac
Size: 16943800 Hash: 387EA3CF78B70C0AF1BD5BF840C01E0C Accuracy: -m40
Conclusion: MPEG 90%
Signature: FFE312F104D52DF0FF1A1857016F132BE437F91E
FILE: 31. Ben Salisbury - What Are You Playing.flac
Size: 10810289 Hash: F08E376106518D4CCDF7FC3C58F31BB1 Accuracy: -m40
Conclusion: MPEG 100%
Signature: 1EED252F9C2A247C11441BC4E4789B4A54BEFCE1
FILE: 32. Ben Salisbury - Stay Out.flac
Size: 8511842 Hash: A3BA26F7E1B3795DAFAA1726C87726F8 Accuracy: -m40
Conclusion: MPEG 100%
Signature: E27273E60C31993EA54A791F2493F62FBE905D5E
FILE: 33. Ben Salisbury - Archive 81 - Credits.flac
Size: 4995076 Hash: FD4CF35324B5BFAEA857F2915ECDBE5E Accuracy: -m40
Conclusion: CDDA 100%
Signature: 64CAD6AE1C83B286F032BE68473162FBC8137FB9